Plan Your Spring Break: 12 Under-the-Radar Destinations
This year, go beyond Daytona Beach to surf Puerto Rico, fish the Bahamas, or explore an Ecuadorean rainforest. (Don't worry, skiers—there's neck-deep powder here for you, too.)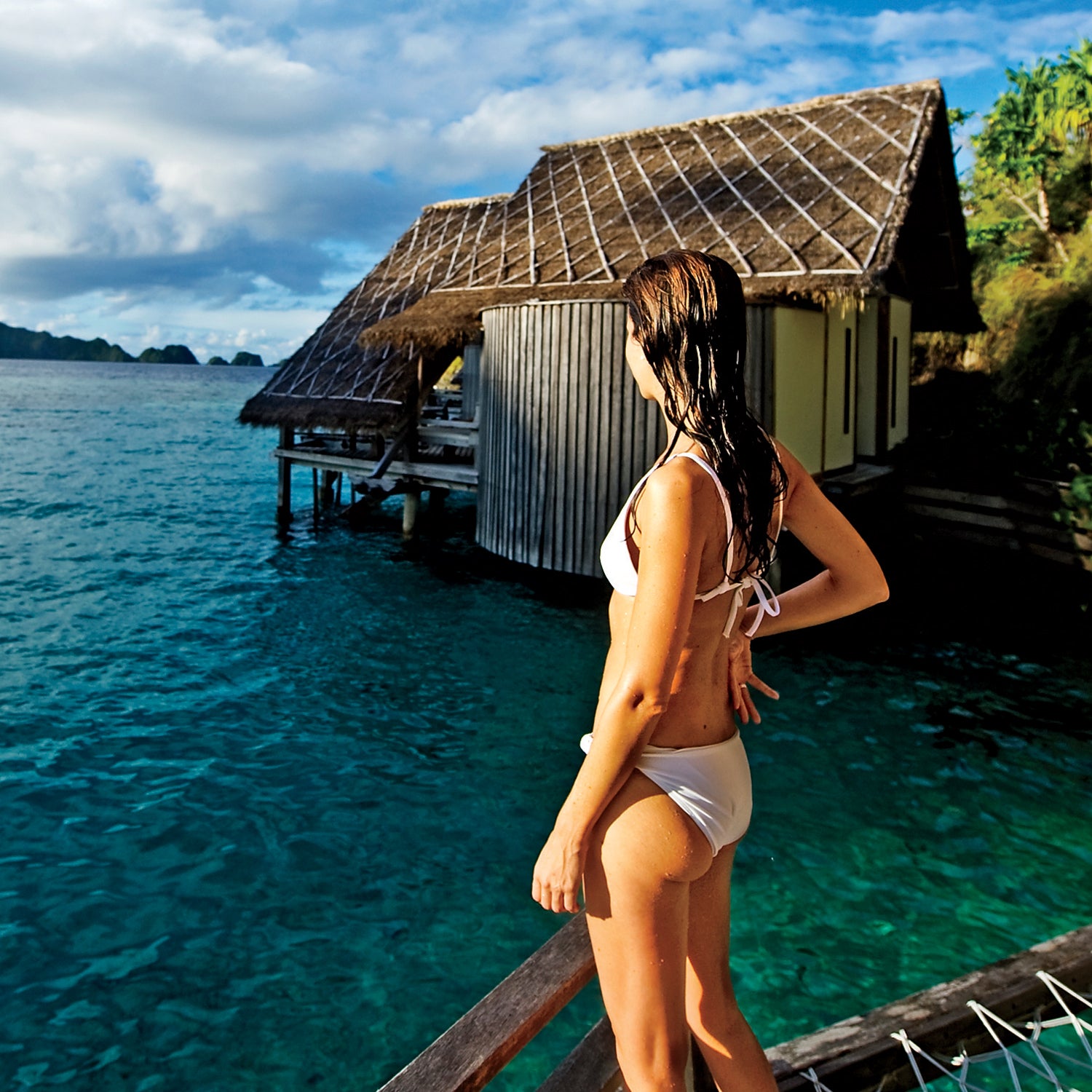 Heading out the door? Read this article on the new Outside+ app available now on iOS devices for members! Download the app.
So what if Europeans get the entire month of August off—spring break is an American birthright. Whether you're toting the kids or fleeing civilization, we've got the trip for you.
Try an Island That's Better Than Bali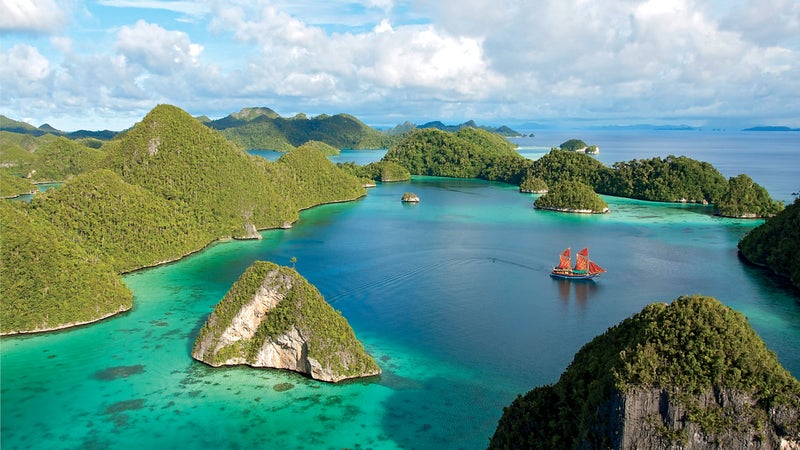 Raja Ampat, Indonesia
It's hard not to love Bali, with its abundance of surf breaks and colorful culture. But there are 17,507 other islands in Indonesia with fiery volcanoes, vast underwater landscapes, and a lot fewer visitors. For diving, head to Raja Ampat, a 15,000-square-mile wilderness of islets and reefs with some of the richest marine biodiversity on the planet. Misool Eco Resort has eight stilted, grass-roofed cottages and seven beach villas, and it provides diving gear and guides (from $2,778 for seven nights). Within an hour's boat ride, there are dozens of dive sites alive with coral gardens, huge sea fans, and wildlife, from pygmy seahorses to the newly discovered walking epaulette shark. For legendary surfing, Nihiwatu, a tiny resort on the small island of Sumba, has a consistent break right off the mile-and-a-half-long private beach (doubles, $900). After surfing, guests can mountain-bike to an ancient local village, practice yoga with the resident instructor, or head to a bamboo pavilion for a massage among rice paddies, then feast on whole fish cooked in banana leaves at a sunset beach barbecue.
---
See a Crowd-Free Machu Picchu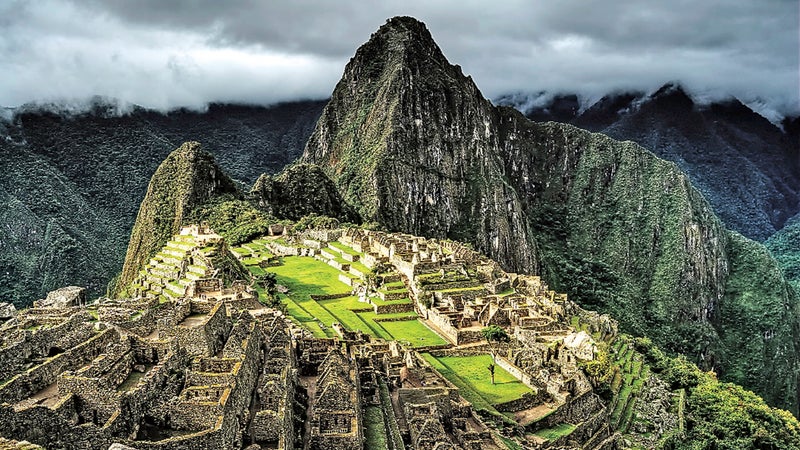 Lares Valley, Peru
With as many as 80,000 visitors taking on the Inca Trail to Machu Picchu each year, even the Andean wilderness can get a little claustrophobic. That's why Mountain Lodges of Peru is working with villagers to establish three new properties along the Lares Circuit. This high-altitude trail network sees roughly 20,000 trekkers annually and encompasses the Sacred Valley and the beautifully untracked Lares region, about 35 miles east of Machu Picchu and 40 miles north of Cusco. Two of the eight-room lodges opened last fall, in the villages of Lamay and Huacahuasi, and are luxurious base camps for five- or seven-day adventures that include hiking over 14,500-foot passes, visits to lesser known Inca archaeological sites (like the fortress of Pisac), and time to check out villagers' intricate weaving skills. Each day ends with a soak in a deckside hot tub overlooking the valley, crackling fires, and healthy meals like pumpkin soup and quinoa salad. The Lares Circuit doesn't lead directly to Machu Picchu, but guests travel there by bus on the last day and still have to work for the money shot—a sweeping view of the ruins—with a two-hour climb up the Inca staircase of Huayna Picchu. From $1,990 for five days.
---
Take Advantage of the Mediterranean's Off-Season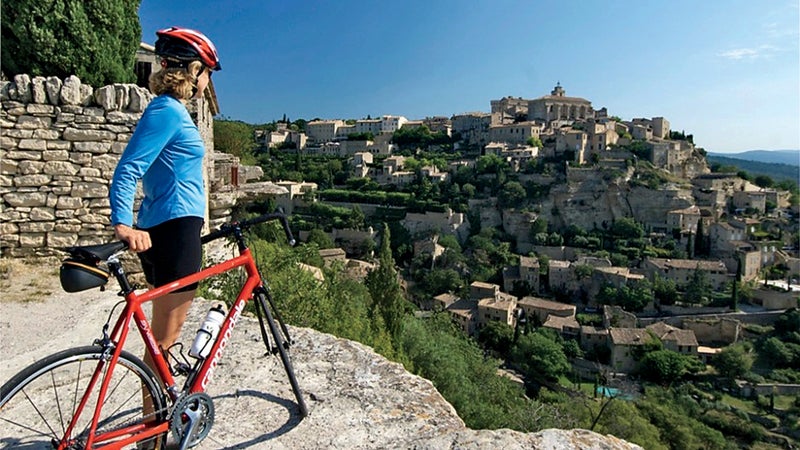 Provence, France
In summer, visitors descend on this picturesque region of southern France, clogging its beaches and lavender-riddled countryside. But in the spring, despite blossoming fruit trees, irises, and wildflowers, the country roads are empty—and perfect for cycling. All you need to do is sign up for a bike trip arranged by Gray and Co., a custom-travel company whose itineraries include guides, shuttle service, hotels, meals, and even a mechanic. With no need to look at a map or worry about dinner reservations, it's surprisingly easy to fall into a daily rhythm. Pedal through vineyards, orchards, and limestone gorges each morning, stopping to explore the crumbling ruins of a medieval castle or the narrow lanes of a hilltop village. After a leisurely lunch of Provençal specialties like bouillabaisse and ratatouille, you'll retire to properties like the new Domaine de Manville, a former farming estate in Les Baux de Provence. Afternoons are a blank slate for a glass of rosé by the pool or an amble through fields with views of the Mediterranean. From $1,500.
---
Embrace No-Easy-Way-Down Skiing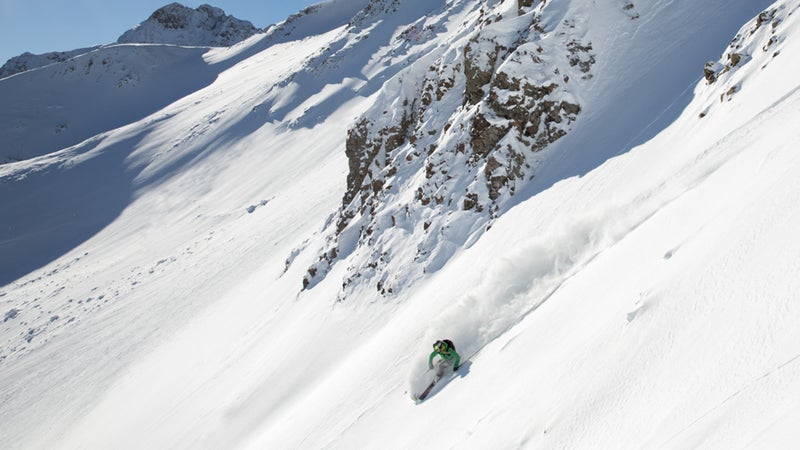 Silverton, Colorado
You won't be distracted by nightclubs or fancy dining at Silverton Mountain, a one-lift, mom-and-pop operation deep in southwest Colorado's San Juan Mountains, two hours from Montrose and the nearest airport. That's because Silverton is all about one thing: big-mountain shredding. The highest, steepest ski area in North America, it tops out at 13,487 feet with a long menu of hike-to chutes, cliffs, and bowls that collectively land more than 400 inches of snow annually. There are no groomers or beginner runs in sight, and avy gear is mandatory. Between January and March, guides lead skiers in small groups to the best powder stashes ($139), which means you're on the hill with a maximum of about 80 people. In January and April, the area allows unguided skiing, but no more than 475 people have ever shown up on a single day. After the lifts close, drink a pint from the keg in the Quonset hut, then head to the Victorian mining town of Silverton. Get a rum cocktail at Montanya Distillers before walking a block to the Benson, a new four-room hotel with Jacuzzi tubs in a renovated 1901 building (from $100).
---
See What Vegas Would Be Like If It Had Powder Days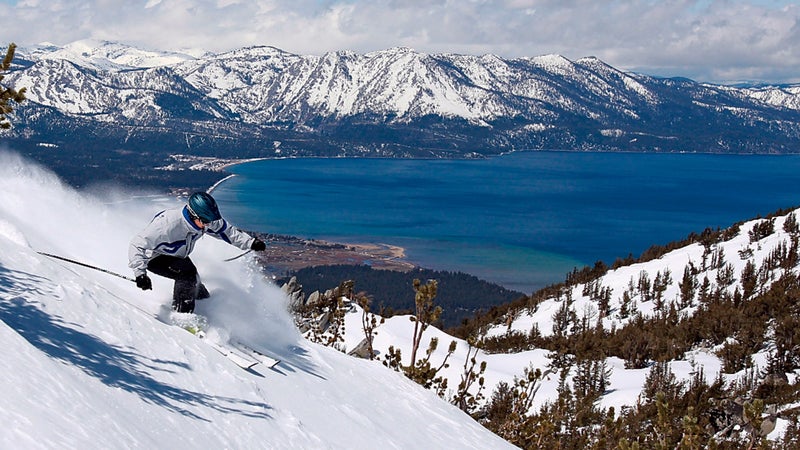 Heavenly, California
In the American family of ski areas, Heavenly is the party-hearty cousin—kind of crazy but really fun. Straddling the border between Nevada and California, the place has more skiable terrain than any other Lake Tahoe resort (4,800 acres) and a rowdy collection of casinos and nightclubs at the base. By day, head to Mott and Killebrew Canyons for 2,000-foot chutes, tackle Gunbarrel for 1,600 vertical feet of thigh-hobbling moguls, or explore the perfectly spaced glades between Heavenly's 97 runs. Après, skiers and riders gather for Unbuckle at Tamarack, a party at the midmountain lodge complete with go–go dancers, half-price drinks, DJs, and excellent BBQ nachos. By 5:30 the festivities move to the base village, where live bands play alfresco most weekends and casinos deal 24 hours a day. Stay at the newly renovated Hard Rock Casino and Hotel (from $109), which has rooms with balconies overlooking Lake Tahoe. Not into the party scene? Lucky you—few people get up early enough for fresh tracks, and the powder can stay pristine for as much as four days after each giant Sierra dump.
---
Bring the Kids to a Mountain Retreat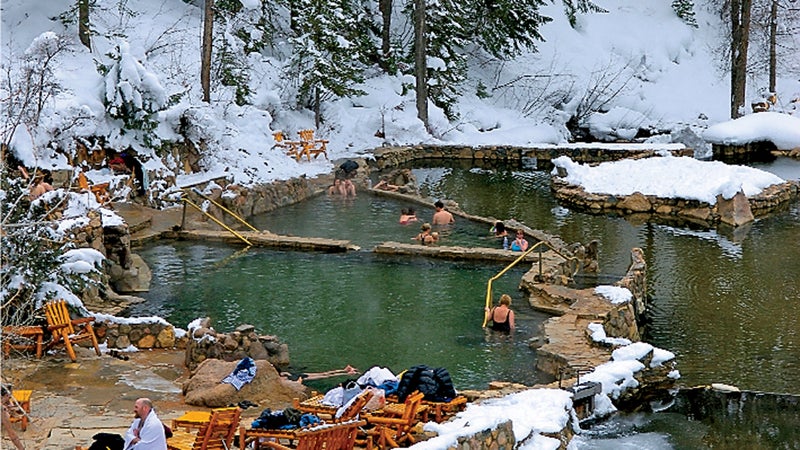 Steamboat, Colorado
Steamboat understands an essential truth about traveling with families: it has to be easy. At this northern Colorado ski resort, about 150 miles northwest of Denver, all 165 runs funnel down to one base area, so no one can get too terribly lost. The kids' center stays open until 10 p.m. on Saturdays, so parents can night ski or have dinner minus the noise. And kids under 12 ski free when you buy an adult ticket for five days or more. Check into a condo at Bear Claw, which boasts a sauna, heated pool, game room, and movie library (from $415), then drop the kids at ski school. The mountain, with its famous glades of tightly packed conifer forests and loose aspen groves, is a damn good time for grown-ups, too. Off the hill, test out the resort's bungee-jump trampoline; take a horseback ride through snowy meadows at Del's Triangle 3, a fifth-generation ranch 30 minutes outside town (from $80); or head to Howelsen Hill, a small ski area that rises right out of downtown, for afternoon tubing ($25 per adult, less for kids). Most important, don't miss Strawberry Park Hot Springs, a collection of stone-rimmed, 104-degree mineral pools 20 minutes from town up an AWD-mandatory dirt road.
---
Surf the 51st State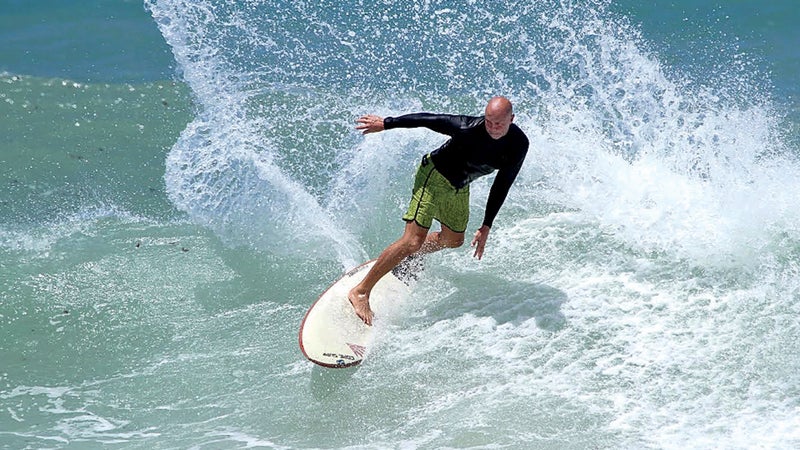 Rincón, Puerto Rico
While easterners bemoan the storms that barrage the Atlantic coast in winter, Puerto Ricans rejoice—at least those in Rincón, a small town on the island's exposed northwest tip inhabited by a mix of locals and weathered mainlanders. Between November and April, swells slam into reef, limestone, and sandy breaks to create perfect conditions for surfers, who have flocked here since the sixties. Despite its popularity, Rincón and its collection of surf shops, guesthouses, and bars have managed to keep its low-key vibe and prevent the unsightly coastal development that mars other parts of the island. Learn to surf with the Rincón Surf School, whose instructors run private and group lessons on mellow breaks like Sandy Beach (from $90). If you've already graduated, rent a board and grab a map of the local spots from Mar Azul Surf Shop ($15). Thanks to its west-facing shore, Rincón has some of the best sunsets in Puerto Rico, and the Hotel Villa Cofresi, one of the town's oldest surfer guesthouses, has a beach bar with uninterrupted views (from $105). After dark, hit the Pool Bar for sushi and beers in front of surf flicks on a big screen.
---
Hit the Sweet Spot of Resort Charm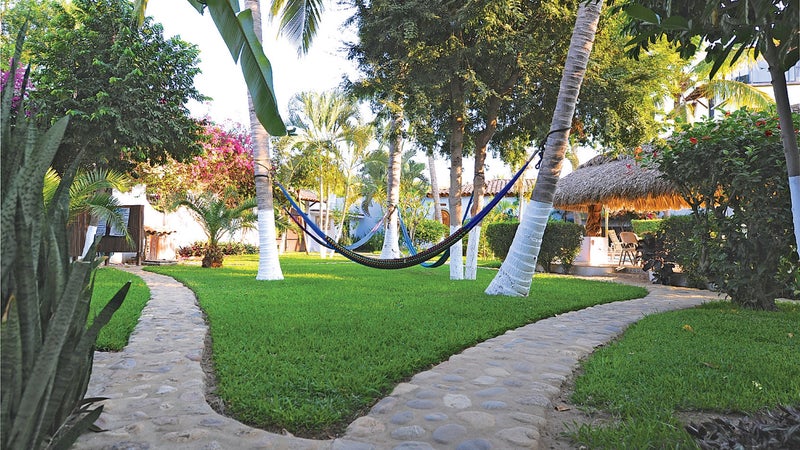 Puerto Escondido, Mexico
Along Mexico's coasts, there are plenty of overdeveloped megaresorts and countless tiny ramshackle villages, but few places gracefully bridge that gap. Puerto Escondido, on Oaxaca's mellow Pacific coast, is one of them. A tasteful number of guesthouses, shops, and good restaurants dot this active fishing town, which still retains its laid-back flavor. Check into a bright, simple room in Casamar Suites Hotel (from $71), a two-minute walk to the Pacific, then choose your water-sport. Divers can set out with Deep Blue Dive to explore underwater volcanic rock formations and swim with whale sharks and manta rays ($68 for two dives). Snorkelers: wade offshore at Puerto Angelito to see clouds of colorful reef fish. Or simply head to Carrizalillo beach for a dip and to chill in the sun on this smooth crescent of sand, then grab fish tacos from one of the thatch-roofed beachfront palapas.
---
Embark on a Homegrown Adventure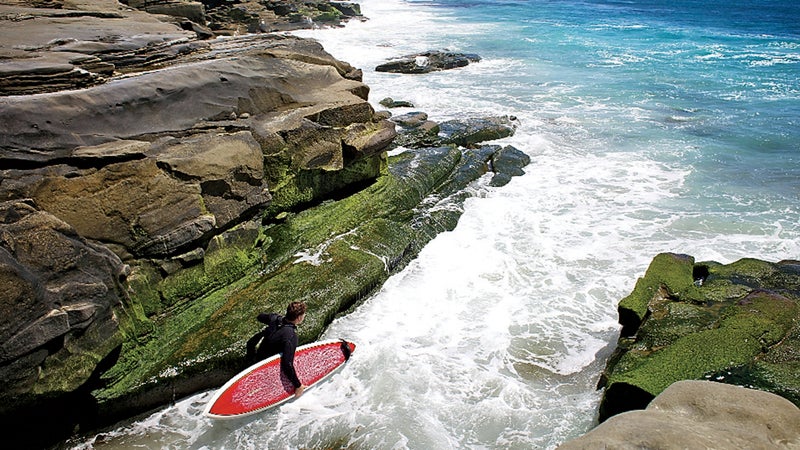 San Diego, California
San Diego is a pretty boring place to be a meteorologist—70 degrees and sunny, again—but it's the perfect place to bring the family when you're fed up with winter and don't want to break out the passport. Stay in centrally located Mission Beach, which has easy access to the water and kid-friendly attractions like the Fleet Science Center. Nearby Pacific Surf School rents homes by the week, which includes two days of kids' surf lessons, two adult lessons, and free use of cruiser bikes and surfboards (from $3,000). A few of the things you could do with the rest of your time: Rent full-suspension mountain bikes from Bike Revolution (from $60) and head to Los Peñasquitos for wide, flat beginner trails or to Noble Canyon for technical singletrack through chaparral, alpine meadows, and oak groves. Hike at Torrey Pines State Natural Reserve for more than four miles of trails along undeveloped beaches—and keep an eye on the water for gray whales and pods of bottlenose dolphins. Or go to Torrey Pines Gliderport for an introductory tandem flight in a hang glider and views of the entire coastline from above ($225).
---
Find Your Way Into the Remote Rainforest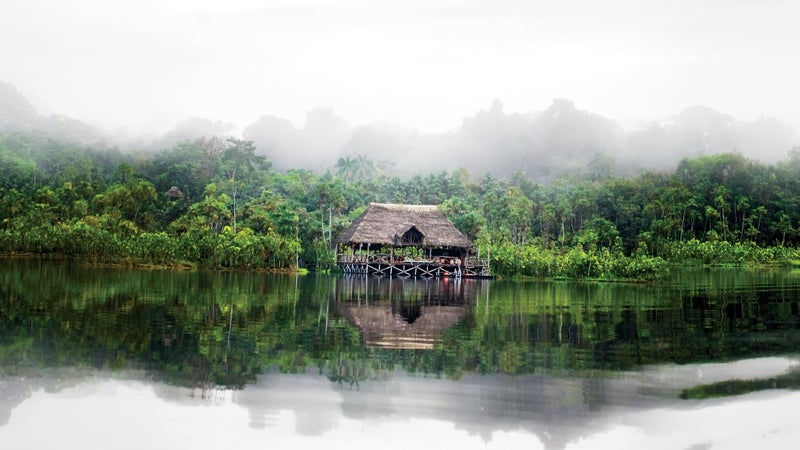 Sacha Lodge, Ecuador
From Quito, the capital of Ecuador, it takes a vertiginous flight over the Andes, a 50-mile motorboat ride up the Napo River, a jaunt on a boardwalk across a flooded palm forest, and a paddle in a dugout canoe across a lake to get to Sacha Lodge, a collection of 26 thatch-roofed rooms deep in the Amazon. But the schlep is worth it. More than 500 species of birds (from scarlet macaws to cobalt-winged parakeets) flutter about the canopy, eight species of monkeys swing between the trees, and pumas and ocelots stalk the understory. With a local Quechuan guide, paddle a canoe through blackwater channels packed with orchids, palms, and bromeliads, or hike past 150-foot-tall buttressed kapok trees while looking for three-toed sloths and tiny pygmy marmosets. After dark another cast of creatures emerges—watch the glowing eyes of caimans in a nearby swamp before falling asleep to a chorus of insects in the safety of your screened-in room. From $950 for four days.
---
Take in Africa Overland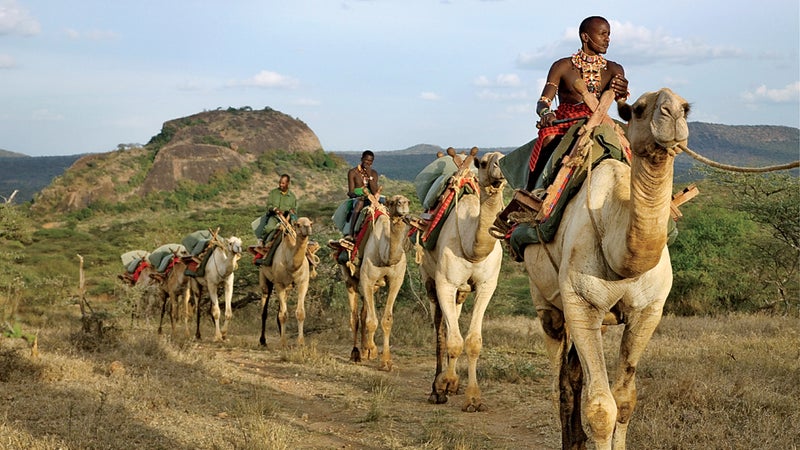 Kenya
On the African savanna, you can cover a lot of ground in a Land Rover, but you'll gain a much more intimate view on foot, horseback, camel, or mountain bike. On a ten-day safari with Outside GO, try all four with a Samburu guide in the scrub desert and gorges of Kenya's stunning Laikipia Plateau and the vast plains of the Maasai Mara. You'll meet local nomads and get close to lions, elephants, buffalo, giraffes, and zebras, which are all less skittish—sometimes alarmingly so—when humans are on a bike or an animal. Accommodations include Ol Malo Lodge, which has four rock and wood cottages; Kicheche Bush Camp, a collection of airy, solar-powered canvas tents; and rustic camps where you'll sleep on a rocky outcropping or in a tent with the topsheet pulled back to reveal the Southern Hemisphere's constellations. There's little or nothing between you and the darkness, so remember that the night's loudest noises often come from the smallest creatures. From $6,500 for ten days.
---
Don't Forget About the Other Big Island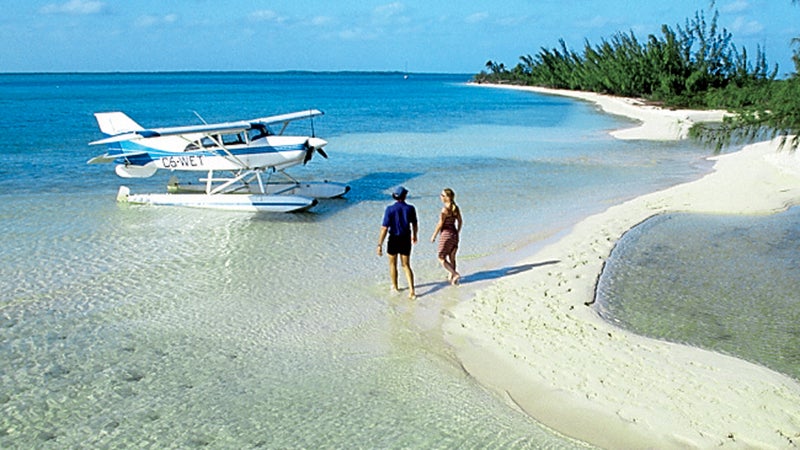 Andros, Bahamas
Andros couldn't be further from the resort scene on Nassau, and despite being the largest island in the Bahamas, it's one of the least visited. The few who go are after one thing: bonefish. The "island" is actually a maze of brackish creeks and mangroves. On the east side, you'll find a handful of locals, Andros South Lodge, and the bar that locals call Josie's (order the Barbancourt 15-year rum). On the west side, there's a national park, some wandering tarpon, and approximately seven million bazooka-size bonefish. Or at least it feels that way when your guide is pointing out dozens of them feeding, blissfully unaware of your giddy laughter that so many fish—and so few anglers—can be in one place. Not that there aren't slow days here. There are. But that's why you should ask the South Lodge to send you out with Freddie Dames, an 18-year guide on Andros. He not only has some of the best eyes for fish, but he has the best stories, too. From $1,845 for three nights.