In Praise of New Mexico's Organ Mountains
As the debate over the national monuments festers, Americans need to get out and use these lands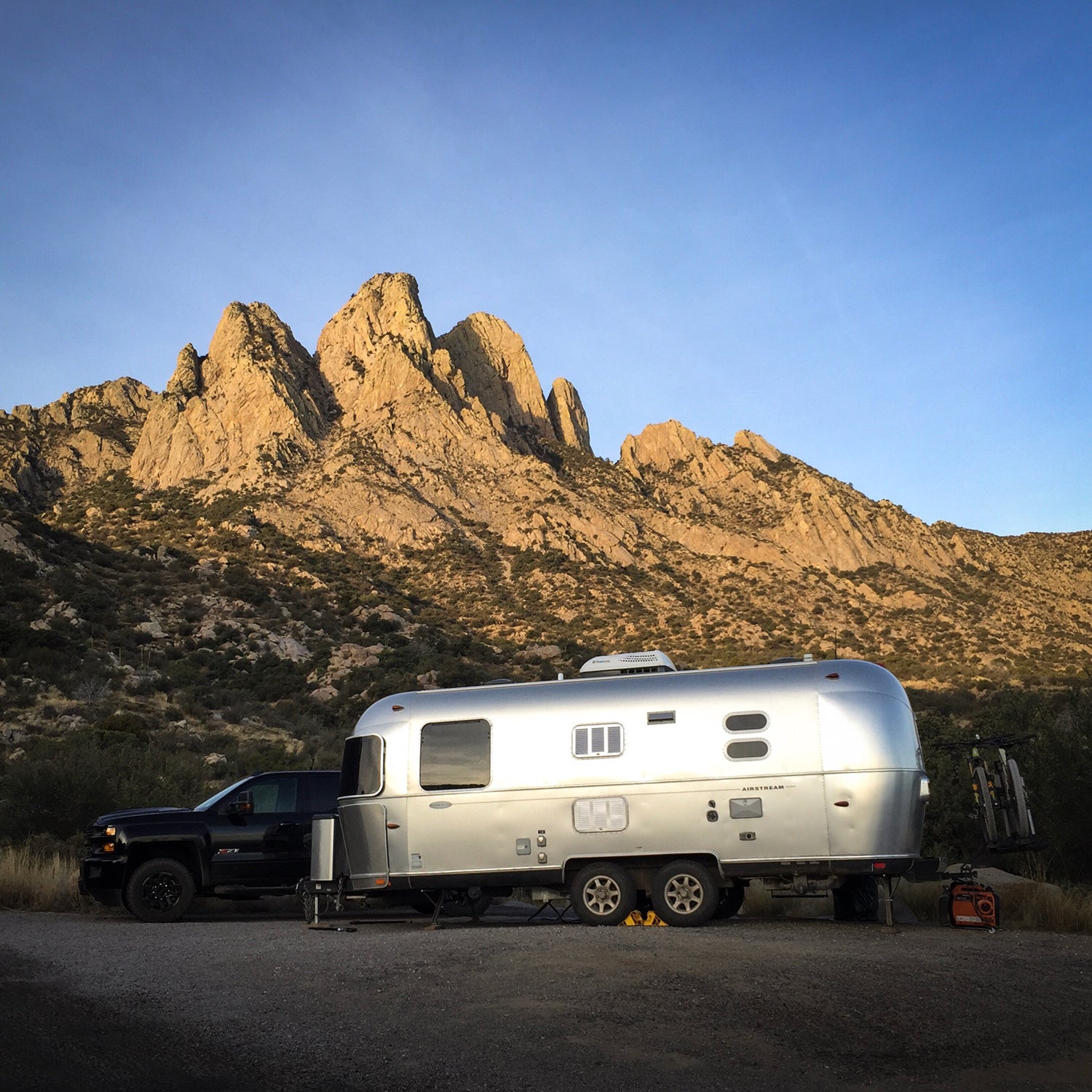 Heading out the door? Read this article on the new Outside+ app available now on iOS devices for members! Download the app.
When official word came last month that the Trump Administration had decided to slash the size of four national monuments and revise the management and use designations on six more, our loose itinerary with Artemis the Airstream for the next few months suddenly got a little clearer. We would try to see as much of these lands as we could before they lost their protections. 
It feels like perhaps our most important job in this debate over the monuments and public lands is to get out and use them. To that end, my wife, Jen, and I were in luck. A number of the contested monuments, including Bear's Ears and Grand Staircase Escalante in Utah, Gold Butte in Nevada, are within striking distance of our home in Santa Fe. There are even two in New Mexico that are set for revisions: Rio Grande del Norte, where we camped a week last fall, and Organ Mountains-Desert Peaks, near the Texas border. Since we were already on a southward trajectory to visit Guadalupe Mountains National Park, we diverted west toward the Organs.
Jen and I were familiar with the area after planning dozens of winter mountain biking trips to the Doña Ana Mountains, northeast of Las Cruces, New Mexico. But the 40-some miles of singletrack we'd ridden in these parched hills touches on only a tiny fraction of the monument. Designated by President Barack Obama on May 21, 2014, this sprawling, almost 500,000-acre preserve encompasses five mountain ranges—the Doña Anas, Robledos, Sierra de Las Uvas, Potrillos, and Organs—that encircle the main town like a jagged, stony ring. This time, we headed for the Organs, where the park's primary campground, Aguirre Springs, crouches on the crenellated eastern slopes. We were nervous that we might not get a space at the campground, but at the gate, the hosts seemed almost thrilled to see us. "We have 55 sites up there and only two or three campers right now. We tend to get a little forgotten," one of them told us. "Stay as long as you like."
Jen and I normally opt for backcountry camps instead of formal campgrounds, but Aguirre Springs feels wild, with basic pad sites tucked beneath stands of wiry juniper and mountain mahogany. Even getting there felt adventurous, as the road climbs 800 feet on pavement so sinuous that it's not recommended for trailers over 23 feet. It closes after dark to prevent car crashes. There's no overview map available, and trails aren't always marked or well maintained. At the visitor center, the only information comes from a haphazard and pretty rudimentary assortment of single-sided handouts. Organ Mountains comes off as a place recently designated and not terribly well funded.
"It's a lot of land out here," said one of the visitor center employees, who asked that I not use his name. "And though we're supposed to maintain and protect it, the government just keeps cutting our budgets." I asked him what the recent announcement about the monuments would mean for Organ Mountains. "Search me," he said. "Seems like we're the last to know."
Some people might look at Organ Mountains and see a desolate, brutal place with impoverished infrastructure and little redeeming value. But the feral nature of the place is part of its charm. Our wilderness areas and national monuments shouldn't be charted out and paved over. Having places like this where we can wander scraggly paths and find our own adventures and get lost for days is good for the soul. And the breadth of open land that has been preserved here is a major part of its appeal. Over the course of a week, we encountered only very few people and, when we ventured into the backcountry, we could look to the horizon and see nothing but empty desert. There are no current plans to parcel up this country or open it up to new extraction, as is the case in other embattled monuments. But the lesson here—that some of the value lies in the totality of the land and the breadth and integrity of the wild space—should give us pause when it comes to figuring out management plans elsewhere. 
On our last day, we hiked the Organ Needle, a serrated finger of granite that's one of the range's most foreboding and spectacular features. We found little information about the hike except for a few random Strava tracks and a vague description that it was "somewhat steep." After a mile of walking flats covered with prickly pear and ocotillo, the trail clambered straight up on a loose, scree-covered track that even mountain goats might find tricky. Snow slicked the summit gully, and a length of climbing rope hung as vague protection for the exposed rock moves to the peak. It was more strenuous and committing of an ascent than we'd imagined—and more rewarding because of it. On top, we signed the summit register, the first people to do so in over a week. In some small way, it felt like adding our names to a petition for the importance of such lonely places.
Lead Photo: JJAG Media