Now's the Time to Rewrite Your Bucket List
With the coronavirus bringing global travel to a halt, take this time to pare down your dream destinations to the ones that really matter to you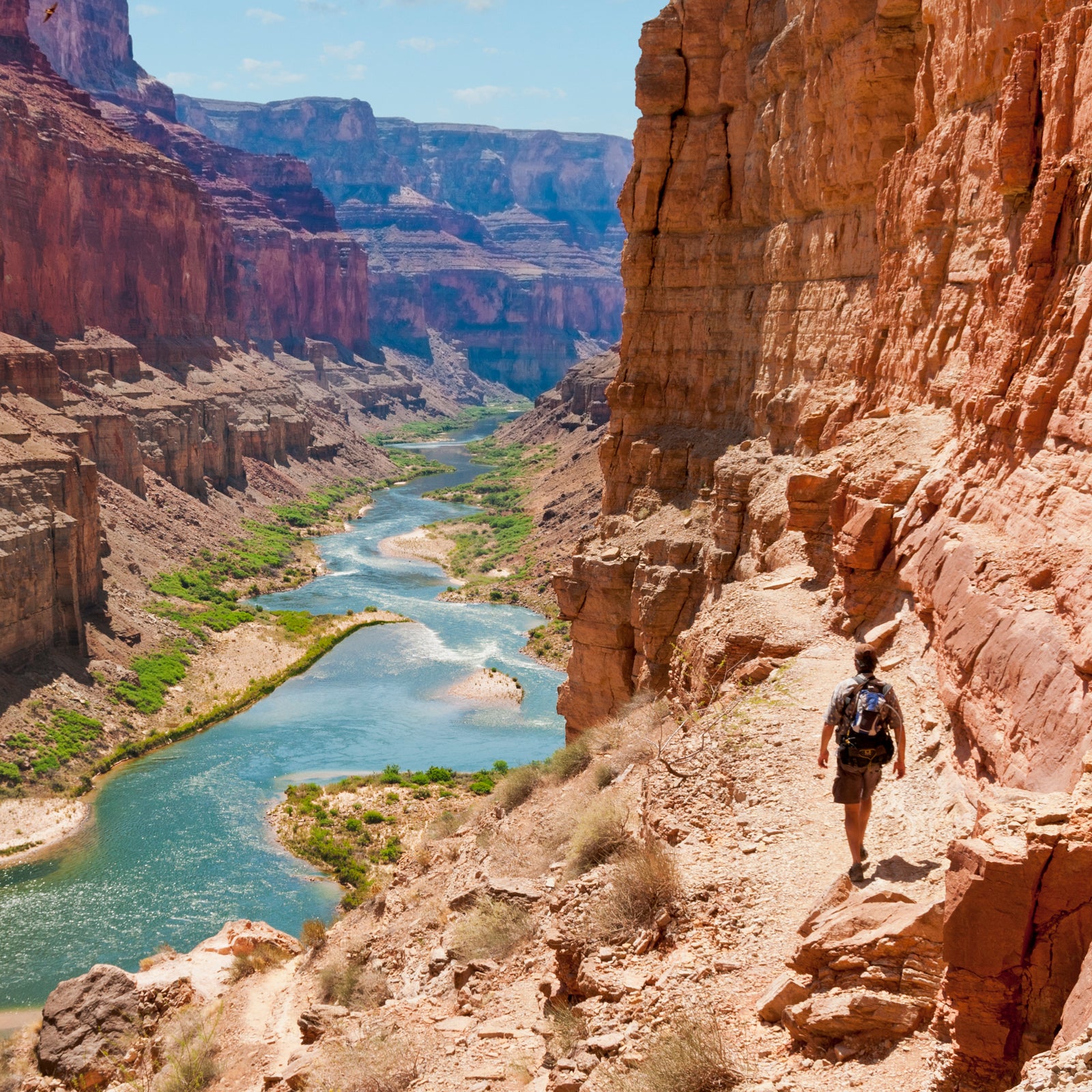 Heading out the door? Read this article on the new Outside+ app available now on iOS devices for members! Download the app.
As a planning nerd, I enjoy activities that others bristle at. For example, this year I didn't just commit to one New Year's resolution but 20. (It's called 20 for 2020, y'all!) One of my goals is to rewrite my bucket list, and with all travel plans canceled for the foreseeable future, I now have plenty of time to do so. The list isn't limited to travel—there are life events I hope to experience, such as getting married and bouldering a V7, that will take up a permanent residence until I see them through—but I think some of us adventurous types feel the urge to accomplish feats, like climbing Mount Everest or stepping foot on all seven continents, without necessarily reflecting on if that's actually what we want. I'm guilty of this as much as the next person.
In the past, when working on my dream file, I've Googled things like "bucket-list ideas" rather than thinking things through myself. (As you can imagine, I ended up with items like "walk across hot coals" and "scream like a gladiator inside the Colosseum," neither of which I have the faintest desire to do.) In this day and age of travel, which has been marked by overtourism and massive carbon emissions, we need to acknowledge that not every single destination on the planet can or should be on the agenda. With the future of travel uncertain—especially the question of when we can do it again—reflecting on our current dreams might help us to re-prioritize. We have to get choosy about where we'll go and even the modes of travel we'll participate in, and living through this pandemic is making these crystal clear. So whip out a red pen, and get ready to edit your own bucket list. This step-by-step guide will help you to pare it down to the places that really matter to you. 
How to Get Started
If you've compiled a physical bucket list in the past, find it. If this is your first time putting one together, decide where to keep it. I have the utmost respect for the yellowing paper list, but I prefer to use a website called Notion to record all my to-dos, thoughts, and dreams. I love the site's visual capabilities and that it also exists as a phone app. As an evangelist of Getting Things Done (the bestselling productivity book by David Allen), I subscribe to the methodology of having a single dashboard for my entire life. In addition to my bucket list, I use Notion to store items like work projects, my 20 New Year's resolutions, my shopping lists, and notes from books. 
Once you have your list in front of you, do a few read-throughs, and cross off anything that doesn't utterly thrill you. Next, spend a good 20 or 30 minutes brainstorming new ideas. My favorite technique is the good ol' mind map. Consider all areas of your life—relationships, hobbies, work, travel, health, finances, spirituality—and write out as many dreams as you can think of for each one, whether it's improving communication with your partner by learning about the five love languages, getting your sport-specific guide certification, achieving financial independence, or starting a prayer journal. Then make a list of your interests—a period of history, a type of food, a landscape, or a culture—and find experiences that tap into them. If you're a foodie and haven't been to Italy, you may want to plan a trip to the island of Sardinia to pilgrimage for the world's rarest pasta. When you feel like you've exhausted all your ideas, log off, and sleep on it (seriously).
Find Inspiration
The next phase of crafting a kickass life list is the most fun: get inspired! If you've ever cut out images from magazines or created a mood board, you know what I'm talking about. Select a handful of sources, and spend a few days or weeks living vicariously through them. Think: movies and TV shows, books that dive deep into a single destination, magazines, social-media accounts, travel blogs, and even conversations with friends about their own trips. Don't neglect your own backyard, either. There's this societal understanding of a bucket-list trip being a lavish adventure to a far-off destination, but a true explorer is curious about their own surroundings. Take a scroll through Yelp, search for interesting locales in your state or those nearby, and expand your horizons in terms of what qualifies for your list.
Allow yourself to follow your interests and go down rabbit holes. The key to making sure this process is fruitful, though, is to set a deadline and stick to it. You have your whole life to organically add things to the list—don't feel pressure to plan everything out now.
Cull Your List
By this point, you should have amassed a bunch of fantasies, which means it's time for another cull. If you've gone through the KonMari tidying process, the principle of only keeping what "sparks joy" will be familiar. Do that in this context, too. Ask yourself questions like: If I only had one more year to live, what would I most want to experience? Why do I want to do this? Would I still want to do this if I didn't care about what others thought? And, for some of us, Would I still be intrinsically motivated to seek this out if I couldn't post about it on social media? Remember, life's too short to invest in activities you think you should do rather than those you can't imagine living without. Eliminate everything that doesn't pass these litmus tests.
Revisit It Frequently 
One of the indelible truths about travel is that it changes us. In addition to hopefully making us better people, it introduces us to cultures, ideas, and activities we may have never been interested in previously. Last year for my birthday, my parents took me to Carlsbad Caverns National Park in southern New Mexico to go caving. Crawling around in a dark, wet hole for several hours was not the glamorous vision for a birthday I had in mind, but lo and behold, my browser history is now full of glorious caves around the world, a few of which I hope to admire in person one day. On the other end of the spectrum, some experiences sate our thirst and give us permission to cross similar journeys off our lists. Once might be enough for a specific style of travel or a destination: You may realize that you're not the type to spend an entire vacation lounging on a tropical beach, or that you prefer traveling alone instead of being part of a group tour. Or perhaps, like many travelers, you realize that the experience of a single place gets richer the more time you spend there, so instead of seeking out new harbors, you choose to return again and again.
Commit to dusting off your bucket list at least once a year—perhaps when deciding how you'd like to use your vacation days—and give it a quick edit.
Never Stop Dreaming
Finally, we must never stop dreaming, even now, while we're stuck at home. Make the most of what's available from your day to day—books, podcasts, and films about grand adventures to provide inspiration, socially distanced chats with friends and neighbors, and walks around the block to deliberate on ideas from your research. When the world opens back up, you'll be ready.