Your Guide to Urban Adventure
Alex Honnold's Guide to Rock Climbing in Las Vegas
The famed free soloist gave us the beta on the country's best rock-climbing mecca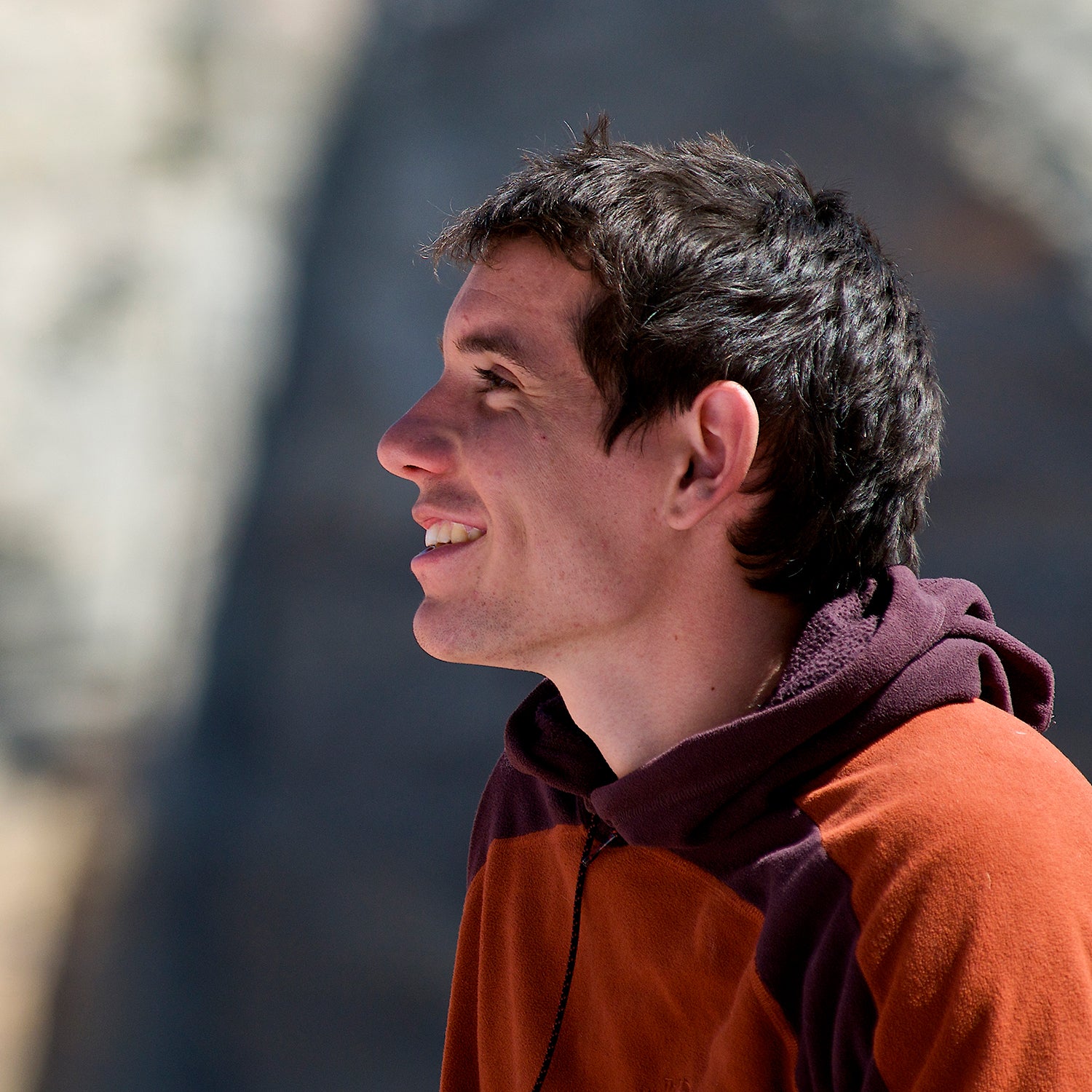 Celin Serbo/Cavan(Photo)
Heading out the door? Read this article on the new Outside+ app available now on iOS devices for members! Download the app.
When most people imagine Las Vegas, they picture the Strip, the fountains at Caesars, or bachelor parties gone wrong. Alex Honnold only thinks of one thing: rocks. "There's the best concentration of climbing in the country around Vegas, which is why I live here," Honnold says. The sheer number and diversity of climbs is stunning. According to the climbing-guide site Mountain Project, southern Nevada alone boasts over 3,400 routes, from sharp limestone crags to 20-plus-pitch sandstone behemoths. "Even on the worst days, in the worst weather, you can climb outside if you're motivated enough," Honnold says.
For those who choose to partake in greater Sin City's more innocent recreational pursuits, the choices can be overwhelming. Here, Honnold gives us the lowdown on the best spots to hit.
Red Rock
Why Go: According to Honnold, Red Rock is a "global, world-class climbing destination." With over 2,500 trad, sport, top-rope, and bouldering routes, it's the kind of place that can make a climber weep. While many of the routes around Vegas skew difficult, Red Rock has a plethora of easier options, thanks to its signature sandstone, which breaks off too easily to form smaller holds, making it a great destination for intermediate climbers looking for some multi-pitch experience.
When to Go: Fall, spring, or winter
Difficulty: 5.5 to 5.14
What to Climb: In the shoulder seasons (September to November and March to June), there are multi-pitch routes galore deeper within the main canyons, with many moderate routes boasting up to 20 pitches. But in the winter, when the big climbs turn to ice sheets, bouldering and sport-climbing in areas like Kraft's Boulders (check out the photogenic Plumber's Crack) and Calico Basin are your best bets. Honnold recommends not leaving before hitting Original Route on the Rainbow Wall in the shoulder seasons. It's a 5.12, ten-pitch beauty that stands as the crown jewel.
Considerations: Never climb on wet rock. The same fragility that makes for easier climbing here will cause routes to crumble when damp. Also, as with many popular sports, overcrowding at Red Rock is an issue—pack out your poop, dirtbag!
The Promised Land
Why Go: If you're a moderate-to-advanced climber who wants to escape the masses at Red Rock, head here. "It's a hidden limestone gem," Honnold says. The approach involves a tough drive down a four-wheel-drive road and a steep, hourlong hike. But if you make it, you'll likely have the wall all to yourself.
When to Go: Spring or fall
Difficulty: 5.11 to 5.13
What to Climb: There are about a dozen sport routes spread across three walls. For a challenge, try Confrontation (5.13b), a classic crag climb that starts on a steep, difficult slab but continues up to a streak with solid holds.
Considerations: The Promised Land is located in a wilderness-study area, which means that climbing near petroglyphs and pictographs, and any alteration of rock through chipping or gluing, is prohibited.
Mount Potosi
Why Go: This secluded, well-developed area doesn't see a lot of traffic but is actively gaining popularity among the Vegas climbing community.
When to Go: Winter
Difficulty: 5.7 to 5.14c
What to Climb: There are more than 100 sport routes—and more developing all the time, most of them difficult. "It's mostly limestone pockets and a roof," Honnold says. "So you're dangling from two fingers trying to scope out holds." The Clear Light Cave section offers the highest concentration of routes for advanced climbers, like Pranayama (5.13a), one of the "classic old-school routes." There are a few easy-to-moderate routes, though; Lay It Down Easy (5.8) or Capt'n Stab'n (5.10c) are solid alternatives to Red Rock for intermediate climbers.
Considerations: Access to many crags involves driving on unpaved desert roads. A four-wheel-drive, high-clearance vehicle is highly recommended.
Virgin River Gorge
Why Go: While technically over the border in Arizona, this elite destination is still very much a part of the Vegas climbing scene. "It was once described to me as the best limestone in America," Honnold says. The sharp, painful rock and proximity to the highway scares most average climbers away, but if you stick it out, you might just be able to count yourself among the pros. "You only climb there if you hate yourself a little bit and want to climb hard," Honnold says.
When to Go: Winter
Difficulty: 5.11b to 5.14c
What to Climb: For the truly advanced who want a true taste of the VRG, Honnold recommends the legendary Necessary Evil (5.14c). "It's the quintessential style and really defines what climbing in the VRG is all about," he says. There are a few slightly easier routes, including the Mentor (5.12b), an overhang that requires big moves and offers a bit of everything: pockets, edges, side pulls, and dynos. Honnold says it's "pretty accessible for anyone climbing in a gym."
Considerations: The VRG isn't known for its scenery. Located off Highway 15, the noise can sometimes make it difficult for climbing partners to verbally communicate.
Mount Charleston 
Why Go: In the summer, 11,000-foot Mount Charleston can be an oasis to the scorching desert heat. "You're climbing in shade at elevation, and it's pretty comfortable," says Honnold. It also happens to be a premiere destination for difficult limestone climbing.
When to Go: Summer
Difficulty: 5.8 to 5.14
What to Climb: Charleston is mostly sport, with pinches of trad, boulder, and top rope thrown in. Honnold recommends the Roost area, which features a huge concentration of hard routes, with pocked limestone and several caves. Generally, the higher the grade, the better the line. Mary Jane Cliff is a good spot to find more moderate routes.
The Gun Club
Why Go: If you end up in Vegas on a rainy day or have beginners in your group, the Gun Club is a solid option, with bolted routes that are climbable even when wet. "I would never call it good climbing, but it's super accessible and has all the right grades—it's like an outdoor gym," Honnold says.
When to Go: Spring
Difficulty: 5.6 to 5.12
What to Climb: For a fun 5.12, check out the scrappy High Caliber or Point Blank. The Bushmaster (5.8) is less sharp than some other beginner routes.
Lead Photo: Celin Serbo/Cavan
Trending on Outside Online