Is there way to snorkel in the South Pacific by boat—without taking a cruise?
Is there some way to go island hopping in the South Pacific on a boat to go snorkeling? No huge cruise ships. I want a small boat with an emphasis on the water, with a taste of local culture. -Mike Hailey, ID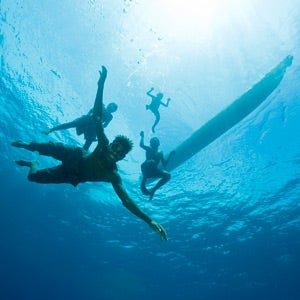 Heading out the door? Read this article on the new Outside+ app available now on iOS devices for members! Download the app.
What, no on-board rock climbing walls and ice skating for you? No all-you-can-eat buffets? No nightcaps on the Lido Deck with Captain Stubing and Julie? I've got you covered, Mike. These four cozy cruising options (two in the South Pacific, two in other wildlife hot spots) are more about letting you experience what's around the ship than what's on it. Just one tip on the snorkeling: bring your own gear.
The underwater world of Papua new Guinea

The underwater world of Papua new Guinea
The Santa Cruz, Galapagos Islands, Ecuador
This 90-passenger, 237-foot-long ship takes blue-footed booby-gazing amateur wildlife watchers on three-, four-, and seven-night cruises through the Galapagos Islands. Along the way, there are Zodiac cruises, hiking, swimming, and of course, snorkeling. The Santa Cruz participates in Ecuador's sustainable Smart Voyage program, aimed at protecting the pristine delicate environment of the area that inspired Charles Darwin to come up with that whole evolution thing. Starts at $1500 per person for three nights.
Oceanic Discoverer, Papua New Guinea
A 16-day cruise on the edge of one of the world's most exotic places on this 68-passenger, 207-foot-long ship (complete with hot tub) is a once-in-a-lifetime experience—mostly because you'd never be able to afford to do it twice. But the trip, organized by Lindblad Expeditions and National Geographic provides an authentic cultural and natural experience. You'll swim and snorkel among coral reefs, be greeted by locals paddling outrigger canoes, explore hidden rivers, hike to quiet mountain villages, visit remote volcanic islands—and be accompanied by a biologist and naturalist. Starts at $17,690 per person.
MV Orion, Thailand and Malaysia
You want snorkeling? How about kicking your flippers through the crystal waters of the South China Sea, which brims with exotic aquatic life? The Gulf of Siam Explorer cruise aboard the 337-foot, 106-passenger MV Orion takes you to a greatest hits list of paradisiacal outposts off the coast of Thailand and Malaysia like Ko Samui, Ko Kut, and Tioman Island. The seven-night trip is organized by the boutique adventure outfit Orion Expedition Cruises. Starts at $4,850.
MS Paul Gauguin, Tahiti and Society Islands
Take sea safari snorkeling tours in Bora Bora, a lagoon and beach exploration on the island of Moorea next to Tahiti, and on your final day, a remote reef swim on the tiny Taha'a atoll. These are a tiny sample of the many excursions offered aboard the MS Paul Gauguin on its seven-night Tahiti and Society Islands trip. At 513 feet long, and with a capacity of 330 guests, the ship feels more like a small, traditional luxury liner—down to the on-board WiFi access—but its cruises are aimed specifically at active travelers, not buffet-eating shuffleboard players. Starts at $4,147 per person.