The Ultimate Tonneau Cover for a Pickup Truck
For months, we debated whether to go truck cap or tonneau on our Chevy Silverado. Then we found the Pace Edwards Ultragroove series.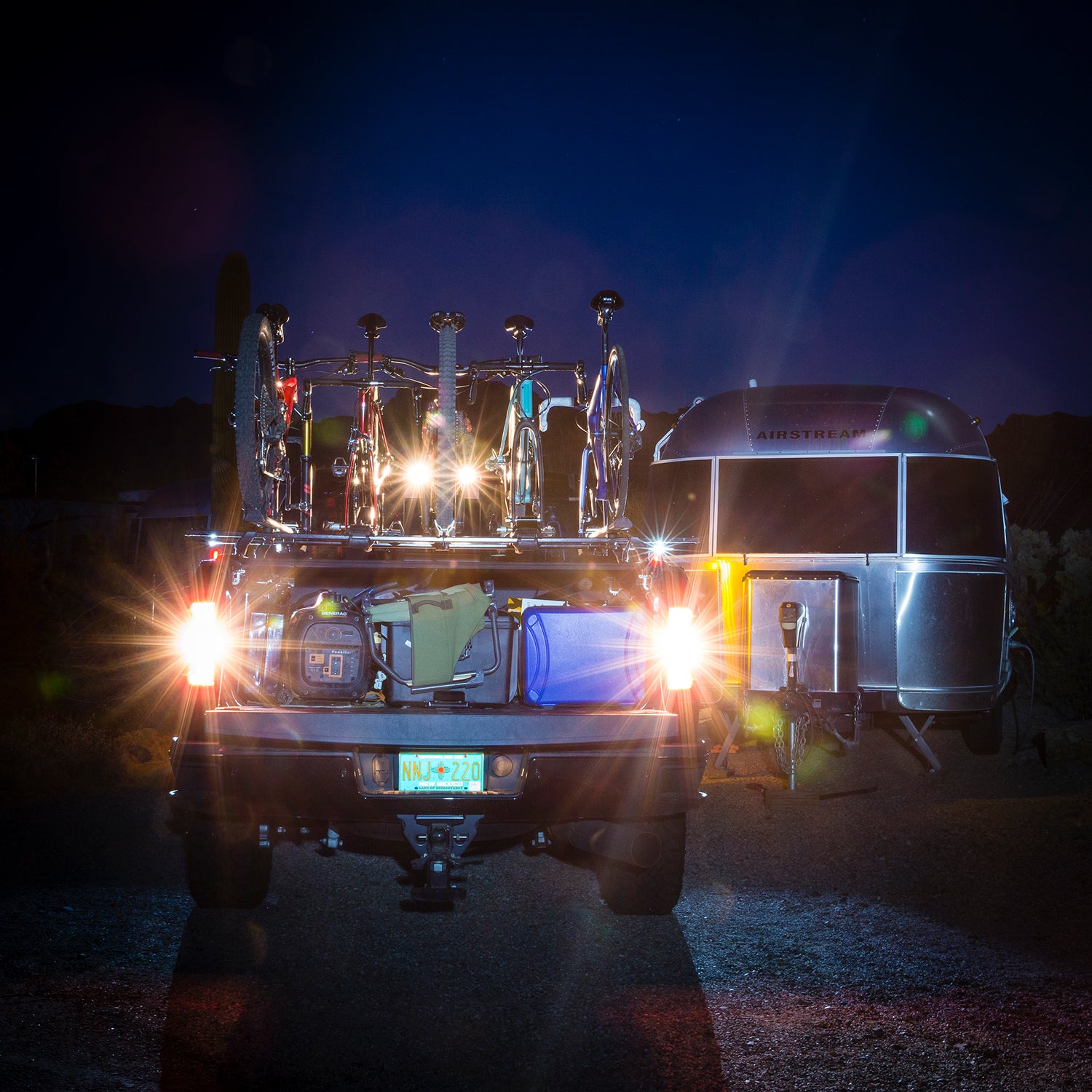 Heading out the door? Read this article on the new Outside+ app available now on iOS devices for members! Download the app.
When you buy an Airstream, you quickly realize that your big investment is going to get a lot bigger. First, you need accessories to make the trailer livable. Then you need a truck—with some modifications—to haul it. 
Our new Chevy Silverado 2500 HD demanded a few add-ons. We had to get a new hitch, to compensate for the truck's extra height, and a BedRug liner, to make scrapping around on your knees easier and camping comfier. But the biggest dilemma was what to do about the bed.
We like to call our truck bed "the garage," and just like at our permanent address in Santa Fe, we need our primary gear storage space to be weatherproof, easy to organize, and most importantly secure. The big dilemma was whether to go with a truck cap, as we had on the Colorado, or a tonneau cover—a retractable bed-height enclosure that provides less interior storage space when closed, but rolls back for oversize loads. 
We always ran a cap on the Colorado, and in many ways it worked great: the large cargo space meant it was easy to pack everything we need; the headroom made it possible to use the bed for camping, which we did regularly on backcountry endeavors or just getting out of the rain; and if there was ever any question of security where we camped, it was no big deal to throw spare bikes and gear inside.
We had some misgivings, however. Most importantly, a cap negates the ability to use your bed for large loads, which, in our case, most often means hauling mountain bikes over the gate. The dealer we purchased our cap from argued that it was easy to take on and off when you need, but the truth is it's a hassle and we never did it. We put accessory rails on our cap, which worked well enough for mounting a Thule rack and carrying bikes up there. But the height made it so difficult to load that Jen could never get bikes on and off herself. Finally, because we bought the Colorado not long after it launched, there was no cap on the market that offered extra rise, so getting bikes in and out of the cap was always a jigsaw puzzle.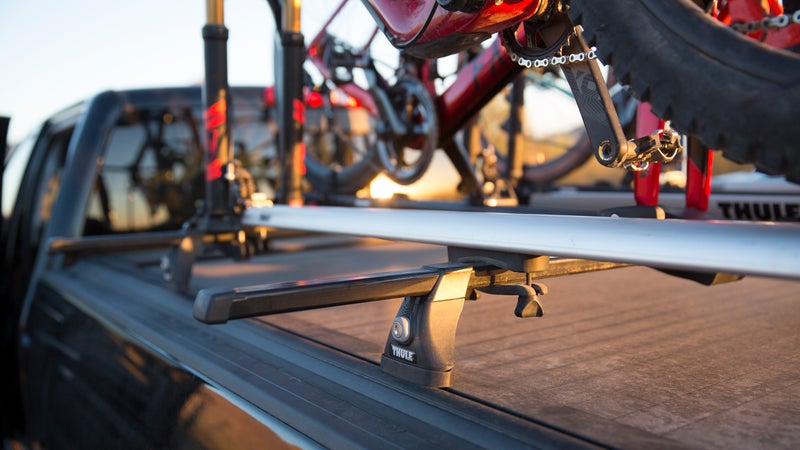 All these things in mind, we thought we had settled on the Leer 180XL as our top cap choice for the Silverado. The swivel windows and upgradeable lock system make it highly secure, and the added head height means getting bikes in and out would be a lot simpler. We were ready to pull the trigger but then realized this system still had too many drawbacks. Mainly, the extra height—both from the cap and the taller truck—would make getting bikes onto a roof rack even more difficult than before. And that would likely mean filling up the bed with a couple of bikes pretty much full time, which would fill up all the extra storage we'd gained by purchasing a larger truck. And, as before, we'd never be able to use the bed for loads like gravel, mulch, or mountain bikes over the gate.
So we turned the search to tonneau covers. The solid fiberglass models were definitely a no-go because, while they could accept rails for a bike rack, they don't allow the use of your bed for oversize hauling—hence no advantage over a cap. The flexible and retractable models were better, but we'd still have the problem of where to put extra bikes.
Then we discovered the Pace Edwards Ultragroove series. After lots of searching and comparison, I've concluded that this is basically the ultimate solution for outdoorspeople with trucks.
First and foremost, it's a highly secure, incredibly well-detailed metal tonneau that retracts shutter-style into a trim can at the head of the bed—it takes up the least amount of bed space of any other I found. What really sets it apart from others, however, is the addition of a groove system along the length of both bed sides that accepts Thule and Yakima racks. That means you can store all hard goods, such as stoves, chairs, fuel, camera gear, etc., securely in the bed but still haul cargo such as bikes, skis, kayaks, or a roof box above the bed. This makes loading all that gear easy, and because it's not sitting up on a truck cap, there's less concern about diminished gas mileage and wind-blown accidents. Best of all, if you use the Thule 430 feet stocked by Pace Edwards, the rack snaps on and off with push-button ease, so we can easily shuttle bikes over the gate when we please.
I manage Outside's annual bike test, and this setup was a godsend for this year's edition. Using Thule ThruRide bike trays, which are the best out there thanks to their ability to easily hold every axle standard on the market, we were able to carry everything we needed for the test in the bed, as well as six bikes above it. With four more bikes off the back of the trailer courtesy of Küat's new Pivot setup for pickups, we were the ultimate rolling test unit—and one hell of a spectacle. The only slight downside was the need to stow six front wheels in the bed, which was challenging but doable. When we finish the test and downsize back to just two racks on the UltraGroove, it will be even easier to load and the wheels no problem.
Though I'm bullish on the UltraGroove, I'd say the question of tonneau versus truck cap comes down to needs and use. This tonneau checks almost all of our boxes: secure storage that's out of sight; ability to transport tons of bikes and other outdoor gear; simplicity of freeing up the truck bed for oversize cargo. It's also less expensive ($1,600 base versus $1,800 on the cap, though the latter is likely to be well above $2,000 with options). Having said that, if you camp a lot in the bed of your truck or worry about bikes and other gear being out in the elements, the 180XL cap may be a better choice.
Either way, it'll make you wonder why you need all that space—and stuff—that's filling up the two-car garage back home.
Lead Photo: JJAG Media