Travel Hacks for When You're on a Vegan Diet
Traveling on a vegan diet can seem daunting. These adventurers show you how to do it with ease.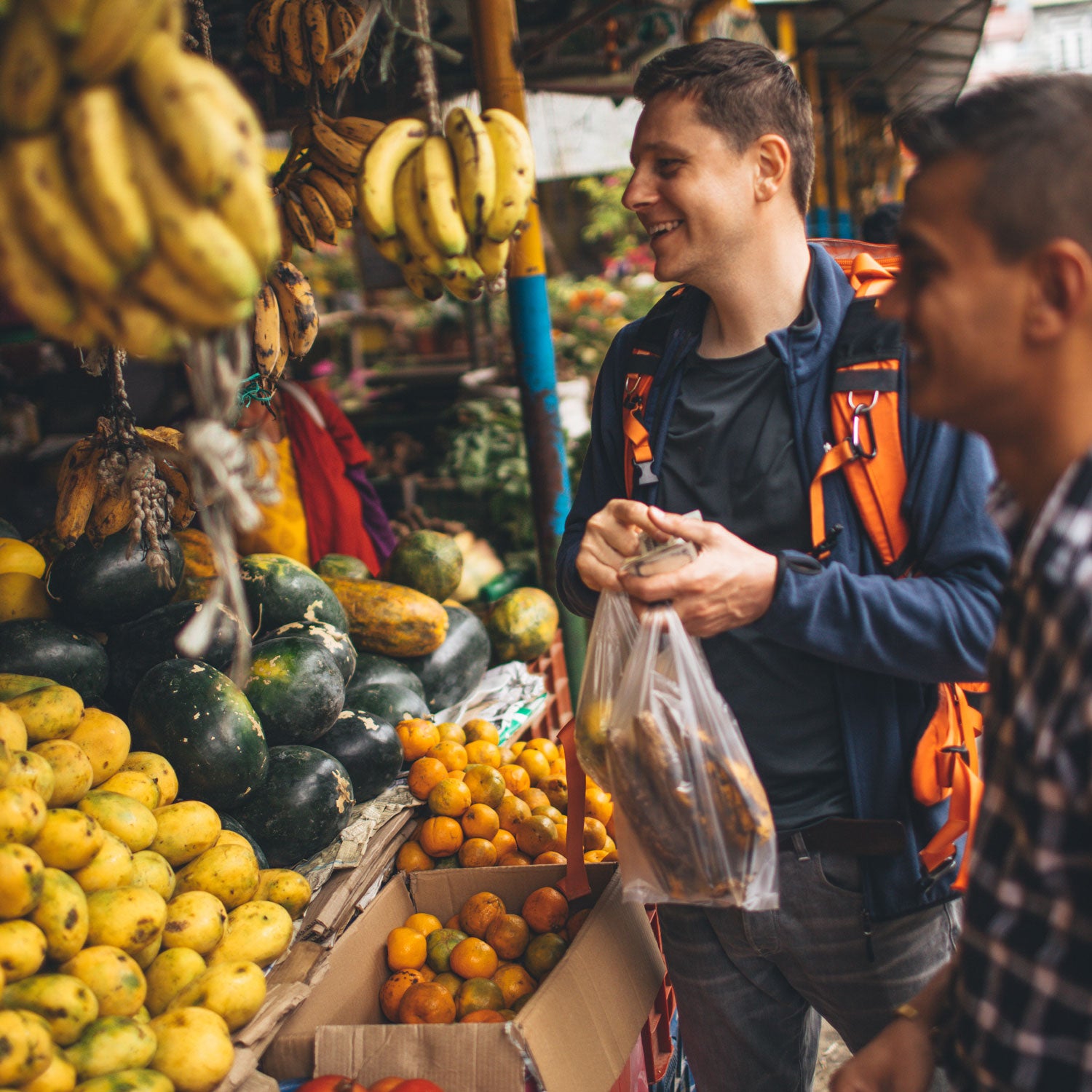 Heading out the door? Read this article on the new Outside+ app available now on iOS devices for members! Download the app.
In the summer of 2013, just months after going vegan, I embarked on a rambling road trip from Santa Fe, New Mexico, to Alaska and beyond. I'd barely heard of veganism before I converted, and as it turned out, most folks along the way knew even less. At a pizza joint in Anchorage, when I ordered a pizza without cheese, the server stood by, lemur-eyed, to observe how I could possibly consume such a meal.
In the years since, my travels have gotten measurably easier and dietary options more diverse; nevertheless, there are still challenges like language barriers and a continuing misunderstanding of what the diet actually entails. But don't think you have to stick to visiting vegan meccas like Bali, Singapore, Tel Aviv, or Portland. "I choose my destinations solely on where I want to go," says Amanda Burger, of the vegan travel blog Burger Abroad. "You can easily find vegan food anywhere in the world." Here are some hard-earned tips and tricks my fellow vegan adventurers and I have learned to help you do just that.
There's an App for That
Beta is surprisingly easy to come by, thanks to a host of vegan-focused apps. HappyCow ($4, iOS and Android) will steer you to the best restaurants in more than 180 countries, complete with reviews and photos so you'll know what to expect. There are also free options, like goVegn (iOS), PlantEaters (iOS), or Vegman (iOS). "The world is full of delicious fresh fruits and veggies, grains, seeds, nuts, legumes, and plant-based meats," Burger says. "And there are so many delicious creations invented by skilled, passionate chefs out there waiting to be devoured."
Learn to Speak Vegan
"When I was on Manaslu, in the Nepalese Himalayas, the camp cooks would always feed me cinnamon rolls," says mountaineer Kuntal Joisher, who in May mounted the first entirely vegan summit of Lhotse, the fourth highest mountain in the world. "I trusted that they were vegan, and on the third day I saw them breaking eggs into the dough. So I taught them and helped them veganize their entire menu." Veganagogo ($3, iOS) will help you overcome language barriers by translating key vegan phrases in 50 languages. It also includes visual aids of animals and their products with lines through them.
Cook Your Own Food
It may require more effort, planning, and time, but taking care of your own meals means you won't be limited to restaurant menus as you travel. "Grocery stores are your best friend," says vegan ultrarunner Scott Jurek, author of Eat and Run. He's a fan of staying at hostels with community kitchens, where your options are limited only by your creativity and the number of burners you can claim. "Something simple like a curry with chickpeas is a great way to interact with people and share the lifestyle." Try the stir-fried chickpea and cauliflower curry and other one-pot recipes from Veganomicon.
Be Adventurous
Don't let your diet hijack your experience. "Because I've been willing to try something new that on paper looked pretty grim," Jurek says, "I've had food that I'd never heard of but is fully vegan." Even if Jurek thinks he can't eat at a restaurant, he'll go anyway because he likes to learn about new cultures. "I want to talk to people and understand them."
Pack Your Calories
On the ground or in the air, always keep a few snacks on hand. Airline food is better and more inclusive than ever, but some meal options remain bleak. On international flights, Jurek packs vegan Builder's bars and veggie-based protein powders that he knows blend well with water. To wit: A frozen vegan burrito will thaw and be ready to eat at room temp sometime after your international flight's second movie.
Lead Photo: AleksandarNakic/iStock