Your Ultimate Guide to Pull Off a Weekend Backpacking Trip
These short-but-sweet hikes are the perfect microadventure for busy people. Here's how to tackle them.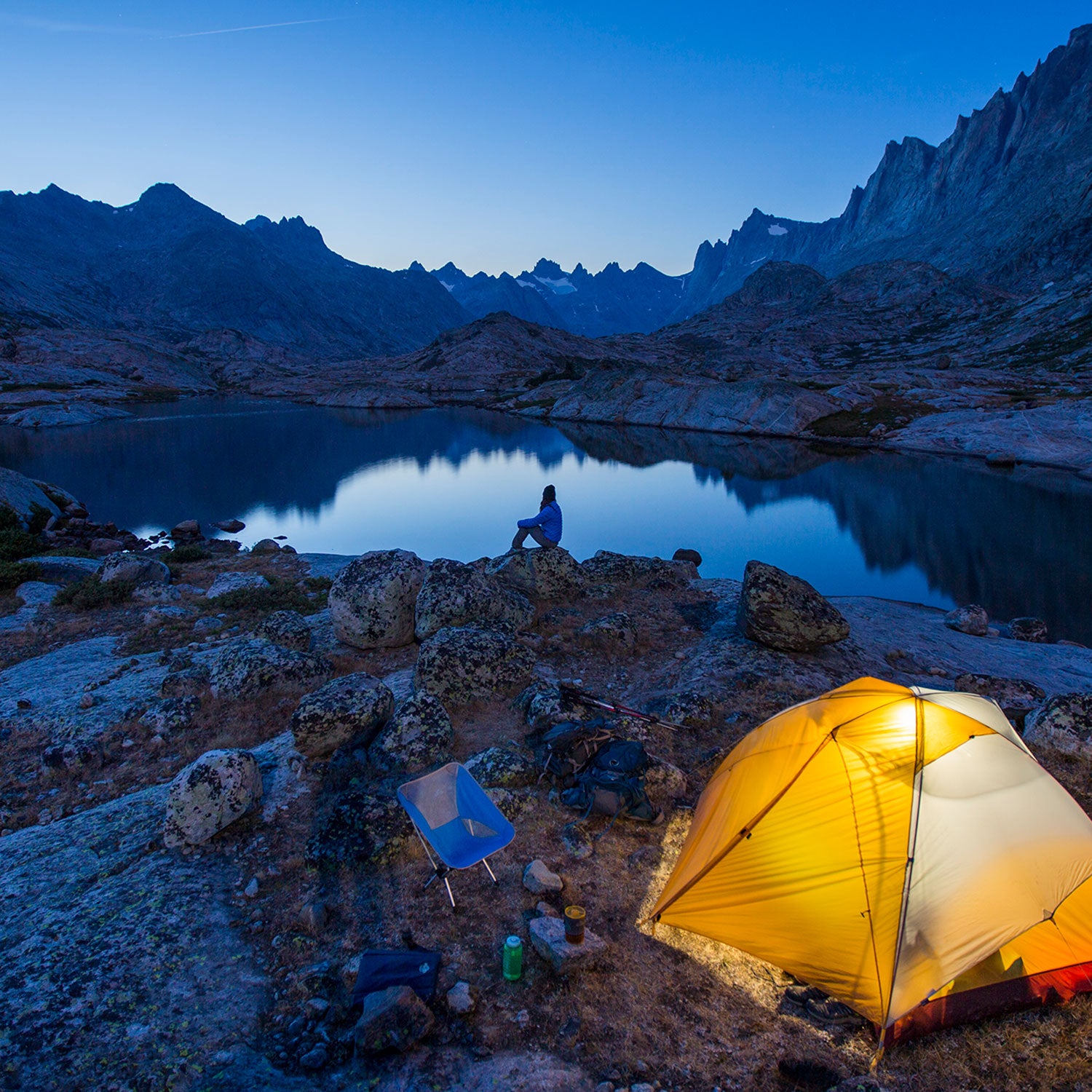 Jordan Siemens/DigitalVision/Getty
Heading out the door? Read this article on the new Outside+ app available now on iOS devices for members! Download the app.
While America's long-distance treks top adventure bucket lists, months-long stints on the Appalachian, Continental Divide, or Pacific Crest trails may not go over well with your day job. That's where microadventure-style backpacking trips can give you a taste of life in the wild.
Here are seven short-and-sweet weekend trips that pack in scenery, solitude, and adventure, sans extended vacation. Plus: how to pack and plan for your adventure.
What Should I Pack for a Weekend Backpacking Trip?
Strategizing supplies and gear—and how to pack it all—can feel like a mental mountain climb. To help you simplify this step, we talked backpacking kits with Chloe Childs, operations manager at professional mountain-guiding service Aspen Expeditions. Her overarching advice: test before you buy. "There was a backpack I thought I was going to buy, then I went into the store and it absolutely did not fit me," Childs says. "Try everything on. It's obviously going to be a little uncomfortable at first, or just feel different, but it shouldn't hurt you."
Read on for Childs's weekend must-haves, and keep our ultimate backpacking checklist handy to compare and contrast your kit options.
Backpack: Look for at least 40- or 50-liter capacity in a weekend-sized backpack, and buy a rain cover (or a pack that comes with one). Bring extra dry bags for fragile items, such as your phone.
Sleeping equipment: Overnighting needs include a tent and rain fly, tent poles and stakes, a sleeping bag, and a sleeping pad (do not forget the sleeping pad). If it's your first time, make sure to set up and break down your tent and sleeping gear at home first, Childs says.
Hydration: Pack a water bottle or reservoir, and a water filtration system, such as a pump, squeeze, or gravity device, plus tablets for backup. Try electrolyte tablets, such as Nuun, for extra hydration.
Food: Make a food plan, with adequate meals and easy-to-eat snacks, such as jerky, fruit snacks, or gels. Childs recommends creating a spreadsheet to tally quantities. For freeze-dried meals, you'll need a camp stove and fuel, as well as waterproof matches or a lighter, cookware, utensils, and cleaning gear. Check local regulations for campfire and food-storage requirements, too.
Clothing: Aim for a simple hiking wardrobe: underwear, socks, shorts, pants, T-shirts, an insulating layer, a rain jacket, beanie, sun hat, and sunglasses, depending on the season. "For the most part, you'll wear the same [thing] every day," says Childs. "One extra change and a lot of socks are great." Hiking boots are also a must; test them well before your trip. If space allows, pack camp shoes to give your toes a break when you're not hiking.
Toiletries: Like any vacation, pack the toiletries you need for personal hygiene, but don't go overboard. Think: hand sanitizer, sunscreen, toothbrush, bug repellent, and, to poop outdoors (responsibly!),  a trowel, toilet paper, and waste bags.
Electronics: Bring a headlamp, power bank, satellite phone or personal locator beacon, and spare batteries, Childs says. For safety, have a map downloaded on your phone via an app like Gaia GPS. Don't forget a laminated paper map of the region, too.
Emergency: Pack a first-aid kit, as well as duct tape, medications, moleskin, a multitool, and a fire starter.
Tips to Plan a Brief Backpacking Trip
Preparation is just as important as gear. Heed Childs's advice:
Read the forums: Whether you look at local hiking forums or dedicated backpacking Facebook groups, Childs says online hiking communities are essential for monitoring conditions, potential restrictions, permitting, water availability, guidelines like how far to sleep from water, and trailhead parking.
Do a dry run: That pile of gear may look like an easy fit, but you won't know if it works until you try—and you want to try before you hit the trail. "Unpack and repack at least once or twice so you're not doing it for the first time in the backcountry," Childs says. Additionally, experiment with packing cubes to stay organized.
Remember elevation: A ten-mile hike in the Great Lakes feels different than a ten-mile hike in the Rockies. Know your fitness, and pay attention to both mileage and elevation gain, says Childs. "Look at where you're starting, then how much you're gaining and losing."
Seek guidance: If this is your first time backpacking, consider joining a class at your local outdoor retailer or head out on a weekend outing with a guide to learn the ropes, Childs says. "It's nice to go with a guide even for one night to see how everything is done—how they set up or make food. It's all these things you don't think about."
Leave No Trace: Before your trip begins, study Leave No Trace's seven principles for responsible outdoor adventures, including proper waste disposal, campfire safety, and respecting wildlife.
Stay fueled: Plan to make proper eating and drinking a priority on the trail. "A good rule of thumb: If you're stopping, take a drink and eat some snacks," she says, noting small snacks to keep your blood sugar up are integral to avoid crashing.
The 7 Best Weekend Backpacking Trips in the U.S. 
Four Pass Loop: Maroon Bells-Snowmass Wilderness Area, Colorado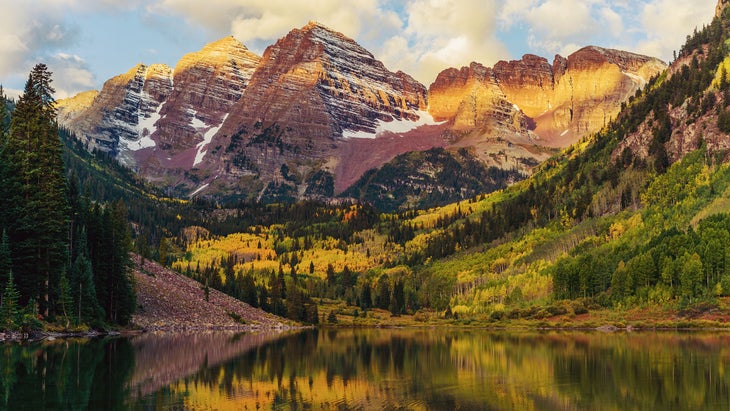 Mileage: 26 miles, loop
Elevation gain: 8,000 feet
Days required: 3 to 5 days
Permit required: Yes
Childs' favorite Colorado weekend backpacking adventure is the Four Pass Loop, a traverse through the towering pines and peak-reflecting lakes of Maroon Bells-Snowmass Wilderness Area near Aspen. This 26-mile route is no walk in the park. It gains 8,000 feet of elevation from the trailhead near Maroon Lake and crosses four mountain passes that exceed 12,000 feet. It's a quad-killer, best completed from July to September, but it's worth the lactic-acid onslaught. In addition to alpine scenery, backpackers could spot elk, moose, mountain goats, and black bears (so bring bear spray), not to mention colorful wildflowers that dot the slopes.
The Enchantments Traverse: Enchantment Area Wilderness, Washington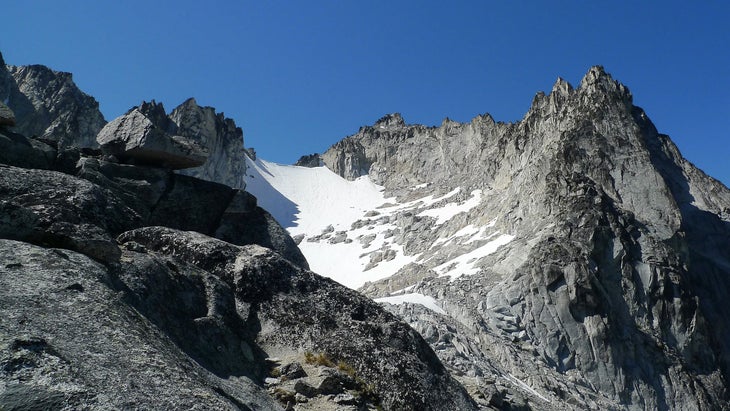 Mileage: 18 miles, point-to-point
Elevation gain: 4,500 feet
Days required: 2 to 3 days
Permit required: Yes
Few weekend backpacking trails embody Pacific Northwest splendor like the Enchantments, an 18-mile adventure through central Washington's larch-lined wilderness. The route, which starts via the Stuart Lake trailhead outside Bavaria-inspired Leavenworth, rolls by snow-flecked crag, mirror-still lakes, and roaming mountain goats. Some pursue the trek by day—a feat that takes a rough 10 to 15 hours—but for a milder and more immersive jaunt, wait to nab the permit for overnighting. When you do, follow the Forest Service's guidance to keep the flora and fauna, particularly its resident goats, safe.
Cirque of the Towers: Wind River Range, Wyoming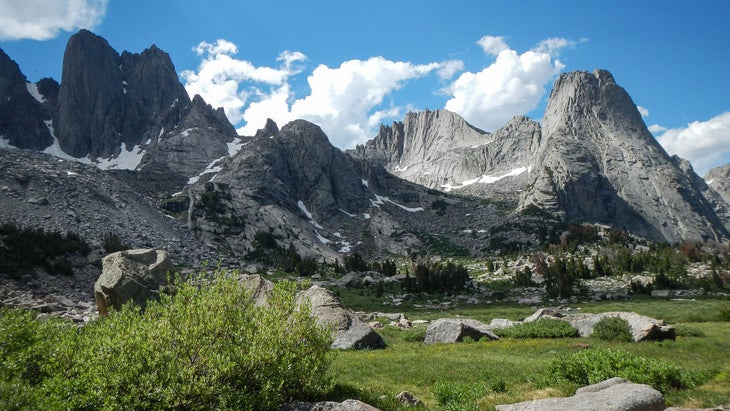 Mileage: 24 miles, loop
Elevation gain: 3,900 feet
Days required: 3 to 4 days
Permit required: No
Cirque of the Towers looks like a postcard from Patagonia. But this amphitheater of craggy 12,000-foot fangs, and the still lakes that reflect them, can be found in Wyoming's Wind River Range, located along the Continental Divide. A weekend backpacking trip along the Cirque of the Towers loop, which starts from Big Sandy Lake, provides the perfect landscape perch, not to mention a solid roughly 24-mile workout with nearly 4,000 feet of elevation gain. No permit is required, but backpackers are asked not to camp within a quarter-mile of Lonesome Lake. The trail starts at the Big Sandy Trailhead, just over 50 miles from Pinedale, Wyoming.
Lost Coast Trail: King Range National Conservation Area, California
Mileage: 24.6 miles, point-to-point
Elevation gain: ~50 feet
Days required: 3 to 4 days
Permit required: Yes
It may be a waterfront trek with minimal elevation gain, but the Lost Coast Trail in northern California is much more than a beach saunter. This challenging and roughly 25-mile outing traverses boulders, pebbles, and sand—with the challenge of unpredictable waves and weather that requires hypervigilant planning and monitoring. The reward? Three to four days along this untamed California coastline. The Lost Coast's stretch of the Pacific shoreline is so rugged that the state veered its coastal Highway 1 inland here. Hiking is one of the only ways to reach the patchwork of pines-meet-the-sea scenery, with black-sand beaches, wildflower-dotted hills, and sea lions and elephant seals adding entertainment to the trail. Your north-to-south trip begins at Mattole Beach in Humboldt County. A permit is required for overnighting, and campsites abound along the trail. Book the shuttle back to the parking area from the trail terminus, black sand beach in Shelter Cove.
Greenstone Ridge Trail: Isle Royale National Park, Michigan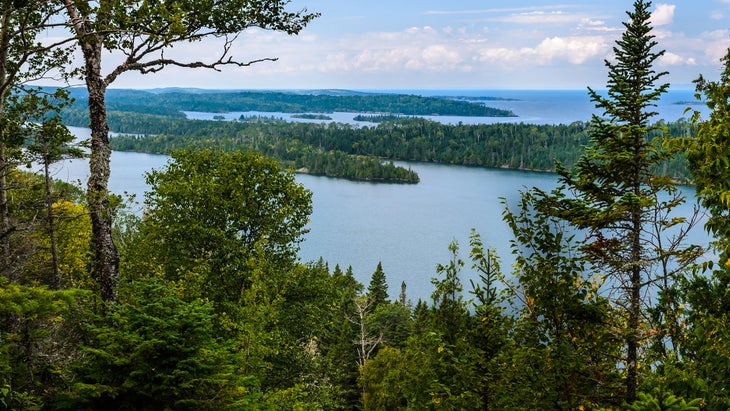 Mileage: 42 miles, point-to-point
Elevation gain: 4,320 feet
Days required: 5 to 8 days
Permit required: Yes
Hit the pine-flanked spine of Isle Royale National Park for a long weekend, or weeklong, adventure on Lake Superior. The 42-mile Greenstone Ridge Trail runs the length of the island, from Windigo Harbor in the west to Rock Harbor in the east. It's a treat of topography, with forest jaunts, rocky climbs, boulder-dashed shores, and makeshift bridges through marsh and swamplands that keep you on your toes. Moose sightings only add to the thrill, while echoing loon calls by the waterfront campgrounds put a soothing cap on your backcountry day. Given the remoteness, you'll need a multi-hour ferry ride or seaplane from Copper Harbor, Michigan, or Grand Portage, Minnesota, to even reach the trailhead. If your vacation days don't allow for a full Isle Royale traverse, stitch together closer campsites, such as a three-day out-and-back from Rock Harbor to Moskey Basin. The national park is open from mid-April through October. Plus, here's our best packing advice for Isle Royale.
Art Loeb Trail: Pisgah National Forest, North Carolina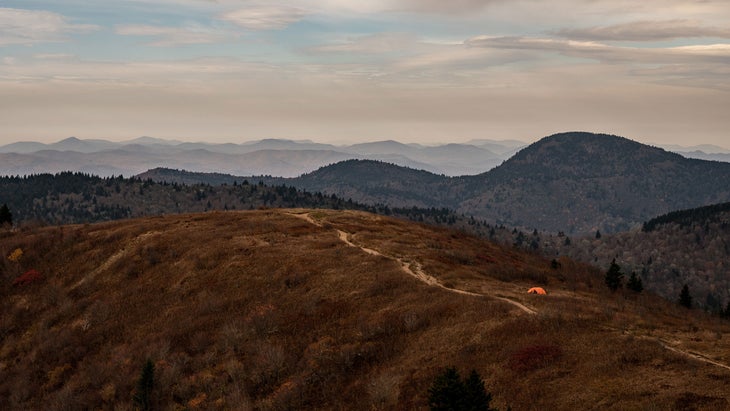 Mileage: 30.1 miles, point-to-point
Elevation gain: 9,000 feet
Days required: 2 to 5 days
Permit required: No
Admire Pisgah National Forest's Appalachian balds and deep-green panoramas via the Art Loeb Trail, a 30-mile point-to-point route 40-some minutes south of Asheville. The trail meanders along rocky ridges and over four 6,000-foot peaks, including 6,214-foot Black Balsam Knob, with stints near the lush Davidson River valley and Blue Ridge Parkway. No permit is necessary for this North Carolina outing, but you will need bear canisters. Additionally, campfires are prohibited. Visit in the summer for a verdant wonderland, or autumn for an eye-popping palette of yellow pines and cherry-hued hemlocks.
Devil's Path Trail: Catskill Park, New York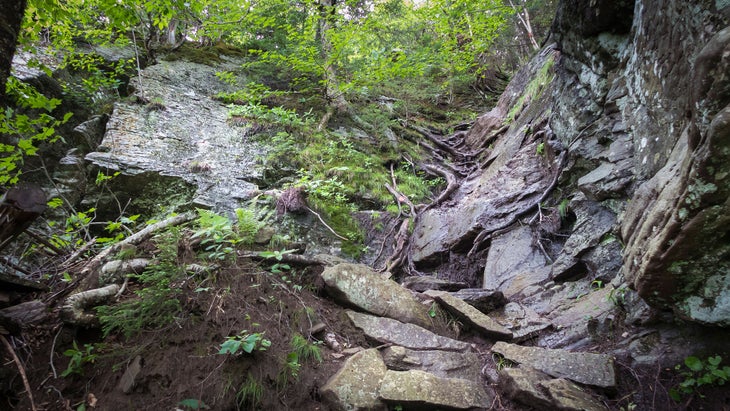 Mileage: 25.2 miles, point-to-point
Elevation gain: 8,500 feet
Days required: 2 to 3 days
Permit required: No
As the trail name alludes, the Castkills' Devil's Path is challenging. The 25-mile out-and-back path crosses five of the region's high peaks: Indian Head, Plateau, Twin, Sugarloaf, and West Kill, which are all above 3,500 feet. This red-blaze adventure begins at the Prediger Trailhead, roughly two hours driving from Manhattan. You'll tackle loose rock, scrambling, and aggravating false summits throughout, but the pain is well worth the gain. The Devil's Path features some of the best Catskills vistas, with pine-dotted peaks, hills unfurling to the horizon, and solitude you may not expect to find within 120 miles of the Big Apple.
Lead Photo: Jordan Siemens/DigitalVision/Getty