What adventures can I find in Salisbury, MD?
I moving from New England to Salisbury, Maryland, for work. The problem is, Salisbury and the surrounding area are dead flat. I rock climb, mountain climb, mountain bike, etc. and these sports appear to be hopeless in this area. Any suggestions on how I can continue these sports or what adventures are available in Maryland? Mike Salisbury, Maryland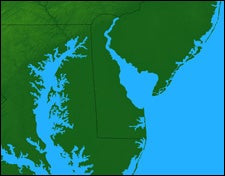 Heading out the door? Read this article on the new Outside+ app available now on iOS devices for members! Download the app.
Back in high school we used to call Salisbury Dullsbury and that was years before I'd even heard of sports like climbing and words like mountain. (Yes I grew up there). But that's not to say you're moving to the ends of the earth, at least in terms of outdoor adventure. In fact, of all the places to move in Maryland, my very biased opinion says you've picked the right shore for the outdoors.
Chesapeake Bay
Delarva-lous!: The Chesapeake Bay region, a haven for level-land activities
The first thing you need to learn about moving to the heart of Delmarva—the peninsula of Delaware, Maryland, and Virginia framed by the Chesapeake and Atlantic—is to look for adventure by looking down, not up. Mountain climbing is pretty much out: The highest point near Salisbury, not including the parking garage downtown, is a bump of about 80 feet or so—and there's a church on it. Look down though, and you'll see thousands and thousands of miles of shoreline—Dorchester County northwest of Salisbury alone has a whopping 1,700 miles. And that means canoeing, sea kayaking, marsh mucking, birding, and lots of fishing and even surfing. The two tools you need most: a canoe or a kayak and a road bike. (Sorry, you'll have to head hours west for mountain biking).
Pretty much every school kid in Maryland has heard of Blackwater National Wildlife Refuge and they all have been there once—maybe. (That's because they think there is nothing to do.) Spring and fall are absolutely lovely in this 27,000-acre park of cordgrass, cacophonous ospreys, and winding guts that ooze with the murky tide. Launch a boat at Shorters Wharf and you can be slipping past quiet marshes and across big open water on a nine-mile paddle to a pickup point off Route 335. The refuge has two other water trails, each about eight miles round-trip. Bring your bike, too. This area has a fast 30-mile loop along country that you can pound out at a record pace or take more leisurely to look for the endangered Delmarva fox squirrel. Blackwater Paddle and Pedal Adventures can help you with the logistics (410.901.9255; blackwaterpaddleandpedal.com). Pick up a map of the water trails, an absolute must, online at the Friends of Blackwater store (friendsofblackwater.org/store.html).
The list of places to paddle goes on and on—Janes Island Water Trail near Crisfield; Pocomoke River and Nassawango Creek, near Snow Hill; Assateague Island National Seashore—but so much flatness makes for excellent bicycle touring well beyond Blackwater. Get yourself a BOB trailer (800.893.2447; bobgear.com) and head out every chance you get to explore the peninsula from the saddle. That means getting way off Highway 50 and Highway 13 to explore back roads through the Pocomoke Forest—home to some of the spookiest cypress swamps so far north—and along Whitehaven Road. There you can cross the Wicomico River by loading your bike onto a cable-pulled ferry that's been running since 1685.
DLITE, or Delmarva Low Impact Tourism Experiences, has just put out a bicycle map that lists 2,500 miles of excellent roads for touring around the peninsula. Last spring I rode from Assateague to Crisfield along a lonely stretch blacktop traveled too infrequently to justify its painted lanes. I passed ruins of churches built in the 1600s and along ditches prickly with wild asparagus. I saw owls swoop in on serrated wings to perch in cypress trees a hundred feet high and gazed out upon marshlands so vast and quiet it was hard to believe I was in the heart of the megalopolis. One night, I sat out on a porch of the River House Inn in Snow Hill, a gothic manor perched along the drowsy Pocomoke River, and watched lightening bugs twinkle in the sweet spring air. I wondered why I ever left.
Contact DLITE at 410.213.2297 or delmarvalite.org and the folks there may just come out with you just for kicks. If not, they can certainly tell you where to go.