What's the perfect place for a cycle tour of Alaska?
My sons are serious cyclists in their twenties and want to do a bike trip with Mom and Dad in Alaska this summer. Can you recommend something challenging for them that won't kill us? P S. Highlands Ranch, CO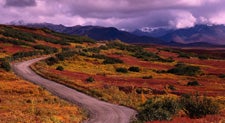 Heading out the door? Read this article on the new Outside+ app available now on iOS devices for members! Download the app.
For a self-guided, breathtaking adventure, head to Denali National Park, a six-million-acre swath wilderness, with just one road open to private vehicles, meaning the landscape is sees less traffic than a quiet suburban neighborhood. The 90-mile gravel highway affords bicyclists, bus riders, and hikers with views of Mt. McKinley, the highest mountain in North America at 20,320 feet, along with endless glaciers and wildlife. To get started on this back road adventure, rent a bike for $35 a day at the Denali Outdoor Center near the park's Visitor Center at the entrance. From there, transport bikes and camping gear 13 miles ahead to the Savage River Campground, the perfect location for a base camp at just $22 per night. From here, you can ride as far as the road will take you; you go as long as you like and then turn around, while your 20-something can go on and on and on… To see more of the park, hop on the shuttle with bikes in tow and travel to various points along the highway. Traversing sub-arctic tundra, rolling mountainsides, and wildlife viewing areas, you might catch a glimpse of wolves, grizzly bears, Dall sheep, and moose. The Class V Teklanika River crosses under the road at mile 29, and weaves through a treeless landscape. At mile 47, Polychrome Overlook offers views of the Polychrome Glacier and the Toklat River. The newly renovated Eielson Visitor Center at mile 66 offers 24-hour refuge for backpackers and a new sustainable design that provides a comfortable lunch spot after a long bus or bike ride. Make sure to get off two wheels and hike to Mt. McKinley's surrounding glaciers like Muldrow, which cover one million acres of the park. To get there, fly into Anchorage and rent camping gear at REI, then drive north 240 miles to the park entrance.
Road in Denali National Park during the summer

Denali National Park
If an organized tour is more your style, try a two-day, 40-mile Alaskan Adventure mountain biking trip on singletrack with Alaska Backcountry Bike Tours. Beginning in Anchorage, Backcountry transports all equipment to a designated base camp on the Kenai Peninsula. Day one's agenda has bikers ascending a trail through birch and aspen trees along a ridge on Right Mountain with views of Wrong Mountain. After reaching Crescent Lake, the tour loops back around through the valley and descends back to the trailhead for a total of 17 miles and 1,000 feet of elevation gain. On day two, bikers ride along the Upper Russian River trail for 23 miles, skirting the Harding Ice Field before dropping into the Russian River Valley. At mile 20, you can watch the falls of the Russian River from observation decks, observing the sockeye salmon ascending 40-foot plumes of water on their way to spawning grounds. After each ride, bikers are shuttled to base camp for dinner, showers, and rest. On day three, explore the coastal town of Seward, trek the Kenai Fjords, sea kayak, or go halibut fishing. Finally, make your way back to Anchorage on the Alaska Railroad. The tour includes all meals and camp and park fees, rental equipment and transportation starting at $445 per person.
Or take a multi-day tour that combines a music festival, canoeing, and a few days of biking. If you're a music lover, start off at the annual Dawson Music Festival, held each mid-July in Dawson City, Yukon (Canada). Past artists include the Barenaked Ladies and Crash Test Dummies. After the festival, Alaska Bicycle Tours will set you up in a canoe for a three-day float along the Yukon River to Eagle, Alaska. They'll meet back up with you on day three for the cycling leg of the trip and take riders on both the Taylor and Top of the World highways. Three days of riding includes approximately 30 to 40 miles on a hard-packed dirt road, and camping on the American Pass and Top of the World junction near the U.S./Canadian border. The last day includes a nine-mile downhill coast to the ferry back to Dawson. Price for the 11-day tour is $2,195 and includes music festival passes, lodging, bike and canoe equipment, meals, and van support. If you'd prefer to leave the music to the younger crowd, join the tour on day four for just $1,850.