Where Are the Best Places in the World to Go Zip-Lining?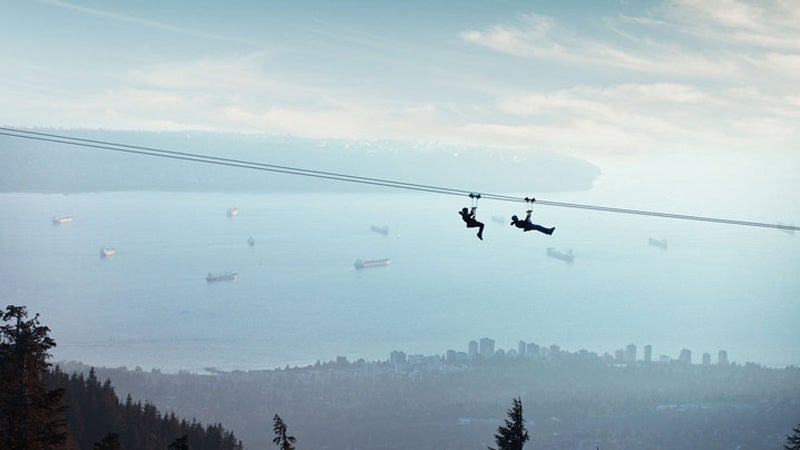 Heading out the door? Read this article on the new Outside+ app available now on iOS devices for members! Download the app.
Before researching this article, I had no idea that zip lines—incline-mounted cables that use gravity to enable said zipping—were also called death slides. It's probably best I didn't know this when I harnessed into the lines at Grouse Mountain to slide at nearly 50 miles an hour through, and sometimes 200 feet above, old-growth forests in Vancouver.
Nickname aside, zip-lining is relatively free of risk. Along with B.C.'s Grouse, the adrenaline-pumping destinations that follow—all world-class, and all with impeccable safety records—offer unmatched experiences in incredible places.
The Zip 2000 in Sun City, South Africa, is known for extremes. Measuring in at more than a mile, it's among the longest lines in the world. It's also one of the highest, and therefore one of the fastest. Zip 2000 averages speeds of 75 miles per hour (and sometimes approaches 100). As if that weren't thrilling enough, riders fly in the Superman position—belly and face down—so they can see the ground below scream by (or maybe they're the ones screaming?).
The title of world's longest zip line course, however, belongs to Miss Sky Canopy Tour in Nosara, Costa Rica. The near-7-mile course is composed of 21 runs, culminating in a stage that crosses the Nosara River to a disco bar. Seated in harnesses, visitors take in views of the 2,500-acre rainforest preserve where the line is located, as well as waterfalls and the Pacific Ocean. Zip-liners looking for a lengthy ride in the U.S. should head to the ZipRider at Icy Straight Point, Alaska. This mile-long-plus line takes a 1,320-foot drop, sailing riders from start to finish in 90 seconds. 
The Flying Fox (the local term for a zip line) at Mokai Gravity Falls in Taihape, New Zealand, achieves speeds of nearly 100 miles per hour as it soars 600 feet above a riverbed. Visitors will find strength in numbers here: this Superman-style line can hold up to three people at a time.
Trending on Outside Online