Where can I learn to kite-board in Mexico?
Where can I go in Mexico or Cuba to learn kite surfing? I prefer the western coast, or the Yucatan in Mexico. Oh, and I'm a total newbie. Craig Mexico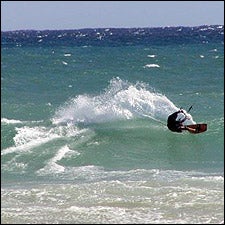 Heading out the door? Read this article on the new Outside+ app available now on iOS devices for members! Download the app.
Location, location, location. Just as finding the perfect waves is essential to a successful surfing adventure, kiteboarders must find hearty, consistent winds—the key when choosing the perfect boarding arena. And although there are miles of Mexican shoreline, only a few spots are notoriously windy. We've combine these prime conditions with access to water and a great instructor to create a reliable list of Mexican hot spots catered to teaching you the ways of the kite board.
Kiteboarding

WINDOW TO ADVENTURE: Captain Kirk's Kiteboarding School in La Ventana
First, there's San Quintin, a small farming town in Baja located 200 miles south of the U.S. border. While it's well known for smaller waves, a ten-mile long beach, and giant "pismo clams," it's also a second home for San Diego-based West Coast Kiteboarding (619.813.2230; westcoastkiteboarding.com). The full-time kiteboarding school offers lessons to all ages. Beginners have their choice of a land-based three- to four-hour session for around $170 or an extended class for an additional $60. During the extended class, students learn how to fly a full-size kite on full-length lines. All lessons include the use of kiteboarding gear and never exceed a student-to-instructor ratio of two to one. West Coast bases its operations from the La Pinta Hotel, just south of town and right on the beach. Students receive discounted lodging rates, but prices are only about $79 per night, anyway. Each room is equipped with a private balcony and satellite TV, and amenities include a restaurant and bar. San Quintin is also known for bountiful fishing and you're sure to find local eateries serving the catch of the day or those tasty "pismo clams." If you'd like to down there on your own, you can hook up with West Coast's monthly carvans, which depart from San Diego during the windy season (April to September). And if you'd rather not brave the roads of Baja, call ahead to arrange for a seat in a West Coast rig.
What about after September? Located on the eastern coast of the Baja peninsula and just 40 minutes from La Paz rests the remote but very wind sport-oriented town of La Ventana. The home of Captain Kirk's (310.833.3397; captainkirks.com), an established kite boarding school, newbies like yourself will find an educated staff of PASA (Professional Air Sports Association) instructors. As one of the most consistently windy places in the world during peak season (September through April), the town has a tight community of dedicated kiteboarders. Founded in 1993, Captain Kirk's was La Ventana's first resort and kiteboarding school. Lessons for beginners are offered at $199 for three hours. A three-lesson package goes for $499, with 50 percent of the price going toward the retail cost of a new kite and board. Nine hours will cover everything from kite inflating and rigging to performance analysis. Lodging at Captain Kirk's is also available from $99 per night (peak season) in a house trailer or $149 for a night in a small casita. When not riding the wind, consider some sport fishing; the region famous for dorado, yellowtail, wahoo, and more. There are no true grocery stores or hotels in La Ventana, so camping (Kirk's is quarter-mile mile north of the public campground) or renting a bungalow is essential if you'd like to spend a few days on the water.
And if you'd like to make a trip to the Yucatan, plan on visiting a group of friends who founded the IKARUS Kiteboarding school in 2002 (+52.984.803.3490; kiteboardmexico.com), becaming Mexico's first certified kiteboarding instructors. The school pioneered wind sports in Playa del Carmen, where gusts are best November through May. The Riviera Maya of the peninsula allows riders of all levels to explore diverse boarding conditions—high wind, gentle gusts, rough seas, smaller waves—while immersing themselves in the Yucatan landscape. IKARUS Kiteboarding School offers lessons in the National Marine Park of Puerto Morelos, where snorkelers will find blue parrotfish, barracudas, and spotted eagle rays can be found just 550 yards offshore. Three kiteboarding programs are offered, each reinforcing your achievements with a certified kiteboarder card. The first level will take you through piloting a two- or four-line kite, safety tips, equipment requirements, and the fundamentals of launching and landing. The next program will get you up on a board for your first ride on the water, and the last lesson teaches the ins and outs of managing your practice area, riding upwind, and jumping. Lessons are priced at $55 per hour and full equipment rentals including kite, board, and harness, start at $60. IKARUS also offers lodging packages in Playa del Carmen, as well as daily lessons at their school in Cancun.