Where can I learn to learn to skydive on the West Coast?
I'm turning 30 this summer and would like to take skydiving lessons. Can you recommend a safe but fun place to go somewhere on the West Coast? Megan P. San Diego, CA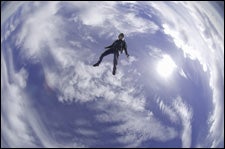 Heading out the door? Read this article on the new Outside+ app available now on iOS devices for members! Download the app.
You've found yourself a great way to celebrate your 30th! Jumping out of a plane isn't just for crazy adrenaline junkies anymore; it's become a safe, fun, and utterly thrilling adventure you can do solo or with your friends—and definitely earns you bragging rights after you've safely touched down. And as the sport is more popular than ever, there are loads of facilities across the States that cater to beginners. The trick is finding the right one.
skydiver

WALK BEFORE YOU FLY: An experienced skydiver in free fall
From their first appearance in the 18th century, parachutes have been used all over the world for jumping. But it wasn't until the 1950s, when skydiving was officially designated as a sport, that chutes were designed for jumping out of a plane. Since then, the equipment has been continually revamped—with safety at the top of the priority list.
Nevertheless, before signing up with any average Joe with a drop zone in his backyard, do your research. Members of the United States Parachute Association (USPA) are required to follow basic USPA safety requirements, including using USPA-licensed trainers and USPA-required equipment. While it's not necessary for all outfitters to become members of the USPA, a list of their members (located on the USPA website) is a good place to start. And if you can, visit in person before signing up. You'll feel much better if you've taken time to talk to your pilot and instructors before the day of your jump.
That said, you're in luck. Just 20 minutes from downtown San Diego is Pacific Coast Skydiving (619.661.0194). Pacific Coast is a member of the USPA, and jumping with them offers views up the Southern California coast, Baja, and Mexico while flying two miles above the Pacific Ocean.
For your first time skydiving I'd recommend tandem jumping, where you stay clipped onto your instructor's harness—but still get the free fall and the option of pulling the rip chord yourself. It's cheaper than going it alone, and takes much less instruction time. Pacific Coast's beginners tandem package starts with a 15-minute safety training. Then, after climbing into a harness, the instructor performs a safety check and you board the plane. You jump from an altitude of over 10,000 feet, and free-falling at 120 miles per hour for 5,000 feet until it's time to pull the rip cord, leaving another 5,000 feet for you to enjoy the view (since you probably weren't thinking about how nice the ocean looked during the free fall). Pacific Coast tapes everything from launch to landing, so you'll capture every moment of your hair-raising experience. A first-timers tandem package starts at $175.
If you're looking to get out of town, try Skydive Oregon (800.934.5867), where you'll enjoy lush, green views of Mt. Hood and the Pacific Northwest. Located just 45 minutes from Portland at the largest private island in the state, they've trained over 70,000 students. Beginning tandem skydivers fly to an altitude of 13,000 feet before jumping with their instructor. Skydive Oregon is also a member of the USPA and offers tandem students an instructional class prior to jumping and a first jump certificate. Tandem jumps begin at $189. For $99 extra, Skydive Oregon will have on-staff camera flyers capture your entire jump on video, which means you can relive the experience over and over again (though take it from me, your friends will get tired of it after the first couple times-even though you won't).
Finally, there's something to be said for trying it before you buy it. To dodge the "buyer beware" stigma, head east to Las Vegas, home to both the top skydiving school in the United States, averaging 15,000 jumps per year, and the country's oldest indoor skydiving facility. First, visit Vegas Indoor Skydiving (877.545.8093), where you'll get all the thrill of flying without the jump. A vertical wind tunnel allows you to experience a flight similar to free fall surrounded by trampoline floors and padded walls. Single flights are $75 and include an instructional class, gear, and three minutes of flight time. If you just can't get enough of the rush, try it again for $40. Then, if you still want the real-deal experience of jumping out of a plane at 13,000 feet, sign up with Skydive Las Vegas (800.875.9348) for a tandem jump. Hoover Dam, the Vegas Strip, Red Rocks, Lake Mead, and four states can be seen during your 60-second freefall. Jumpers get basic safety instruction prior to their first jump, and Skydive Las Vegas offers a free shuttle to and from the drop zone. Staff includes 12 USPA-licensed jumpmasters and multiple planes. They are open seven days a week from 8 a.m. to 3 p.m. and are based out of a 7,000-square-foot air-conditioned hangar. Regardless of whether you're flying inside or jumping from a plane, the thrills of being airborne will definitely make you feel like a kid again.
–Amy A. Clark