Where can I learn to whitewater kayak?
My friends and I are interested in learning how to whitewater kayak. Can you recommend a good two- or three-day course in California or Oregon? Thomas H. Los Angeles, CA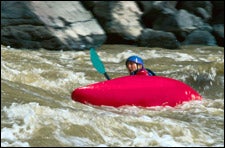 Heading out the door? Read this article on the new Outside+ app available now on iOS devices for members! Download the app.
Some of us only dream of riding rivers that can be both peaceful and wildly dangerous. Yet even first-time kayakers can make it a reality with the right instructor. Find someone who can show you the ins and outs of eddies, edge control, and how to nail your roll, and you'll grow confident enough to navigate frothy paths safely on your own. There are many kayaking schools that will teach you the basics, and all of them are designed to get you paddling on easy rivers with friends. But California and Oregon both have schools in the Cascades that pair up dedicated instruction with stellar scenery.
kayaking

The art of the Eskimo roll
Current Adventures Kayak School in Lotus, California, has a two-day River Kayaking I course that gives you the knowledge to start out in a calm and steady current on Class I water. You'll practice basic paddling strokes and learn how to read and ferry across water on the lower American River, with views of the Sierra foothills and its rocky gorges. Current Adventures promises a three-to-one student-instructor ratio, or better. The cost is $255 for the two-day course, and it's offered July through October. All paddling equipment, fees, snacks, and transportation are included. Local camping spots are $6 to $8 per person (888.452.9254; currentadventures.com).
Aqua Adventures Kayak Center in San Diego teaches many of the same skills. You'll meet at Kern County Campground outside Bakersfield, where the Intro to Whitewater Kayaking course will take place on the Kern River. During 12 hours of class, instructors will show you how to peel out of eddies and the all-important Eskimo roll, which you'll learn on a "sit-on-top" kayak. These boats will allow you to focus on the technique of the roll without the confinement of a spray skirt. You'll also get tips on reading the river, whitewater safety, and edging. Located in the Seqouia National Forest, the Kern is surrounded by old growth pines, rocky faces adorned with Indian pictographs, and numerous waterfalls. A cost of $290 includes two days of lessons, meals on both Saturday and Sunday (except Sunday dinner), and paddling equipment. They recommend you camp, and fees range from $10 to $20 per person for the weekend. But sign up quick, because this course is only offered July 14 to 15 (800.269.7792; aqua-adventures.com).
A little farther north in southern Oregon, you can learn the whitewater basics from Kokopelli River Guides as they launch the American Canoe Association's whitewater kayaking curriculum. The level one class is small with a four-to-one student-instructor ratio and no experience is necessary. Students will begin at Emigrant Lake in the southern Cascades—just a five-minute drive from the historic town of Ashland. As a beginner, you'll cover "wet exiting" (how to slip out of the kayak while underwater), basic paddling techniques, and bracing and steering the kayak. Certified instructors will teach you the latest in rolling techniques to make you brave enough to attempt your new moves for real. On day two, you'll move to the Klamath River in northern California, where you'll begin your whitewater adventures by paddling with the salmon and learning about the correct maneuvers on Class I and II rapids. Don't forget to look up as you're likely to catch views of eagles, ospreys, and maybe even a bear or two. Cost for this course is a $199 and includes all of your paddling gear. Classes are offered throughout the summer (866.529.2538, kokopellikayak.com).
And if two days just doesn't seem long enough, try Wet Planet's three-day beginner course. Located on the Columbia River Gorge near Hood River, Oregon, Wet Planet was established by group of professional kayakers including Todd Collins, the company's original visionary. The group's goal was to set the standard in the commercial whitewater business simply by hiring a professional, safe, and friendly bunch. Sign up for the company's three-day entry-level whitewater course and you'll be tackling Class I and II whitewater under the instruction of some of the most experienced and highly trained staff in the region. On day one, start off in the pool to learn how to exit your boat safely before practicing Eskimo roll fundamentals. By days two and three, Wet Planet will have you riding the Columbia River through vast gorges under high plateaus. The cost is $295 and includes lunches, as well as all of your equipment (877.390.9445; wetplanetwhitewater.com).
—Amy A. Clark