Where should I camp in Switzerland with my kids?
Camping in the United States is a great thing, but camping in Europe seems to be camping in parking lots. Where can we go camping with kids in Switzerland? What resources will tell us about U.S.-style camping places...accessible with kids. David New Orleans, LA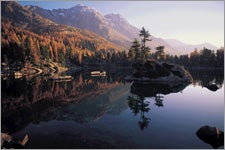 Heading out the door? Read this article on the new Outside+ app available now on iOS devices for members! Download the app.
As much as backpacking is associated with Europe, you'd think camping would be a more popular recreation among travelers there. But when it comes to trips across the pond it seems backpacks more often end up on hostel floors than inside tents. That's not to say that there isn't any camping on the continent—quite the opposite, in fact. There are thousands of campgrounds (or, campings as they're called overseas) all over Europe—tucked away in countrysides and lying just beyond big city borders, as well as a good portion in between. Most are well organized, family-friendly, and offer good facilities.
Switzerland's Lake Saoseo

Switzerland's Lake Saoseo
Switzerland is easily one of your best bets for finding campsites to suit your family's preferences. The spectacular natural attractions and Swiss affinity for the outdoors make the chance of a "parking lot" feel less probable than, say, a campground just outside of Paris. You will also find plenty of outdoor activities for the whole brood to enjoy in just about every region of the country. That being said, the Bernese Oberland is ideal for families who want to immerse themselves in both the beauty and adventure of Switzerland. Situated in the canton of Bern, the Oberland includes peaks and valleys of the Bernese Alps, as well as Lake Thun and Lake Brienze and their surrounding areas. Interlaken is the most touristed town in the region, and, hence, has the largest selection of campings.
There are a couple standouts of Interlaken's array of places to sleep under the starts. Camping Aaregg, on the eastern shore of Lake Brienz, gets loads of raves with over 240 plots for short-term camping, some of them at lakeside. Facilities are clean and updated (circa 2006), and a large playground really makes it a family place. Adults stay for about $11/night, children over six are $7/night, and little ones five and under are free. A lakefront tent is about $14, and there are some small taxes as well. Essentially, accommodations for a family of five are around $50/night. Camping Jungfraublick is another ideal family campsite with modern facilities, laundry, a playground, and even a pool. Rates during the high season begin around $9/night for adults, $4.50 for children over four (three and under stay free). Pitching a tent is anywhere from $10 to $30/night depending on the size of the plot.
While the campings themselves make for a comfortable family stay, one of the best amenities is their proximity to a seemingly limitless amount of outdoor action. Excellent hiking, biking, skiing, paddling, and paragliding are just a few of the adventures that draw outdoor entusiasts to the locale, and you can access most of them right outside your door (or tent flap).
ACSI EuroCampings is a good place to begin your research on campsites in Europe. The organization touts itself as "Europe's leading camp site specialist" and, judging by its website, may be just that. An interactive map lets you search for campings by country, then regions within countries, and provides details on individual campsites, including photos and URLs to check out sites more closely, as well as 1-to-10 scale ratings and camper reviews. ACSI also sells the CampingCard, which offers reduced rates at participating campings (similar to America's KOA, except the campgrounds aren't owned by ACSI). The one negative about the card? You could miss out on a great campsite if it's not part of the ACSI system—only about 1,600 campings out of over 8,000 participate in the CampingCard program. But if you have a specific place in mind, it's worth finding out of it's in the mix.
If you want to leave the research and planning to someone else, Canvas Holidays is a UK-based company that will find a campsite and make all of the reservations for you. It does somewhat deflate the DIY mentality of camping, but it might work for those who have time to travel, but not to coordinate the details.
Finally, the Swiss Tourism Board is an excellent resource for general travel in Switzerland, plus a solid authority for information on camping there. If you can't find what you are looking for online, try contacting them with specific questions. In true Swiss fashion, they are reliable and efficient about responding to queries.
–Linda Samuel