Where in the United States can I stay overnight in a tree?
Where in the United States can I stay overnight in a tree? Alice Massillon, OH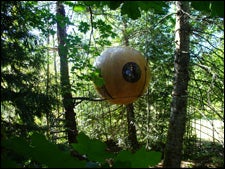 Heading out the door? Read this article on the new Outside+ app available now on iOS devices for members! Download the app.
Ah, yes…the desire to transform the lazy days of our treehoused youth into an arboreal escape for the 21st century. Someplace modern yet primitive, refined yet rustic. We hear you…and we've got several choices…
treehouse

SUSPENSEFUL LIVING: A view from the top in Free Spirit Spheres' suspended pods
Near the base of Mount Rainier, Cedar Creek Treehouse (360.569.2991) bed and breakfast sits 50 feet above the groud in a 200-year-old Western Red Cedar tree. And that's not even the cool part. The treehouse is accessible via a spiral stairway that climbs 80 feet up an adjacent fir tree and connects to the structure's observation deck by a 500-pound steel bridge that's 44 feet long—and painted like a rainbow. The two-level treehouse spans 16 by 16 feet, and can accommodate up to five people. From above the treeline you can enjoy views of the Sawtooth Ridge peaks while spending the night with spotted owls and bald eagles. A glass-enclosed observation deck sits on the fourth floor, complete with a hammock for swinging above the trees. With Mount Rainier National Park just ten minutes away, you'll probably feel like exploring beneath the canopies for a while. Hike up to High Rock Lookout, the last manned lookout in the Packwood Ranger District, where you'll get clear views of Mount Rainier, Mount St. Helens, and Mount Adams. Or get out the mountain bike and conquer a 23-mile loop that swings by the High Rock Lookout over paved and gravel roads. Oh—and it's pegged a bed and breakfast because it has electric lighting, gas stove, toilet, and sink. Prices are based on double occupancy at $300 per night.
A little further north in Qualicum Bay, British Columbia, lies two structures that are one-third hammock, one-third treehouse, and one-third space craft all wrapped into nautical packaging. Free Spirit Spheres (250-757-9445), located an hour north of Nanaimo on Vancouver Island's east shore, is comprised of Eve and Eryn. These two pods, created by former boat craftsman Tom Chudleigh, hang suspended 15 feet in the in the air, looking as if they were spherical spacecrafts that landed in the trees on their decent to earth. Eve is the smaller of the two at 11 feet in diameter, and both are made of cedar stripping. Inside, you'll find cozy trampoline-like rooms stocked with the comforts of home—iPod docking stations included. Double bed, table, kitchenette, bunk bed, and even a coatroom leave nothing to be desired except perhaps a bathroom, which comes in the form of an outhouse, located at the base of both pods. The bathhouse across the on-site pond has showers and a sauna, along with bath towels and linens for guests. Prices start at $125 per night.
But head south to Cave Junction, Oregon, and the number of choices in overhead lodging might leave your head spinning. With 18 treehouses on 36 acres neighboring the Siskiyou National Forest, Out 'n' About Treehouse Treesort (541-592-2208) offers guests this unique lodging experience as well as workshops on how to build these interesting structures. Book a night in a treehouse with a full bathroom and kitchenette or stay in the Swiss Family complex where two treehouses connect via swinging bridge. Stay in a Yurtree, a 20-foot-diameter yurt in a tree, or Treezebo, their highest treehouse standing 37 feet high, with a toilet and sink. For each night of lodging, guests receive a full breakfast and access to seven swinging bridges, a ropes course, a zip line, a fresh water swimming pond, a cooking pavilion, and a large campfire site. Prices begin at $120 per night. And if you're looking to build one of these puppies in your backyard, Out 'n' About's Treehouse Institute is the only place in the world that offers instruction in treehouse design, engineering, and building construction.