Beat the Crowds. Antarctica Now.
As the Last Cool Place becomes an adventure-travel magnet, the scientists and bureaucrats who run the show are feeling crowded. Is this big, beautiful continent big enough for everybody?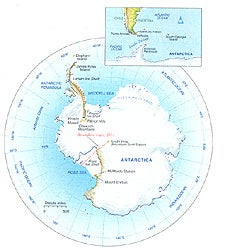 Heading out the door? Read this article on the new Outside+ app available now on iOS devices for members! Download the app.
With its snub nose and boxy fuselage, the Lockheed L100 Hercules is not a lovely flying machine. But to a loadmaster, it's beautiful. Thanks to four 4,300-horsepower turboprop engines, a Herc can take off at almost twice its own weight. It can transport a light tank, or several jeeps, or 90 combat-equipped troops. But on this austral summer morning in Punta Arenas, Chile, the cargo is less fearsome: 35 adventure travelers, along with a six-man South African flight crew. Inside the nearly windowless plane, a few rows of old airliner seats have been bolted down. The rest of the space is given over to food and gear—and dozens of 60-liter drums of aviation fuel. Where we're going, there's no more precious commodity.

Members of Doug Stoup's 1999 team, en route to the first ski and snowboard descent of Mount Vinson, Antarctica's highest peak

Loading and unloading fuel and gear at Patriot Hills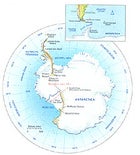 It's early January, the beginning of a 10-day visit for this group. Most of the passengers are amateur climbers and their guides en route to 16,864-foot Mount Vinson, Antarctica's highest peak. Many of the clients are prosperous graybeards well into their fifties, though a handful of cashed-out-early Internet entrepreneurs and investment bankers bring down the average age. Not everyone is rich. One guy from Kentucky mortgaged his True Value hardware store to be here, and another, a soon-to-be-famous blind mountaineer named Erik Weihenmayer, has persuaded the National Federation of the Blind to help underwrite his and his guide's airfare all the way to Vinson—$26,000 each. (He'll repay them in a few months with the flood of publicity he generates by summiting Mount Everest.) Three of the group are just plain tourists: two sightseers headed off to high-five the South Pole, and one Antarctica buff, a college professor from Illinois who's on the austerity plan. She's paying $11,500 simply to hang out where the plane lands.
After a six-hour flight, we begin a long, circular descent—an unnerving experience with no window to look out and no paved runway below. There's a bump as the wheels hit the ice, and we seem to roll forever. When the cargo ramp drops open I get my first look at the Last Continent. Rich afternoon light slants into the back of the plane; bulkily clad silhouettes are already rolling fuel drums down onto the dimpled blue ice of the runway. Beyond these figures, a glittering sea of snow runs off toward distant hills. But how distant? Five miles? Thirty? In the pristine Antarctic air, objects appear with such amazing clarity that it's hard to say.


We're at 80 degrees south, 81 degrees west, about 550 miles from where the crooked finger of the Antarctic Peninsula joins the continent, and 690 miles from the pole. The Ellsworth Mountains, Antarctica's highest range, stretch to the west. To the north lie Hercules Inlet and the Weddell Sea, buried under the 3,000-foot-thick Ronne Ice Shelf. It's a thrill just to be standing here.


On a slight rise half a mile away is our destination—the Patriot Hills base camp of Adventure Network International, the company that flew us in and, for the last 15 years, Antarctica's only private air service. Established in 1984 by a maverick Anglo-Canadian partnership and now a U.S. outfit based in Boca Raton, Florida, ANI is the lone civilian, as it were, among the continent's 80-odd national bases—mostly scientific research stations—run by 27 different countries. The camp at Patriot Hills consists of a half-dozen big Weatherhavens (translucent, insulated tents shaped like Quonset huts), a hexagonal canvas radio shack, and a dozen smaller tents that house ANI's staff: cooks, field guides, a mechanic, and a doctor. Nearby, three ski-equipped airplanes—a pair of De Havilland Twin Otters and a bright-orange Cessna 185—are tethered side by side, noses to the wind. The planes are impressive, but as we're about to discover, in Antarctica there's never any guarantee that you can get where you want, when you want.


The cold seems as dazzling as the light, though I later discover it's a relatively mild 20 degrees Fahrenheit. Moving quickly, we pile our gear onto a sledge train pulled by a snowcat. As we do, a group of departing climbers loads the Herc for its return flight. Everybody's in high spirits: All have summited Vinson, and one couple has parapented it (they're French, naturally).


"It was amazing," says one man, handing me his camera so I can get a shot of the group. "And cold. Wow!"


It's hard not to be inspired by the enthusiasm of the homeward-bound. Soon we're all pitching in to roll the last of their cargo on board. A number of battered fuel barrels are headed out—empties, I assume, until I attempt to lift one.


"Frozen piss," explains Jamie Main, a hale, gloveless Scot in his midthirties who's the field operations manager at Patriot Hills. "Aye, you'll not see any yellow snow 'round here."


After the pee drums come the poo drums—plastic half-barrels stacked with clumpy Hefty bags. This is a point of pride for ANI: Everything but a little gray water—leftovers from sponge baths and dishwashing—comes off the ice, a far stricter environmental standard than that of even the most progressive national programs. (By contrast, at Amundsen- Scott South Pole Station—the U.S. polar base staffed by up to 220 scientists and support workers—raw sewage is pumped through a heated pipe directly into the ice cap, where it forms supposedly self-contained "bulbs" 375 feet down.)


No doubt ANI's tread-lightly ethic reflects a genuine desire to do the right thing, but there's also a loud cleaner-than-thou message going out for all the world to hear. It's my first glimpse of the other Antarctica. Not the vast, wide-open Last Great Wilderness, but instead the crowded political arena in which three factions—scientists, environmentalists, and "recreationals"—are circling warily. The conflicts that separate them come down to questions of access—who gets it, and who decides who gets it. Science's presence on Antarctica is significant—the place is a vast lab for studies on everything from global warming to the history of the universe, with the U.S. alone spending $217 million in fiscal 2001 on research. But science is no longer the only game in town. ANI represents the interests of adventurers everywhere who dream of one day reaching Antarctica's frozen heart.


In the dining tent, an hour after we land, Main announces that the weather at Vinson base camp is clear and holding. The Otter pilots are ready to fly. The first two planeloads will leave immediately, carrying most of the privately guided climbing groups. A third group, including five independents who've signed up to climb with Keil Hillman, ANI's Vinson guide, will depart as soon as the first Otter returns.


"When will that be?" asks Alison Levine, a 35-year-old San Francisco investment adviser who's climbing with ANI. "Will that be later today?" She smiles, catching herself. "I mean, you know, I just don't want those guys getting too much of a head start."


"Don't know, lassie," says Main, laying on the brogue. "Could be today. Could be a week from today."



JOHN DAVIS, AN AMERICAN seal hunter, was the first person to set foot on the Antarctic Peninsula, in 1821. But it wasn't until 1901, when the British explorer Robert F. Scott and his men landed at Ross Island and began the first push toward the South Pole, that the exploration of Antarctica's interior begin. (Scott ultimately lost the polar race by a month to the Norwegian Roald Amundsen, who arrived on December 14, 1911.)


The next men to set foot at 90 degrees south were the crew of a U.S. Navy Douglas C-47 Skytrain, dubbed Que Sera Sera , which landed on Halloween Day 1956, the vanguard of a Cold War effort to claim the South Pole before the Russians did. With much of the continent still unseen and unmapped, science and exploration enjoyed a peaceful coexistence over the next decade. In the summer of 1957­1958, the Commonwealth Trans-Antarctic Expedition, led by Vivian Fuchs and Sir Edmund Hillary, completed the first crossing of the continent. In 1966, the U.S. Navy flew a team of climbers from the American Alpine Club to Vinson, where they made the first ascent.
Annual commercial trips to Antarctica started in January of that year, when Lars-Eric Lindblad, a Swedish-born tour leader and trailblazing showman, chartered a small, ice-strengthened ship from the Argentine navy, put 56 clients and a handful of lecturers on board, and sailed south across the Drake Passage from Ushuaia, a small port on Tierra del Fuego. Lindblad's passengers were delighted by the itinerary, which looped through the subantarctic islands and down the glaciated west coast of the Antarctic Peninsula. Even better was the chance to zip ashore on a Zodiac and see some of the planet's most spectacular concentrations of wildlife—the peninsula's huge seal and penguin populations.


Lindblad didn't get his first competitor, Society Expeditions, until 12 years later. But by 1990, with six outfitters and approximately 5,000 annual visitors, Antarctica had become an established, if still somewhat obscure, adventure-travel destination. Then came the flush economy of the nineties, a glut of decommissioned Soviet research vessels, and a surge of interest in the early days of polar exploration, most notably Ernest Shackleton's botched but heroic 1914-1916 voyage on the Endurance —an epic that, like the 1996 Everest disaster, seems to have functioned less as a cautionary tale than an inducement to travel. During the 1999­2000 season, a record 14,762 visitors—99 percent of them passengers on Lindblad-style cruises—set foot on the continent, according to the International Association of Antarctica Tour Operators, a Colorado-based trade group with 32 member companies. Though last year saw a slight decline in visitors (the total was closer to 13,000), more growth is coming. Recently, IAATO issued a report projecting 20,000 visitors by the 2005­ 2006 season. In 2001, ANI took 140 people to Antarctica.


To a small but vocal contingent of environmentalists, that prediction is a call to arms. "Sure, people should be able to go," says Beth Clark, president of The Antarctica Project, a Washington, D.C.­based advocacy group that is the North American secretariat of the Antarctic and Southern Ocean Coalition, a network of 240 member organizations worldwide. "But we need to cap their numbers at something reasonable, and we need to do it soon."


Clark is a fortysomething biologist and a former researcher at McMurdo Station, the biggest U.S. base in Antarctica. She's perhaps best known for championing a proposal to make the continent an internationally administered world park, a plan endorsed by two of ASOC's highest-profile member organizations, the Sierra Club and Greenpeace. If established, this park would have few visitors; Clark's "reasonable" number is closer to 5,000 per year. She wants the world to "step back" until long-term studies on tourist impact are completed.


Tourism pros counter that they're already being careful. "No one is more concerned about the environment than we are—it's our product," says Denise Landau, IAATO's executive secretary. She points out that IAATO guidelines call for shore parties of fewer than 100 people and plenty of buffer zones for the animals. She believes such self-policing is the only workable solution on a continent where there is no single legal authority.


Instead there's a jumble of overseers. The Antarctic Treaty, signed in 1959 by 12 countries and since ratified by 45 nations, put an indefinite hold on territorial claims, provided for international scientific cooperation, and prohibited military activity. It did not say much about eco-policing, but subsequent agreements, including the Protocol on Environmental Protection to the Antarctic Treaty—put into effect in 1998—have laid out rudimentary environmental standards. Clark's approach has been to lobby an annual gathering of signatories known as the Antarctic Treaty Consultative Meeting for stricter rules. In 1994, in response to concerns from environmentalists and scientists, the signatories banned dogs from Antarctica, partly to block diseases that could harm native wildlife.


Most tour operators roll their eyes when they hear Clark's name, but not all disagree with her call to limit numbers. "We're all a bit worried about what happens if big ships come down here," admits Dave German, founder of Fathom Expeditions, an outfitter based in Toronto. But come they have. One large ship, the Orient Lines 500-passenger Marco Polo , is a regular on the Antarctica circuit, while another, the Holland America MS Rotterdam , which carries 1,300 passengers, cruised partway down the peninsula in January 2000, though no landings were attempted.


"The system works now," German says. "But it won't if a bunch of faceless corporations decide to offer Antarctica for $1,000 a passenger."



ANI FLIES ITS CLIENTS directly to the barren interior of the continent, and it has opened the region to a new kind of visitor: the unaffiliated, private-sector adventurer, who operates independent of a government or agency. Until ANI came along, it took an Edmund Hillary or a Reinhold Messner to organize an overland expedition in Antarctica. Now all you need is a checkbook, and this fact does not sit well with Antarctica's officialdom.


"We're concerned about the impact [tourism] may have on the science we're doing now," says Joyce Jatko, environmental officer at the National Science Foundation, the government agency that administers the U.S. Antarctic Program. "And we're very concerned about the disruptive effect that search-and-rescue operations can have on our people."
Who saves whose butt on the ice has been a hot topic since 1979, when an Air New Zealand DC-10 on a sight-seeing flight plowed into the side of Mount Erebus, killing all 257 aboard and interrupting research at nearby McMurdo Station for several months. It came up again in 1985, when a three-man British team retracing Scott's 1912 South Pole route learned that its support ship had been crushed in the ice at McMurdo Sound. Though the group had a Cessna standing by, the NSF forcibly "rescued" the skiers, refusing to let them use the NSF's radio to summon their own plane. Afterward, Peter Wilkniss, then director of the U.S. Antarctic Program, famously told the Britons, "There is no place in the Antarctic for adventures such as yours anymore."


But the adventurers kept on. Many of them, supported by ANI, have met with success. In the summer of 1989­1990, Messner and a German partner, Arved Fuchs, became the first to ski all the way across the continent, traversing from the Ronne Ice Shelf to McMurdo in 92 days. Seven years later, Norwegian superman Børge Ousland did the same trip solo in 64 days. These guys didn't hit any snags, but others, like the Norwegian expedition that lost a skier in a crevasse in Queen Maud Land in 1993, have called on the U.S. bases for help.


"There was bad weather, and our pilots were there for the better part of a week," Jatko recalls. "They not only put themselves at risk to try to save that guy, but the whole thing put a real strain on our support schedule that season."


Technically, Antarctica still belongs to skiers as much as anyone. The treaty prohibits armed soldiers, but doesn't say anything else about who can or can't visit. In the wake of the Environmental Protocol, though, a wall of regulation is slowly being erected. If you're a U.S. citizen, for instance, and you want to ski across Antarctica, you or your guide are legally obliged to file an impact assessment with the Environmental Protection Agency at least 90 days before you depart. The EPA passes all such assessments on to the NSF for joint review. Even a sailor anchored off the peninsula who wants to go ashore for a stroll has to file, and if he wants to brew up a cup of coffee while he's there, he'd better be armed with more paperwork.


"A camp stove?" Jatko says. "That's hazmat."


The result for ANI: a mountain of red tape that takes a full month out of its business year. "We seem to want to block free spirits," laments Anne Kershaw, the dynamic 41-year-old president of ANI. "And I'm not sure why."


Kershaw, a petite, determined Scot, took the helm of ANI in 1992, not long after her husband, Giles, one of the founders, died in the wreck of an experimental gyrocopter. Since then the former flight attendant has remarried (to Doug Stoup, 37, a filmmaker and snowboard mountaineer), given birth to a son, and kept ANI in the game by running such a clean shop that even the NSF grants it begrudging respect. In the last ten years, ANI's air service has expanded from one plane and 40 passengers per season to four planes, 150 passengers, and annual revenues of more than $3 million. The company attracted the attention of Grand Expeditions, a Boca Raton, Florida­based luxury travel consortium, which bought ANI in April 2000 for an undisclosed sum. (Both companies are privately held.) "We identified ANI as a best-in-class operator," says Grand Expeditions president Bob DeVries of the purchase. "It is a highly profitable organization."


Yet as concern over Antarctic tourism mounts, it's unclear whether ANI will be able to expand its operations. Kershaw, who continues to run the company, will have to overcome a perception that her clients are just rich dilettantes who don't deserve Antarctica, along with a lingering territoriality among those who've had the place to themselves for 50 years. As Hillary once told British author Sara Wheeler, "My experience has been that the scientific community in Antarctica regard it as their property and bitterly resent any outsiders venturing there."


Which isn't to say ANI lacks for potential allies. "I feel the climbing and adventure community does not fully realize how lucky we are to have ANI, allowing us to get down there for our high times," says Skip Horner, 53, a mountaineering guide from Victor, Montana. "If they stop, there will be no access to the Antarctic interior other than the stodgy ol' NSF. More of us ought to realize this, take advantage of ANI, and support it."



EVERY DAY AT PATRIOT HILLS the sun spirals a little lower in the sky. It never sets, but toward 3 A.M. it reaches its lowest point, and a yellowish twilight envelops the camp for an hour or two. The Weatherhaven I'm sharing with the two South Pole sightseers—John Krummell, a southern California manufacturer, and Stephen Turner, a high-tech guy from Oregon—is reasonably warm. Still, on our second summer "morning" I find a skin of ice on my water bottle.


In the dining tent, I share breakfast with the five independent Vinson climbers, part of the group scheduled to fly out on the last Otter. Unfortunately, the weather had deteriorated as the first two planes unloaded, so the group was stuck in Patriot Hills overnight, and are still waiting for conditions to improve on Vinson. One of the five, Alison Levine, the San Francisco investment adviser, tells me she's already climbed five of the Seven Summits, everything except Vinson and Everest. "It's something that just kind of happens," she says, sounding vaguely embarrassed. "You climb a few, and then suddenly you find yourself filling in the blanks.


"You should have seen me on Carstenz," she adds, referring to Indonesia's Carstenz Pyramid. "They told me to bring jumars [ascenders], so I went out and bought them. Then when I showed up they were like, 'OK, but where are the slings for the jumars?' I was like, 'Slings? Nobody told me about slings.'" She laughs. "And then I wind up on the summit, with no clue about how you're supposed to downclimb."


"So what did you do?"


"I slid down on my butt."


If I worry a bit about how this group will fare on Vinson, no one else does. "The standard route is barely technical," Hillman, the ANI guide, tells me. "There's only one place you really need to use a rope. The success rate is 95 percent. You can't beat that."


As I learn after breakfast, when I wander over to the radio tent, the real spectator sport at Patriot Hills is following the progress not of the Vinson climbers or the South Pole "taggers," but of the "manhaulers," men and women who ski across the ice cap towing food and gear in a sled behind them, à la Robert Scott. It's an incredible test of endurance, and it seems to get a little more popular every year. This summer ANI is tracking seven long-distance parties, three more than the year before. Skiers check in at set times on shortwave radio or a satellite beacon; if they push the panic button, or just don't respond for two days running, ANI sends out a search plane. This tracking service, which costs $5,000 per trip, is a mandatory part of an expedition's package with ANI, along with an insurance bond for emergency evac and flights to, from, and in Antarctica—and a major reason why skiing to the South Pole costs $100,000 per expedition.


On a whiteboard, Jamie Main notes the coordinates of the latest group to call in. Then he turns to a map showing each party's progress, singling out a pair of Dutch adventurers, Marc Cornelissen and Wilco van Rooijen, who are attempting a 1,381-mile round-trip between Patriot Hills and the pole.


"They're pretty solid," Main says. "They got up to the pole in 42 days, and now they're headed back, but at a much faster pace." Sure enough, the map shows the two advancing at a steady 12 to 15 miles a day on the outbound leg. On the return, they're averaging twice that.


"How is that possible?"


"Kites," Main explains. "It's uphill and a headwind all the way to the pole, but when you turn around it's suddenly a tailwind. You put the thing up, hitch it to your harness, and you can fly."


Of the six teams on the ice, Main confides, two worry him. The first, about two-thirds of the way to the pole, is a Swedish couple in their thirties, Tom and Tina Sjogren. Around camp, they're known as the Robo-Cops because they're toting so much of their sponsor's ultra-high-tech communications equipment.


Then there's Liv Arnesen and Ann Bancroft, polar veterans in their forties who are trying to pull off the Big One: a 2,400-mile traverse from Queen Maud Land—the part of Antarctica due south of South Africa—all the way to McMurdo Station. They're well equipped, but a two-week flight delay put them seriously behind schedule.


There's one team I don't hear about until later: two Norwegian skiers, Eirik Sønneland and Rolf Bae. Rather than fly in with ANI, they spent the winter working as support staff at Troll, the Norwegian base in Queen Maud Land. When spring came, they made a break for the pole. Since their communications are spotty and they have no established plans for getting out, everyone at Patriot Hills calls them the Stealth Expedition. It's hard not to admire their pluck, but I wonder what they'll do when they reach the pole. Throw themselves at the mercy of the NSF, whose official policy is to offer visitors a cup of coffee, period? Or will they somehow come up with $50,000 to get the NSF to fly them out?


Once the morning's round of radio calls is complete, Main and Stephen Pinfield, a 47-year-old ANI field guide, propose a picnic at Patriot Hills's biggest tourist attraction, the wreck of an old DC-6 about six miles outside camp. When we reach it, after a 45-minute run on the snowcat, the only part of the plane that's visible is the tail, protruding out of the snow like the fin of some primordial fish.


Shovel in hand, Pinfield paces off 75 feet directly in front of the tail, then starts digging. Ten minutes later, we're crawling through the cockpit windshield and into the main cabin, which smells heavily of gas. Though we're under eight feet of snow, an eerie blue light filters through the windows, and you can make out the dim outlines of a dozen fuel barrels and large dog carriers.


The plane—flown by a would-be ANI competitor—went down in a whiteout in 1993. Chartered by Colonel Norman Vaughan—an 87-year-old polar veteran who had run sled dogs for Admiral Richard E. Byrd—it was carrying fuel and dogs, preliminary supplies for a later attempt Vaughan hoped to make on a mountain Byrd had named for him. No one died in the wreck, but one man, the expedition's veterinarian, was seriously hurt when one of the propellers pierced the wall of the fuselage. In the confusion, four of the dogs ran off and were never seen again.



ANI IS LARGELY the legacy of one man: the late Giles Kershaw, a slim, bearded Briton widely regarded as the greatest aviator in modern Antarctic history. Born in India in 1948, he emigrated to England with his family in the early 1960s and took up flying as a teenager. Before he hit 30 he was flying jets for Britannia Airlines. Not long after, he answered an ad for the ultimate busman's holiday—to fly for the British Antarctic Survey during the airline's slow season.


"A lot of professional pilots keep small planes and throw them around on weekends, because airline flying is so boring," says Charles Swithinbank, 75, a former BAS glaciologist who often flew with Kershaw and is now senior associate at the Scott Polar Research Institute in Cambridge, England. "Giles was no different. He liked a bit of sport. What drew him south was adventure."
In 1983, two American businessmen—Dick Bass, owner of Snowbird Ski Resort, and Frank Wells, a now-deceased Disney executive—approached Kershaw, looking for help getting to Vinson. Two months earlier, the moguls had met and hatched the idea to climb the Seven Summits. Vinson was the toughest logistically; government parties had done it, but no private expedition had gotten within a hundred miles of the peak. Using an elaborate series of fuel caches, Kershaw got the climbers to Vinson and back. Tremendous media interest in the trip helped persuade Kershaw and two Canadian partners, Pat Morrow and Martyn Williams, that the time was right to found ANI.


The real breakthrough came four years later, in 1987. By then the only thing holding the business back was the size of its aircraft, but Kershaw had a radical idea. After dropping an expedition team at Vinson in a beefed-up DC-3, he and Swithinbank took a side trip. Their destination was Patriot Hills, a place the two had first overflown 12 years before. Thanks to the shape of the hills and the scouring action of the wind, the location featured a huge patch of blue ice that Kershaw suspected might be smooth enough to land a conventional wheeled aircraft. It was the crucial chink in the continent's armor, and that November, using Patriot Hills as a transfer point from wheeled to ski-equipped aircraft, Kershaw flew the first tourists to the South Pole.


"The NSF was not amused," Swithinbank recalls. "They got the U.S. State Department to go to the head of the Chilean air force and say, 'You must stop this!' The only thing that saved it was I had met the head of the air force the year before, and he was pretty interested in what we were doing down there."


About the same time, Kershaw married Anne Campbell, a Britannia Airways flight attendant with an engineering degree from Glasgow University. After the two were hitched in 1988, she made her first trip to Antarctica. "By the time we got to Punta," she remembers, "I knew the company was a mess. I mean, not by any stretch of the imagination were they businessmen."


In February 1990, Giles left on a six-week cruise down the peninsula, intending to use an experimental gyrocopter for aerial photography. "Giles was flying it when it got hit by a gust and fell 200 feet," Anne Kershaw says. He lived only 20 minutes.


Giles was laid to rest on a granite shelf nearby, in a range that's since been named for him. "That couldn't happen now," his widow says. "There'd be too big a debate: Is his body history, or garbage?"



FIVE DAYS AFTER OUR jaunt to the DC-6, the Twin Otters begin bringing climbers back from Vinson, including the five independents. Alison Levine jumps out, beaming, having knocked off the sixth of her Seven Summits. She says it was "butt cold" in her tent and on Vinson's summit, where temperatures can hit 35 below.


"On every other peak you look forward to dropping into your bag at night," she says. "On Vinson it was so cold that I dreaded it, because I could not stay warm when I wasn't moving."
Meanwhile, two more planeloads of climbers are stranded when the weather again turns foul at Vinson. Three days go by. Finally Main gets an encouraging radio report from base camp. He tells me I'm welcome to fly out to the mountain, but I'll have to wait there with the last group until the second Otter comes in.


"No guarantees," he says as I climb aboard. "You could be stuck there a week."


Flying over Antarctica is much better in a Twin Otter than a Herc. A few minutes after takeoff, we see the great wilderness of the Ellsworths opening before us, the beginning of a jagged rampart that curls right around the edge of the continent. We pass a Matterhorn-like peak called the Minaret, first climbed by Conrad Anker, Alex Lowe, and ANI's Pinfield in December 1997, but beyond that there's almost nothing that's been climbed or named. The sense of desolation is overwhelming—and yet the wide-open beckons, too.


Vinson base camp is a couple of dots on a gentle rise in the Branscombe Glacier, just below a towering face that guards the summit plateau. I can see ski tracks marking the start of the standard route, which wraps left to avoid the face, but that's about it—the weather is already closing in again. Ten minutes after we land, the Otter is back in the air. Nine of us—Hillman and Pinfield, me, the five losers of the get-off-of-Vinson-first lottery, and their guide, Skip Horner—watch the plane until it disappears. Then there's silence, and the realization that the fog line 500 feet down the glacier is slowly creeping upward.


"Oh, God," Horner says. "Not another three days in a cloud."


Vinson now feels like the end of the earth. With everything but the tents packed, we all huddle anxiously in Hillman's Weatherhaven, waiting for the radio to crackle. Finally Main calls, wondering about the flying conditions. "Five hundred feet, good and good," Pinfield says optimistically, referring to ceiling height, general visibility, and horizon definition.


An hour later the Otter threads through a hole in the clouds, lands softly, and pull up by the tent. The light is totally flat; there is no horizon to be seen. The conditions are no longer "good and good".


We load up fast. At takeoff I feel a wave of relief wash over the group. Main nods when I describe the sensation back in camp. "Once they've got it done," he says, "they can't get off the ice fast enough."


Back in camp, the pole-taggers, John Krummell and Stephen Turner, are tired of waiting too, but finally their big day arrives. They leave at noon and come back 14 hours later, looking a bit shell-shocked. There was not, they report, a whole lot to do at the pole. "I don't really know how to describe the feel of the place," says Krummell, the California manufacturer. "It was all dingy and beat-up, like a tavern in the part of town." Turner nods his agreement. "When do you think the next Herc is coming in?" he says.


A few days later the two Dutch Skiers Cornelissen and van Rooijen, roll in. It's a great scene. Everybody spills out of the dining tent to welcome them, and the two men grin wildly as they tow their now-lightened sleds under a little bamboo archway decorated with ribbons and balloons. Yet even the ecstatic van Rooijen is unimpressed with the South Pole.


"In some ways, I hate that place. All these planes flying out empty, it's so stupid. Such American waste. And these pompous adminstrators telling you what is science, what is tourism—that also is stupid. But the workers there, the support staff, they are really wonderful. Everything is official vs. unofficial."


One day on the way back to Patriot Hills, van Rooijen says, a brisk tailwind helped them cover 100 miles. I picture them planing across the ice cap like a sailboat running down the trades. "Maybe that's how it will be someday in Antarctica," I say. "One big iceboating venue."


The Dutchman grins. "What the place was made for," he says.



OBVIOUSLY, NOT everyone sees things that way. When I later ask Beth Clark of The Antarctica Project about ANI, she tells me she objects to the whole idea of adventure tourism in Antarctica. "Sky-diving, ballooning—some of these activities just need to be stopped," she says.


Because? "Because I don't see that these people have a moral commitment to the place. You know, just because you can do something doesn't mean you should."
"I think science has to be the priority," adds Scott Altmann, Clark's lieutenant. "It's about the survival of the planet."


"Ah, yes, the purity of science!" says Damien Gildea. "I've heard that before." Gildea, an Australian climber, is the author of The Antarctic Mountaineering Chronology and last year was part of a four-man ANI expedition from Queen Maud Land to the pole. "How about the purity of the air at the South Pole with a Herc coming in every day?" he continues. "And I could see the exhaust plume coming out of that dome from about ten miles away when we skied in. The science down there costs a fucking fortune, so it would bloody well want to save the world. And then some."


Gildea catches a whiff of hypocrisy in all the high-minded talk about science. "Given the relatively low priority given to the environment everywhere else in the U.S., how can they justify spending $150 million on an environmental and scientific facility that most Americans will never even see, let alone visit?" he asks. "The answer is that it is not really 'justified' on environmental and scientific grounds, but on the grounds of politics and security, just like it always was."


Both Clark and Gildea have their points. When I think back to our visit to the DC-6 wreck, what struck me was the appalling vanity of Vaughan's project: He was nearly 90 years old when his friends dragged him up his namesake peak. What's the difference between that and hiking up Vinson? Or dropping 25 grand to run in this January's inaugural South Pole Marathon?


Still, Gildea may be right when he suggests that some of the national program administrators display a sense of entitlement. One day a BAS Twin Otter stops at Patriot Hills to refuel. It's on its way to the South Pole from the British base at Rothera, on the Peninsula. Pure disgust registers on Steve Pinfield's face as the plane's sole passenger steps off—the deputy director of BAS, en route to an inspection, a courtesy visit allowed by the Antarctica Treaty. "All the way to the pole with one guy on board," Pinfield mutters.


What lingers is an irritating double standard: We all have much to learn from the science being done in Antarctica, but the scientists themselves seem to think they have nothing to learn from adventurers. But they do. Like how to camp. No matter how I try, I can't shake the image of that giant bulb of shit drilled into the ice beneath the Scott-Amundsen Station. Scientists who've studied it—everything in Antarctica is a learning opportunity—say the bulb will reach the sea in about 100,000 years. The NSF says this waste handling is compliant with Antarctica's environmental protocol, but how hard would it be to fly the crap out, as ANI does?


"Certainly the consequences of tourism show, too," Reinhold Messner wrote in Antarctica: Both Heaven and Hell . "But most of the curious visitors understand the environment. It is not they, rather the burning rubbish heaps, helicopters, dynamite and bulldozers that have soiled the cleanest place in the world."


Not surprisingly, Anne Kershaw is diplomatic. She hopes both "sides"—tourists and scientists—can learn to share resources. In addition to running ANI, Kershaw will help a business partner, Mike McDowell, run Polar Logistics, a Cape Town­based air service that will fly mostly government types to Queen Maud Land. "It makes environmental and economic sense," Kershaw says. "But I know it will take a long time. It's a national pride issue. At ANI we were always offering cheaper transport, but it was looked at with disdain. Because scientists won't fly on tourist aircraft." Kershaw pauses for a moment, and adds, "Tourists have a high level of knowledge and tend to be environmentally concerned and responsible. I believe when they leave, they are ambassadors for Antarctica."


With the pragmatism of a politician on the stump, she concludes: "Hopefully, we can look forward to a lot more working together and cooperation."



OVER THE NEXT FEW days, the dining tent at Patriot Hills fills up as the Otters fly to and from the pole, reeling in the troops. The mealtime din is impressive.


Tom and Tina Sjogren, the Robo-Cops, return, having fallen short of their goal by a hefty 156 miles. They're emaciated and dejected, but they vow to try again next summer. Two Danes, Gregers Gjersoe and Kristian Joos, are emaciated too, but they make it. Meanwhile the two "stealthy" Norwegians, Sønneland and Bae, reach the pole only to continue on toward McMurdo—with no boat and no backup plan. Everyone but Damien Gildea is shocked. "Wouldn't you poach a complete crossing if you could?" he says. In the end, after some tense exchanges with the NSF, the two men will secure passage on a tourist vessel that calls at McMurdo, and get a hero's reception back home.
The last of the haulers, Bancroft and Arnesen, reach the South Pole on January 16. With less than a month before their pickup boat, the Sir Hubert Wilkins , sails from McMurdo for Tasmania, they have 900 miles to go. Still, they push on. On February 16, an ANI Twin Otter will pick them up on the Ross Ice Shelf, 482 miles short of McMurdo, and fly them on to a rendezvous with the Wilkins . The retrieval will set their expedition back $250,000, but it will get them back to New York for an appearance on David Letterman .


On January 18, in Patriot Hills, Jamie Main calls in the Herc, and six hours later, with the crosswinds gusting a little beyond the 15-knot comfort level, the pilot sets the beast down. After the nights in the dining tent everyone's pretty well bonded, and we all join together in that final Antarctic ritual, the rolling of the pee drums. An hour later, 35 of us wing north toward the trees and flowers of Punta Arenas.


That it feels good to get off the ice, I can't deny. But more than that—much more—I'm grateful to have gotten there in the first place. Everyone should be so lucky.