Class Tracks
Ride the rails in style on these six epic train odysseys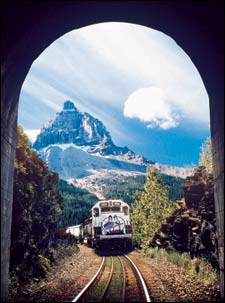 Rocky Mountaineering
Heading out the door? Read this article on the new Outside+ app available now on iOS devices for members! Download the app.
THE SKY IS EVERYWHERE. Reflected in the massive expanse of Kamloops Lake, sharply blue through the picture window, visible overhead through the railcar's glass dome. I'm aboard the luxury-class Rocky Mountaineer train threading more than 500 miles from Vancouver to the Canadian Rockies, but if I squint just a little bit, the passengers napping on cushy recliners fall away, leaving just desert sagebrush and bighorn sheep.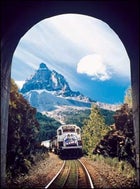 CHUG IT: tunneling through Yoho National Park, British Columbia
The unbroken landscape is a testament to the fact that trains can still take you where nothing else can. Disembarking at Kamloops, I run along the canyon trails high in the hills above town; in Jasper, I'm drawn toward the magnetic blue of a glacial lake. Back on board, I head outside to the vestibule between cars to suck up the clean mountain air. I'm not supposed to stick my head out over the railings, but I do anyway, like a dog drunk on scents—or, in my case, mimosas expertly prepared by the crew.
But train travel isn't just about the killer views and access to remote wilds. It's about arriving in high style: Spacious coaches, white tablecloths and fresh flowers in the dining car, eggs Benedict over lobster for breakfast, and a glass of wine served at my seat. The superb service gives a nod to the glory days of luxe train travel, with the added benefit of adrenaline-packed adventure. Here are six of the best journeys worldwide.
The Rocky Mountain Mountaineer: Vancouver to Jasper, Canada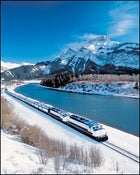 CHUG IT: Jasper-bound on the Rocky Mountaineer
Miles: 532
Rolling out among Canada's wilds is the reason to ride the Rocky Mountaineer. For two full days the train's glass-domed GoldLeaf coaches give a front-row seat to British Columbia's hyperdynamic landscape. First, heavy stands of rainforest yield to rolling pastures. At the intersection of the Fraser and Thompson rivers, the geography shifts from verdant to arid: striking sulfur- and iron-striped cliffs, bald eagles in ponderosa pines, and ospreys roosting on enormous nests atop old telephone poles. From Kamloops, day two gains elevation through the 11 glacier-topped mountains of the Premier Range, and suddenly 12,972-foot Mount Robson, the Canadian Rockies' highest peak, is in full view. The ultimate high: crossing the Continental Divide at 3,711-foot Yellowhead Pass into Alberta's jagged Jasper National Park. Overnights in Kamloops and Jasper give you the chance to mountain-bike hoodoos, trek across the Athabasca Glacier, and raft Class III rapids. Next summer, Rocky Mountaineer Vacations launches a new two-day, 642-mile Fraser Discovery route from Whistler through Quesnel to Jasper.
ACCESS + RESOURCES
» CANADA: Rocky Mountaineer (800-665-7245, www.rockymountaineer.com) runs two-day trips between Vancouver and Jasper, from US$869 per person, double occupancy, which includes all meals and overnight accommodations in Kamloops.
The Eastern & Oriental Express: Singapore to Bangkok, Thailand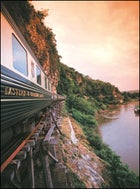 CHUG IT: traversing Thailand on the Eastern & Oriental Express
Miles: 1,260
This ain't no backpacker cattle car. Bearing the Orient-Express's elegant pedigree, the E&O celebrates its 12th anniversary this year as the only luxury train in Southeast Asia, taking passengers on a three-day jaunt from Singapore north through the Malay Peninsula to Bangkok, Thailand. Far-flung spots include the island of Penang, Malaysia (where you can take a rickshaw past historic Hindu and Chinese temples), and Thailand's infamous River Kwai. Train cabins are outfitted in embroidered linens, intricate Thai carvings, and polished brasswork; even standard Pullman compartments have convertible seat-beds, private showers, and panoramic windows; and in the restaurant cars, you'll chow down on Malay curries and mango-filled samosas. Tack the three-day Thai Explorer itinerary—introduced last year—on to the end of your trip and you'll get to check out silk artisans at work in Chiang Mai and hike among Ayutthaya's crumbling temple ruins.
ACCESS + RESOURCES
» SOUTHEAST ASIA: Run by Orient-Express, the Eastern & Oriental Express (800-524-2420, www.orient-express.com) travels twice a month between Singapore and Bangkok; from $1,730 per person one-way, including all meals, bunk-bed-style accommodations, and tours. Fares on the Thai Explorer begin at $1,360.
The Deccan Odyssey: Round-trip from Mumbai, India
Miles: 1,490
The famously lavish Delhi-to-Rajasthan Palace on Wheels finally got some competition last year with the Deccan Odyssey, a new 21-car luxury train with all the trimmings. Leaving from Mumbai every Wednesday, the train traverses Maharashtra's colorful coastal region, then hits the beaches of Goa. Its weeklong itinerary includes visits to the Ajanta caves—home to ancient Buddhist paintings and sculptures dating to the second century b.c.—and ashrams in the historic city of Pune. But the onboard facilities are all 21st-century fabulous: Forty-eight cabins have private bathrooms and 24-hour room service, with separate dining cars and a business center with Internet access. Looking for a little om away from home? Rest easy—there's even a gym and Ayurvedic health spa.
ACCESS + RESOURCES
» INDIA: On the Deccan Odyssey (888-463-4299, www.thedeccanodyssey.com), prices include sightseeing packages and start at $2,450 per person, double occupancy, for eight days, including all meals.
American Orient Express: El Paso, Texas, to Copper Canyon, Mexico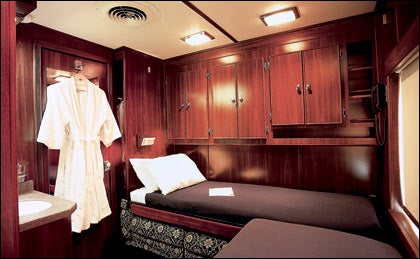 Miles: 1,312
A vast network of gorges and rivers four times the size of the Grand Canyon, Mexico's Copper Canyon is an often overlooked miracle in the Sierra Madre Occidental. American Orient Express (no relation to the European original) unveiled its seven-day itinerary in 2003, and it's one of the most scenic routes in the world. Restored vintage railcars—including those used on the New York Central and Union Pacific railroads during the fifties—shuttle you on tracks used only by freight trains for the past half-century. Watch barrel cactus with bright-yellow blooms, roadrunners, and Gila monsters whiz by as you chug south. Stops include 93-foot Cusárare Falls, in Creel, and Balancing Rock Overlook, near the isolated canyonside village of Divisadero, where you'll witness a traditional dance performance by the native Tarahumara tribe.
ACCESS + RESOURCES
» MEXICO: American Orient Express (800-320-4206, www.americanorientexpress.com) runs its seven-day Copper Canyon and Colonial Mexico trips ten times a year. From $3,990 per person for vintage Pullman sleeper cars, made famous by films like North by Northwest; prices include meals and excursions.
The Blue Train: Cape Town to Pretoria, South Africa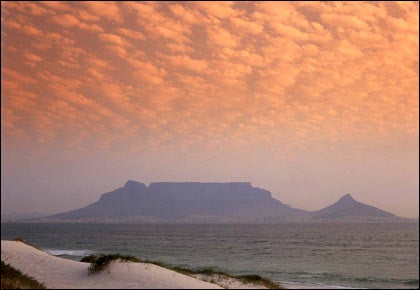 Miles: 1,000
It's a day-and-a-half journey from Cape Town's white-sand beaches to Pretoria's jacaranda-scented interior. On this trip, soaring Table Mountain gives way to valley vineyards, sheep farms, Kimberley's diamond mines, and the mining shafts of the Witwatersrand gold-strike basin. The exotic landscape is matched by the exotic eats: Try karoo lamb and impala—the African antelope—paired with local South African wines. Aboard this high-tech train, plush suites have TVs and VCRs, and there's a channel dedicated to short documentaries on the passing scenery. Zebra-print pillows, gleaming hardwoods, and picture windows bring the outdoors in. If you happen to be sipping a cognac in the smoking lounge, you won't miss a thing—images from the train's locomotive camera are piped to a central monitor.
ACCESS + RESOURCES
» SOUTH AFRICA: A double suite on the Blue Train (011-27-12-334-8459, www.bluetrain.co.za) for the day-and-a-half trip from Cape Town to Pretoria starts at $1,180, one-way, including meals and off-train excursions.
The Ghan: Adelaide to Darwin, Australia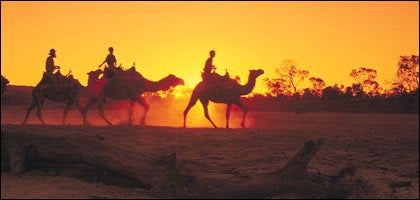 Miles: 1,850
Last year, the first north–south Australian passenger train made its inaugural trip on the fresh-laid track between the red-rock heart of Alice Springs and the sultry tropical surrounds of Darwin. Named for the Afghan camel drivers who first ran the route after European colonization, the train now covers nearly 2,000 miles from Adelaide to Darwin, traveling through some of the world's most sparsely populated regions. From a new station in the outback town of Katherine, intrepid travelers can take a helicopter flight through the 20-million-year-old canyons of Katherine Gorge. Big spenders can opt for the stylish Chairman's Car, a private carriage with its own lounge and an exclusive dining room for eight.
ACCESS + RESOURCES
» AUSTRALIA: A two-night trip on the Ghan (011-61-8-8213-4592, www.trainways.com.au) from Adelaide to Darwin starts at US$340 per person for a Day-Nighter seat and US$1,404 for a sleeper, which includes meals.