Code Orange
Best-selling novelist and serial muckraker Carl Hiaasen is mad as hell about what they're doing to Florida. His revenge? Vicious mockery of Sunshine State sleazeballs and greedy eco-thugs. An equally pissed-off Bob Shacochis tags along for a day of fantasy bonefishing and literary whup-ass.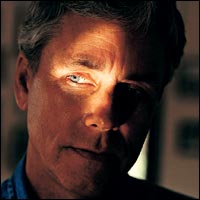 Heading out the door? Read this article on the new Outside+ app available now on iOS devices for members! Download the app.
FOR SERIOUS ANGLERS, reluctance is an unbecoming mood, vaguely sacrilegious, and yet here we are at eight in the morning piddling around. Carl Hiaasen, boffo mystery writer and Miami Herald columnist, is standing on the concrete skirt of the brand-new swimming pool at his house on Florida's Lower Matecumbe Key, staring grimly at the tentacles of the broken brand-new pool sweep, glowering at it as if this thing, this perfidious techno-object, had been crammed down his throat by the scoundrel-ridden government. Then, because I'm making cell-phone calls in my car and exhibiting an absolute lack of urgency, Hiaasen rearranges the garbage cans. Eventually we drag our feet down his dock and load gear onto the boat with icy fingers and half a warm heart between us. You get the picture.
carl hiaasen florida

Carl Hiaasen at home in Islamorada, Florida, May 2004
carl hiaasen florida

carl hiaasan florida


We haven't seen each other in almost ten years, and here's our chance to get out on the water in pursuit of salvations wet and wild. But Carl knows it, and I know it, and the birds know it, too: This is a lousy day for bonefishing in the Florida Keys. It's crybaby cold, and a 20-knot spring wind is blowing straight out of the north, down the scrubby backbone of the archipelago, greatly diminishing any chance that we'll find schooling fish and a moment of glory to break like bread between us.


Hiaasen frowns behind the console of his 17-foot Hell's Bay flats skiff, the 90-horsepower Merc gargling as we push off from his dock. He's not sure how to handle this weather and, after a minute of pinched reflection, guesses we should head ocean-side and slams the throttle forward.


If we were anywhere near the U.S. Navy, they'd blow us out of the water. We resemble a pair of jihadists racing into Allah's arms, dressed in jackets bulky enough to conceal suicide belts. Hiaasen has on some sort of Al Qaeda–brand ski mask that hides everything under the bill of his cap except his nose and sunglasses, and water pours off my mullah's beard as we thunder toward the channel between two islands, the skiff bucking and yawing through the turquoise chop.


"Tarpon fishermen," Hiaasen shouts over the engine as we race past a small flotilla of anchored boats bobbing in our wake, a flick of contempt in his voice. A world-champion bonefisherman, Hiaasen has stalked these flats for decades, but these guys are just snoozing on their backsides, freelining live bait on floats.


We head offshore, speeding across deeper water, but another skiff off our starboard bow seems to have the same idea.


"Where's this moron going?" says Hiaasen, scowling, but the boat fades off to the south. It's worth noting that whatever faces of displeasure he makes have little effect on the sparkle of youth in his blue eyes: At 51, Carl looks like a tallish, lean, but graying college sophomore on summer break, driving an ice cream truck around the neighborhood.


But I appreciate his impulsive vitriol toward other boats; our mutual fantasy is selfish and mildly misanthropic and yet curative as well. We want the water, the Keys, the beaches, all of Florida all to ourselves, which is about as deep as you can get in the angry utopian eco-nostalgia that I seem to share with Hiaasen and I don't know how many other Americans. Maybe it's just a baby-boomer disease, but I doubt it. We have both experienced another, lost Florida, timeless and lovely and free, with nary a traffic jam, and miss the hell out of it, miss the balance, miss its buggy hum and its hush.


As the water shallows up, Hiaasen cuts and raises the engine, unlatches the long pole from the gunnel, and monkeys atop the poling platform in his bare feet. I step up onto the bow platform and, because—and only because—it's a ritual of mighty comfort, begin casting at imaginary fish.


And we talk. Hiaasen has a new novel, his 14th, coming out in July: Skinny Dip, a high-speed, gonzo murder mystery revolving around a nature-hating marine biologist spiritually deformed by greed. Hiaasen seems to have invented a subgenre that goes hand in glove with South Florida's uninhibited lunacy—the darkly comic eco-thriller, savage and sardonic pulp à la Tarantino, complete with command performances by Nature and cameo appearances by its endangered toothy creatures and avenging servants. No matter how many plot twists you use to enthrall a reader, it's usually literary poison to let one's narrative turn frothy with an overt moral agenda, especially one as aesthetically bright-eyed and potentially smarmy (Edward Abbey notwithstanding) as the environment. Yet Hiaasen performs his root canals with plenty of nitrous oxide, and he's among the anointed in the stable of legendary Knopf editor in chief Sonny Mehta, installed in the winner's circle with the likes of Richard Ford, Toni Morrison, and Richard Russo.


At the moment, though, who cares?


The wind strips the veneer off our psyches down to a tender layer of angst. No fish in sight. And for some reason that belongs on a barstool, we swap insecurities about our respective writing lives. Hiaasen confesses to being in possession of a bundle of neuroses. I admit to the same.


Jesus. Bad day.
IN THE SUREAL CULTURAL MATRIX of the Sunshine State, in which all oddity and strange extravagance are entertained, Carl Hiaasen, born and raised west of Fort Lauderdale on the erstwhile frontier of the Everglades, has emerged as an icon of the peculiar craziness that is Florida, in some ways its troubadour, in more important ways its homegrown Old Testament–righteous scold.


Why, a friend once asked me, is Hiaasen so pissed off? Say what? If you love Florida as much as Hiaasen does—purely, passionately, obsessively—you have two choices: Get mad and leave or get mad and engage the plague of vermin. Even as he eulogizes a Florida buried under landfills, Hiaasen is a brash champion of a future that should, and must, generate hope for a better way of doing things. The two published collections of his columns, which he began writing in 1985, are titled, pugilistically, Kick Ass (1999) and Paradise Screwed (2001). He seized upon Mickey Mouse like a monitor lizard in 1998, ranting against the corporate soul-rot of the Walt Disney Company in a book-length attack called Team Rodent: How Disney Devours the World.


For the relentless, muckraking scorn he has directed at South Florida's institutionalized axis of greed—politicians, developers, multinational carpetbaggers, agri-industrialists—the Miami city commission once passed a resolution condemning Hiaasen. Former Miami mayor Xavier Suarez, thrown out of office in the midst of an election-rigging scandal, wrote an open letter to the Herald shortly after Hiaasen's first novel, Tourist Season, was published in 1986, suggesting that the author issue an apology to "the entire human race." Hiaasen had indelicately asserted on Good Morning America that "there's nothing wrong with Florida that a force-five hurricane wouldn't fix."


So he regrets such a seemingly callous comment, right? Hiaasen's eyes light up. "Do you want people to die? Do you want carcasses floating down Biscayne Boulevard?" he says. "Of course not. But nature's here to remind us, and it does, that it can kick our ass, that we're just gnats."


Let's face it: They are narcotically uplifting, the apocalypse-by-nature scenarios in Hiaasen's fiction. But the truth is, he despairs of South Florida's slide into unlivableness, its apparently irreversible decline as a habitat for anything, even as its population rises at the rate of 800 a day, not counting a zillion googans—exceptionally clueless tourists. He drives the crammed highways and looks at the solid horizon of concrete where he used to ride his bike and fish and go out in the woods, and part of him knows it would be easy to get beaten down and surrender. "Half the time I feel like just turning around and driving to the airport and getting on a plane to Patagonia or Alaska or somewhere," he says. "But then you can't walk out on a fight. How do you walk out on a fight?"


Lately, Hiaasen's fight of choice has been the Everglades. Few battles in Florida's history have been as combative as the effort to restore the Everglades, and even as the restoration moves ahead and he permits himself cautious words of praise for Jeb Bush's no-brainer leadership on what constitutes an apple-pie issue for Floridians, Hiaasen still won't let go of the bone, even making his latest villain in Skinny Dip, Chaz Perrone, a thievin', lyin', cowardly, chickenshit . . . field biologist.


"The truth is, the Everglades are gone," Hiaasen says. "They're trying to put something back together that is a very, very pale sort of plumbing system that basically reenacts what nature used to do. You're never going to have the old Everglades back—it's already been carved up. You can't make it pristine again, but you can restore the flow, and at least Florida Bay and the reefs and everything downstream can be helped."


Of greatest concern to Hiaasen now is the looming philosophical battle over the why. Why are they doing it? Who are we really saving the Everglades for? The developers? Big Sugar? How much of the $8 billion budget to restore the Everglades will be outright stolen or funneled to lobbyists and contractor pals? "There's going to be an ugly, seamy side to this whole thing, as there is to every big public-works project," he says, "and it's still not an excuse to stop it. There's going to be scandals. Already the sugar industry is backing off some of its commitments. That's no surprise. You need to keep the heat on those bastards."


Skinny Dip, you might say, is a blowtorch on the unwashed hairy underside of their balls.
SO, WHERE WERE WE?


Thanks to the cold front, the fish have vanished from the flats and receded back into my dreams. Once in a while a lone bonefish will jet across the eelgrass in front of us, but nothing you can throw at. My competence with a fly rod is on the low side of remarkable, but now the wind is screwing up my backcast. I sit down to untangle a figure eight in my leader.


"I'll do that for you," Hiaasen says kindly.


"No!" For a moment I feel like a kid fishing with my dad, and the sensation is depressing. With the line now unsnarled, I suggest we switch places—I'll pole for a while, Hiaasen can fish.


He won't do it. If I'm his guest, that means he's my guide, and it's a role that as much as anything seems to define the man. Guide, guardian—he became a father himself with his first wife when he was still a teenager. Married his high school sweetheart; went to Emory University, in Atlanta, borrowing money from his lawyer father to make it through; grew up way too fast; graduated from the University of Florida journalism school in 1974; went straight to a job as a cub reporter in Cocoa until two years later, when the Herald offered him $100 more a week. He's been "appallingly prolific" (he likes to accuse other people of this) at both writing and fishing every minute since, this morning being the exception.


By his own measure, Hiaasen is wound so tight that, he says, "relaxing is very hard for me." He's not a boozer or a clubber; traveling makes him uptight. Here on the boat is the closest he comes to cutting loose, poling himself around the flats for an hour and a half at sunset, sweeping the shit out of his brain, therapy for the driven man. Not a day goes by when he doesn't think about dropping the anchor on his career, not a single day when he doesn't say, "What am I doing? I'm killing myself here—my kids are growing up, and all I do is write?"


More than 1,500 columns, 14 novels—including a wonderful 2002 children's book titled Hoot, about saving rare owls from developers—the Disney book . . . five million copies sold and yet Hiaasen worries absurdly that if he doesn't produce a book every other year, he'll plunge into instant obscurity. Like his protagonist in the 2002 novel Basket Case, he frets constantly about mortality, especially since his father died at 50, a year younger than Hiaasen is now, and one of his closest friends, musician Warren Zevon, to whom he dedicated Skinny Dip, passed away last year.


BUILT TO GRIND is the logo on his cap, but it might as well be stamped on his prose-slaving soul.


Now Hiaasen's muttering again about the other boats on the water, and when the wind clicks around a few degrees to the east, I watch him study the horizon for approaching evils from the north. We zip our jackets, crank the Merc, and rocket back bay-side, to a baseball-field expanse of flats from which you could hit a home run into Hiaasen's compound.


Wind's the same, but the robin's-egg-blue water has less churn. Hiaasen begins poling, I step up onto the bow, poised with my fly rod, trying to push away the images that drop like white-hot pellets into my unrequited desire: the photo of Hiaasen holding an enormous 14-pound bonefish and the trophies for winning the Bonefishing World Championship in 1997 and 1999; another shot of Hiaasen barely able to lift a satellite dish that is actually a 43-pound permit; the saucy pictures of his gorgeous second wife, Fenia, hanging on his office walls . . . oops, sorry, pal.


"Nothing," laments Hiaasen as we drift closer to the south end of the flat. "Nothing." Pole. "Nope." Pole. "Not a fucking . . . Wait!"


The bonefish are right over there, a silvery school materializing out of the greener water to graze the shrimpy mud of the flat.


"Not yet," Hiaasen coaches as I strip line from the reel. "Not yet. Get ready. Another ten feet."


"Five feet," Hiaasen whispers with an intensity that underscores his total concentration. But then, suddenly, the bones are gone. We're skunked. Zed, zero, nada.
OK, THEN. YOU KNOW IT AND I KNOW IT and Hiaasen knows it, too—the other half of fishing is lying out your ass, so take that into account as I tell you the rest of the story. . . .


The water in front of us slices upward in a mighty rooster tail of spray as a speedboat pivots into a turn atop our schooling bones. The blinding sheet rains back down upon us, laden with soggy Burger King trash tossed out by the infidel at the helm and the flame-haired floozy in the Band-Aid bikini sitting next to him.


"Earth-bashing googan motherslapper," Hiaasen seethes. He drops the engine and we're in hot pursuit. It dawns on me that this chase is eerily familiar—like, doesn't Hiaasen's 2000 novel Sick Puppy open this way, sort of, with a guy in a Range Rover throwing burger trash out his window and being stalked by an enraged citizen, or am I remembering that right?


Suddenly the speedboat decelerates, and Hiaasen and I are both sickened by what we see: The boat is trying to run down a cormorant. The bird flies for a stretch and then dives, and each time it does, the driver guns after it in a dogged attempt to kill it.


"This is breaking my heart," Hiaasen says, boiling. He shouts for me to trade places with him while he rigs a spinning rod with a large plastic minnow, a hefty deep-sea plug bristling with multiple sets of treble hooks. I'm thinking, Now what? when Hiaasen braces himself in the bow, flips the bail on the spinning reel, raises the rod into the air with both hands, and, with a bloodcurdling rebel yell, deadeye-casts that plug with cruise-missile accuracy, the lure arcing brightly through the noonday sky straight onto the shoulder strap of the speedboat driver's life vest. With a wrathful yank, Hiaasen sets the hook and the dirtbag comes flying backwards out of his seat, cannonballing into the water.


Whoa—wasn't it Joey Perrone, the heroine of Skinny Dip, who dispatched a creep with a similar display of spinning-rod justice, using "a large plastic minnow, a hefty deep-sea plug bristling with multiple sets of treble hooks"? I shift into neutral and let the skiff glide toward the sputtering fool, but I can't take my eyes off the babe in the boat—buxom, yessir, and hair the color of a house on fire, with tattoos of twin cobras gliding down her belly toward what appears to be the best real estate in Florida.


"Who's the dame?" I ask Hiaasen.


"Chiqui Liqui," he says soberly. "My muse." She's working undercover, he explains.


For a moment I think I recognize the slob in the water. "Hey," I say, "isn't that Johnnie Byrd?" The neocon Byrd, speaker of the House in the Florida legislature, infamous for shoving a self-aggrandizing agenda down the taxpayers' throats, a guy who exists to make Hiaasen cross-eyed with fury.


"Nah," snarls Hiaasen. "Byrd is a lot greasier and more stupid-looking than this guy."


"So what are we gonna do with him?"


"He's not a keeper," he says, biting off the line, and we resign ourselves to the fact that bad guys seldom get what they deserve.


The plot twist might have ended there, the slob hauling his sorry ass into the stalled speedboat and motoring back to his toxic life of pettiness and cruelty, but the bay fills suddenly with the dazzle of baitfish, swirling in the water like cosmic fire. It's like SeaWorld out there, scores of porpoises slashing through the bait, the air teeming with bottle-nosed dolphins as if they're popping out of toasters. A pod cuts away to playfully nudge our wide-eyed malefactor, but then they're poking him and soon have his pants off.


I know that the phenomenon we're witnessing is the governing metaphor in all of Hiaasen's fiction, that he believes in an unforgiving form of lightning-bolt-direct natural justice—like the villain in 1991's Native Tongue, who gets sodomized to death by a bottle-nose. I also know that what's about to happen here is, to Hiaasen, poetry at the highest level. But, my God, aren't we letting things go too far? Is this really going to look good on our karmic résumés? Are we going to be able to laugh about this tomorrow, Carl?


Carl?
SO, WHAT'S REAL, WHAT'S NOT? That's the perverse irony of Hiaasen's fiction: His novels don't create the wacky pathologies of Florida, they simply mirror them, right? Well, maybe.


It's the Miami Vice paradox—the show's weekly body count made the city more attractive to visitors, not less. You can bet his books have done nothing but increase tourism in Florida, upping the sucking power on the state's strange magnetism, and the fact that he has been handsomely rewarded for that leaves him a bit dumbfounded and flirting with guilt.


Therein lies Hiaasen's singular challenge: to stay ahead of the curve of weirdness, that metaphysical trajectory into the social labyrinth where art and life seem to melt into an existential goo. As he chases after the real-life weirdness in the headlines, it's circling back on him, a snake biting its own tail. The minute I'm gone he'll be back hammering away, 24/7, a man unable, he says, "to take for granted or accept as inevitable the kind of corruption and the scandals and the sleaze that is sort of a trademark of Florida.


"What are we telling our kids if we just start shrugging this stuff off? That this is right? Look what we've done to the planet, look what we've done to the place where we live. Somebody has to learn a lesson from this."


Hiaasen is a man inflamed, a man to the diatribe born. And when Florida counts its blessings, his name belongs on the list.