The 10 Best National Park Adventures With Kids
Heading out the door? Read this article on the new Outside+ app available now on iOS devices for members! Download the app.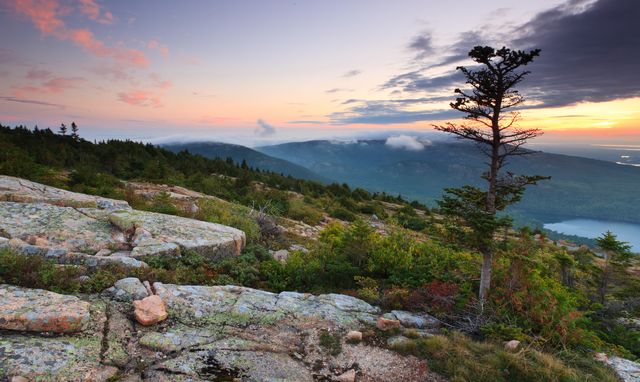 High on the trail in the Acadia backcountry. Photo: Kurdistan/Shutterstock
Day Hiking Acadia National Park, Maine
Ages: All (depending on hike)
Acadia seems designed for hiking with kids: Numerous trails deliver constant views many of the best hikes are relatively short; and the steep, rocky terrain often requires exciting scrambling. The 1.3-mile hump up and back down The Beehive involves an exposed ascent of a cliff via ledges and iron rungs drilled into the rock. The easy, 1.6-mile walk to Great Head leads to the top of cliffs rising straight out of a pounding sea. The relatively flat and popular 3.6-mile Ocean Path follows the rocky shore from Sand Beach to Otter Point, passing by Thunder Hole, where waves crashing into a pocket in granite create an explosive popping noise, and over Otter Cliffs, the tallest sea cliffs on Mount Desert Island. The 4.2-mile loop over the rocky domes called North and South Bubble climbs just a few hundred feet to reach postcard-like views of Jordan Pond tucked between surrounding hills. Families gunning for a more serious challenge—and views stretching from Frenchman Bay to the hills and ponds of Acadia—can take a 13.5-mile, east-west traverse of the park's six major peaks, linking trails (and crossing some roads) from the Bear Brook Trailhead on Champlain Mountain to the parking lot north of Upper Hadlock Pond on ME 198. Blackwoods Campground is across the street from the trailhead to Cadillac Mountain, the park's highest, and has great access to carriage trails.   
Plan your trip: http:///www.nps.gov/acad.
Exploring Ancient Ruins in Mesa Verde National Park, Colorado
Ages: All
Before having kids, I never visited Mesa Verde. The park, in the southwestern corner of Colorado, is known for its 600 cliff dwellings and 5,000 archeological sites dating back nearly 1,500 years—but long hiking trails or climbing routes were my focus back then. My wife and I finally went with our kids when our son was three and our daughter was one, and we were amazed by the 150-room Cliff Palace and other dwellings on this windswept mesa. Pitch your tent at Morefield Campground, four miles inside the park, and take the kids on the guided tours of Spruce Tree House (a half-mile) and Cliff Palace (a quarter-mile)—the latter featuring my son's favorite moment: climbing a series of wooden ladders up a 100-foot cliff face.
Plan your trip: http://www.nps.gov/meve.
Floating the Green River, Canyonlands National Park, Utah
Ages: Four and up
You could stir up a hot debate in a lot of pubs over this claim, but the Green through Canyonlands may well be the country's best easy float trip. From the put-in at Mineral Bottom, through the 52 miles of Stillwater Canyon and then four miles on the Colorado River to the takeout at Spanish Bottom, you paddle gentle, chocolatey waters beneath a continuous backdrop of soaring red rock cliffs and spires. Watch for wildlife like great blue herons flapping over the water and bighorn sheep scrambling around on precipitous rock faces. Off the water, camp on sandy beaches (first-come, first-served) and slick rock benches and hike to centuries-old Puebloan rock art and cliff dwellings. Go from mid-April through May or September through October; check with the park and outfitters on the river level, which varies greatly, and plan on at least five days to allow time for side hikes.
Plan your trip: thebigoutside.com/Floating_the_Green_River_4D.html.
Day Hiking Zion National Park, Utah
Ages: Five and up (depending on the trail)
"How old is he?" adult hikers repeatedly asked my wife and me as we scrambled up the knife-edge crest of Angels Landing, with thousand-foot drop-offs looming on either side. They were looking at our son, Nate, five at the time, clutching chain handrails and nimbly scaling steep slabs to reach the summit of this monolith towering high above Zion Canyon, a five-mile round trip hike with nearly 1,500 feet of ascent. If you have older kids, continue up the West Rim Trail another couple of miles—leaving the mobs of hikers behind—into a sandstone wonderland of beehive domes, sheer red and white cliffs, and trails winding up and over dizzying precipices. Easier but still exciting is the 2.2-mile, 1,000-foot round-trip hike from the Weeping Rock Trailhead in Zion Canyon to Hidden Canyon, where you'll traverse a ledge blasted out of a cliff face and explore a hanging canyon, or ravine sliced into the face of the prominent tower, called the Great White Throne. As long as you watch a young child closely, these hikes are safe: The most exposed ledges are generally at least sidewalk-width and walked by thousands of inexperienced hikers every year. There are several other excellent, easier trails accessible by the park's free bus shuttle in Zion Canyon. Set up base camp at South Campground and Watchman, along the Virgin River.
Plan your trip: nps.gov/zion/planyourvisit/hiking-in-zion.htm.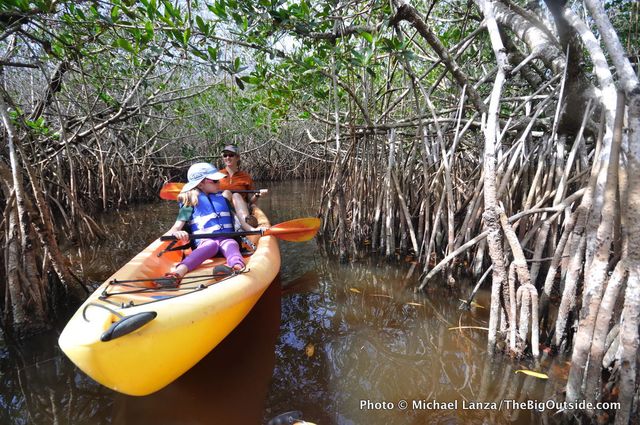 Navigating the mangroves, Everglades NP. Photo: Michael Lanza
Paddling the Everglades, Florida
Ages: Six and up
Few adventures we've taken have made my kids—who were 10 and almost eight at the time—silent and wide-eyed with awe as much as canoeing and kayaking the Everglades. We first spent a half day paddling the East River's labyrinth of mangrove tunnels, watching snowy egrets, white ibises, black anhingas, tri-colored and great blue herons, and brown pelicans flap above the wide, brown, almost motionless river, and alligators float lazily at the water's surface. Then we canoed four hours from the Gulf Coast Visitor Center in Everglades City to Tiger Key, one of the outermost mangrove islands in the Ten Thousand Islands. There, we camped two nights on a wilderness beach facing the Gulf of Mexico (read: serious sand-castle construction) and explored tidal bays, where we saw ospreys, pelicans, a dolphin, and 10 brightly pink roseate spoonbills perched in a single tree. Guided trips and gear rentals are available locally through Shurr Adventures. The route through Indian Key Pass is marked, making navigation easy. Go in January or February, before the unbearable heat and mosquitoes of spring and summer.
Plan your trip: www.nps.gov/ever; thebigoutside.com/Paddling_the_Everglades.html.
Exploring Yosemite Waterfalls, California
Ages: Seven and up
Call it America's biggest natural water park. Some of the country's tallest waterfalls lie within day hiking range from Yosemite Valley—including the tallest in North America: 2,425-foot Yosemite Falls. Hike 7.2 miles round-trip and 2,700 feet up the Upper Yosemite Falls Trail (from Camp 4, bus shuttle stop no. 7). Offering sweeping views of the Valley, the trail passes below the upper falls, then culminates with a catwalk traverse across a cliff face to reach an overlook beside the waterfall's lip, where Yosemite Creek hucks 1,400 of air. On your second day, make the popular 6.3-mile, 2,000-foot loop on the Mist Trail and John Muir Trail (from Happy Isles, bus shuttle stop no. 16) to 317-foot Vernal Fall—which sprays a constant, heavy mist onto hikers—and 594-foot Nevada Fall. Families with older, fit kids can continue past Nevada Fall to summit Half Dome via the very airy cable route, a 14- to 16-mile, 4,800-foot day hike that now requires a permit. Go between mid-May and late June, when runoff from mountain snowmelt reaches its peak and the waterfalls roar. Start by 8 a.m. on any Yosemite Valley trail to beat the crowds and the afternoon heat. Book camp sites or lodging (affordable Yosemite Motel, swanky Ahwahnee) months in advance, so you don't get shut out of the Valley and have to commute an hour each way. 
Plan your trip: www.nps.gov/yose; thebigoutside.com/Hiking_Yosemite_Valley.html.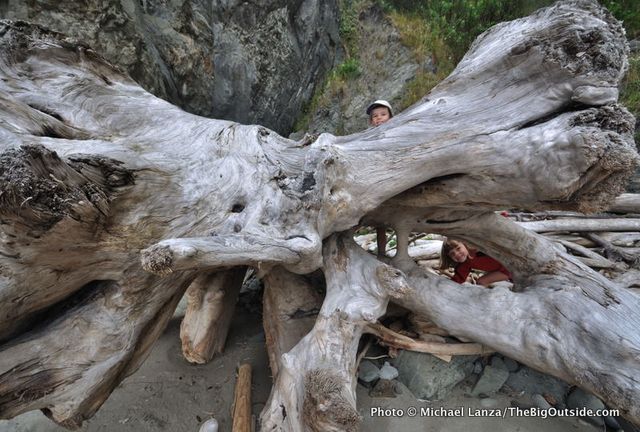 Natural jungle gym, Olympic NP. Photo: Michael Lanza
Backpacking the Olympic Coast, Washington
Ages: Seven and up
Family beach vacation meets wilderness—that could be the pitch line for the three-day, 17.5-mile hike along the southern Olympic Coast, from Oil City Trailhead on the Hoh River to Third Beach Trailhead on La Push Road in Washington's Olympic National Park. But unlike your typical beach getaway, this one features Sitka spruce with diameters of 15 feet and Douglas fir standing over 200 feet tall; boulders coated with mussels, sea stars, and sea anemones; seals, sea otters, and great blue herons; and eerie, sometimes fog-shrouded views of wildly shaped, offshore pinnacles called sea stacks rising from the ocean. My kids spent hours playing in tide pools, constructing fleets of imaginary warships from driftwood, mud, sticks, and rocks, and excitedly scaled the rope ladders on cliffs and steep embankments. (None were very hard; my kids were nine and seven and had no trouble, though I did escort them one at a time.) Split the trip into three days of five to seven miles each by hiking northbound and camping at Mosquito Creek and Toleak Point. While the route can be hiked year-round (I backpacked part of it in December years ago), go between May and October for the mildest temperatures, and mid-July to mid-September for relatively drier conditions. Wear good waterproof boots and gaiters. The town of Forks has lodging for pre- or post-trip. Port Angeles is a little farther away, but more choices for food (like delicious local Dungeness crabs). Get your backcountry permit at the park office in Forks; no reservation needed or permitted.
Plan your trip: www.nps.gov/olym; thebigoutside.com/Olympic_Coast_backpack.html.
Sea Kayaking Glacier Bay, Alaska
Ages: Eight and up
The wildlife on the roughly 70-mile, week-long paddle from Sundew Cove to Johns Hopkins Inlet in Glacier Bay's West Arm will leave parents and kids slack-jawed: sea otters, brown bears, seals, sea lions, maybe orcas and humpback whales, and a variety of birds from bald eagles to black-legged kittiwakes. You'll camp on remote, rocky beaches, looking up at glacier-cloaked mountains rising up to 12,000 feet overhead, and paddle past the sheer, 200-foot-high face of glaciers—including the park's most-active tidewater glacier, the Johns Hopkins, which calves bus-size chunks into the sea with thunderous booms a few times an hour. This is big wilderness—Glacier Bay National Park is the size of Connecticut—and extremely remote. We took our kids on a guided trip (alaskamountainguides.com), but for experienced private groups, gear rentals are available locally (glacierbayseakayaks.com). While weather can turn severe, and light rain is common year-round, July and August temperatures range from the 40s to the 70s and the water is frequently glassy smooth. 
Plan your trip: http://www.nps.gov/glba; thebigoutside.com/Sea_kayaking_Glacier_Bay.html.
Backpacking Gunsight Pass Trail, Glacier National Park, Montana
Ages: Eight and up
One of my kids' most vivid backcountry memories is of seeing a mountain goat in the trail about 30 feet ahead of us while hiking to Gunsight Pass. On the 20-mile traverse from the Gunsight Pass Trailhead (at Jackson Glacier Overlook) to Lake McDonald Lodge (both trailheads on Going-to-the-Sun Road), you'll probably see goats, marmots, and possibly bears; camp at lakes surrounded by towering peaks and cliffs dissected by waterfalls; and get a highlights tour of Glacier's scenery on a trek that's not as hard or as long as others in the park. Take four days to spread out the hiking, with nights at Gunsight Lake, Lake Ellen Wilson, and Sperry campsite (or Sperry Chalet if you reserve months in advance; http://www.sperrychalet.com). Consider adding a fifth day for the 7.4-mile, out-and-back side hike from Sperry camp to the Sperry Glacier, one of the park's biggest and easiest to see up close on a walk across a moonscape scoured by the receding ice. Hiking the traverse east to west involves less uphill than the other direction. The park's free bus shuttle alleviates the need to post vehicles at either end of the hike. Gunsight Pass Trail is one of the most popular backcountry hikes in the park; apply for a reservation by April 16 for the best chance of getting your chosen campsites, or show up and hope for a first-come permit.
Plan your trip: www.nps.gov/glac; thebigoutside.com/Glacier_s_Gunsight_Pass_4VU.html.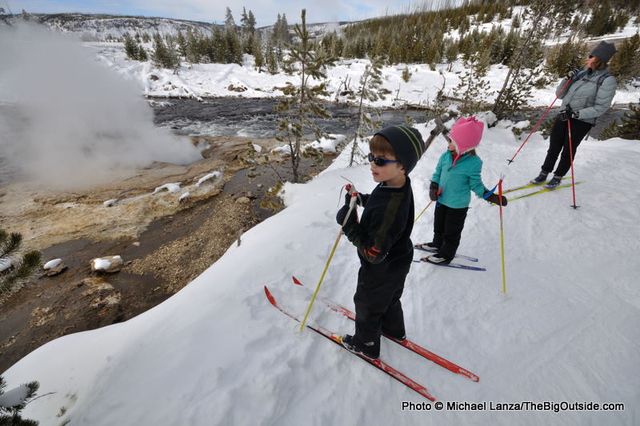 Making tracks, winter in Yellowstone. Photo: Michael Lanza
Cross-Country Skiing Yellowstone, Wyoming
Ages: Seven and up
Erupting geysers, kaleidoscopic pools and hot springs, steam billowing like wildfire smoke from a rushing river, and bison, elk and other wildlife wandering around as you glide on skis high above river canyons hundreds of feet deep—could there be an experience cooler than that for kids? Mine rank cross-country skiing Yellowstone's Upper Geyser Basin (2.5 miles), Mammoth Hot Springs (Upper Terrace Loop, 1.5 miles), Tower Fall (five miles), and Canyon Rim Trail (4.5 miles) among their favorite family adventures. The trails vary in difficulty from flat and easy to moderately hilly. Stay at Old Faithful Snow Lodge (reachable in winter only by snow coach—a fancy name for a tour bus on snow tracks) or Mammoth Hot Springs Hotel. The park's winter season generally runs from mid-December through mid-March; make lodging reservations months in advance.
Plan your trip: www.nps.gov/yell; thebigoutside.com/Skiing_Yellowstone.html.
Michael Lanza is the author of Before They're Gone—A Family's Year-Long Quest to Explore America's Most Endangered National Parks (Beacon Press), about his family's wilderness adventures in iconic national parks that could be altered forever by climate change. He's also the Northwest editor of Backpacker Magazine and the creator of TheBigOutside.com.
Trending on Outside Online