9 Great American Mountain Biking Trails
From easy, flowy routes to steep singletrack, these are the trails that belong on your bucket list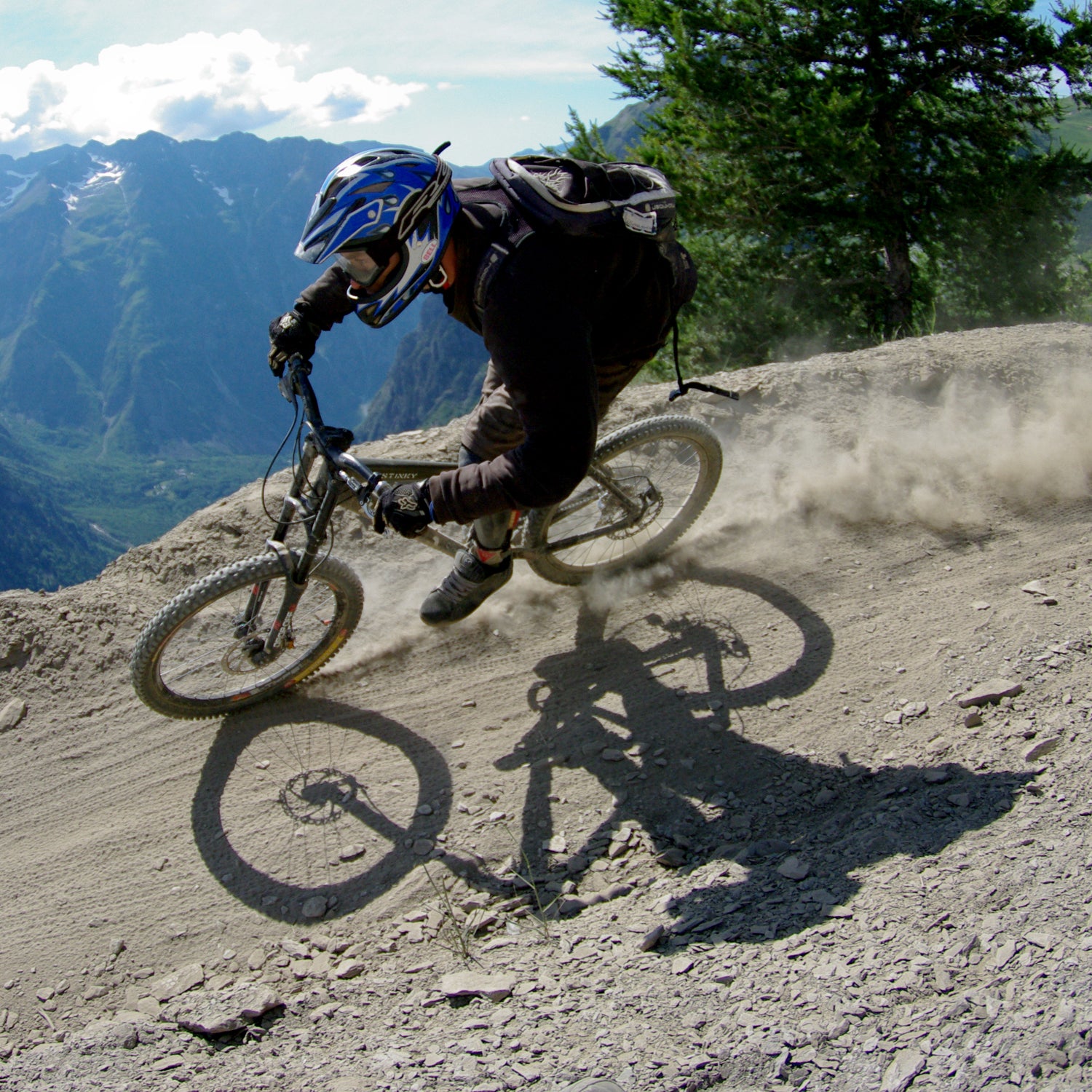 Heading out the door? Read this article on the new Outside+ app available now on iOS devices for members! Download the app.
Know what you need more of in your summer? Mountain biking. So, here are ten of our favorite mountain biking trails.
South Boundary, Taos, New Mexico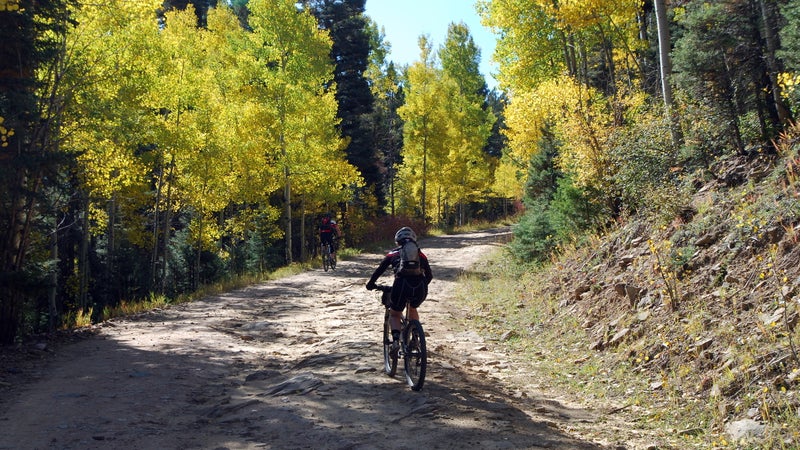 Distance: 20.8 miles
Technical Difficulty: Intermediate to Advanced
Endurance: 5 out of 10 (more without a shuttle)
This mountain epic plunges from open-meadow, elk country at 10,700 feet in the Sangre de Cristo range of Northeastern New Mexico down to the scrub oaks and piñon pines some 3,500 feet below in Taos. The majority of the riding is on tight, loamy, root-filled single track through dark timbers and stands of light-post size aspens, though the last five miles is a precipitous, rocky plunge on loose red rock.
Logistics: If you ride it as a shuttle, the most popular option, the day starts with a sharp, two-mile climb from the Angel Fire valley. Really Fun Adventures, in Taos, offers shuttle services.
---
Doctor Park, Almont, Colorado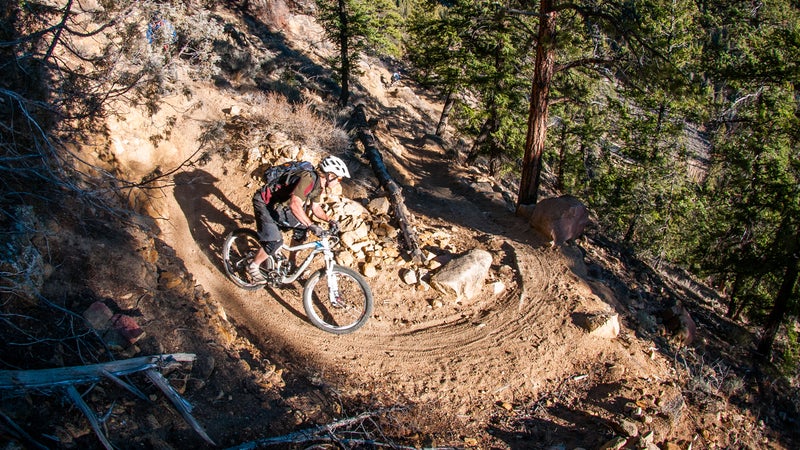 Distance: 9.6 miles
Technical Difficulty: Intermediate to Advanced
Endurance: 7 out of 10
Though the epic riding in Crested Butte, 20 miles up the road, often overshadows this outlier, Doctor Park holds its own against classics such as the 401, 403, and Teocali Ridge. After a grunt of a two-track climb to 10,900 feet, on the flank of Manganese Mountain, the ride turns to blessedly narrow, ingeniously constructed single track that slams 2,600 feet down to the Taylor River. It comes in three distinct parts: a top section through thick pines and sharp root drops, a flowing middle on buffed-out smooth, and a rugged bottom that picks through fangs of rock.
Logistics: You can shuttle up Forest Road 744, but full value is to park at Taylor Canyon Campground, on the road east of Almont, and make a 19-mile loop of it. For maps and support, Rock 'N' Roll Sports is 10 miles south in Gunnison.
---
The Whole Enchilada, Moab, Utah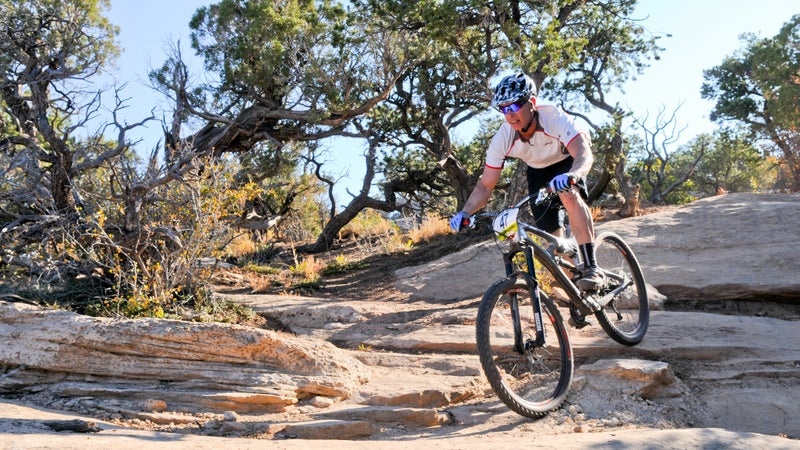 Distance: 32.6 miles
Technical Difficulty: Advanced
Endurance: 9 out of 10
This has to be the finest mountain bike ride anywhere, connecting four classic Moab trails—Burro Pass, Hazzard County, Kokopelli Trail, and Porcupine—in a journey from the high alpine of the La Sal Mountains down below the red rock cliffs on the Colorado River. Starting 11,150 feet, you drop over 8,000 feet, powering first through cool evergreen forests, past Warner Lake (a nice spot for nap) and onto rolling Gamble oak-covered slopes, down high-speed dirt roads built out with gaps and berms, and then onto two track over Moab's world-famous slick rock. It's almost all downhill, but that doesn't mean it's easy, as stream crossings, slick roots, rock drops, and countless features demand focus all the way to the river.
Logistics: A few masochists choose to ride this as a loop, a 62-mile odyssey with as much climbing as descending, but most will opt for a shuttle service from Moab Cyclery, Poison Spider Bicycles, or a handful of other local providers.
---
The Hangover, Sedona, Arizona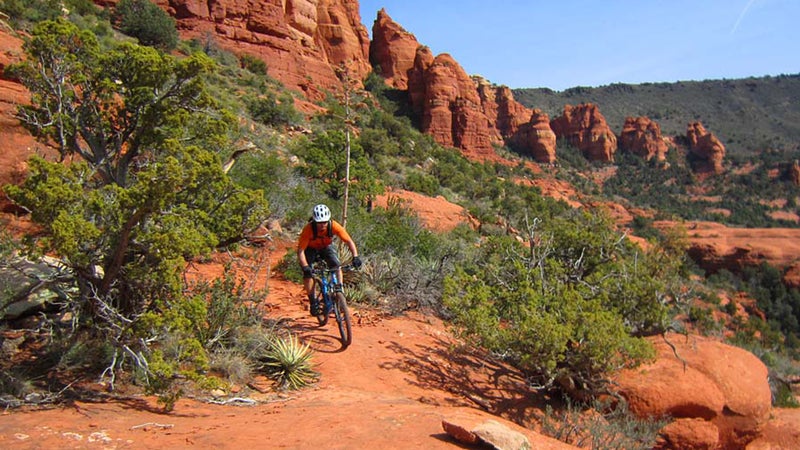 Distance: 3.7 miles
Technical Difficulty: Skull and Crossbones
Endurance: 4 out of 10
What this trail lacks in length, it makes up for in character and commitment. On blocky, red, slick rock, the Hangover climbs up to a smooth saddle and then proceeds to loop the massive butte. If you're anxious about the waterslide-like entry to the backside, it's likely a good time to turn around, as the trail soon narrows and traverses a pathway etched into the cliff side that's occasionally barely handlebar wide. The exit down the other side is the most trying section, with waist-high step-downs and roll-offs that feel as if a mistake could send you tumbling to eternity. It's heady—and rewarding—stuff, but only for the skilled and confident.
Logistics: Most people ride up Schnebly Hill from town, which turns this into a 10-miles round trip. Grab a map and local advice at Over The Edge Sedona.
---
Rock Lake Epic, CAMBA Trails, Cable, Wisconsin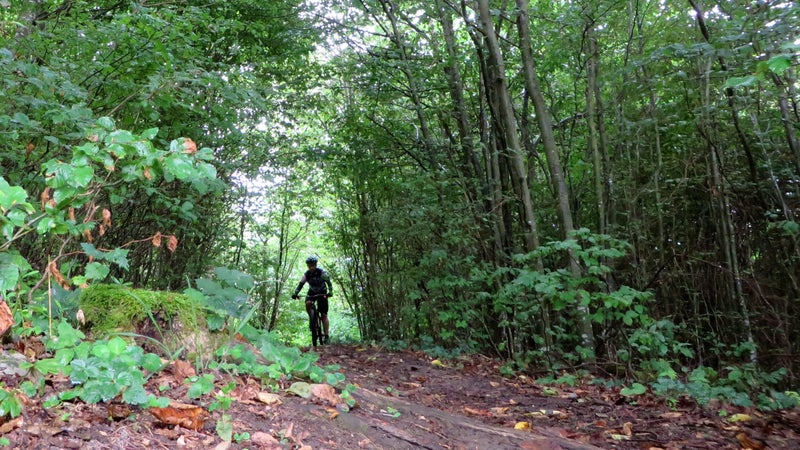 Distance: 27 miles
Technical Difficulty: Intermediate
Endurance: 5 out of 10
Home to some of the country's finest Nordic skiing, the Chequamegon Area Mountain Bike Association (CAMBA) Trails, in the hilly woods an hour south of Lake Superior, host a seemingly endless network of single track in summer. It's tough to call out one trail on the web of tracks that wends and bends through the tight lattice of maple and oak forest, though the International Mountain Bike Association's Epic loop takes a counterclockwise spin through four of the best: Rock Lake, Glacier, Patsy Lake, and Namakagon. No climb is more than 100 feet, but the trail still saps you with constant rollers, downed logs, rock features, and plenty of mud.
Logistics: Begin from the Rock Lake Trailhead, seven miles east of Cable on County Road M. Riverbrook Bike and Ski, 30 minutes south in Hayward, is the closest bike shop.
---
Thunder Mountain, Panguitch, Utah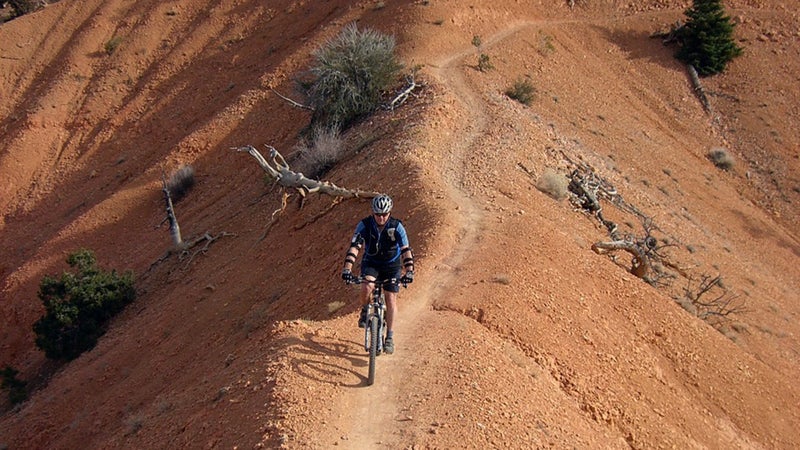 Distance: 7.1 miles
Technical Difficulty: Intermediate
Endurance: 4 out of 10
This desert ripper is just outside of Bryce Canyon, and it has all the lovely, massive scenery of the national park. It's high altitude, starting at 8,300 feet and undulating downward for nearly 2,000 feet, but somehow not too difficult as the hard-pack trail glides through a Martian landscape of rusty hills and hoodoos like melted wax. It's easy to get lulled by the scenery, but the reverie is broken by the occasional staccato of slippery, rough switchbacks.
Logistics: You can turn this into a longer ride (15.6 miles) by parking at the Thunder Mountain trailhead, riding east on State Highway 12, and then climbing five miles on dirt to the single track. This being the middle of nowhere, riding Thunder Mountain is probably best combined with either a trip to Bryce, Zion, and the other national parks, or perhaps as a daytrip from St. George.
---
McKenzie River Trail, Bend, Oregon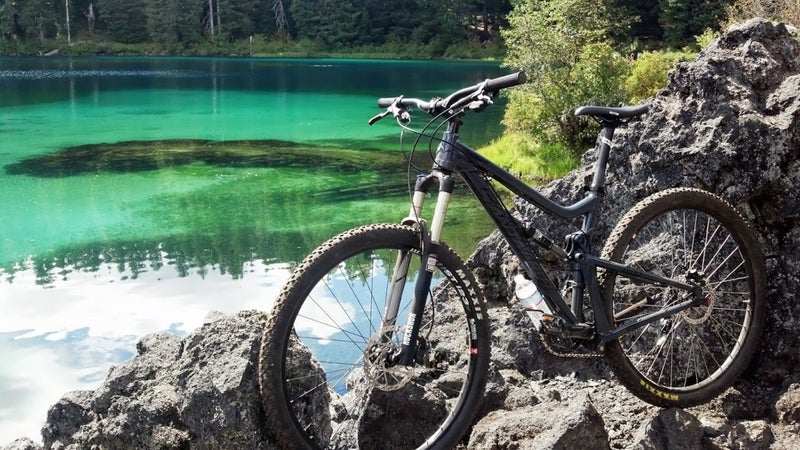 Distance: 26 miles
Technical Difficulty: Intermediate
Endurance: 6 out of 10 (more if you go both ways)
About halfway between Eugene and Bend, the McKenzie River Trail (MRT) is a thread of single track through the old growth Douglas firs, some as high as 300 feet tall, of the Willamette National Forest. Long swathes of bending, swerving flow trail are punctuated by testy passages of black lava rock, though the most difficult stretch, on the west side of Clear Lake, has a ride-around option. The trail follows the crystalline McKenzie River, crossing rough-hewn log bridges and passing icy falls and lakes that glow like Bombay Sapphire bottles. And there's even a few hot springs to ease the sore legs.
Logistics: Most people park at the southern end of the trail, by the McKenzie Bridge, and catch a shuttle to the first trailhead for the cruise back down. Ten miles east of the terminus, McKenzie River Mountain Resort offers bike-friendly accommodation and shuttle services.
---
Mt. Elwell, Graeagle, California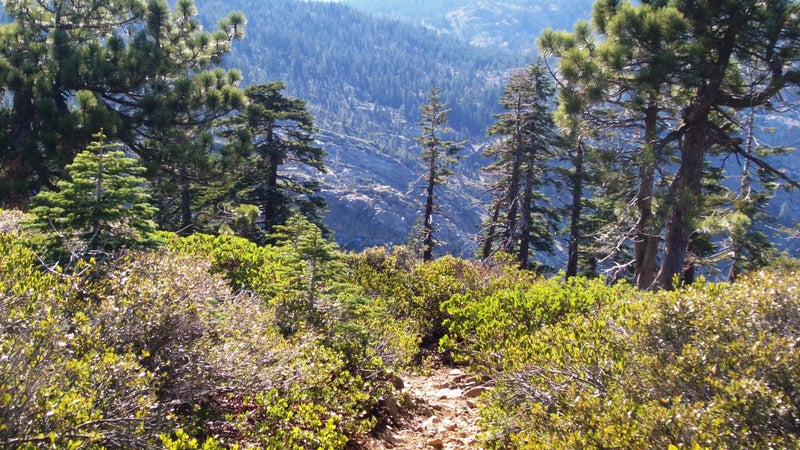 Distance: 15.3 miles
Technical Difficulty: Advanced
Endurance: 8 out of 10
If nearby Downieville is home to one of the state's best-known downhill runs, Mt. Elwell, in the southeastern Sierra, might have one of the country's best-kept secrets. This is a burly day of big-mountain riding, with a serious hike-a-bike approach to access the 7,818-foot peak. From there, it's a 3,300-foot plummet off the northeast side of the mountain on XC-style single track. It starts out on rough, jangling granite, with Euro-style switchbacks that require some trials skills to clear, and then turns faster and more flowing the lower you get. Over an hour later, you pull out in the quaint hamlet of Graeagle.
Logistics: Numerous trails will get you to the top of Mt. Elwell, but all of them will require pushing and hefting your bike. The Gray Eagle Lodge, with private cabins set on a burbling creek, is the perfect base camp, and Downieville Outfitters can guide if you need.
---
Tsali Trails, Bryson City, North Carolina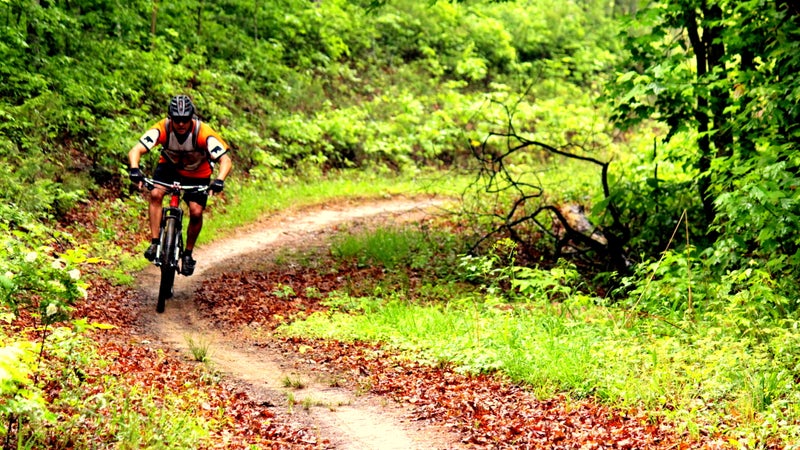 Distance: 41.8 miles
Technical Difficulty: Easy to Moderate
Endurance: 3 out of 10
North Carolina has an abundance of trail sandwiched in the central triangle between Asheville, Brevard, and Bryson City, and the fast and flowing single track in the Great Smokies National Park is probably the premier concetration. There are four distinct trails in the Tsali Recreation Area of the park, all of which snake along the fingers of land that jut into Fontana Lake, with heavily wooded passages giving way to rim-top views down over the water. The 8.7-mile Mouse Branch is the most technical of the four, with more loose rocks and the occasional step-up and logs to negotiate, while the adjacent Thomson Loop hugs the shoreline and provides what's probably the best lake vista in the park.
Logistics: Conflict between equestrians and mountain bikers has been mitigated with a use schedule, with access to two every other day, which means you can knock them all out in a weekend. Bryson City Bicycles, just up the road, is the nearest shop.
Corrections:
(09/29/2023) A previous version on this article included Antz Basin in Stanley, Idaho, a trail that is now part of the Boulder-White Clouds Wilderness and closed to cyclists.
Trending on Outside Online