15 Leaf-Blurring Adventures
A peeping stroll is not an acceptable last outdoor gasp before winter. Presenting the best active autumn escapes.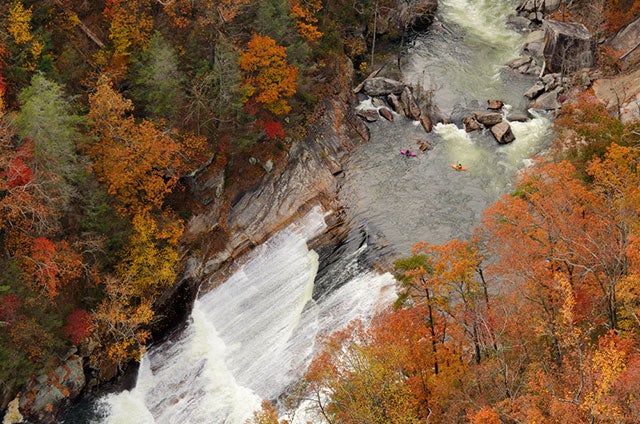 Heading out the door? Read this article on the new Outside+ app available now on iOS devices for members! Download the app.
15 Leaf-Blurring Fall Adventures
I like to stand around and stare at flaring orange maple trees as much as the next guy—I've even been known to climb up into them for the total color immersion experience. There's no better time for aerobic activity than autumn, however, with its cooler temps and the sense you are running to stay ahead of the coming winter. Watch the colors flash past on these autumn adventures, even if a few of those pigments are brightly colored towels draped across on the beach, and you are riding the deck of a surfboard.
Paddle the Gauley River
Summersville, West Virginia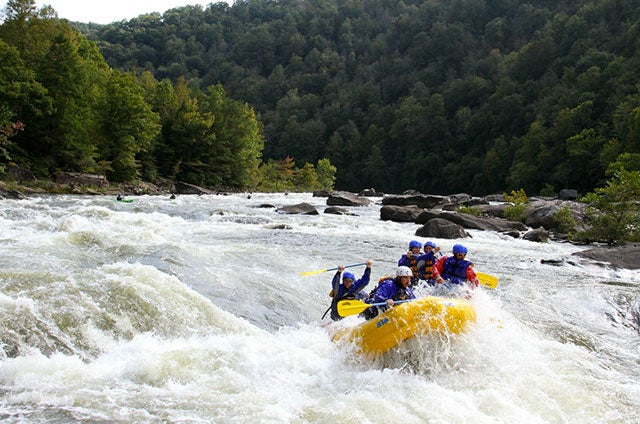 The Class IV-V Gauley sports some of the best whitewater in the North America; and thanks to regularly scheduled releases in September and October, it's a must pilgrimage for raft guides and kayakers from across the continent. The 12-mile Upper section features legendary Class V drops like Pillow Rock, Lost Paddle, and Sweets Falls, where hundreds of rafters line the banks to eat lunch and watch the carnage of rafts flipping. Accordingly, young rafters and intermediate kayakers should consider taking to the 16-mile Lower run, which still sports dozens of juicy rapids and a handful of Class IV-V. This year, because the dam is being drawn down for maintenance, there will be 32-days of runnable flows instead of the normal 23, including six Wednesday and Thursday releases of 5,300 cfs, too high for commercial trips to run the Upper. As they say in WV, "Get Sum!"
BEST TIME TO GO: Wednesdays and Thursdays, Sept. 18-Oct 3, for private boaters looking to get scared, or Oct 19-20, when the maples blanketing the gorge should be nearing peak splendor.
ROUTE: Put-in for the Upper at the park just below Summersville dam off Highway 19, but most of the raft companies are clustered 15 minutes down the road in Fayetteville.
DRY OFF: Stumble from the outfitter Adventure on the Gorge's buses to the deck at Smokey's on the Gorge, overlooking the New River Gorge at their resort. It's fine dining with a red-meat-heavy rotating menu and a full bar, but they won't kick you out for wearing wet sandals.
Ride Grand Teton National Park
Jackson, Wyoming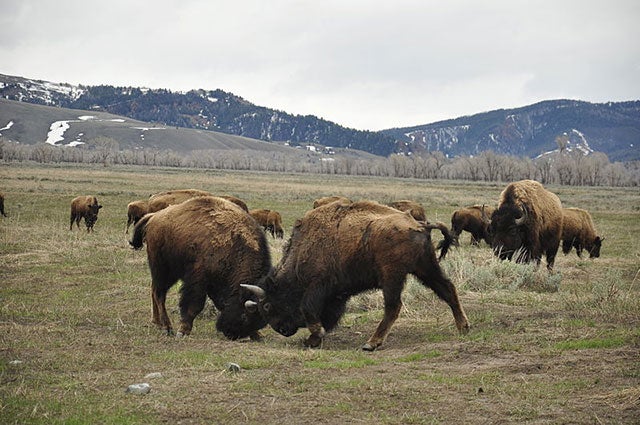 After years of lobbying the Park Service for a dedicated bike path through Grand Teton—for safety from swerving RV drivers gawking at the view—local cyclists won 14 miles of it in 2011. Add another seven miles from the town of Jackson past the National Elk Refuge's meadows, and you get 20 miles of largely level, traffic-free riding to Jenny Lake through yellowing cottonwoods along the rampart of the Tetons, which will likely be frosted with early snows in October. Take care to avoid bison, elk, and moose crossing the path as they descend from the high country for winter, unless you want to go down as the first cyclist trampled by a bison in the park.
BEST TIME TO GO: Mid-September; cottonwoods and aspens peak fairly early in Jackson Hole.
ROUTE: Ride the 20-mile pathway to Jenny Lake, and then loop back to Jackson via the Moose-Wilson road, 13.5 miles of which are on pathway. Stop in to Teton Village for lunch on the deck of the Four Season's new Handle Bar at the base of Jackson Hole ski resort. Total route: 50 miles.
HITCH YOUR MOUNT: Lock your bike outside of the iconic Million Dollar Cowboy Bar and hop onto the horse-saddle bar stools. There's swing dancing to live music six nights a week and Grand Teton Brewing beers on tap. It's pretty much a drinking/dancing establishment, so to refuel you'll want to head around the block to Pinky G's for a slice.
Run the Deschutes River Trail
Bend, Oregon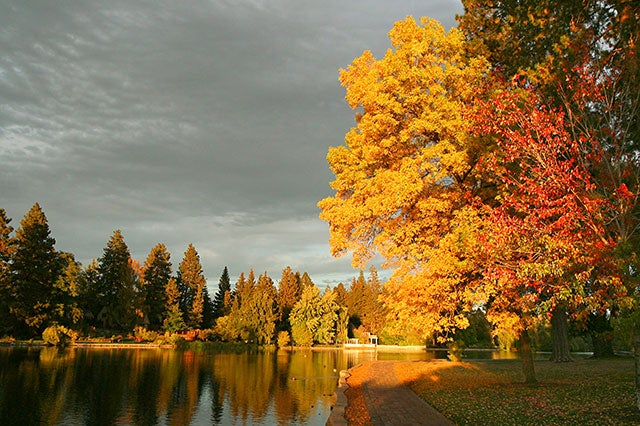 Lace up your trailrunners for the relatively level Upper Deschutes River trail south of Bend, which slaloms along the pristine river past frothy white waterfalls and jagged black lava flows for 8.32 miles. In the fall, placid pools between Class V rapids reflect yellow aspens and orange willows, with the occasional view of conical Mount Bachelor rising above the meadows and forest. The dusty earth makes for soft footfalls and there's just enough twists and rock dodging and to keep things interesting. Rest your searing lungs before you head back at the Benham Falls overlook, a bird's-eye view of the 100-yard-long maelstrom.
BEST TIME TO GO: Early October, when the riverside willows flare gold.
ROUTE: Head south out of Bend on Century Drive and turn left to and take a left to Meadow Camp Trail Head. To shuttle the trail, leave a vehicle at Benham Falls Campground off Forest Service Road 4100.
SAKE TO ME: Kick back beside the open-flame hearth on the patio at Dojo in downtown Bend. Order the Steamed Buns—delectable pork belly, tart kimchee, and cucumber wrapped in a steamed bun. Wash them down with whatever they have on tap from Boneyard Beer, the Bend brewery that is devouring market share from longtime stalwart Deschutes Brewery.
Surf Hanalei
Kauai, Hawaii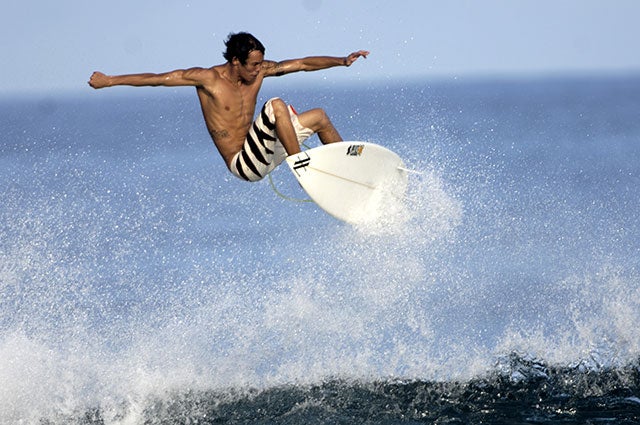 Kauai is small enough that you can drive from one side of the island to the other in a couple of hours, which is plenty of time to catch a swell rising from most any direction at one of dozens of surf spots. In early fall, south shore spots like Pakalas or expert break Acid Drop could catch swell running north from southern hemisphere storms. Later in the fall, legendary Hanalei Bay, where the King's Reef can throw up 60-foot slabs of water, will start to reel in swell from arctic squalls. Beginners will find a safe, sandy beach to learn on adjacent to the pier in Hanalei—and a handful of surf schools clamoring to teach them.
WHEN TO GO: Kauai is paradise year-round, but for autumn surfing November and December bring more reliable conditions.
ROUTE: Fly into Lihue (LIH), rent a car, and then check the surf forecast. Spend at least one day resting your shoulders by hiking the Kalalau trail on the famed Na Pali Coast.
GO NATIVE: The Feral Pig in Lihue serves the island's best burgers, made with local grass-fed beef. The off-menu half-pork, half beef Feral Burger is Kauai's worst kept, but best-tasting, secret. For cocktails, they'll mix you a Mai Tai, but would rather stir up an Old Fashioned.
Mountain Bike the Cuyuna Lakes Trail System
Crosby, Minnesota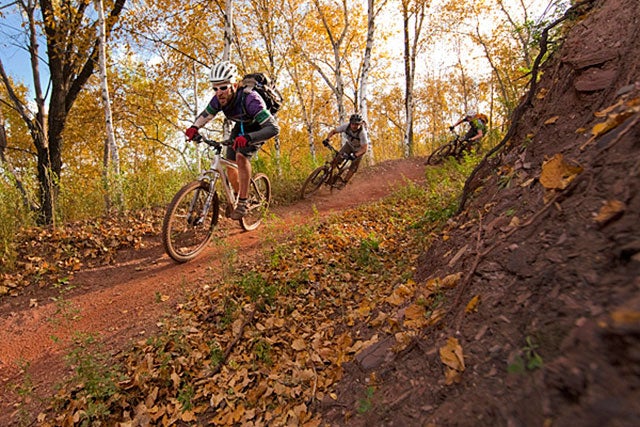 Equidistant between Duluth and Minneapolis, this mountain-bike specific trail system was just completed in 2010, and features 25 miles of flowy singletrack studded with berms, rollers, and a couple of expert segments with ample rock and wood obstacles. The system is one of IMBA's new Ride Centers. The volunteers responsible continue to develop features like a pump track in the nearby town of Crosby to spread the mountain bike gospel to the youngsters. From the top of Miner's Mountain there's a 20-mile view of hardwood forest turning colors, as well as a cluster of lakes—OK, they're old mine pits, but still pretty—with Caribbean-blue water.
WHEN TO GO: Late September, when the poplar and birch turn yellow and the occasional maple pops red.
ROUTE: At the Mahnomen Unit, link Easy Street, Sidewinder, Sand Hog, and Miner's Mountain trails for an hour-long ride. Those with all-mountain bikes head to Timber Shaft, an expert trail sporting enough rock drops, big berms, and wood obstacles to challenge even the most gung-ho riders.
GRUBSTAKE: The Crosby Bar serves drinks named after Cuyuna Trails. Go for the Screamer, a cranberry margarita. They don't have a kitchen yet, though, so for chow head to the Ya Betcha Bar and Grill, also in Crosby, where quantity is the name of the game. Devour fifty-cent tacos on Tuesdays or the one-pound Ya Betcha Burger, which also includes, ham, mozzarella and pineapple, any night of the week.
Ride the Enchanted Circle Scenic Byway
Taos, New Mexico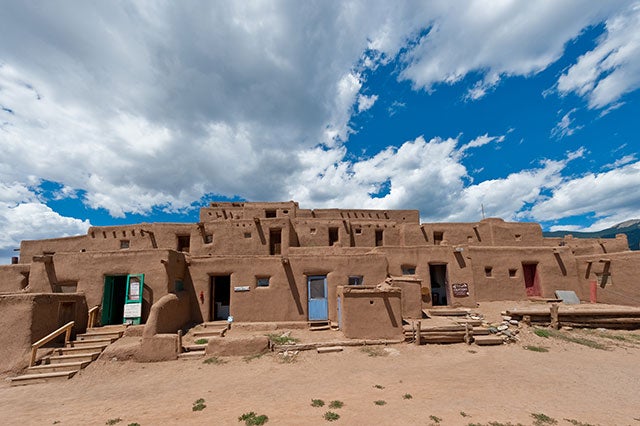 The 86-mile Enchanted Circle loop into the Sangre de Christo mountains from Taos is a classic ride in three seasons, but probably best in the fall when the cottonwoods along the creeks pop red and yellow and the cinquefoil bruises purple. The route traces the popular century race that takes place each September, but skips a 14-mile out and back to Angel Fire ski area. The ride traverses mountainous canyons, flat farmlands, and tops 9,100-foot Palo Flechado and 9,820-foot Bobcat Pass.
WHEN TO GO: Get an eyeful of man-made splendor as well during the Taos Fall Arts Fest, September 27 to October 6.
ROUTE: Follow the well-marked scenic byway route east on Highway 64 out of Taos. Connect to Highway 38 and then head south on 522 at the Junction in Questa, which will bring you all the way back into town.
HOLY MOLE: Grab a shower before you go (and a reservation) because The Love Apple is a nice place. Order the Homemade Baked Tamale with Oaxacan Style Mole, which features the Apple's special red chile mole sauce. Pair that with something from the extensive wine list. May we suggest a Cab Franc?
Paddle the Kennebec, Penobscot, and Dead Rivers
Maine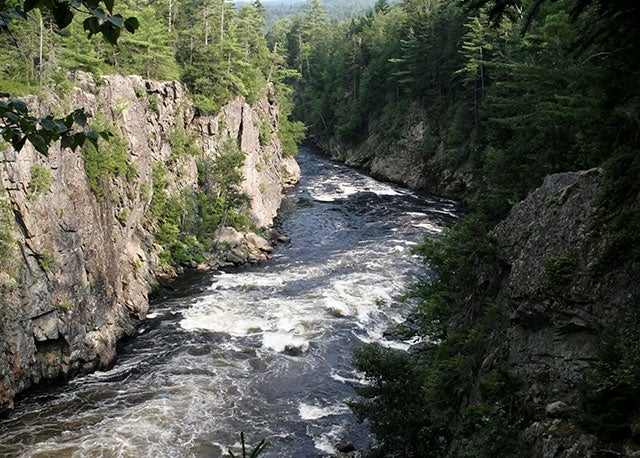 The best autumn whitewater north of West Virginia is in Maine. The Kennebec, Penobscot, and Dead feature regular releases into the fall, though October 5 is the last day for the Dead, a phenomenal 16-mile run of nonstop Class III-IV whitewater. Follow that with a Sunday trip on the Kennebec, where a mostly mellow 12-mile stretch is spiced with a few Class IVs that rumble through a maple and pine ensconced 300-foot deep gorge. The big water Penobscot, two hours north in Baxter State Park, is a notch tougher, featuring the stout Class Vs Crib Works, and the huge hit in Rip Gorge.
WHEN TO GO:  The Penobscot's foliage peaks early (typically by late September), but you can eke out views of Maine's famous reds and oranges into early October on the Dead and Kennebec, which are further south.
ROUTE: North Country Rivers runs all three rivers. The company maintains a full-service base camp for the Penobscot in Millinocket and one for the Dead and Kennebec in Bingham.
LIFE PRESERVER: Hit Patrick's for some Maine lobster at North Country's base camp, or dirtbag it with the raft guides at The Marshall's in Forks. A burger and a domestic beer is just $6 on Mondays and it's 2 for 1 pizzas on Wednesdays.
Mountain Bike Whistler-Blackcomb
British Columbia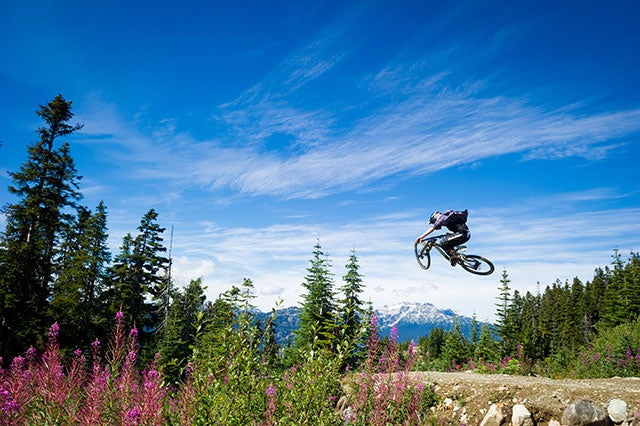 The bike park at Whistler-Blackcomb is the undisputed epicenter of mountain bike freeriding. Four lifts serve 60 dedicated mountain bike trails, including two skills centers, a jump park, drop-off park, and the plywood wonderland of the Boneyard Slopestyle Park. Draw one of 100 tickets each day to the Top of the World trail, and you can slash 5,000 feet of steep, fast trail to the base past the Coast Range's granite spires, below which trees yellow and huckleberry shrubs redden in all directions.
WHEN TO GO: The Top of the World closes on September 14; the lower bike park closes on October 14.
ROUTE: Experts should plumb the ultra-classic excavated jumps of A-line. Intermediates should cut their teeth (hopefully not literally) on Crank It Up.
DROP IN: The best place to chill on a deck with a beer in your hand while watching armor-clad mutant freeriders land backflips is at the Garibaldi Lift Company, at the base of the bike park in the heart of Whistler Village. If you're looking for more than just pub food, though, head across the plaza to the Sushi Village for, yep, sushi. They're specialty, however, is the pitcher of strawberry sake margaritas. Hard to drink just one—pitcher that is.
Kiteboard the Cape
Cape Hatteras, North Carolina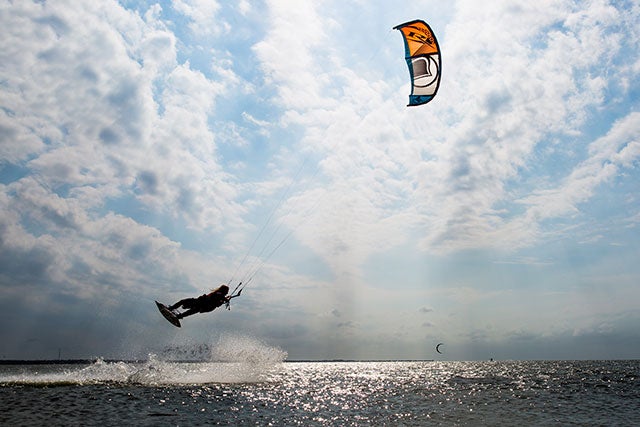 The same steady winds that led the Wright brothers to choose North Carolina's Outer Banks as the site for the first airplane flight make it the most reliable spot on the continent for autumn kiteboarding. Beginners love the 70-mile reach of warm, smooth water in the channel between the Cape and the mainland. Experts carve up waves on the open Atlantic. Best of all, the two bodies of water are just a quarter-mile walk apart across the island. Bonus: in the fall, tropical storms send head-high waves ashore for advanced kiters to push their limits.
WHEN TO GO: Consistent winds blow now through November, when things start getting a little chilly.
ROUTE: Real Watersports, in the town of Waves, runs weekly "Zero to Hero" kiteboard camps for beginners through November, featuring state-of-the-art gear and 2-1 student to instructor ratios.
STRIKE YOUR SAILS:  A Goslings Dark 'N Stormy—Gosling's Rum and ginger beer—from Watermen's Bar and Grill should quell any residual motion sickness. Once that's gone, and even if it's not, take to the floor and dance to the live music every Monday and Thursday through October. You'd be foolish not to order the Hatteras Island Style Crab Cakes, a huge order of lump crab smothered in home-made cocktail sauce.
Road Ride the Blue Ridge Parkway
Wintergreen, Virginia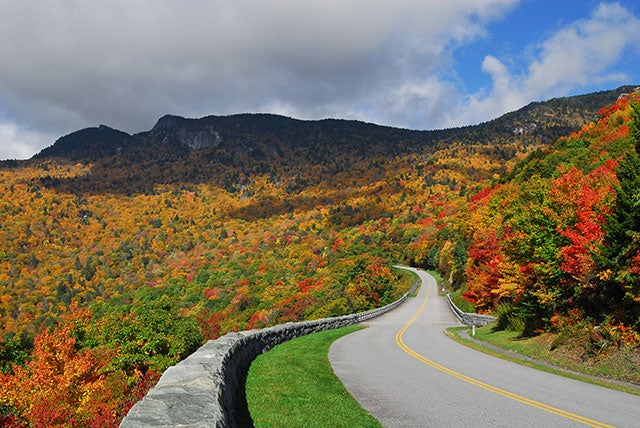 Take your pick of the Blue Ridge Parkway's 469 narrow, scenic, and winding miles through North Carolina and Virginia for road biking. Relatively light on traffic, almost all of them constitute some of the best road riding in the world, not to mention vistas for turning autumn leaves. The Devil's Backbone Brewery in Roseland, Virginia is as good a place to ride from as any, and a better place to refuel than most. The 50-mile Nelson Scenic Loop leaves from the brewery's parking lot and climbs through agricultural valleys, runs beside the tumbling Tye River, and moves along the Parkway for 14 miles, before setting you up to scream downhill past the Wintergreen Mountain ski area. 
WHEN TO GO: The maples hang in there through most of October.
ROUTE: Take VA Route 151 south from Devil's Backbone about 11 miles to Roseland. Take a right onto 56 and ride approximately 22 miles to the Blue Ridge Parkway. Take a right and ride 14 miles of the Parkway to Reid's Gap road (Route 664), which descends steeply back to the brewery.
HIT THE DECK: Grab a seat in the sun on Devil's Backbone Brewery patio for an eyeful of the foliage turning on Three Ridges Mountain. The Vienna Lager is the most-consumed craft beer in the state, and perfect for washing down Rob's Bonedipper sandwich of shaved prime rib, which is made from meat smoked in house.
Trail Run Door County
Peninsula State Park, Wisconsin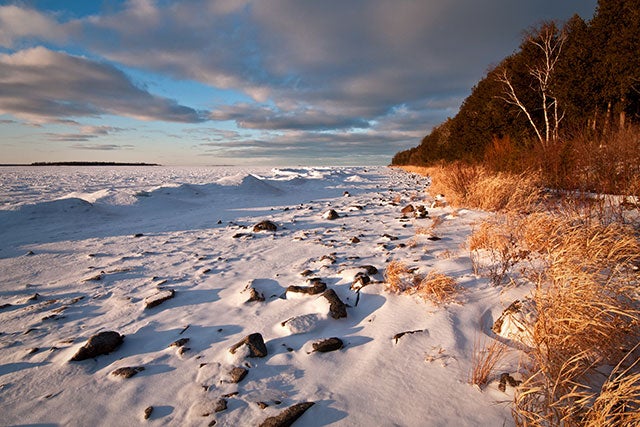 The park is a small peninsula on the large peninsula jutting into Lake Michigan, home to eight miles of pristine shoreline and some of Wisconsin's best beaches. But the place is also lousy with dozens of miles of path and gravel bike trail through the forest with gentle grades for running. Trot past yellowing birch and beech and crimson cranberry. Step more carefully on the rocky, rooted, 2-mile Eagle Trail, which courses along 150-foot limestone bluffs, with views of the lake.
WHEN TO GO: Foliage peaks in early October. Venture out during a Packers' (October 6, 13) or a Badgers' game (October 12) and you'll have more of the trails to yourself.
ROUTE: Park at the Eagle Tower and link the Eagle Trail with the Minnehaha, Lone Pine, and Sentinel Trail for a 10-mile loop.
PACK IT IN: If Peninsula State Park is deserted during the football games, Husby's, just north in Sister Bay, will be packed. Grab a spot on the patio of the Garage Bar, where there's a Mexican food theme. Our pick: the locally caught whitefish tacos with homemade salsas. Wash them down with the Polka King Porter from nearby Door County Brewing Company.
Mountain Bike The Alleged First Trails
Crested Butte, Colorado
There's been some debate over where mountain biking began—Crested Butte or Marin County, California. But there's no controversy over what locale has the better riding. It's Crested Butte by a 14er (OK, a 13er. There aren't actually any 14,000-foot peaks right around the valley.) Dozens of miles of trail loop through alpine valleys, yellowing aspen groves and reddening shrubs, and under snow-spackled peaks. A well-organized volunteer corps keeps the singletrack nice and flowy. 
WHEN TO GO: Late September is your best bet as the foliage turns early in the high country. Crested Butte's Vinotok festival on the 21st is a bacchanalian rite legendary amongst ski towns.
ROUTE: The 8.6-mile 401 trail is Crested Butte's most classic, topping out at 11,335 feet.
HIT THE BRAKES: Keep an eye on the peaks above and the street scene below from the deck of the Eldorado Brewery and Taproom. Their falafel and mushroom veggie burger patties are beloved by carnivores as well, especially doused with the Eldo's famous guacamole. Their crisp Northside Ale should go down easy after a big day in the mountains.
Trail Run the Adirondacks
Lake Placid, New York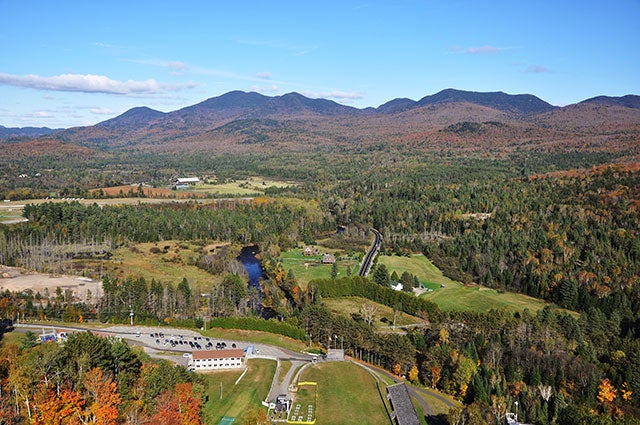 With its dense cluster of mountains and an ecosystem almost identical to Vermont, the Adirondack's High Peaks region may actually be a better place to peep leaves than that fabled foliage grounds. The colors are just as vibrant, and the variety of altitudes and aspects afforded by the steep hillsides provide an amazing array of trees in change. Forget our gushing. See for yourself with a trail run in the former Winter Olympic Village. The Henry's Woods trail system—4.5 miles of interlocking loops—is mostly under the canopy, for total immersion in the colors. Climb the steep Rocky Knob loop for High Peaks views. Need more? Run just a half mile of pavement to hit John Brown Farm's four-miles of forested trail.
WHEN TO GO: Peak foliage is usually in early October.
ROUTE: The trailhead is on Bear Cub Lane near the Olympic Training Center.
GOLD MEDAL GRUB: Grab a table on the patio of Liquids and Solids in Lake Placid if temps allow. The menu rotates according to the availability of local ingredients, including the artisanal butcher next door, but the charcuterie plate in some incarnation is always a good bet. They are even better known for their creative cocktails, which also rotate according to whim and fresh herb availability, but hopefully the Straight Booze lingers on the list—Knob Creek, Sorel, vermouth, cherry vanilla bitters, and lemon.
Cycle the Cascades
Leavenworth, Washington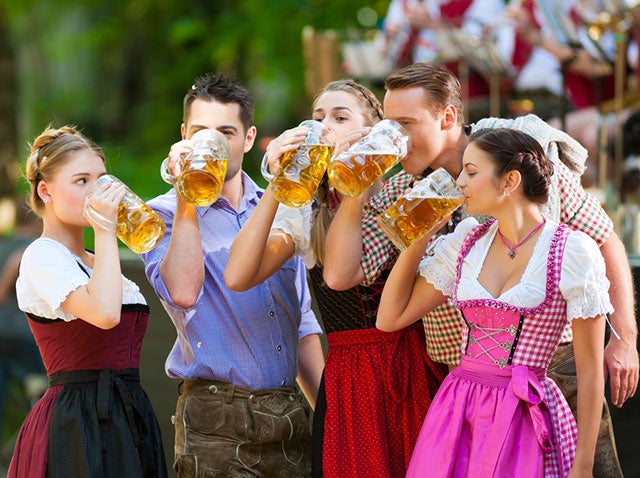 Set inside the wide Wentachee River valley in the Cascade Range, Leavenworth sports alpine views in every direction. Long, gradual climbs and curvy descents along the rivers are fenced by evergreens trimmed with turning maple, alder, and cottonwood. Or, bust a lung on the 2,200-foot climb up Highway 2 to Stephens Pass, hard enough you likely won't notice much besides your soaring heart rate. Eurosports in Leavenworth is the epicenter of a friendly roadie culture and owner Eric Redrup hosts a trove of ride beta on his website.
WHEN TO GO: October, though Washington is known for its long foliage season so you might get lucky into November.
ROUTE: The moderate, 43-mile Chumstick-Chiwawa loop spins north out of Leavenworth on the Chumstick Highway, over Beaver Pass, and down to the shores of Lake Wenatchee via the Chiwawa Loop Road.
PROST: Bavarian-themed Leavenworth is basically one big beer garden, but the cycling crowd tends to congregate at Icicle Brewing Company's tasting room to nosh on the Meat and Cheese Plate and quaff their brews. Ride hard enough and you've earned a couple of the Priebe Porters. On the weekends between October 4 and 19 the town celebrates Oktoberfest. Motivation to start early and finish by noon on Saturday comes courtesy of the town's ceremonial 1 P.M. keg tapping. 
Surf South of the Border
Troncones and La Saladita, Mexico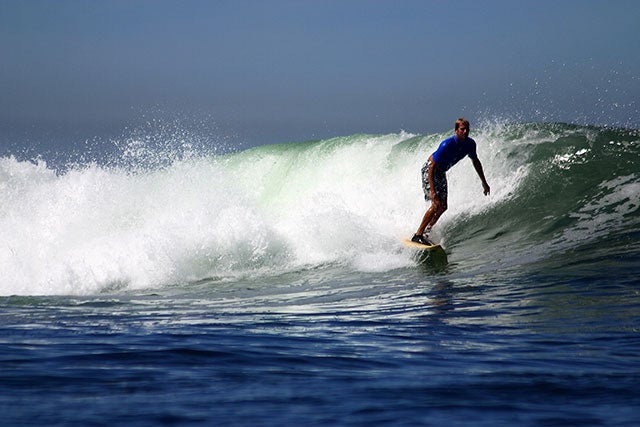 Troncones, a sleepy surf town 40 minutes north of the Zihuatanejo airport, sports an un-crowded intermediate spot called Troncones Point, which can be huge in the summer when it catches the southern swell, but is moderate and consistent later in the fall. Twenty minutes further north is La Saladita, a very long left, perfect for longboards, with a great beach for sitting under a palapa with a cold beer.
WHEN TO GO: Waves taper in size the closer you get to winter. Breaks are more crowded and accommodations harder to come by around U.S. Holidays.
ROUTE: Rent a car at the airport (ZIH) as there's little in the way of lodging and dining at La Saladita.
SUNDOWNER: Café Sol is a safe bet even for those with less adventuresome intestinal tracts. The wood-oven pizza is top-notch, and the Pacifico in bottles a perfect chaser.