Stealth Safaris
When it comes to critter spotting, the quiet approach is the way to go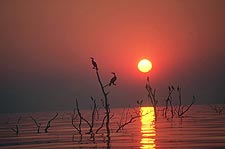 Heading out the door? Read this article on the new Outside+ app available now on iOS devices for members! Download the app.
ON FOOT

As the low, rumbling growl reverberated from the bushes, we froze in our tracks, every sense on red alert. The growl—so deep and powerful that it seemed to emanate from the earth itself—wasn't a threat, really, just a reminder. "I am the king of beasts, and I stand at the top of the food chain around here. For now, I choose not to kill you—as long as you don't do anything stupid."
We'd been tracking the pair of lions on foot in Zimbabwe's Matusadona National Park for almost an hour. And although we caught only occasional obscured glimpses of them—the closest from perhaps 200 feet away—the thrill of the chase and the adrenaline rush of our discreet encounter were something no checklist-toting game-viewers could ever experience from the safety of their minivan.
Quite simply, everything changes when you are on foot, on the animals' turf, playing by their rules. (Of course, we held the ultimate trump card in this game: a .458 Mauser rifle in the hands of Steve Carey, our hunky blond Zimbabwean safari guide. "It'll stop an elephant, "he assured us. "And the one behind him.") Shortly after the lion encounter, we dialed down the adrenaline meter and lolled silently under an acacia tree for an hour, waiting to see what might walk by. Nothing did, but Steve suddenly jumped up and said, "I heard something. Let's go." Ten minutes later we came upon an antelope, skin still warm to the touch, its neck crushed by a leopard—another reminder that we were puny interlopers in a land where the beasts still rule.
Our safari was organized by Graeme Lemon Walking Safaris, whose trips can be booked in the U.S. through African Portfolio (800.700.3677; www.africanportfolio.com). Cost is $210-$240 per day, plus $50 for boat transfers to and from Kariba. Accommodations are roomy tents equipped with cots.
By Sailboat
As the 15-strong herd of elephants—bulls, mamas, and babies—stood haunch-deep in the shimmering blue waters of Zimbabwe's Lake Kariba, placidly grazing the lake bottom near the shoreline, our safari vehicle approached to within a few yards. Suddenly, a big bull turned to glare menacingly at us. Did we worry? Naah.
Our safari vehicle, you see, was a 30-foot sailing catamaran. We hovered just off-shore, impervious to any pachydermatous attack save for a good hosing down, which we would have welcomed on that hot afternoon. Our three-boat flotilla of Wharram Tiki 30s—fast, stable, gaff-rigged cats that sleep six in slightly cramped quarters—spent four days cruising the remote 170-mile-long reservoir. Each night we'd pull into protected coves along a shoreline that just might shelter more large mammalslions, rhinos, zebras, buffalo, and hippos—and fewer people than any lake in the world. Although most clients sail the boats themselves, Sail Safaris owner Lance Reynolds commands the flotilla from a lead "mother ship." Fluctuating water levels and the thickets of Daliesque dead trees make navigation tricky for newcomers, however polished their sailing skills.
Mine were definitely tarnished. Although a veteran windsurfer, I had never sailed a boat. Under Reynolds's tutelage, however, I quickly picked up the basics, and I don't doubt his claim that any weekend dinghy sailor can hand the Tiki 30 with a brief checkout. A staff captain can accompany nonsailors. But for all the fun of sailing, this trip was mainly about the animals. I've already forgotten how to furl the jib, but I'll always remember the look in that bull elephant's face.
Sailing safaris can be booked in the U.S. through African Portfolio at 800.700.3677 or www.africanportfolio.com. For a group of four, a four-day trip costs $1,825, a seven-day trip, $2,730, including meals, national park fees, and taxes.
By Mountain Bike

To become truly intimate with the animals of Africa, you must travel as they do: under your own steam. A mountain-bike safari is a great way to explore the bush, and southern Africa is the most bike-friendly of safari regions. At the Mlilwane Wildlife Sanctuary and the Mkhaya Game Reserve in Swaziland, a five-hour drive east of Johannesburg, I rented low-tech mountain bikes and rode with local Swazi guide on a network of good dirt trails that ranged from relaxed to technical. From my bike saddle I saw zebra, impala, giraffe, hippo, and the rare black rhino, and rode in the middle of a pack of bounding springboks. Mkhaya's accommodations are comfortable safari tents, while Mlilwane's digs are more rustic—thatched "beehive" huts and cabins.
For more creatures and comforts, head into South Africa. Faw-Mbili Game Lodge in the Thornybush Nature Reserve adjacent to renowned Kruger National Park, is a friendly, luxurious bush lodge that accommodates up to ten guests. You can take a guided walking safari in the morning, a mountain-biking tour midday, and a Land Rover safari after dinner. The terrain here consists of easy, sandy roads, and the wildlife is abundant—I rolled among the "Big Five": lions, elephant, buffalo, leopards, and rhinos. Which means that the guides pack pistols along side their CamelBaks.
Guided mountain-bike safaris at Mlilwane cost $6.75 per hour (including bike rental), and park lodging is $5 per person per night for camping, $13 per person per night for beehive huts, and $28-$32 per person per night for cottages (including breakfast). Mkhaya accommodates groups of five or more in luxury safaris tents for $87 per person per night, including meals and safaris. Contact Big Game Parks at 011.268.404.4541; www.biggame.co.sz. Kwa-Mbili Lodges charge $113 per person per night, including all meals, bikes and guided safaris (walking, biking, and driving). Contact 011.27.15.793.2773; www.kwambaili.com.
By Canoe

Feather your paddles, sit tight, and slip past the elephants drinking at water's edge. Watch out for cruising crocodiles and the occasional loony hippo launching a high dive into the river from a steep bank while displaying a lethal set of choppers. All part of another leisurely day canoeing an idyllic stretch of the Lower Zambezi River, from Mana Pools National Park in Zimbabwe to Kanyemba on the Mozambique border.
Here in one of the richest wildlife areas of southern Africa, the Zambezi is flat and glassy and broad as a lake, bounded by waterside villages on the Zambian side and by riverine forest thick with mango trees, itala palms, and towering natal mahoganies on the Zimbabwean shore. Watch for kudus and warthogs by day, lions, leopards, and hyenas by night. Narrow, meandering side channels teem with bird life—harons, egrets, hornbills, and ibises.
Local outfitters Ruwesi Canoe Trails, Natureways, Shearwater, and Safari Par Excellence negotiate the hazards on three- to nine-day trips. You can choose your side of the river—Zambia or Zimbabwe—and your style of trip—a "fully serviced" safari (staff go ahead by truck to have tents, hot showers, and dinner ready), or a "participatory" safari (you tote the gear, help prepare meals, and help set up the tents).
The cost ranges from about $400 for a three-day drive-in, participatory trip to $1,200 for a four-day fly-in trip. Book through African Portfolio in the U.S. (800.700.3677; www.africanportfolio.com) or in Harare, Zimbabwe, (011.263.4.481117).
On Horseback

As your horse lopes across the high grassland of Malawi's Nyika Plateau, your approach is likely to flush out a clutch of roan antelope, reedbuck, zebra, or eland. Or head south toward the rocky peaks of Vitinteiza and Mwanda, where klipspringers bound like pogo sticks over stony ground. Much of the great treeless plateau in the country's far north is unlike any other landscape in Africa—bare as the Scottish moors or the rolling grasslands of Montana. It's the site of 3,000-square-kilometer Nyika National Park, Malawi's biggest, where the upland wildlife is staging a comeback after having lost numbers to local poachers and cooking pots.
There are few roads across the plateau and vehicle traffic is restricted in the park, so the best view of Nyika is from the back of one of David Foots' fine thoroughbred or Boerperde horses. Foot can tailor a trip to suit from two to six novices or experienced riders. You'll set out from the chalets of Chelinda Camp, then stop at remote safari camps (walk-in tents, bucket showers) along the North Rumphi and North Rukuru rivers. You'll cover a lot of the landscape on the seven- and ten-day trips, which cost approximately $200 per night per person, including accommodations, meals, horses, and equipment (airfare not included). Call Equitour at 800.545.0019; www.ridingtours.com.
 
Trending on Outside Online