Racing the Mongol Derby
The ponies that carried Genghis Khan's warriors are small, tough, and skittish as hell, making the prospect of riding them for 1,000 kilometers seem downright insane. American cowboy Will Grant couldn't resist, so he entered the Mongol Derby—the longest, hardest horse race in the world—determined not just to finish but to win.
Heading out the door? Read this article on the new Outside+ app available now on iOS devices for members! Download the app.
The toilet paper startled the horse. I was relieving myself, and a gust of wind had unfurled the tissue in my left hand. The red and white spotted pony lifted his head when he saw the flutter, and the rope to his bridle slipped through my fingers. He looked at me with eyes full of white and his front feet spread wide, ready to bolt. We both froze. He knew he was loose. I lunged forward in a full Pete Rose slide, bloodying both my knees and scraping my exposed parts on the rocks and the short prickly grass. Just as I grabbed the rope, he jerked it out of my hand and wheeled away, kicking a hind leg at me as he sprang off.
I collected myself and concluded my business while he quietly grazed about 20 yards from me. I spent the next half-hour trying to walk him down, cursing his name, or rather, because he didn't have a name, his number, which was painted on his shoulder. Finally, he quit me and, with almost all my gear aboard, trotted off over the pale green horizon.
It was 6:30 p.m., and I was now on foot on the broad and treeless steppe of Outer Mongolia's Tamir River Valley. Below me, about a mile away, I could see the white yurts of a herder camp. Within a quarter-mile of that, I could see a man watching me. Guard dogs milled around the camp, a stark reminder that, in spite of my meticulous preparation, I had failed to renew my rabies vaccination. I decided to stop and wave. It was easy to see that I was a horseman without a horse, and the man watching me hopped on his and galloped off in the direction mine had gone.
Twenty minutes later, he rode up with my pony beside him. I thanked him as best I could, with smiles and hand gestures, and he in turn made it clear that I now owed him something. I offered him my hat—a baseball cap from my hometown of Alma, Colorado—and cash, some Mongolian tugriks worth about $20. He shook his head no and pointed at my wrist.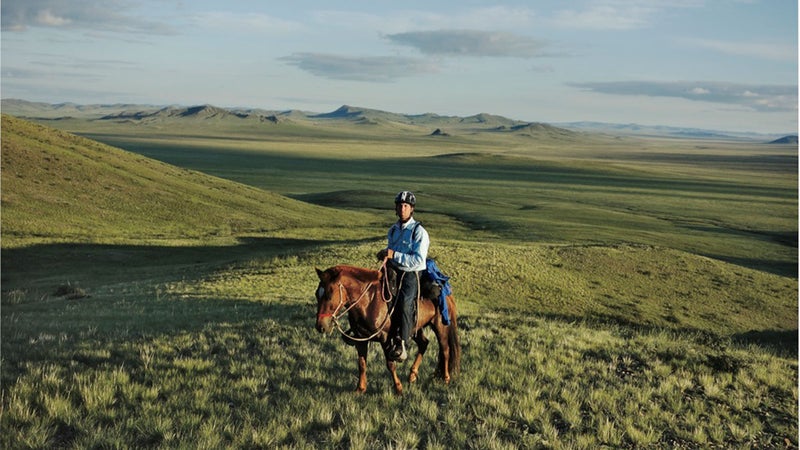 Getting my horse back—my third mount of the day—cost me an hour and my alarm clock, a fancy Timex Ironman watch. Considering the day I'd had, it was a bargain. That morning I had crashed with the first horse I'd been issued; he had stepped into a marmot burrow at full gallop, and we did a synchronized somersault that would have been impressive to observe but hurt like hell. A few hours later, I sank my second horse to his chest in quicksand and then swam him across a furious river.
Now this nag was too tired to make the next checkpoint, which, according to my GPS, lay eight miles ahead. It was mid-August, the sun would set in about an hour, and temperatures would start dropping into the forties. I needed to find a place to camp and to somehow make a fire in this treeless landscape. I was about halfway through the Mongol Derby, and it was shaping up to be a long day.
---
When I told Jack Brainard, a legendary master horseman and my mentor as a cowboy and professional horse trainer, that I was riding the Derby, he said, "Why in hell would someone want to ride them little horses for 1,000 kilometers?" Brainard, now 91, had spent most of his life in the saddle. "I'll bet you get halfway through the race and throw down your pencil and your notepad and say, Me and my big mouth. What have I got myself into now?"
Except for the two South African adventure racers and a chain-smoker from Holland who had done the race the year before, none of us—an eclectic bunch of 35 international riders—really knew what we were getting ourselves into. The Mongol Derby is a loose re-creation of Genghis Khan's 13th-century communication system—a fast-horse mail relay, a precursor to our Pony Express of 600 years later. Unlike the Khan's riders, we had no time-sensitive communiqués. But, like them, we did get issued a new horse every 25 miles, riding from urtuu (horse station) to urtuu. We would start approximately 60 miles south of Ulan Bator, ride in a clockwise arc to the west and north and, 24 urtuus, three mountain passes, countless rivers and creeks, and one surreal dune field later, finish at the foot of a dormant volcano about 250 miles northwest of where we began. The route would entail some 650 miles of riding; organizers figured the first rider would finish in about eight days.
Staged by the London-based company the Adventurists, whose slogan is Fighting to Make the World Less Boring, the race is a logistical behemoth, employing more than 1,000 horses and a support staff of over 300 mostly Mongolian interpreters, drivers, wranglers, cooks, and veterinarians. In a conference room at the Ramada Inn in Ulan Bator, race staff barraged us with an eight-hour briefing. They handed out satellite images of the route, loaded our GPS units with more than 2,000 waypoints, and showed us how to use the Spot personal tracking devices we were issued.
The Mongol Derby is a loose re-creation of Genghis Khan's 13th-century communication system. Unlike the Khan's riders, we had no time-sensitive ­communiqués. But, like them, we did get issued a new horse every 25 miles, riding urtuu (horse station) to urtuu.
Then came the rules. We were allowed to carry only 11 pounds of gear, not including water, loaded into a backpack or saddlebag—sleeping bag, camera, GPS unit, headlamp, spare batteries. There were penalties for every-thing from straying outside the 12-mile-wide corridor between horse stations to riding longer than the proscribed 14-hour period each day to falsely issuing an SOS with our Spot trackers. Each rider needed to complete at least three 25-mile legs a day, to keep pace with the support staff, but otherwise you could do as you pleased: sleep alongside race organizers and fellow riders at each station or bed down on the steppe wherever you happened to be when the day's riding time had expired. The goal was simply to cross the finish line first. To ensure that the horses weren't being driven too hard, each rider was required to carry his mount's vet card, which recorded condition and heart rate, the time of arrival at a horse station, and the time of departure. If the animal's heart rate didn't come down to 64 beats per minute within a half-hour of arriving, the rider served a two-hour penalty.
After the briefing, we had two days to make final preparations and get to know the steeds. Native Mongol horses haven't changed much over the past 800 years and remain as scrappy as they are small, about six inches to a foot shorter than a typical Western horse. "They're not much to look at," Harry McKerchar, one of the vets, told me, "but they're powerful little beasts." They're also extremely sensitive and will spook at any number of things, from a belly laugh to a discarded vodka bottle. Sometimes they just buck wildly and run hell-bent for the horizon for no apparent reason. Saddling one can require three Mongolians to muscle the horse into submission.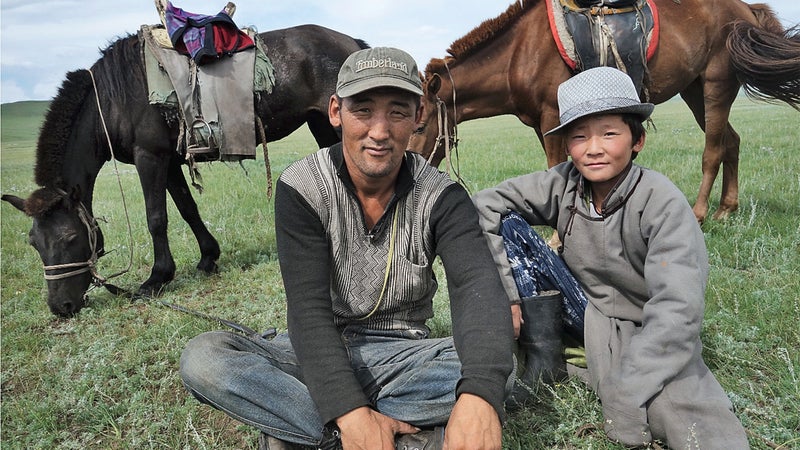 Four of my fellow racers, plus myself, had been professional horsemen; along with a few others, including the veteran South African adventurers and a pair of good-natured Irish jockeys, we wanted to win. But a good number of the other riders entered the race with the idea of having a leisurely Mongolian holiday. And a few, like a soft-spoken Emirati woman whose family thought she was in Turkey on vacation, and a female journalist from Dubai who smoked a lot of very thin cigarettes and showed up with comically inadequate gear, were clearly in over their heads.
I've been riding horses since I was old enough to know which end the hay goes in and was arrogant from the start. Figured I'd show these people how we do it out west. I had done my homework, repeatedly sizing up my fellow competitors via their online bios. I had the organizers send me the required race-issue saddle so I could break it in. I ran around the foothills and peaks outside Alma, did a couple hundred sit-ups and push-ups every day, and was riding harder than I had since I quit cowboying professionally four years ago.
The night before the race, drinking a warm beer by the fire, the event's videographer told me I was his pick to win. An hour before the start, the head medic told me the same thing. "My money's on you," he said. At the finish line, the two Irish jockeys said they had expected me to be on the podium with them. But things don't always work out as planned.
---
It didn't help matters that I showed up at the starting line with a blinding hangover. I had stayed up late drinking vodka around the campfire with Mongolian cowboys and, on the way to my bedroll, fell in a marmot hole the size of a small child. I woke up that morning with a bad limp, a throbbing headache, a cut below my right eye, and blood on my shirt.
When the gun went off, the horses about jumped out of their skins and a surge of adrenaline sobered me up. The mayhem began almost immediately. Less than ten miles from the start, Paul de Rivaz, a 64-year-old former British special-forces soldier who entered the race with his son, fell and broke his collar-bone. When de Rivaz's riderless horse galloped past Linda Sandvik, a Web designer from Norway, her horse spooked, jettisoning Sandvik, who hit the ground so hard that she fractured her pelvis and collapsed a lung. Two hours later, Erin Shanson, a lawyer from London, wrenched her knee while trying to dismount her skittery pony. Before the first 25-mile leg was completed, three people had suffered race-ending injuries.
The strict head-protection rule now made sense. Leading up to the event, the thought of racing in a helmet—or, more specifically, of incriminating photos of me racing in a helmet—was depressing. So much so that I told race organizer Katy Willings that I had never worn a helmet before (a lie) and that I was worried one might throw off my balance (another lie), thus endangering my safety.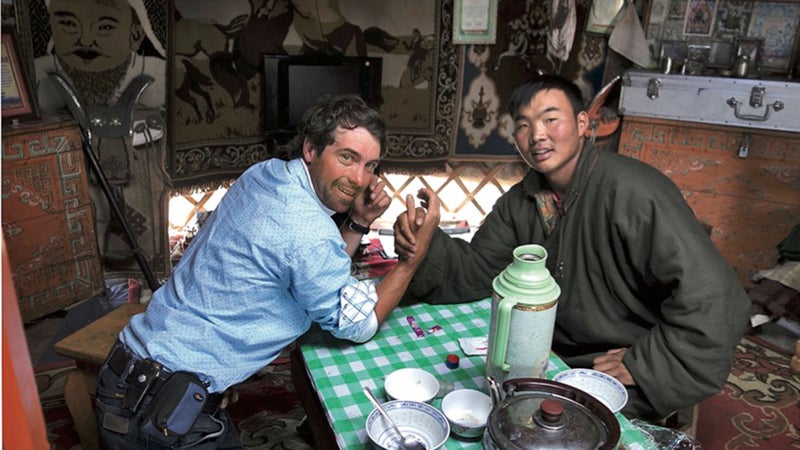 "Endanger your vanity is more like it," she replied. "If I see one picture of you without a helmet on, you're disqualified."
Because the mark of a cowboy is his spurs, I was also determined to wear my favorite pair. Willings nixed that idea, too. But she and her cohorts couldn't do anything about my Wrangler jeans, pearl-snap shirt, silk bandanna, or worn-out leather boots. It was the Wranglers they especially objected to; they were convinced the denim would rub abscesses into my legs. Nearly all the other riders were decked out like adventure racers, in tights and technical fabrics. Exasperated, I finally told them they'd obviously never ridden with an actual cowboy and that I'd take a photo of my shiny white legs for them at the finish.
By the start of day two, I had fallen in with two other riders, Paul de Rivaz's son, Ben, 29, a British investment manager, and Campbell "Cozy" Costello, a 25-year-old veterinarian from Australia. Ben, an Ironman and former member of the British army's polo team, was just as tough as his dad. He was also the only guy I saw shave during the race—maintaining standards, he called it. Cozy grew up mustering cattle in the outback and was as indefatigable as the country he grew up in.
Hitting the water was like grabbing hold of a passing freight train. Immediately, I could feel that the horse had nothing under him. I kicked out of my stirrups to swim beside him, grabbed a handful of mane with one hand, and held my camera over my head with the other.
The three of us rode well together. We got along and laughed and quickly figured out the best way to urinate from the saddle (pull the horse's head to the left, pee off the right). It could be messy—so much for standards—but it was faster, and safer, than stopping.
Our depth perception slowly changed as we crossed the steppe and learned how to interpret the scale and scope of the land. We learned that the rust-colored seedpods of an aquatic grass looked like an orange haze from three miles away. A light tan hillside meant pieces of sandstone coming through the grass—hard on the horses' hooves. A brown-tinted fluvial plain was the worst. Our horses would trip and stumble over the spongy, uneven terrain. Half a mile of that could take close to an hour, and it sapped a horse's energy as though you were galloping uphill.
Nothing was so frustrating as a horse that ran out of energy. Most of the time, Cozy was soft-spoken, polite, and gracious. But when a horse began to fade on him, he'd turn the air blue. Orangutan was about the only inoffensive term he used for horses.
"You have a way with words, Cozy," I said, "none of it printable."
"That's alright, mate," he said. "Just show a picture of a #$!% and that'll do."
---
It was about 3 pm on my second day riding with Ben—Cozy had gone ahead—when Ben's horse ran out of energy for anything but a walk. The sun was high, and the heat had taken its toll on the horses, his in particular. We decided to get off and walk to let them air up. Galloping, which we were doing more often than we weren't, is obviously hard on a horse. But riding a horse at top speed is a full-body workout for the rider, too, and we were hot and muscle sore. While the horizon seemed a long way off from the back of the horse, it seemed a lot farther on foot.
Ben pulled out a flask of single-malt whisky. In addition to being the fittest guy in the race, he also had the best booze. Most riders carried prescription painkillers and muscle relaxers—two riders from Sweden were hopped up on morphine for much of the race—but no one seemed to carry as much or as many kinds of liquor as Eton-educated, clean-cut Ben. He unscrewed the cap of the pewter flask and handed it to me.
"It's Bowmore Tempest, 112 proof," he said. "Space was an issue, so I figured I'd go for the most alcohol for the volume."
A couple of swigs changed everything. We figured it might take us a while, like five or six hours, to get to the next camp. But one way or another we'd get there, and there was no sense worrying about it. After an hour or so we got back on and rode.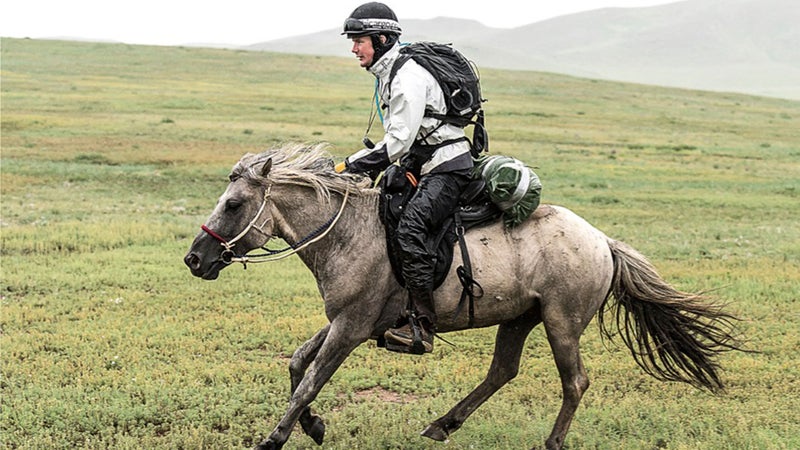 As we plodded along on tired horses, a Mongolian man on a motorcycle waved us down. He made motions of drinking tea and pointed to a white yurt a mile away. We could push the horses, make the next station, and maybe cover another leg of the race before nightfall. Instead, Ben and I looked at each other and agreed: damned horses are played out, might as well have a look.
Our host was a good-looking man, about 35, with wind-burned cheeks, strong hands, and broad, square shoulders, and when we first glimpsed his home, we knew we were cut from similar cloth. Drying meat hung from the rafters inside. Guns were leaned in the corner, and he proudly showed us the medals he'd won for horse racing, wrestling, power lifting, basketball, and martial arts.
He served us milk tea, a bowl of hard, home-made dumplings, and some sort of broth. Mongolians love to eat fat, and several large chunks floated in our bowls. I heard Ben gag twice and make a sound like water coming up a hose, but he choked down whatever was troubling him and, in classically polite British style, managed to cap his performance with a hard swallow and a smile.
After the meal, the man challenged us to arm-wrestle him. Ben went first and lost quickly. I went second and lost even faster. I could see where this was going: soon we would be drinking heavily and wrestling, and as much as we'd have loved to stay, we had a race to get back to. We exchanged gifts, he made sure our saddle girths were tight, and we rode off into the sunset.
---
The river was as wide as the Colorado and ran the color of chocolate milk. Parts of trees rolled in the current. It was late afternoon on the fifth day of the race, and I'd been riding with a Kiwi named Sam Wyborn for most of the day. Sam and I had ridden together on and off throughout the race, and I still didn't quite understand what he did for a living back home. He definitely spent a lot of time hanging out in Fiji, at a house owned by his father, who was rumored (falsely) to be the second wealthiest man in New Zealand. What was certain: we had four more hours of legal riding time ahead of us, and we wanted to cover one more leg before we were through. The next station lay a quarter-mile away, within sight, on the other side of the Tamir River.
We had been told at the prerace briefing to take the highway bridge, which we blew by about eight miles ago, to get across the river. But the vet at the previous station, even while looking at the maps and discussing the best route with us, had failed to mention it. The briefing had faded so far into memory, and was such a blur at the time, that I was surprised the race organizer, who rode the Derby in 2009, thought we wouldn't need additional reminders. I'd had some grievances about how the race was being run—like the fact that we were issued Google Earth images rather than topographical maps—but now I was straight-up mad as hell. The river, at this level, could kill man, beast, or both.
"I think we just try it," Sam said.
I wasn't so sure. The horses were tired, and I thought we should look for a shallower place to cross. We spread out and rode up and down the bank. When I turned around, I saw Sam and his horse emerging on the opposite side, 200 yards downstream. That settles that, I thought, and I walked my light gray horse up the bank, whipped him over the hindquarters, and jumped into the current.
Hitting the water was like grabbing hold of a passing freight train. Immediately, I could feel that the horse had nothing under him. I kicked out of my stirrups to swim beside him, grabbed a handful of mane with one hand, and held my camera over my head with the other. Only the horse's head was above water, and he was sucking all the air he could hold. The bank flew by as we bobbed downstream. If he goes under, I thought, I'll drop the bridle reins and turn him loose.
Mongolian ponies don't give up easy, and some 15 seconds later we reached the opposite bank. Sam's horse was larger than mine and fared better. My poor pony just stood there trembling and wouldn't move.
Only 18 of the 35 riders completed the race, many of them limping across the finish line. There were broken ribs, avulsion fractures, torn ligaments, and a full-blown physical collapse. (It seemed like one of the Swedes had a hard time coming off the morphine.)
Turns out we weren't the only ones who had missed the bridge, and I was still so pissed off that when we finally hobbled into the station, and the interpreter asked me to choose my next horse, I told her I couldn't give a damn. That cost me. She gave me a heavy-strided pony that felt like he had cinder blocks for feet. Sam's horse was faster, and after an hour I told him to ride ahead without me. A few hours later, the toilet paper incident delayed me further. But the thought of an open bivy on the steppe kept me moving, and in the failing light I rode into a camp unconnected with the race.
I had been riding for nearly 14 hours, and I was still cold and wet. Walking inside the heated yurt was euphoric. The men were apparently gone for the night, and there was just a young woman, her infant daughter, and her grandmother.
Oogii, the young woman, spoke a bit of English, and they offered me milk curds but no water. After some attempts at small talk, we rolled out two pads on the floor. I took a prescription-strength muscle relaxer, and in accordance with Mongolian custom, we laid down with our heads to the north, away from the door. I didn't undress, for fear of offending the women, and crawled into my sleeping bag in my still-damp jeans.
---
I rode by myself for most of the next day. Sam was now at least a station or two ahead of me, and I hadn't seen Ben or Cozy since I left them on day three. In the early evening, I came into station 17 cold and wet from heavy afternoon storms and with a difficult decision to make. I'd been riding hard all day and making good time. It was 6:30, and the back of the lead pack was now just 25 miles ahead of me, over a mountain pass that was currently hidden in purple storm clouds. With a fast horse, I figured, I might be able to make the next station in two and a half hours and be within striking distance. I looked at my GPS, then the sky. The vet in camp, a young, attractive woman from Belgium, watched as I deliberated. Eventually, she smiled over her clipboard and said, "Just so you know, I am going into town to get some beers. You're welcome to come."
"Where do I put my saddle?" I replied.
Later that night, Ben and Cozy, who had been trying to catch me for two days, rode into camp in the dark. Drinking cold beer with them in the warm yurt, I knew I'd made the right decision. We rode hard together the rest of the race, often pushing the horses to their limit, but always stopped for tea with strangers, admired the shrines, and never turned down a drink. On the afternoon of the ninth day, we finished the race in a three-way tie for 14th place.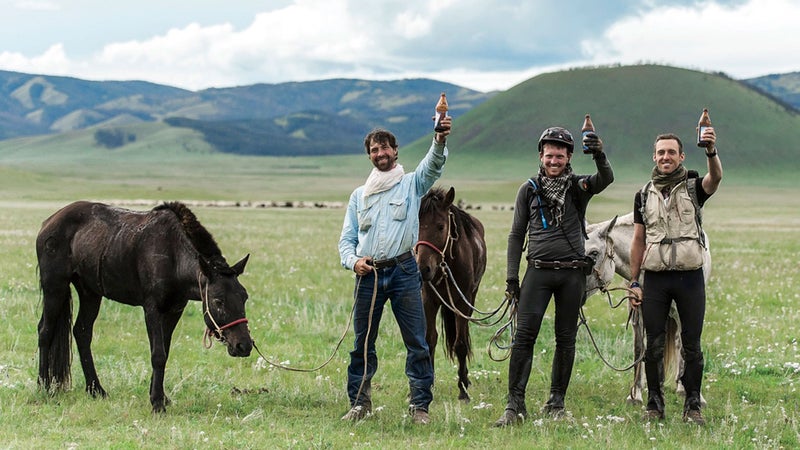 I didn't take a photo of my shiny white legs, but I could have. I was so invigorated by the whole experience, I would gladly have turned around and ridden the damn thing in reverse. Most of my fellow racers didn't fare as well. Only 18 of the 35 riders completed the race, many of them limping across the finish line. There were broken ribs, avulsion fractures, torn ligaments, and a full-blown physical collapse. (It seemed like one of the Swedes had a hard time coming off the morphine.) The Hollander who'd done the race the year before had one of the scariest injuries; he broke two vertebrae in his neck when he was thrown from his horse on day five. He lay on the steppe for an hour, unable to feel his arms, before the medics could get their Land Cruiser to him. Then he waited for another three hours while race headquarters tried to coordinate a helicopter to evacuate him. When it became clear that there would be no bird for an airlift, they strapped him to a stretcher with his stirrup leathers, loaded him into the back of the SUV, and bounced over the foothills.
Remarkably, he recounted all this at the post-race party, with his doctor beside him and a brace around his neck. "I think I will try again next year," he said.
After dinner we got to talking about American cowboys and using a lariat rope. I figured if I could rope a calf, I could rope a Mongolian goat, and I was eventually persuaded to demonstrate. It took a few tries and a lot of running, but I got one roped. I'd like to think old Jack Brainard would have been proud.
Will Grant writes frequently about horses and the American west. This is his first feature for Outside.