Balloons Over Bagan: Flying High Above the Ancient Kingdom
Christopher Michel tries out his new Nikon D800E in Myanmar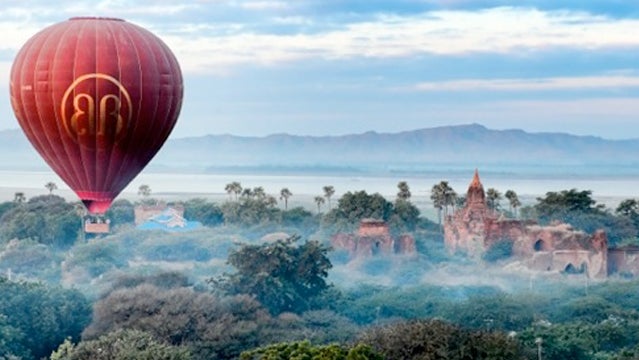 Heading out the door? Read this article on the new Outside+ app available now on iOS devices for members! Download the app.
Endless flying hopefully gets you someplace interesting. And today, it did—right in the middle of a waking dream floating above Myanmar's ancient Kingdom of Bagan. I was there on assignment for Butterfield & Robinson, biking through Mandalay, Inle Lake, and Bagan, shooting for their catalog.
About a year ago I stumbled across one of the most remarkable landscape photographs I'd ever seen; red balloons rising with the sun above a sea of glowing temples. I didn't know where it was taken or even if it was even real. Little did I know I'd soon have the opportunity to shoot aboard one of those very same balloons.
I've been anxious to try out my new full-frame, Nikon D800E and couldn't imagine a better location. I also brought along my rangefinder (a Leica M9 with the Noctilux 50mm f/.95 lens) for some wide-open shooting.
Bagan is a complex of temples, monasteries, and stupas constructed in the Mandalay region of Myanmar between the 9th and 13th centuries. There are literally 2,000 temples here on the shore of the mighty Irrawaddy River, most built to honor the Buddha. Each temple is a work of art, worthy of exploration, but the immensity of Bagan is best appreciated from up high. Early risers climb Shwesandaw Pagoda (among quite a few other coveted spots) in the dark to view the sunrise. Those who make it can't help but notice a fleet of picturesque balloons gracefully ornamenting the morning sky. Onboard those six beautiful balloons, 100 people are grinning from ear to ear, gazing at a Pandora-esque vista, and waving to the hoards of temple-bound sun worshipers.
My adventure began at 5:30 a.m. when a vintage 1944 Chevrolet World War II surplus bus screeched to a halt in front of my hotel. This was the real deal—hard-core military hardware that has survived more than a half-century in the Burmese outback. After climbing in, we rambled our way to a dark field where six Englishmen dressed in proper field khakis waited for us with coffee while a virtual army of helpers inflated their magnificent flying machines."My name is Nobby, and we're going flying," the first pilot said. The entire morning had a distinctly colonial feel to it. The British may have officially left Burma, but their presence is felt everywhere.
I hopped straightaway into the right front compartment (each gondola has four compartments with four people per compartment) and, before I knew it, we were on our way up, alongside five other balloons. Floating is so much different than flying—the only sensation of movement is visual, there's no turbulence, acceleration, or wind. The experience was surreal, made especially so by the immense beauty in every direction—a brilliant red sun bathing the temple complex in rich, warm colors while tendrils of smoke and mist moved like thousands of small white streams.
For the first 30 minutes, I shot about 800 frames on the Nikon and 50 or so on the Leica. I primarily used the Nikkor 24-70mm lens but would occasionally shoot with the 14-24mm lens. Throughout the shoot, I kept reducing the ISO, from a high of 1,000 at the beginning of sunrise to 200 by the time we landed.
After about 30 minutes, the colors became much more subdued as the sun was now well above the horizon. I put both cameras down for the first time since taking off, and simply enjoyed the quiet stillness of this incredibly holy place. Our ever-growing teardrop shadow followed us across temples as we slowly descended.
The quiet of the moment was shattered when the pilot commanded, "Landing positions!" and with a slight bump, we were back among the land-dwellers on terra firma.
Much like that briefest moment just after waking from a spectacular dream, it's hard to know what's real and what isn't. And, inevitably, the conscious mind drags us back to reality, often leaving us with a bit of melancholy at the loss of a world we once loved. Balloonists are used to this sort of thing and have developed a fool-proof cure: champagne. Nothing better to raise your spirits than a champagne toast to the dream we shared together.
TIPS
Book early. Balloons Over Bagan fills up way in advance ($320 per person). Snag the right, front gondola compartment—you'll have an unobstructed 180-degree view (the rear compartments have small control lines in front of them). Don't be afraid to shoot into the sun; just meter the ground, keep the shutter release half-pressed, and tilt the camera up until you have the perfect frame for your shot. Shooting around the sun can require a bit of post processing; an iPhoto can do the trick but Photoshop is better.
Christopher Michel is a photographer, writer, and entrepreneur. He has photographed some of the world's most unusual places and people, from the jungles of Papua New Guinea to the edge of space aboard a U-2 Spy Plane.