Elevation
Melissa Arnot wants to summit Everest without supplemental oxygen.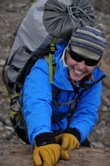 Heading out the door? Read this article on the new Outside+ app available now on iOS devices for members! Download the app.
If all goes according to plan this spring, Melissa Arnot will become the first American woman to summit Everest without the use of supplemental oxygen and the first American woman to successfully summit twice from the south side. The 25-year-old Rainier Mountaineering guide may be the sole female on the First Ascent team sponsored by Eddie Bauer, but she's in good company: Her teammates are Ed Viesturs, Dave Hahn, Peter Whittaker, Chad Peele, and Seth Waterfall. Outside caught up with Arnot as she was packing her bags for Nepal.
Melissa Arnot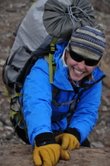 Melissa Arnot at Aconcagua
How did you get the climbing bug?

I was amazed to find a sport where I could push myself, but I always had to work on the mountain's terms. The lack of competitiveness and how the mountains don't discriminate was always very attractive to me. My parents raised me to follow my dreams and do what gives me happiness, not money.
How does it feel to be one of few women on the planet to have stood on top of Everest?

When I was fortunate enough to summit last May, it felt like the beginning. I want to have a long career in Himalayan guiding and hopefully inspire other women (and, of course, men) to see that the mountains don't care what your gender is. They offer the same challenge to everyone.
What's the best part of being the only woman on the team?

I am surrounded by some of my mentors and that is a great reality check every day. They respect my voice and how hard I have worked to get here. Peter Whittaker always points out that the pack doesn't get lighter or the pitch less steep just because you are a girl. I have worked super hard to align myself with these iconic mountaineers, which historically are men, but most of our clients our male as well…so I guess it prepares me for what is out there.
What's the worst part of being the only woman on theteam?

Man, if I started to complain about being on a team with Ed Viesturs, Dave Hahn, Peter Whittaker, and Seth Waterfall there would be plenty of girls standing in line to take my place! But women represent a small part of mountaineering and I feel a lot of pressure to represent that voice accurately and diversely, especially since I am only one women. I do stand by my beliefs though, and that is essential when you are a minority in a group.
You just got married last November. Congratulations. Who's the better climber?

If climbing has taught me anything, it is about the profound trust of a partnership. My husband is an amazing guy. He climbed Everest via the North side in 2007 as a cameraman, but his passion is kayaking. He doesn't 'love' climbing the way I do, and I would venture to say that I am terrified of whitewater…but it provides an incredibly special balance to our lives and our future.
If you successfully summit, you will have been the first American woman to have tagged Everest twice from the south side (there are no records from the north side). Why hasn't that already happened?

I'm not sure. The boys keep telling me it's because women are smarter, but that's a main reason that I wanted to guide on Everest. I was so curious how Dave Hahn could summit ten times and no American female guide has summitted twice.
You're planning to summit this time without the use of supplemental oxygen. How will that change your climbing strategy?

I will be paying attention to my body and how I am acclimatizing, as well as the weather and the other climbers. Ideally I would be fully acclimatized and ready to climb on a great weather day when hardly anyone else was climbing. It will just be a matter of listening to my body and the mountain, and going for a summit bid when/if I feel healthy and everything else is feeling right too. I don't intend to take unnecessary risks to make a summit. I will be patient and if I am lucky, I will have a chance.
Who are your female mentors?

I've been inspired by the stories of Beryl Markham, one of the first female bush pilots in Africa in the 1940's. She had this incredible spirit of adventure and a real devotion to putting others first, also being first herself, and driving the limits of what she was doing. When I first read her stories I thought, ah ha, here is my girl.
You've summitted Mount Rainier 72 times, Aconcagua four times, and Everest once. What's your climbing goal after a second successful summit of Everest?

Well, I am hoping that if all goes well and I am still feeling strong after Everest I can go directly to Makalu. It has been my dream mountain since I started climbing, and since I will already be acclimatized from Everest, I would like to give it a try. If I don't get there this spring, I will try to come in the fall and make an attempt. Himalayan mountain climbing suits my style really well, I am not the strongest technical climber and I am not the fastest, but I do have immense technical strength and I am strong, particularly with endurance climbs…so I hope to keep climbing in the Himalayas.
What's your favorite piece in the new Eddie Bauer First Ascent clothing line that you helped design?

Every piece is amazing, but I love the Down Sweater. When we were designing this line, I didn't pay too much attention to it, but once our third prototypes came out, I stole one from one of the guys. I haven't really taken it off since. It's a great example of one of our design tenants…breaking compromises. As a mountain climber, I am always compromising heavy weight for an item that will keep you warm, but the down sweater is light AND warm.
What books are you bringing with you?

I love Paulo Coelho, who wrote The Alchemist, so usually try to bring a few of his books and The Road Less Traveled by M. Scott Peck. It mirrors climbing so well, but above 21,000 feet it would take me 25 minutes to read one page, which speaks to my theory that climbing does not, in fact, make you any smarter!
What's the first thing you'll do when this expedition is over?

If I feel good the first thing I will do is make my way to Makalu base camp and begin my next climb. Otherwise I'll find a beach somewhere in Thailand to relax with my husband and eat lots of shrimp cocktails!
Trending on Outside Online