Everest's Most Dangerous Stunt Yet?
A daredevil's plan to jump off the top of the world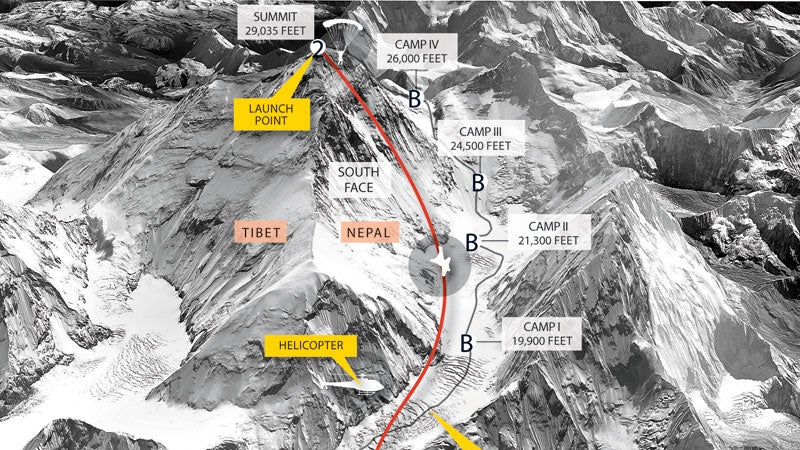 Heading out the door? Read this article on the new Outside+ app available now on iOS devices for members! Download the app.
In 2012, when Joby Ogwyn, a climber and BASE jumper from Santa Barbara, California, dropped from a plane at 27,000 feet and flew past Mount Everest in a wingsuit, eventually landing at Base Camp, observers were impressed. But that was just a warm-up. This May, 39-year-old Ogwyn will climb Everest, then perform a wingsuit jump from the summit in a made-for-TV spectacle torn from the Felix Baumgartner playbook. Backing him is the Discovery Channel, which will carry the event live and produce multiple specials about the jump. All told, some 300 people are working on the project, making it one of Discovery's biggest undertakings. "It's not going to be easy," says Ogwyn. "This is by far the most complex stunt that's ever been done." Here, Ogwyn and representatives from Discovery explain the feat.
The Climb
Ogwyn, who's notched three Everest summits, will climb with lead guide Garrett Madison, who's topped out four times, and at least two other support climbers. "These days, because there are so many people up there, one of the biggest challenges will be simply getting to the top," says Ogwyn.
The Summit
Once Ogwyn reaches the top, he'll change from his climbing suit—possibly in a tent hauled up by his support team—into a custom-made wingsuit equipped with at least two cameras. Meanwhile, his team will groom a launch pad so that Ogwyn doesn't slip during his initial jump. Ogwyn will use supplemental oxygen on both the ascent and descent. 
The Exit
Ogwyn has scoped out a launch point on previous climbs, but won't say exactly where it's located. "All I can say is it's near the top," he says. "It's a place I've discovered in my travels up there, and it will lend itself well to my wingsuit flight."
Getting Airborne
No point along the south face is completely vertical, so Ogwyn will have to generate forward momentum to get into the air safely. According to Eileen O'Neill, a president at Discovery, Ogwyn has taken up flying with a speed wing, a smaller version of a paraglider. Says Ogwyn: "Once I'm in the air, I'm good to go."  
The Broadcast
At least 12 cameramen will be filming—a two-person summit team, several more at Base Camp, and a helicopter outfitted with a Cineflex HD camera system. At Base Camp there will be an entire production team, with a studio in New York controlling the feed. TV personality Willie Geist, who hosted tightrope walker Nik Wallenda's Grand Canyon walk, will offer the play-by-play. The Weather Channel's Jim Cantore will serve as chief meteorologist.  
Going Live
When Ogwyn nears the summit between 6.a.m and 8 a.m.—primtime on the East Coast—Discovery will go live.
The Flight
After getting airborne, Ogwyn will cut away from his speed wing and fly his wingsuit over the Khumbu Icefall, then deploy his parachute and land at Base Campe or possibly Gorak Shep, a small outpost down-valley from Base Camp.