Impossible to Forget
Survivors from Everest '96 recall a day of terror and confusion that many still believe was distorted in ways that oversimplified complex events and dishonored the dead.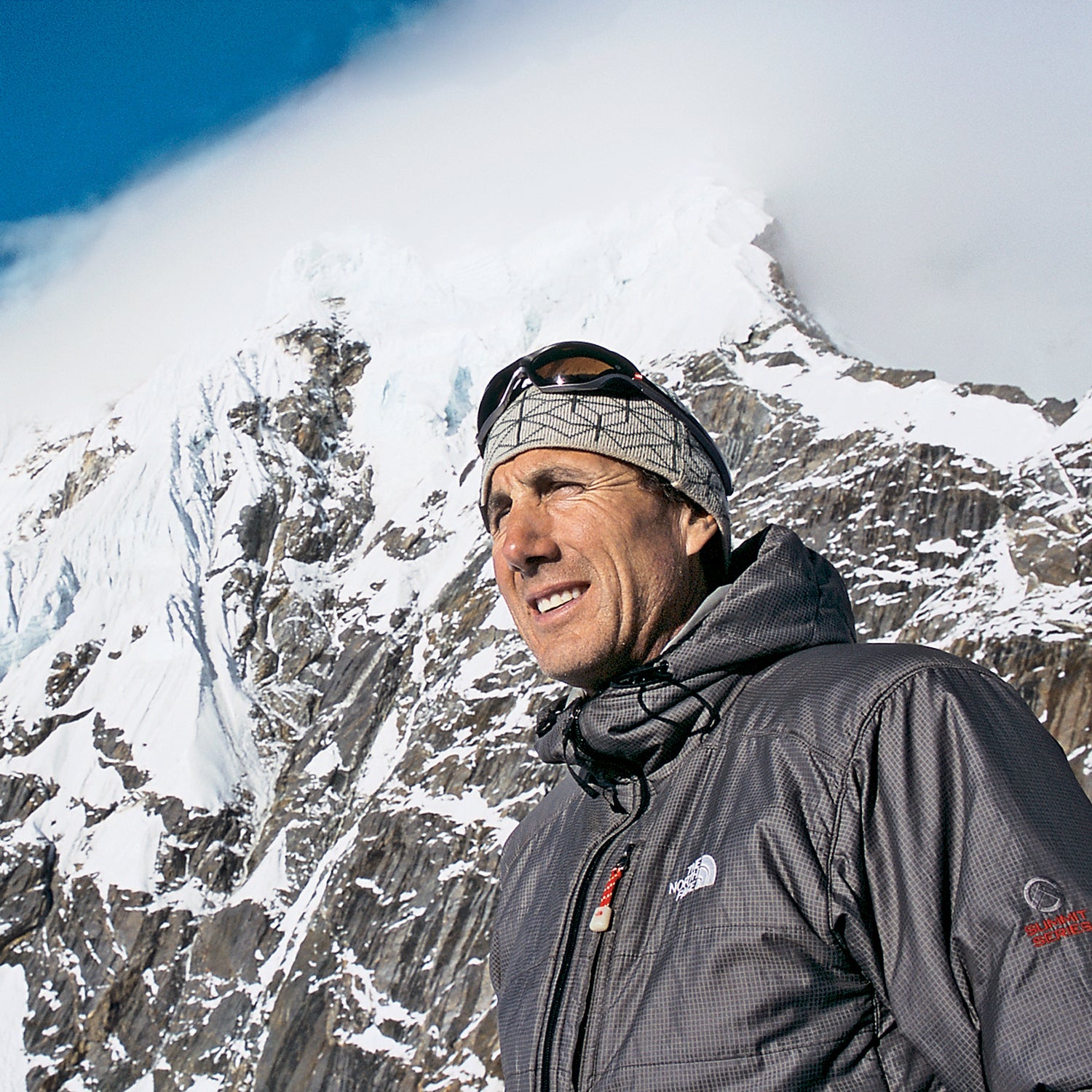 Heading out the door? Read this article on the new Outside+ app available now on iOS devices for members! Download the app.
Charlotte Fox, 49
Client, Mountain Madness
Like many other survivors, Fox found the immediate media fallout difficult to stomach. "Everybody tried to do the right thing by speaking their feelings from the get-go, and a lot of them were misrepresented," says Fox, a ski patroller from Aspen, Colorado, who has been back to Nepal twice though not to Everest and who now sits on the board of the American Alpine Club. Fox was initially open to talking about Everest but became more reticent over the years, she says, as she saw her fellow climbers' words and deeds manipulated in print. "The press took a story angle and then either created its own version or cherry-picked comments and used them completely out of context. A lot of people felt like they got burned by the whole process," she says. But Fox gives high marks to Into Thin Air. "I'm glad that Krakauer's book stood out as the most popular and definitive statement regarding the events, because he truly tried to get the facts straight."
Dr. Seaborn Beck Weathers, 59
Client, Adventure Consultants
Weathers, owner of one of the most fantastic survival stories in Everest history, wants to put the mountain behind him. "I'm trying to avoid Everest-related interviews," says the Dallas pathologist, who lost most of both hands and part of his nose to frostbite after going temporarily blind on the mountain, losing consciousness, and being left for dead. Still, Weathers doesn't avoid talking about the experience entirely. He's in regular demand on the motivational-speaking circuit, where the core message of his lectures is the conviction that Everest changed his life for the better by forcing him to reassess his priorities and drawing him closer to his family. By his own admission, his climbing obsession had taken a toll on his home life even before he went to Everest. "Like a good hobbit, I'm trying not to have adventures," he says of his life now. That's not to say he lacks hobbies. "Beck told me recently that he'd become a licensed pilot," says Lou Kasischke, a '96 climber who has kept in touch with his former Camp IV tentmate. "And then, so I didn't have to say it, he said, 'Not too bad for a guy with no hands, eh?' "
Dr. Ken Kamler, 58
Climbing physician, National Geographic team
Kamler remembers that, while still tending to the injured high on the mountain, he heard airplanes above the cloud cover an extremely rare occurrence on Everest and got radio calls from Base Camp telling him the story was making headlines around the world. "Honestly, I felt annoyed like we were becoming a spectacle," he recalls. "Here we were, trapped on the mountain with critically ill people, and there were airplanes flying above making news stories. I felt like saying, 'If you can't help us, just get out of here.' " He remained frustrated once he got down. "You get a lot of media coming after you," he recalls, "and it's hard, because you want to sort of collect your thoughts and they don't give you that chance." Kamler, who lives in Port Washington, New York, is understanding about the variety of stories among the '96 survivors. "Right away, coming off the mountain," he says, "everyone had different ideas about what happened and who did what. Everybody saw things and remembered things their own way." But he's more critical of the way some storylines played out, particularly the vilification of Sandy Hill. "Anybody who gets up to 26,000 feet and can even be there to get into trouble is a pretty good climber," says Kamler.
Ang Dorjee (Chhuldim), 36
Sherpa, Adventure Consultants
Though shaken by thoughts of what he might have done differently in that horrific 36-hour period during which he made a brave but futile attempt to climb back up to the Hillary Step to assist Rob Hall Ang Dorjee went back to work on Everest the following year. In 2002, after meeting American linguist Michelle Gregory at Everest Base Camp, he relocated to the U.S. The couple wed a year later and now have two children. But every spring finds Ang Dorjee back on Everest; this past May he made an astonishing 11th trip to the summit. Though his professional life still revolves around the mountain, he tries to avoid discussing the '96 climb. "So many people have the same questions again and again," he says. "Also, it makes me sad."
Dr. Stuart Hutchison, 44
Client, Adventure Consultants
"I felt the only thing to do was just leave it to the families of those who died to have their space," says Hutchison, who has mostly avoided speaking publicly about Everest. Still, he found that he couldn't escape the story entirely or keep his family and friends from hearing about it from other angles. "There was a period of being mortified, hearing what had been said here and what had been said there," he recalls. "There was a sort of subjectivity to the whole thing that was impressive." Hutchison, a cardiologist in Toronto, claims that Krakauer's characterization of him as a novice climber (in fact, he had attempted Everest two years earlier) led to some odd encounters. "For the next five years, people would come up to me and say, 'Well you didn't deserve to be there, because you'd never climbed before,' because that's what they'd read. When I'd try to explain that, actually, I had quite a bit of experience beforehand, they would say, 'No, you didn't.' "
Pete Athans, 49
Guide, Alpine Ascents International
"I didn't feel harassed at all by any media," says Athans, a professional guide who was at 24,000 feet, preparing for his own summit push with fellow Alpine Ascents guide Todd Burleson and their clients, when the storm rolled in. Athans and Burleson coordinated the evacuation from the South Col and brought the nearly incapacitated Beck Weathers and Makalu Gau down the mountain. "Most of the writers, filmmakers, and newspeople with whom we spoke were extremely sympathetic," he says. "Our motivation to rescue the injured seemed to place a halo around Todd and me." Though praised for his heroics, Athans saw the industry suffer in the finger-pointing aftermath. "There was this perception out there that we were raking in record profits from our hapless clients and flouting the environment," he says. "Nothing could have been more untrue." As for the long-term legacy of the disaster, Athans remains ambivalent. "I find myself uncertain whether the lessons we learned that year have gained any traction."
Lou Kasischke, 64
Client, Adventure Consultants
"It went quickly from kind of the personal story to the very public one, and you started to see other views of things," says Kasischke, a Good Hart, Michigan, attorney who returned home from Everest to find TV news trucks parked in his driveway. "But it goes back to the fact that each of us saw and experienced the event from a different perspective. We each sat in a different seat in the stadium of Everest." He also found that the media coverage affected his professional identity. "I went from being known as a corporate lawyer, author of a book on corporate law, a CEO of a company a reputation that was a by-product of decades of professional work and achievement," he says, "to being known as 'one of those guys on Everest.' " Like many others, he was frustrated with how the story was reported. "The media fell victim to the agenda-driven critics, and they locked on to an early perception of what went wrong and have never really gotten past that."
Lead Photo: Kristoffer Erickson