International Man of Mystery
Conrad Anker heads back to Everest, in search of answers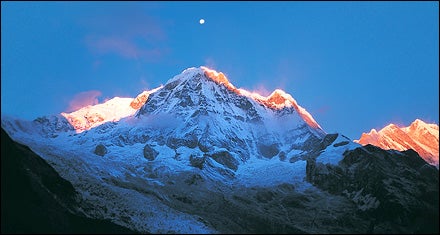 Heading out the door? Read this article on the new Outside+ app available now on iOS devices for members! Download the app.
Montana-based mountaineer Conrad Anker is no stranger to big mountain challenges. At 44, he's made first ascents in Antarctica and the Himalayas; in May 1999, he discovered the frozen body of British climber George Mallory at 27,000 feet on Everest's North Face. But the question remains: Did Mallory and partner Sandy Irvine reach the top before the mountain claimed them in 1924? In June, Anker and British climber Leo Houlding, 26, will re-create that fateful summit bid—right down to the period gear—in an expedition being filmed for A Patch of White, a 2008 documentary from the U.K.'s Altitude Films and U.S. distributor Rainbow Media. ANTHONY CERRETANI talked with Anker before he departed.
OUTSIDE: So will you really wear tweeds and hobnail boots?

ANKER: Yes. Mallory had seven layers of silks and woolens—and leather boots with nails in them, like soccer shoes with cleats.
You won't exactly fit in up there.

I'm excited to get the clothes dirty. Everyone else will be wearing a stock-car-racer jacket full of [sponsorship] patches. It's a very commercial scene up there.
What's the biggest challenge?

I want to have a go at the Second Step, a 100-foot cliff at about 28,000 feet, without using the ladder that's now in place. That to me is the crux.
You've been intrigued for years.

I first knew of Mallory and Irvine when I was 15 or 16. I was fascinated by adventure stories: Shackleton, Scott, Earhart …
Do you think you'll learn, definitively, whether they summited? Having a sense of mystery is a healthy thing, especially in an era when we want proof for everything. But, then again, we're not going up there just to look around.
Trending on Outside Online