The Kabul Express
In the sixties and seventies it was the hippie trail that brought foreigners to Afghanistan. Two decades of war and terror later, Kabul is a nonstop rave of C-130s, NGOs, soldiers, and spooky nation-builders. The freaks are back on Chicken Street—where everything old is new again.

Seamus Murphy
Heading out the door? Read this article on the new Outside+ app available now on iOS devices for members! Download the app.
When the world community of do-gooders arrives to rescue a nation from itself, the first sign is the blinding white traffic jam. White Land Rovers stack up thick at the airport; white Nissan Pathfinders block the streets at lunch; miraculous white-on-white Toyota Land Cruisers choke the traffic circles of the lucky target country.

The Babur Gardens pool, one of Kabul's few oases

Rolling through the city's bazaar

MIRROR OF THE WAR: waiting on the banks of the once-flowing Kabul River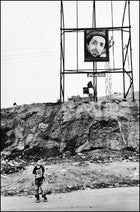 On the outskirts of Kabul, a boy waits beneath an image of the late Ahmed Shah Massoud.

Ajnabi Gul ("Strange Flower"), a young camel herder, outside Herat

ABSENT FACES: Bamiyan, where the Taliban destroyed statues of the Buddha, is still the top tourist draw.

LEAP OF FAITH: crossing the Harirud river from the Minaret of Jam
This caravan of chariots was triple-parked outside the Mustafa Hotel in downtown Kabul on a Saturday night. Late-model 4x4s filled the avenue and circled the block, churning up dust as the chauffeurs maneuvered for parking. I threaded my way through a cluster of acronyms: UN, UNESCO, UNDP, UNHCR, FAO, UNICEF, UNICA, UNAMA, UNOPS, UNEP, MSF, ACF, MAP, MACA, IRC, WFP, IOM, IMC. Even the hotel was painted white. I could hear Shakira playing faintly from above.
The ground floor of the Mustafa holds a dank cybercafé that doubles as a bar, the only public place in Kabul to get draft beer. A Turkish de-mining technician sat typing homebound messages at a terminal while a Brit, a white South African, and a black Kenyan sat on stools, nursing beers and ignoring one another.
"You want the roof," the Kenyan told me.
Many NGOs—nongovernmental organizations—had banned their staff from frequenting the Mustafa after the owner's son went on a window-smashing rampage during a particularly violent business feud. Now that the hotel was off-limits, everyone was here. Spread out on the roof was the full cast from the theater of charity: UN staff, humanitarians from the 1,800 aid groups registered in Kabul, suit-wearing security ninjas, and ubiquitous consultants. By some estimates, there are 10,000 or more foreign civilians in Kabul—about the same number as there are U.S. military personnel in all of Afghanistan, and twice the 4,800-person NATO-commanded International Security Assistance Force that keeps the peace in the city. This moths-to-the-flame aid tribe moves from global trouble spot to Third World crisis, Africa to Asia, Bogotá to Beirut. The roof looked like a cross between a kegger and a siege.
It was, in fact, a book party. The Survival Guide to Kabul, a kind of underground tip sheet for expats, had been circulating in a 16-page photocopy edition for a year, but tonight it was coming out as Kabul, a 178-page paperback crash course on first-aid kits, bad hotels, and who really makes those rugs. The two British authors, Dominic Medley and Jude Barrand, both NGO aid workers, were selling it through a network of street children, who took it on a $5 commission and hoped to sell it for $15, keeping the spread.
"Who are these people?" I asked Dominic, gesturing across the roof.
He leaned up from signing books and grinned. "I have no idea!"
A few spooks, certainly. Two American men put their gray heads together and whispered about Cuban-run hotels in Prague, while a chatty Brit fumbled the introduction of an American to his friends: "Are you clandestine, or do you just tell people you're from—" he asked, before being abruptly shushed. A claque of NGO folks groused about the way house rents in Wazir Akbar Khan, the city's best neighborhood, had shot up to $5,000 a month. Righteously nonprofit, they held themselves aloof from their cousins, the BONGOs, or business-oriented NGOs, who mingled charity with actual profits. German soldiers knocked back $3 Bitburger pilsners, and militaryspeak flashed through the night: "Green on green" fighting (Muslims versus Muslims) had "gone kinetic," and the world's most-wanted man was referred to only as "OBL."
There were journalists, of course—the television flesh puppets had fled for Iraq months before, but a few lean stringers complained about the Mustafa's moldy rooms. And diplomats. A cultivated European in his fifties rhapsodized about his recent first encounter with opium, sounding as tripped out as any hippie on the Kathmandu trail, at least until he admitted he'd spent the entire drug trip—rave on!—cleaning his house.
There were Afghans on the terrace, too—they were the ones drinking the free water. A few had stayed in-country under the Taliban; others were exiles back from Virginia or Munich, full of schemes for exporting mulberries and converting monastic caves into B&Bs.
The night was soft and utterly black. The shape of TV Mountain—named for the transmitter on top—was sketched out by the tiny lights of shanties on its slopes. Shakira was replaced by a trio of traditional musicians in the courtyard, their wailing melodies drifting up to the roof. An Afghan man began to dance, Sufi style, spinning with his eyes closed and arms outstretched. The foreigners tossed the musicians small bills of afghanis, a currency worth pennies fluttering down into the dark.
The party lasted until after three. The first call to prayer echoed out at 3:42 a.m., just a few winks away.
WAY BACK IN THAT ERA OF NAIVE JOY known as the 1960s, Afghanistan was a symbol of something other than war. It was the luminous mystery at the center of Asia, a kingdom of infinite skies and peerless peaks. Kabul was the antique capital of a romantic nation, and Chicken Street, the city's enclave of hotels and restaurants, was a ghetto of global hippies and seekers. By the late 1970s, Afghanistan had become perhaps the most storied name on the trekkers' road less traveled, the famous "overland route" where strangers banded together in VW vans, sharing love affairs and mimeographed tip sheets en route to the "Three K's"—Kabul, India's Kullu Valley, and finally Kathmandu. Islam was musical, mystical, and embracing, the prices cheap, the dope wicked. Afghanistan was, in the idiom of the age, mellow.
And it will be so again.
Yes, Afghanistan. After 25 years of war and civil war, the people and politics are beginning to come full circle. In the sixties it was the hippie trail that brought change; this time it was B-52s, dropping loads of modernization, leaving foreign troops and civil schemes in their wake. Since the American overthrow of the Taliban, in late 2001, the UN and its acronymic camp of followers have parachuted into Kabul, pursued closely by the shock troops of low-rent globalization: entrepreneurs and actual tourists. The future—however tentative and fragile—is back.
"There are a lot of cultural similarities between then and now," one of the veterans of both eras, Nancy Hatch Dupree, said. "They're trying to open it up again." In 1977, Dupree, an American expat, published the definitive—and, for the time being, last—guidebook to the country, An Historical Guide to Afghanistan, a 492-page odyssey down every bumpy road of delights. A friend to prime ministers, rebel commanders, and even the Taliban, Dupree now lives in Peshawar, Pakistan, but returns often, at age 76, to oversee various organizations she has founded—like SPACH, the Society for the Preservation of Afghanistan's Cultural Heritage—and to advise the Ministry of Information and Culture.
"Travel today is about like it was in the 1960s," said Dupree. This was partly a promise, and partly a warning—the highways are in shambles, the land is still scattered with up to ten million land mines. In many ways, I'd picked a terrible moment to venture into the provinces: The country is littered with unexploded ordnance; attacks by Taliban holdouts, mostly in southeast Afghanistan, have been increasing; and even the pro-government warlords ruling the "safe" provinces have their own armies. In early October, the White House formed a "stabilization group" for Iraq and Afghanistan, a tacit acknowledgment of the "deteriorating security conditions" cited in a June 2003 joint report on Afghanistan by the Council on Foreign Relations (CFR) and the Asia Society. President Hamid Karzai's government has international clout but neither the money nor the troops to back it up in the provinces. At the current rate of training, there will be only 9,000 soldiers in the Afghan National Army by mid-2004, compared with 100,000 militiamen for the various warlo—I mean "local leaders."
According to the World Bank, Afghanistan will need $15 billion in reconstruction money in the next five years, above and beyond relief aid. Meanwhile, opium has been reborn as a $2.5 billion shadow economy, twice the amount of foreign aid received in 2002 and more than the government's entire $2.25 billion budget. Last year, according to the report, one warlord, Ismail Khan, of the western city of Herat, reportedly levied $100 million in customs duties; the central government took in $80 million nationwide. But as one veteran of the UN's de-mining program reminded me, it used to be so much worse. Just over a year ago, Taliban rockets were still hitting close to Kabul. The memory of chaos is so fresh that, in one of those undiplomatically honest comments made only on background, she said, simply, "Warlord is good." Afghans want order, and are slowly getting it. "It's too early to talk about success or failure," said David Haeri, special assistant to Lakhdar Brahimi, the UN envoy to Afghanistan. "Whether the glass is half full or half empty, there is water in it."
The CFR/Asia Society report concluded that "even though the international effort is not perfect, it has functioned reasonably well." Land mines are slowly being cleared; Karzai is collecting pledges of disarmament and (some) taxes from regional warlords; and European military personnel are gradually expanding their control beyond Kabul. Things that have been impossible in Afghanistan for decades are suddenly within reach.
The new age has its contradictions. A blob of opium, for eating, costs 25 cents in the back alleys of the Kabul bazaar, while a bottle of Absolut goes for $13 at the foreigners-only liquor store near the airport. Wine is available by the case now, but the drug of choice, as it was in the 1960s, is hashish—Afghan Prozac.
Chicken Street is being remade again. Foreigners are back. Nancy Dupree is back. Even ailing King Zahir Shah, exiled since 1973, came back from Europe long enough to accept the empty title of Father of the Nation. Everything banned by the Taliban (dancing, cameras, alcohol, opium, kites, pet birds, and Christians) is back. Everything old is new again.
THE GANDAMACK LODGE, in Kabul, was full of excellent loot. The proprietor, a veteran British cameraman named Peter Jouvenal, had just returned from Iraq, carrying a carpet from one of Saddam's palaces over his shoulder. His gun collection had also expanded, as his regular dealers delivered an armory of loosely stacked trophies to the Victorian manor's front hall. One hot noon, I found the bathroom blocked by a dozen Americans in tan vests and army boots—a grinning Special Forces A-Team—busily racking imaginary rounds on ancient Czech Mausers and vintage Lee Enfields.
House rules at the Gandamack stated that only sidearms are permitted in the dining room, so I got used to finding stacks of rifles here and there. It had always been thus: Before Jouvenal marched into town for the BBC as Kabul fell in 2001, this was an Al Qaeda safe house, where Yemeni men used my own cement room, No. 7, to store rocket-propelled grenades. After just a few hours in my airless cell, the Gandamack began to feel more like Guantanamo.
Setting out on foot, I hoped to discover some remains of the capital described four centuries ago by the Mogul emperor Babur as a city of gardens and promenades, surrounded by orchards and fresh springs, with mountains "like rows of clover." Babur would be crying about now: Kabul 2003 is a spectacular dump. Sitting in a treeless valley at 6,000 feet, the city is encircled by barren, stony ridges. The Kabul River is a putrid trickle. The trees in the parks have been cut down for firewood. Half-destroyed buildings sit next to half-built ones, making it unclear whether Kabul is coming or going. The airport, with its fleet of UN planes and the occasional commercial interloper, is surrounded by a graveyard of blasted, abandoned Soviet-era Tupelovs. Luggage is distributed via the time-honored method of full-scale riot.
The streets of Kabul are named, in the medieval style, by what is done there. I was staying on Passport Lane; I made a right on Interior Ministry, then turned left onto Chicken Street. Half a century after the first foreigners made this street famous, the stores cater mostly to foreign soldiers—Germans, Canadians, Norwegians, Brits. The best-selling souvenir is a small rug showing the World Trade Center in flames against a map of Afghanistan, with a pair of F-16s passing overhead, and any crudely lettered, misspelled sampler of these commemorative phrases:
WAR ON TERIRISM 9-11
AFGHANSTAN AND AMERICA
TOGETHER VICTERY!!!
The Americans always get blamed for bidding up the price of rugs, which is totally unfair: Except for a few Special Forces teams and the embassy Marines, most of the U.S. troops in Afghanistan never set foot in Kabul. Instead, blame Canada, which had 2,000 soldiers in town when I arrived. Street kids tailed every giant warrior in Oakleys, offering Pakistani newspapers, 30-year-old maps, and both the old and new Survival Guide.
The only thing you can't get on Chicken Street is chicken, which is available straight ahead on Flower Street. I bargained for a pirated edition of Eric Newby's A Short Walk in the Hindu Kush, the 1958 classic about his bumbling assault on a peak in the northeastern province of Nurestan, and paid an argumentative $9 for an original edition of Nancy Dupree's book. Twenty-six years out of date, this was still the best guide to the countryside.
IN 1969, 63,000 TOURISTS visited Afghanistan. As the Cold War rolled on, the Soviets and Americans competed for influence in the latest iteration of the Great Game, and Kabul was awash with Afghan royals back from ski vacations in the Hindu Kush. "The social scene was the best," recalled Greek diplomat Michaelis Maniatis, who came to Kabul in 1975, fleeing a coup back home, and returned last year as Greece's chief of mission. Reclining on a sofa in the garden of his official residence, dressed in a traditional black shalwar kameez, he remembered Kabul as "a green city, full of peonies," where "people were casual, very Westernized, but close to traditions."
But in 1978, tensions among Afghan communists and Islamic traditionalists broke into civil war. The disastrous 1979 Soviet invasion turned into a bloody guerrilla war, and the humiliated Red Army withdrew ten years and tens of thousands of casualties later. In victory, the mujahedeen warriors simply turned their guns on each other for most of the 1990s. An obscure group of religious students (taliban) parted this sea of chaos, rising first in Kandahar and then blitzing the capital in 1996. With the help of Al Qaeda's money and men, the Taliban controlled 90 percent of Afghanistan by September 11, 2001. America's foremost Afghan ally, Ahmed Shah Massoud, the charismatic Lion of Panjshir, was assassinated just days before the 9/11 attacks, but by October his U.S.-trained Northern Alliance army was rolling toward Kabul behind a barrage from B-52s.
The visitors didn't even wait for the dust to settle. The first tour group arrived in August 2002, nine months after the Taliban was routed, and left unscathed. In April 2003, Orfeo Bartolini, an Italian motorcyclist, lost the adventurer's gamble. Bartolini was en route to India when his bike broke down east of Kandahar, the former Taliban stronghold. Two men described as Taliban shot him dead, sparing the Afghan driver who'd picked Bartolini up.
During the first seven months of 2003, 14 American soldiers died in Afghanistan, five of them from enemy fire. But by summer, hundreds of regrouped Taliban fighters were on the offensive, and Osama bin Laden was reported to be in either Konar or the Pakistani border region of Waziristan, inspiring the jihad. Four GIs were killed in August alone; another soldier died in Paktika in late September. A series of allied offensives—joint operations of the new Afghan army, U.S. troops, and even the Royal Norwegian Air Force—cornered large groups of Taliban, killing more than 200 in skirmishes near the Pakistan border. Meanwhile, assassinations of foreigners and Afghans who helped them were increasing: A Salvadoran from the Red Cross was killed in March, an Afghan driver for an American aid agency in August, and four more Afghans working for a Danish relief group in September.
Then again, exaggerating the horrors of this country has been good business since Marco Polo. In a 1928 book called Adventures in Afghanistan for Boys, blowhard American radio correspondent Lowell Thomas described a harrowing journey to Kabul in which he escaped "bullets and bandits" and "wily Pathans," mostly thanks to the fact that he never encountered any of the above. This February, Smithsonian magazine had a correspondent "dodge terrorists and tribal skirmishes," while failing to spot either. Most areas outside Kabul were "considered no-go areas by the UN and aid agencies," I read in London's Sunday Times Magazine—on the same day the UN published a map showing most of the country open for travel.
Afghan tourism has already reached its third wave. The first was, of course, the Afghans themselves. Next came the hundreds of mostly independent travelers who have already visited the country since the war ended. Now come the people Dupree calls "moneybags." During my stay, 14 Europeans from an Italian-led expedition team were climbing 24,580-foot Noshaq, the highest peak in Afghanistan; four Americans were in the Wakhan corridor, looking for rare Marco Polo sheep; and a group of Japanese travel agents was casing the countryside. In addition to the Brits, the Japanese dominate travel so far, captivated by this far edge of Asia. One tour company, Nippa Travel, already offers weeklong tours on the "If this is Wednesday it must be Jalalabad" model.
Half a dozen more tour groups were expected by the end of 2003, most bound for Bamiyan, the site of the Buddhist statues so famously destroyed by the Taliban, or for the Panjshir Valley. Asked whether this kind of travel was safe, Dupree said, bluntly, "It's fine." That's only true if you know as much as she does about where not to go, but the areas north and west of Kabul are generally considered safe, at least by Afghan standards. However, she added, "I wouldn't go to Konar at this moment, for example."
I wished she'd mentioned Konar earlier. My traveling companion, Irish photographer Seamus Murphy, and I had just spent four days planning an excursion to Nurestan to retrace Newby's steps. Nurestan is best accessed through Konar province. Our truck, translator, and supplies were all arranged, and our worries had been dismissed by both the 101st Airborne and a UN security briefer. But last-minute research warned of fresh fighting and a possible kidnapping in Nurestan. Even worse, the country's most infamous warlord, Gulbuddin Hekmatyar, a pro-Taliban fanatic known for throwing acid in the faces of unveiled women, had been spotted in the area.
We canceled the car, unpacked the groceries.
There had to be a safer place. Just off Chicken Street, I met Gul Agha Karime, the proprietor of the Karime Super Market, a dry-goods shop, as well as the leader of an Afghan initiative to rescue the mysterious Minaret of Jam, an ancient tower on the Harirud river, 340 miles west of Kabul. Leaning badly and vulnerable to looting, the tower is listed by UNESCO as one of Afghanistan's most endangered treasures. Karime gave me tea, a candid assessment of travel in Afghanistan ("Is no problem"), and two things to deliver to Jam: a letter of introduction and a heavy piece of brass. This last item was an official seal for the headman of the local village, a three-pound relic that I would now carry across the country—westward, along the old Central Route to Bamiyan, and beyond that to Jam, and Herat, the storied Persian capital of old Afghanistan.
IT DOESN'T TAKE LONG to fall off the map here. Just 60 minutes outside the capital, I was teetering on the edge of a half-blown bridge with a wildly grinning Pashtun man. "This is most far from Kabul I have been," he shouted, "in 23 years!"
We were waiting out a massive traffic snarl—three lines of cars, trucks, donkeys, pedestrians, fruit vendors, and vans from two directions trying to fit over a single surviving lane of bridge. (In perfect symmetry, the U.S. Air Force had blown up both lanes, and the U.S. Army had rebuilt one of them.) There was wreck and destruction to the far horizon. Scores of burned-out Soviet tanks and ruins of mud villages were everywhere. The green flags of martyrdom snapped over graves. The air was unfiltered tailpipe.
But it was mango season. The mangoes were cheap. They were cool, and sloppy with a sweet, spicy juice. To a throat rubbed raw by dust, by heat, by the choking soot of traffic, they were perfect. I was slowly beginning to realize that Afghanistan is a 1 percent country. The 99 bad things are what make the one remaining thing so indescribably good.
The Afghans know how to find that 1 percent. Just outside Kabul, in the ancient hilltop retreat of Istalif, a place burned by the Taliban in 1999 and bombed by the Americans in 2001, I'd found scores of families spread out beneath the mulberry trees, training for the day when picnicking becomes an Olympic sport. Boys were throwing water balloons, men were playing volleyball, women in burqas were eating pilaf, and everyone was complaining about the lack of parking. I was invited to join the largest picnic, a group of 36 men and boys arrayed along a tablecloth spread beneath the broad canopy of a plane tree. The turbaned man on my right, Sher Ahmed Barak, had run a fried-chicken restaurant in the Bronx for ten years. "The Bronx is very dangerous," he said, shaking his head. "People are getting murdered all the time." Now he lives in Kandahar.
We were served skateboard-size pieces of flatbread; salted yogurt with herbs; salads of peppers, tomatoes, and radishes; a pilaf with carrots and raisins; bowls of cherries; and huge joints of mutton in onion gravy. Everyone got a can of Pepsi.
The man at the head of the tablecloth was a security official who claimed to be a secret agent for the FBI and therefore wouldn't tell me his name. Despite the unsettled conditions in Afghanistan, he said, tribal and ethnic divisions no longer matter. He addressed the 35 men and boys in Dari, and they called out their tribal affiliations: "Tajik!" "Pashtun!" "Hazara!" "Uzbek!" As the day wore on, little boys climbed into the trees and shook windfalls of mulberries loose. They couldn't do enough to welcome a foreigner.
Right across the Shomali Plain, past a few hundred thousand land mines, we could make out the vast Bagram air base, where GIs waiting for anti-Taliban missions are confined in tent camps, fed imported food, and entertained by flown-in Washington Redskins cheerleaders.
It was the summer solstice, the longest day of the year. After 16 hours of daylight, the Afghans quit the groves, rolled up their small carpets, loaded nine people into each TownAce van, and with the indifference of survivors, piloted their runty, overloaded vehicles back toward Kabul. They crossed the wide plain three abreast, surging forward in both lanes like a cavalry charge before being stopped dead in gridlock at each checkpoint, turnoff, or, in our case, blown bridge. Then, unleashed after a minute or an hour, the Afghans raced forward again, optimists in spite of it all, until they abruptly ground to a halt before the next obstacle of misery.
That's Afghanistan. You eat a mango in a minefield. Things that are easy have no flavor.
THE DIRT ROAD WEST to the Buddhist caves of Bamiyan led into the stark and grand mountains at the heart of the Hindu Kush. Wide, parched valleys gradually withered into narrow gorges.
Bamiyan itself was a shock. After seven hours of brown on brown, we twisted up a narrow defile and spilled over into an immense valley, serene beyond description, with miles of pastel grass, all of it dwarfed by the 16,000-foot Koh-i-Baba Range. The rarest thing in Afghanistan—water—flowed in careless abundance.
On the west side of the valley was a huge wall of eroded red rock, pockmarked with caves and two colossal, empty niches. In March 2001, the Taliban had used artillery shells and dynamite to destroy two giant statues of Buddha here, an event of atavistic intolerance that shocked the world. Carved between the third and fifth centuries, the statues—125 and 180 feet tall, respectively—were among the first representations of Buddha in human form, blending Eastern and Western artistic traditions; the Enlightened One was wearing Greek robes. For centuries, pilgrims and traders thronged Bamiyan, a centerpiece in the chain of oases along the Silk Road. Despite once again becoming the top tourist site in Afghanistan, Bamiyan boasts no real infrastructure for visitors, but they keep showing up anyway. "There are backpackers, up from India and Pakistan, who try to come here," Guillaume Limal, the lone local staffer of Solidarité, a French NGO, told me late that night in his bare room. Lean and sunburned, Limal had been running irrigation projects here for eight months. "Sometimes there are three or four [tourists] at a time," he said. "Last week a couple came—Koreans. The woman without a veil."
According to Hessamuddin Hamrah, head of tourism at the Ministry of Civil Aviation and Tourism, the government plans to erect a fake nomad encampment at Bamiyan, like it had in the seventies, with cement yurts and plumbing. Then there will be a 100-room hotel at the foot of the niches. Under pressure from UNESCO, the Ministry of Information and Culture has agreed not to reconstruct the actual statues. But Hamrah brushed this aside, insisting the Buddhas will be rebuilt, quickly. "We will give them the same image as before," he told me when I interviewed him in his office back in Kabul. "I think we will start reconstruction in this year."
For now, Bamiyan remains bereft and timeless. There are almost no motors, pollution, or trash, no electronic hum. At dusk, the cry of the muezzin was the thin wail of an actual human throat, stretching to touch us from over the fields.
THERE WERE TWO guns under my pillow at Jam. To reach this spot in central Afghanistan's Ghor province, we'd doubled back to Kabul and flown west to Herat on Ariana Airlines, a.k.a. Air Inshallah—"God Willing." (The ticket's fine print noted that my family was entitled to 32,200 grams of pure silver if I died.) In the disappointingly dusty old city, we'd commandeered a Toyota HiLux 4×4 and a new driver—shopkeeper Gul Agha Karime's car and his 19-year-old nephew—plus a 21-year-old translator. Both young men were named Wahid. We headed back east on the Central Route, through a wide valley dotted with camels, following the Harirud upstream. Here Afghanistan seemed to be made of kitty litter, piled into mountains.
The two Wahids promptly blew their young minds. During a short break along the Harirud, we caught them smoking hashish—the famous Afghan Black, dark and oily. Driver Wahid was already a virtuoso nitwit, but as we climbed into the tortuous Qasa Murg Range, his judgment collapsed. When we slid toward a 1,000-foot precipice, he simply giggled, looking in the mirror to see if we were mad at him.
We were. We confiscated the hashish and ground onward, through the sad village of Chest-i-Sharif, where the teahouse television offered a documentary about Sebastian Junger in Afghanistan that left the crowd stone-faced. The next day, after six more hours, we finally reached the valley of Jam. In a narrow gorge we picked up Bahabadin, the headman of the tiny Persian-speaking Jam community, dressed in a plaid vest, with a plaid turban tailing down his back. I made a show of handing over the brass seal, and he made a show of being pleased. He piled in, and after Wahid rammed us into a sharp rock, causing our third flat, we finally came to the confluence of two streams, and stopped, and got out, and stared, speechless.
At 215 feet, the Minaret of Jam is the second-tallest minaret in the world, after the mosque of Qutab Minar, in New Delhi. Covered in terra-cotta lacework with geometric and floral patterns, it was built in the 12th century and retains a richness of detailing lost in every other ancient site in Afghanistan, preserved here only by the utter isolation of this tiny canyon.
The tower is tilting, its base partly eroded, and in 2002 a UNESCO team led by Gul Agha Karime and a French archaeologist threw up a stabilizing wall and erected a primitive guest house, a cement hut with eight small cells and no furniture. The two complimentary AK-47s under my pillow were loaded; the metal was rusty and battered. Even the guns here were exhausted with war.
Some barefoot shepherds appeared and removed the rifles, under Bahabadin's orders. I had settled in with Dupree's guidebook when a red SUV skidded in, parked ten feet from the base of the leaning minaret, and discharged two foreigners.
Finally, Western tourists—women in their thirties, a Swiss-German redhead and a Hong Kong Chinese. They were in western Afghanistan on NGO business. They took some pictures and then sipped tea with us inside the cool guest house.
You can still travel from one end of this country to the other without ever meeting or speaking to a female Afghan. The foreign women deal with it differently: Some go about as honorary men, unveiled, while others adopt a respectful cover of Afghan ways. These two wore traditional burqas and veils, and traveled everywhere with two Afghan men, their driver and translator. They had had no problems, they said, but they wouldn't say much else: They wouldn't give their names, and were eerily shy. It was only when they signed the guest book—the 24th party in three years—that I realized why. Their employer was International Assistance Mission, a Christian humanitarian agency. The IAM was thrown out of the country by the Taliban two weeks before September 11 for proselytizing, but now it's back and keeping a low profile. Christians—whether wearing humanitarian veils or U.S. Army helmets—have been deeply controversial here, but that is nothing new: The tower at Jam bears a Koranic inscription warning against Christian doctrines. It is a message to the heathen, and still valid.
After the women left, I clambered through a hole in the base of the tower and scrambled up the crumbling spiral stairs inside. Archaeologists have argued for decades over why the tower is here. It can't have been a watchtower—thanks to the enveloping mountains, I couldn't see a mile in any direction. But as a pilgrimage site, Jam still offers the necessary ratio of extended suffering to sudden enlightenment. Coming out of the burning desert into this oasis lent the trip an almost spiritual dimension, as is true in all of Afghanistan, really, where 80 percent of the land is arid mountains and only 12 percent is arable. Centuries ago, Babur wrote of the "pleasant shocks" of traveling in his country, passing "from distress to ease; from suffering to enjoyment." It was at once exhausting and exhilarating, the natural state for revelation.
Alas, the real purpose of Jam may have been more political than divine. The next day, we crossed the Harirud on a frayed wire cable, and Bahabadin led us up a canyon. Local people have always claimed that Jam was the great capital of Firuzkoh, the fabled "Turquoise City" of ancient narrative. Archaeologists dismissed this idea in the 1970s, but they didn't dig deep enough: Scattered up the canyon, less than a mile from the minaret, were hundreds of new holes, dug by looters who'd uncovered ancient homes beneath the soft loess. Every scrape of my boot uncovered green, blue, and turquoise potsherds.
Many of Jam's secrets have been lost to looting. In recent years, Bahabadin's own people have rushed in to dig up artifacts, until Bahabadin himself was hired to stop the looting—the poacher turned gamekeeper. "This is illegal now," he explained. "Last year, yes."
UNESCO is supposedly protecting sites around Afghanistan, too, but some are skeptical. "I don't think anybody thinks [looting] has really stopped," said Rory Stewart, a 30-year-old Scot on the staff of the British Foreign Office. In early 2002, Stewart walked from Herat to Jam and on to Kabul, researching his forthcoming book on central Afghanistan, The Places In Between. "The number of sites is so many, it is impossible to monitor, and the demand for objects is growing all the time." The best pieces migrate upward, Stewart said. He described stolen artifacts passing to Peshawar and on to New York, London, Tokyo, and Paris.
The only real hope was that the many sites like Jam could eventually divulge fresh artifacts to replace the ones stolen or, like those in the National Museum, bombed. It's not impossible. Charred wood lies about Jam in profusion, perfectly preserved for 800 years by the dry climate. Bahabadin held up a blackened timber: "Genghis," he said.
After dark, Seamus and I sat by the minaret and watched a perfectly Muslim crescent moon set on the peaks. We were leaving the next day, and to prevent the Wahids from getting dangerously stoned, we decided to get rid of the confiscated hashish—by burning it. The Afghan Black was harsh, and I coughed badly.
Ten minutes later I was laughing so hard I was crying. For the next hour we lay on the rough ground, giggling, watching the planets give way to magnitudes of stars. The earth shook with the tromp of a khan's 200,000-horsepower army. We ate candy bars. I resolved to throw out my furniture and live entirely on rugs. A meteor flashed across the sky, exploding in silence. So there you have it. Thirty years later the drugs still work.
THANK GOD THERE ARE some adults in charge. Back in Kabul, I started tracking down the people who can improve things. Soldiers can only draw a line in the sand; it is the humanitarians who must create development and hope. And these people are found in one place at one time: the UNICA guest house on Thursday night.
Because the Islamic weekend consists only of Friday, Thursday night is Kabul's big party scene. And the bar at the UNICA guest house, really a block-long residential compound for UN staff, is where the bright caravan gathers. Peter Jouvenal had warned us that UNICA parties were closed to journalists. Security looked high and tight when we arrived—steel walls, sandbags, razor wire, rock walls to keep suicidal cars out—but we blew through with shameful ease, signing false names and mystifying the guards with Seamus's suddenly exaggerated Irish accent. ("We're from UNFIT. That's correct—excellent, you're a darling little man.") We trailed a gaggle of Euroblonds past dozens of parked white SUVs and then down a pitch-black path toward a lot of noise.
I fumbled my way through a bamboo curtain and—who let the dogs out! Beneath a row of palm trees, a hundred people were spilling over a lawn around two swimming pools, wiping out a free bar of Johnnie Walker Black, Australian Shiraz, and Chilean merlot. Thirty people were on the dance floor between the pools. The sound system was run by a slim Afghan who said his "DJ name" was "DJ Music."
He boosted some Gloria Gaynor, but as more people crowded in, he was replaced by a new mix master, a UN staffer who identified herself as Juliana from Guyana. She plugged in a laptop and ran a remix of "Like the Deserts Miss the Rain" off her hard drive, packing the lawn with a whirling crowd of grooving Afro-elites and Italians spinning with Colombian hotties. Juliana segued into ABBA, and then "Rivers of Babylon," with its desperately inappropriate lyrics: "How can we sing the Lord's song in a strange land?" Was it really a good idea to get drunk on whiskey and send biblical reggae booming into Kabul's wary nocturnal psychosphere? To treat Afghanistan like it was any other place? Was that the price of our help—a blank check to do as we liked, to stay unchanged by the place we were assisting? Kabul had a rockin' party scene back in the seventies, too, but when the world came to Afghanistan last time, Afghanistan eventually bit back, hard.
Most UN folks hardly seemed aware of life outside the safety of Wazir Akbar Khan. The bombing of the UN headquarters in Baghdad made it plain that security concerns are real, although, of course, common sense argued that the UNICA guest house itself, a liquor-swilling target writ large, was probably one of the most dangerous places in the country. Though some UN and NGO workers push out to provincial capitals like Herat or Mazar-i-Sharif, where there are far fewer aid workers, too many seem content to stay in Kabul and pass paper around in a circle.
An Afghan with ten years' experience in aid work told me that USAID, a State Department agency, is the most efficient foreign program; next best was the European Union; the worst was the UN, where urgent requests for development assistance were met with the meticulous scheduling of meetings, usually in Paris. One high-ranking diplomat insisted that more than 75 cents of every UN dollar targeted for Afghanistan was being spent outside the country.
Of the $5.2 billion in promised aid—including a pledged U.S. increase from $928 million in 2002 to $1.2 billion in 2004—as little as 20 to 30 percent of it reaches villages, observers say. The rest is absorbed by administration and personnel. Rory Stewart—now serving for the Coalition Provisional Authority in Iraq as deputy governor of Maysan province—returned to Kabul this year and was shocked to find that friends of his were earning $800 a day working for the UN. "The cost of keeping a single expat on the ground is between 300,000 and half a million U.S. dollars a year," he says of the UN staff, "if you take into account the cost of salary, all the allowances, the per diems, the white Land Cruisers they ride around in, the equipment in their offices."
"The idea that we only know Wazir Akbar Khan is just not true," the UN's David Haeri told me. He agreed that international staffs are expensive but said the UN's goal is to "work ourselves out of a job." He cited the organization's Mine Action Program, a mine-clearing operation that employs some 7,000 Afghans and only a few dozen foreigners.
"It is no secret that the UN has a huge overhead problem," notes David Rieff, author of the 2002 book A Bed for the Night: Humanitarianism in Crisis. Still, he defends the UN's work in Afghanistan, despite a few problems ("incredibly inflated staffing and overhead structure," "double bureaucracy," "incompetence," and "mismanagement"). More fault lies with the U.S., he says, citing an American refusal to extend international peacekeepers beyond Kabul.
"Incorrect," counters ambassador Bill Taylor, the U.S. Special Coordinator on Afghanistan in Washington, D.C. "We are actively exploring the expansion of international peacekeepers." Taylor, who spent nine months as U.S. reconstruction coordinator in Afghanistan, lists some successes: improved roads, a stable currency, and an infant army "loyal to Hamid Karzai, not the warlords." Nonetheless, he agrees that the security situation is getting worse.
The real risk for America, preoccupied as it is with Iraq, will be failing to sustain our efforts in the long run—a decade or more. So far, on balance, achievements do outweigh failures, most notably from NGOs in the field: Doctors Without Borders, Solidarité, ACTED, Action Against Hunger, and the Agha Khan Foundation, among others. A Kabul staffer for the Catholic charity Caritas told me that aid projects seem slow but are making real-world progress, fixing irrigation works, clearing roads, and building schools. "A year ago, yes, there really was a shortage of money and people," she said, with the innate caution of a bureaucratic infighter. But now the aid taps are open, the staffs up and running. "It's amazing how the NGOs have been able to reach every corner of the country, rebuilding houses and so on, in the last year," the Caritas staffer added. "People are a bit impatient."
I'm one of them. I left the UNICA party for a while, wandering the compound, pushing open doors. There were bungalows, dormitories, and a lodge with dark beams, where suspiciously earnest people were poring over paperwork as the party raged. Down past the gym were a few pool tables, where Photo sent Edit down to a narrow defeat. And outside again, the Afro-Swedo-Deutsche-funk vibe was in full swing. It looked like an episode of The Real World: Kabul shot in a British officer's mess during the Great Game.
Juliana from Guyana finally got me. Unwilling to miss the last-night, last-chance-forever, goodbye-farewell party to this brief Kabul between unknowns, I hit the dance floor, the only place in Afghanistan with a huge crowd of unveiled women, and set about embarrassing myself.
We dance. We wave our hands in the air like we just don't care.