Mountain Biking and Trekking Bhutan
Our favorite frontier for 2012? The surreal, gradually opening Himalayan kingdom of Bhutan.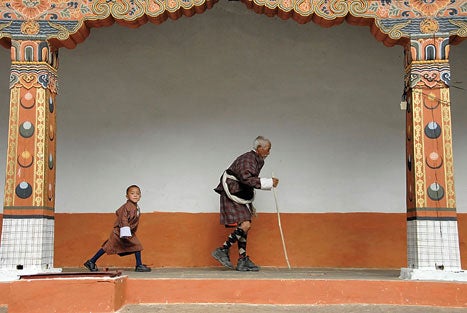 Heading out the door? Read this article on the new Outside+ app available now on iOS devices for members! Download the app.
Bhutan admitted about 65,000 visitors in 2011; this year, a national initiative aims to nearly double that number. But don't worry: the Switzerland-size country of 700,000 remains otherworldly. Television arrived in 1999. Marijuana grows wild in roadside thickets. Archery is the national sport. (Team-sponsored sorcerers invoke black magic to curse their opponents.) There's a national park that's said to protect the yeti. We could go on. The only catch? ­Local guides are mandatory for international visitors, so the trick is to choose a good one. I settled on Guides of Bhutan, based out of Paro, which has some serious biking and trekking experts.
Bike
Singletrack and downhill biking fit for a Dragon King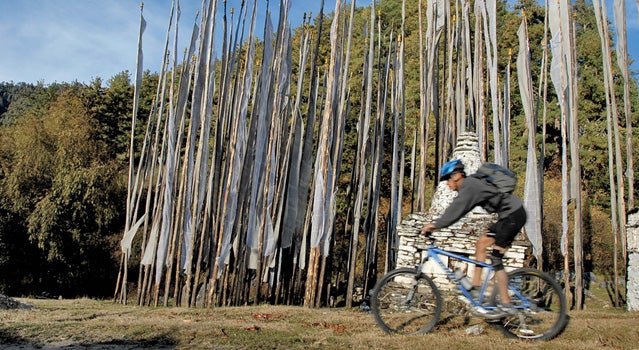 Last August, as I mountain-biked down 10,302-foot Dochula Mountain Pass, just outside the capital, Bhutan's eldest prince zipped by me on a b'Twin racing bike. Soon after, the prince's elder brother, the Dragon King, passed me with his 30-person entourage. Both men stopped to chat. Which is to say, don't miss Dochula, a 25-mile descent through blue pine and rhododendron forests that ends in front of the Chimi Lhakhang monastery. Budget an extra $20–$50 per day for a Kona hardtail and support vehicle from Guides of Bhutan. Other can't-miss rides: the northwestern singletrack route across a 500-foot suspension bridge in ­Punakha, and the central Bumthang and Ura valleys, dotted with monasteries, temples, fortresses, and deep-pink buckwheat fields.
Trek
Test yourself on a month-long Himalayan hike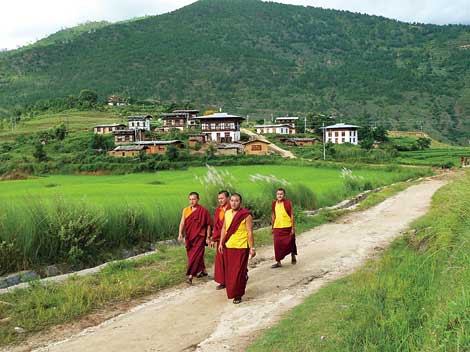 Bhutan's 24-day Snowman Trek is rightly touted as one of the hardest in the world. The journey crosses ten Himalayan mountain passes and tops out at 17,591 feet. But there are plenty of shorter and easier routes, including a ten-day trek to 11th-century fortress ruins at the base camp of 23,995-foot Mount Jomolhari and a multi-day trip through the Sakteng Wildlife Sanctuary, a protected area that's supposedly home to the migo, or yeti. For a one-day adventure, start at 13,084-foot-high Chele La Pass, then hike a four-mile loop to the cliff-hanging Kila Goempa, home to 30 nuns. It's hairy ­terrain, but Guides of Bhutan has you covered; its trekking team includes Sither Tshering, a graduate of India's Himalayan Mountaineering Institute who has led Reinhold Messner.
Access and Resources
When to go and how to get there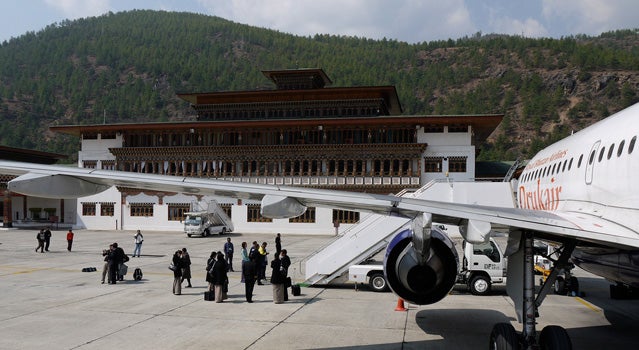 Peak seasons are spring and fall, when the Hima­layan winter and South Asian monsoons are at bay and the state-mandated rate is $250 per person per night. That covers ­everything: guide, hotel, car, driver, and meals. Drukair flies to Bhutan daily from Bangkok (from about $900 round-trip). Get your visa in advance through your guides.