Best Kept Wild: Roaming New Zealand
The helicopter ride to a luxury resort was undeniably sweet. But for Peter Heller, the greatest thing about New Zealand's South Island was kayaking down a surly river with an old paddling buddy, in a country that's still unbelievably pristine.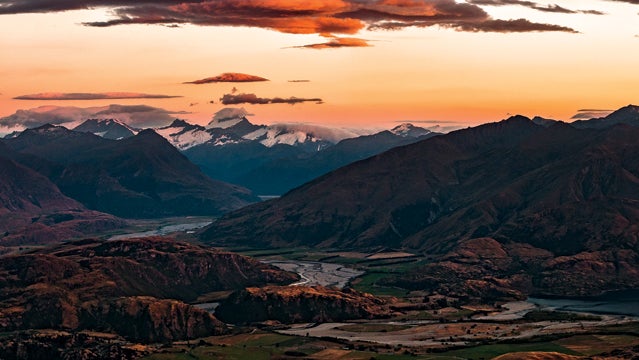 Heading out the door? Read this article on the new Outside+ app available now on iOS devices for members! Download the app.
THE CHOPPER CAME flat over a dense forest of tree ferns, black beech, and red-flowered rata trees. It sailed over New Zealand's Fiordland cliffs and fell to the whitecaps of the Southern Ocean. The cliffs were threaded with waterfalls, like in Avatar. Nick Wallis, a 33-year-old pilot for Alpine Helicopters, banked tight over a black rock awash in the swell and settled next to a bull seal that didn't budge.

Rob Roy Glacier, Mount Aspiring National Park.

Just your typical New Zealand roadside view.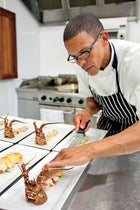 The chef prepares Peter Heller's lobster picnic.

Lunchtime at Minaret Station.
My wife hopped out and trotted straight to the seal, which bared its teeth. "Hey, Kim," I yelled. "Those guys can take your arm off!" She shot me a look that meant, Don't worry, you big dummy, who can resist my charms? and sat beside it and began to tell it how handsome it was.
Matt Wallis, Nick's 34-year-old brother, had other ideas. There are four Wallis boys, all pilots for Alpine, and they all grew up doing stuff like jumping out of choppers onto the backs of red deer. Matt put on a drysuit, picked up a six-foot speargun, and leaped into the black water.
"Aren't there great whites in there?" I asked Nick. "With all the seals?"
"Oh yeah," he said. "It's a nursery."
Twenty minutes later, Kim and the seal were leaning head-to-head, and Matt emerged from the waves with a sack full of lobsters and a ten-pound moki fish. I felt like I was in a scene from Die Another Day. We got back into the chopper and headed straight to the Southern Alps, landed on a rocky lip where a waterfall spilled out of a green lake, fired up a portable barbecue, and cooked the lobsters for lunch. We were perched on the rock ridge by the cascade, the helicopter also balanced there, with a braided river far below and thousands of square miles of mountains and primeval forest soaring around us. Matt lifted a fogged glass of local Central Otago chardonnay and said, "Welcome to New Zealand."
Kim was beside herself. The last time we took a big trip together, surfing down the coast of Mexico, we lived out of a Vanagon for six months and ate hash from a can. Kim is allergic to mosquitoes and got ravaged by sand fleas. "This," she confided to me now, her smile smeared with butter, "is the way to travel. I could get used to this."
We'd come to New Zealand's South Island to see a very old friend. We planned to get a camper van for two weeks to explore, but first I thought Kim would enjoy a helicopter-in wilderness lodge for a night. We don't usually travel in such style. But it had been a lifelong dream to come down here, and we thought, What the hell. It's a New Zealand specialty, after all—dropping in by chopper to fish or ski or dine. The country is designed for it, so compact and jammed with rugged wilderness.
After lobster, we skimmed the braids of the Forgotten River and climbed over the glaciers of the Southern Alps. On the east side, Nick settled us into a high grass valley above Lake Wanaka: Minaret Station. A clear burn (what Kiwis call a creek) ran through it, and the snows of the divide hung in the sky to the west. Matt led us to a luxury safari tent with a hot tub on the deck and a bottle of pinot gris chilling in a bucket. We watched black-horned chamois pick their way down the slopes on delicate legs and drink in the stream. At daybreak another chopper picked us up and landed us near the top of Mount Burke, a grassy peak high above the lake. Three mountain bikes were already there, shepherded by a very fit-looking guy in orange bike shorts who said, "Kia ora, I'm Patrick. I'll be your guide this morning. Let's get your bikes adjusted." I blinked at him. He said it as if people met like this every day. Maybe they do in this strange world.
The three of us headed down a steep sheep trail and rode off the ridge. An hour later, pumping with adrenaline, we jounced into a clearing by the lakeshore and the helicopter picked us up—to take us fly-fishing. We landed on a gravel bar on the Albert Burn and fished for browns. With a young guide named Sam. Who tied on our flies and spotted the fish and told us exactly where to cast. When we'd walked far upstream, the chopper came to get us.
"Is this what it's like being rich and famous?" I whispered to Kim. "I mean, you get kind of helpless."
"I think so," she said. "Isn't it awesome?"
NEW ZEALAND IS weird. I mean, it does not seem of this earth, not to me. It really is like something made up. Our first morning, we found a spider web in the crook of the side mirror of the rental car. It was nothing like the elegant spiral of Charlotte's Web. It was the frenetic haphazard cross-hatchings of a hysteric. The forests we flew over are full of shaggy rimu that are 800 years old and tree ferns 20 feet high. You have seen the ferns someplace before—oh yeah, in the painted backdrops of the dinosaur dioramas at the natural history museum. The mountains are craggy, hung with glaciers, dotted with chamois and Himalayan tahr, and spilling with creeks full of German browns. On the lower slopes, elk and red deer graze. It's like a kid asked a genie to make a world full of everything fun and exotic and to get rid of all the people. There is almost no one here. The country has about four million people and 30 million sheep, and more than three million of them—the people—live on the North Island. The rest of the place is pretty quiet.
After our royal treatment, it was time to do what we'd really come to New Zealand for—to see my old friend Roy Bailey. Roy and I had been the two scouting kayakers on a 1989 Russian-Kiwi rafting expedition on the Muksu River in the High Pamirs of Tajikistan. The river boiled out of a hole in the snow ringed with the tracks of snow leopards, and it swept us into 17 days of terrifying big water. A previous attempt in 1986, a Russian expedition, lost five of eleven men. (We all made it out safely, walking only one steep drop.) Roy was a sleepy-eyed kid of 21 who never got excited, and we bonded in a way that few people ever get to. That was 24 years ago. Every year since, he's invited me down to Wanaka, a hub for hardcore adventure on the South Island an hour outside of Queenstown. Finally, we decided to come.
"My turn to pilot," I said as Kim and I picked up our bright green Jucy camper in Queenstown. Back to basics. The vans are everywhere in New Zealand, and "freedom camping"—pulling off almost anywhere to car-camp—is an iconic way to travel. The Jucys look like rolling limes. You can spot them ten miles away, each one adorned with a big Jucy Lucy, a retro pinup girl in a very short dress bending over to blow every passerby a kiss. (Another strange thing about Kiwis: they just can't seem to be PC. They try. They do stuff like ban everything nuclear, and then their famed national rugby team, the All Blacks, does a Maori haka war dance before every match—this in the year 2013, when the Washington Redskins may have to change their name.) I was so happy with the camper. The self-contained, rolling vagabond thing. There was a place for our fishing rods and a brand-new country ahead of us.
We drove over a high pass and down into Wanaka. The town is a few blocks square, at the head of a lake surrounded by mountains—like Lake Louise or Jackson Hole without all the houses and people.
Roy lives in a ranch house on the side of a hill, with a greenhouse, a garden, and 40 kayaks. I had forgotten the infectious cheer of his crooked-toothed grin, his sleepy blue eyes, his quiet and irrepressible gameness. Roy's a housebuilder with a crew and the father of two teenage daughters, the oldest of whom just won a Junior Olympics silver medal in kayak slalom. He is also chairman of the local search-and-rescue team. And he led the building of a whitewater play park five minutes from town on the Hawea River. He is The Man.
That was the first thing we did, load up two play boats and go to the wave.
The green water of the Hawea was clear as a lens. The two drops were perfect. The upper ledge had a long sticky hole ideal for cartwheels (not me), and the lower was a riverwide surf wave with heavy breaking shoulders—perhaps the best all-around play wave in any hemisphere. It was February, New Zealand's summer, and it was a hot morning. We surfed until I couldn't raise my arms. Twenty years vanished in a flash, and we were two kids again, just paddling, yelling, egging each other on. Nothing had changed.
We camped in Roy's driveway. Left the windows open. In the morning, Kim blinked at the first daylight and looked like she had been hit on the head with a sheep.
"No mosquitoes," she whispered. "Where are we? What kind of country is this?"
IT WENT LIKE THAT. Like we were in an alternate Kiwi universe. There were no more helicopters, no Michelin-rated chefs steaming up green-lipped mussels. But in all our travels, we had never had a sweeter time. Ever. With Roy's house as our base camp, we spent the days exploring, setting off on the nearby Rob Roy trek in Mount Aspiring National Park, a 1,372-square-mile paradise for trekkers and mountaineers. Above us were blue glaciers and cliffs and a dozen spilling waterfalls. Like Rivendell, the home of the Elves in The Lord of the Rings. Jesus.
We camped along the Clutha River, which flows out of Lake Wanaka east of town, and fly-fished. I'd never seen such pristine water. Every stone magnified. We'd wade toward the bank thinking it was three feet deep tops and in no time were up to our chests.
OK, it wasn't all a cakewalk: the fishing, without a guide, was really tough. We'd head back to Roy's for dinner with his family, and he'd look amused that I had shown up again with no trout. "Pete," he said, "you're taking catch and release to a whole new level."
We kayaked with Roy on a rollicking Class III section of the Meg River with 30 kids and adults—men and women of every age, size, and ability—which they do every Tuesday evening in the summer. We went to pubs and drank stout and ate chips. We hopped on bikes, riding a locals' favorite trail called Deans Bank along the high bluffs of the Clutha, swooping through pine forest and into meadows with wide views of distant peaks. It was world-class mountain biking and there were no rocks. A mountain-bike trail with no rocks. Who invented this country? Nobody locked their cars, and the "flat whites" in the café (a latte, sort of, with less milk, more punch) were as good as anything in Seattle.
At the end of 12 days, as we climbed into the Jucy for the drive back to Queenstown and then home, Roy said, "We'll hold your camping spot." We hugged tight, and I knew that one thing in the world was still good, was still as good as it ever was.              
Contributing editor Peter Heller is the author of the bestselling novel, The Dog Stars. He lives in Denver.