Beyond Tahiti
Our reconnaissance of French Polynesia turns up the South Pacific's freshest adventures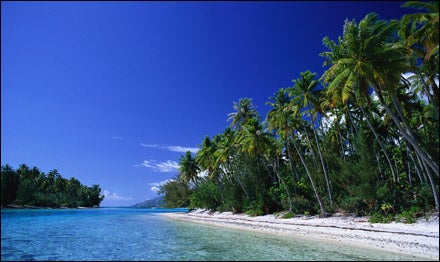 Heading out the door? Read this article on the new Outside+ app available now on iOS devices for members! Download the app.
Fakarava: Nature's Aquarium
Surf School
Love the Wave You're With
Long dismissed as the jumping-off point for French Polynesia's more glamorous outlying islands, Tahiti has more to offer than currency exchange. Put your Papeete layover to good use by hooking up with 1994 world champion longboarder and native Tahitian
Michel Demont
for a warm-water surf session. The world's heaviest wave, Teahupoo, a regular stop for nomadic pros, is ideal for spectating, but the black-sand beaches of Mahina and Papenoo, ten minutes from the airport, serve up mellow, sandy shore breaks for the mortals among us. Half-day surf trips with Demont's
The second-largest atoll in the Tuamotu Archipelago, 300 miles northeast of Tahiti, Fakarava harbors one of the world's most intact coral ecosystems. And the locals intend to keep it that way: Last October, Fakarava was named a UNESCO biosphere site. Make your base the rustically elegant Maitai Dream Fakarava Hotel, which sports 30 pitched-roof bungalows, a quarter-mile of white-sand beach, and a charming staff that leads daily boat trips to the atoll's north and south passes (doubles from $260; hotelmaitai.com). Currents in the two channels connect the pounding Pacific with the stunning flatwater lagoon and whisk snorkelers and divers past a mind-blowing array of marine life, from stingrays to dolphins to hammerheads. After drying off, refuel at a motu picnic on any number of uninhabited islands, where your captain will spear and grill lunch. The Maitai just opened an office for Polynesian operator Top Dive (one-tank dive, $60), while at the nearby family-run Pension Paparara à Fakarava (from $130 per person; pensionpaparara@mail.pf), the Fakarava Diving Center offers daily dives for smaller groups (one-tank dive, $75; fakarava-diving-center.com). Or check out Aquatiki, a 46-foot, three-cabin catamaran available for custom diving trips to nearby atolls (from $400 per person; aquatiki.com).

Manihi: The Short and Narrow
Dry land is an afterthought on Manihi, a skinny coral atoll in the Tuamotus. At its widest, the island really an oblong string of dozens of tiny islets, or motus, fringed with coconut palms spans the length of three football fields. Its interior is a placid 17-mile-long lagoon dotted with some 65 black-pearl farms, small wooden shacks on stilts. Manihi has exactly one road, one village, and one hotel: Manihi Pearl Beach Resort, a cluster of 40 thatch-roofed over-water bungalows and beach cottages on a pretty curve of coral sand at the edge of the lagoon. Get up with the sun and spend your days snorkeling with reef sharks and needle-nose remoras right off your deck, handline fishing for grouper (which the resort's boatman Veri will cook up over an open fire for lunch), navigating the smaller motus by outrigger canoe, and scuba-diving the offshore wall outside Tairapa Pass, where the reef plunges hundreds of feet into the Pacific. Over-water doubles from $580; one-tank dive with on-site Manihi Blue Nui Dive Center, $90; pearlresorts.com/manihi

Tahaa: The Splurge
If you like your French Polynesia with a dose of decadence, hole up at Le Tahaa private island and spa, a high-style hideout on a secluded motu just off the western coast of Tahaa Island, about 125 miles northwest of Tahiti in the Society Islands. Its 48 over-water guest suites have glossy bamboo walls, deep soaking tubs, and floor-to-ceiling views of an idyllic lagoon and in the distance, beyond the foamy white line of breakers the shark-fin outline of Bora-Bora. With that kind of luxury, you might not want to leave your cottage. And you won't need to. Room service delivers tuna sashimi, mango salad, and poisson cru raw mahi-mahi marinated in lime juice and coconut milk to your personal outdoor dining room, and the wooden ladder off your sundeck provides round-the-clock lagoon access. Should you decide to venture out, make a daily habit of snorkeling the Coral Garden, in the pass between two motus, where the current propels you over dense clusters of brain coral, mushroom coral, and electric-blue sponges without so much as a flipper kick. Over-water doubles from $1,000; letahaa.com

Huahine: Home of the Ancient Mariners
Lush and uncorrupted, Huahine, also in the Society Islands, is best known for its well- preserved marae stone archaeological sites that served as religious meeting places for Polynesians nearly a thousand years ago. Paul Atallah, of Island Eco Tours (islandecotours@mail.pf), runs half-day hikes inland to see them. On the water there's superb diving at Avapeihi Pass, snorkeling near the now defunct Sofitel Hotel in Maeva village, and kayaking off Bali Hai Beach. Outfitter Huahine Lagoon, located at the Mahana Dive Center, in Fare, rents mountain bikes and kayaks, and guides from Mahana lead dive trips (one-tank dive, $65; mahanadive.com). For lunch, the nearby Te Marara keeps fresh mahi-mahi with vanilla sauce in good supply. The swankest digs on the island are the large stilted huts 16 of them over water at Te Tiare Beach Resort (doubles from $430; tetiarebeachresort.com), where Sports Illustrated shot its 2006 swimsuit issue. Grab one of their outrigger canoes and try your hand at the sport Huahine is famous for. On the south side of the island, stay at the Pension Mauarii, on gorgeous Avea beach (doubles from $100; mauarii.com).

Rurutu: Out There
Everything is different on Rurutu, a remote, windblown island near the Tropic of Capricorn, an hour and a half by air south of Tahiti. Cooler and drier, it has pine trees, coffee farms, and taro crops. Its coastline is edged in steep limestone cliffs and mossy caves instead of coral reefs and lagoons. The plane arrives four days each week. All other essentials bicycles, beer, propane come by boat from Papeete, on Thursday. As for tourism well, it's barely a blip. For now. The Rurutu Lodge, an incongruously hip littleoutpost on a sandy beach just south of the airstrip, represents the island's future. The lodge, which opened in July, has ten whitewashed coral cottages that combine tropical hardwoods, natural linens, and chrome fixtures for a mod French aesthetic. When foreigners do show up, it's usually to see the humpback whales that migrate through Rurutu's clear, quiet water between July and October and are so docile you can dive and snorkel to within a few feet of them. Lodge co-owner and resident scuba master Bertrand Varichon also guides a mile-long scramble up into the Toaputi grottoes, four caves in a craggy bluff overlooking the east coast. From $75 per person; one-tank dive, $65; rurutulodge.com

Getting There
Air Tahiti Nui (airtahitinui.com) serves Papeete with direct flights from New York and L.A. From there, most islands are a short hop on Air Tahiti (airtahiti.com). If you have a layover, stay at the nearby InterContinental Resort Tahiti, which offers day rooms and a great sandy-bottom pool looking out on Moorea Island (from $335; tahiti.interconti.com).