7 Australia Trips
Seven can't-miss Aussie adventures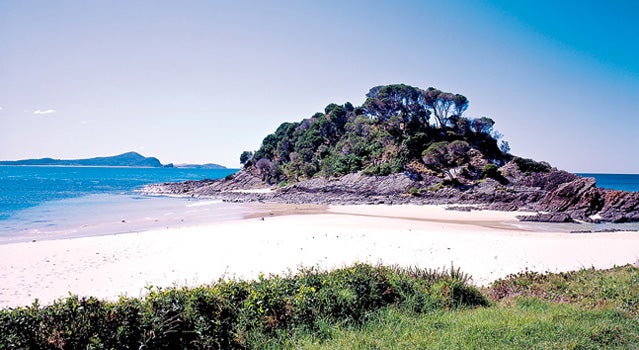 Heading out the door? Read this article on the new Outside+ app available now on iOS devices for members! Download the app.
Play the Field
Australia has it all—unexplored wilderness, Mad Max–style desert, astonishingly diverse reefs, and empty beaches. Get your fix with these seven smart trips.
Paddle
Hinchinbrook Island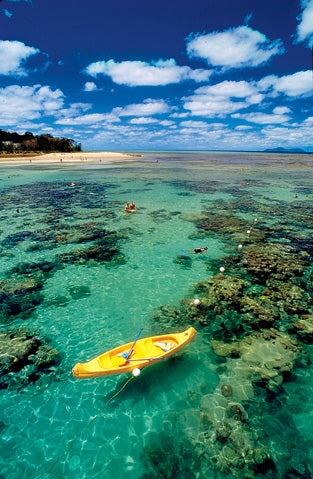 Phillip Island

Phillip Island
You have to see the Great Barrier Reef. So does every other tourist in Australia. Luckily, there's a better way: head to Hinchinbrook Island, a 152-square-mile national park in northeast Australia surrounded by the waters of the Great Barrier Reef Marine Park. The only accommodation, Hinchinbrook Island Resort, remains closed due to cyclone damage. Instead head to Mission Beach, 40 miles up the coast. That's the starting point for a five-day trip with Coral Sea Kayaking, during which you'll explore Hinchinbrook's wild rainforest and granite peaks, watching for dolphins and saltwater crocs and camping on sandy beaches ($1,640). To see the GBR, catch a boat from Mission Beach to snorkel or scuba dive on the outer reef (snorkeling, $169 per day; two dives, $264; calypsodive.com). The trip out takes only an hour—half the length of the commute from bigger hubs like Cairns.
Primary Sources: Anthony Yap
24, Melbourne native, Australian Kayak Team captain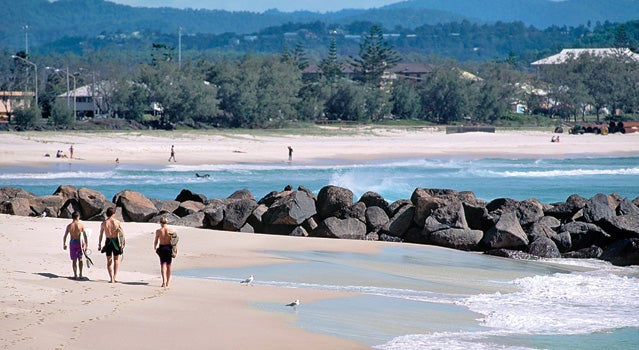 "I have Australia's lack of river water to thank for my paddling—it forced me to take to the ocean and find the biggest waves I could kayak. My favorite spot will always be Phillip Island, off the coast of Victoria. It gets the most amazing swells from all directions, so you'll always find excellent waves for surf kayaking. I head to Smiths, Woolamai, or YCW—between those beaches, you can't go wrong. When I'm in the mood for calmer waters, I like to sea-kayak in Cat Bay's slow, long, rolling sets. If I bring along my rod, I'll catch a bit of fish to grill on the camp stove."
Ride
Barrington Tops National Park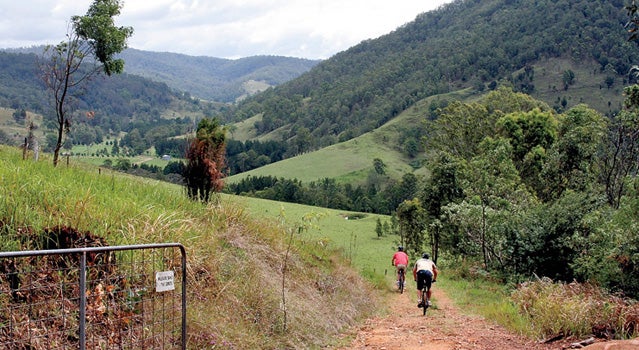 Barrington Tops National Park

Barrington Tops National Park
This 288-square-mile park, 163 miles north of Sydney, is one of the protected enclaves that make up the World Heritage–listed Gondwana Rainforest, a living fossil of ferns, conifers, and primitive flowering plants. It also happens to be a river-running and mountain-biking paradise. The best way to explore it? Barrington Outdoor Adventure Center's two-day multisport trip ($375). Day one: traverse 20 miles of rainforest on your Kona mountain bike. The next day, paddle the beginner-friendly Barrington River in a Bass kayak. Bonus: Barrington Tops sits at the north end of the Hunter Valley, one of Australia's best wine regions. When the adventuring's done, drive 100 miles south to sample the goods at Stonehurst Cedar Creek Vineyard and crash in a private fireplace-and-grill-equipped cottage (from $159; cedarcreekcottages.com.au).
Surf
Seal Rocks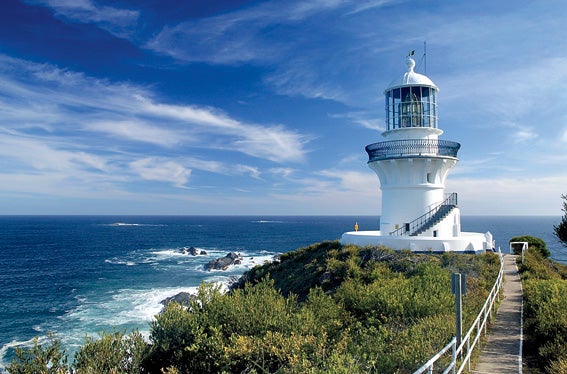 The village of Seal Rocks (pop. 25), situated on an undeveloped peninsula in New South Wales and jutting into the Tasman Sea, is quaint and sleepy. The waves aren't. The area has point breaks in all directions and consistent four-to-six-foot barrels. Rent a board from the Seal Rocks general store ($12 per day; 011-61-2-4997-6150) and explore Boat Beach and Number One Beach, or book a two-to-four-day surf camp with Waves Surf School, with meals, equipment, and dorm accommodation at nearby Sundowner Tiona Tourist Park (two days, $200; four days, $440). Nonsurfers: set up shop at Bombah Point Eco Cottages (doubles, $220). Then drive to the Sugarloaf Point lighthouse and swim a couple hundred feet offshore, to Bird Shit Rock, and jump off the 20-foot cliff into a deep tide-water pool. There are also about 20 shipwreck sites at nearby Latitude Reef; see them on a half-day scuba trip from Action Divers ($110).
Primary Sources: Mick Fanning
30, New South Wales native, two-time surfing world champion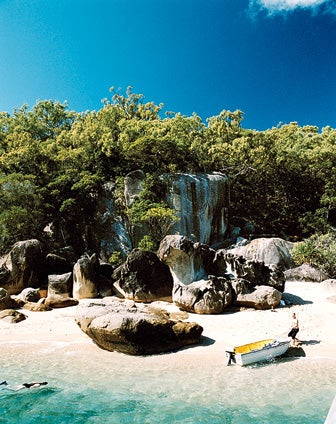 "The thing about the Gold Coast is that the weather is always sunny and warm, with little wind. When you've got six-foot waves on the Gold Coast points, it's magical. I love surfing D'bah or Snapper Rocks, on the northern side of Point Danger and the southern end of the Gold Coast. I try and go out around 8:30 in the morning, just as the kids are making their way to school. If there are waves, I'll surf all day. But if there are crowds, I'll head down the Tweed Coast and farther down into New South Wales to escape."
Dive
Ningaloo Reef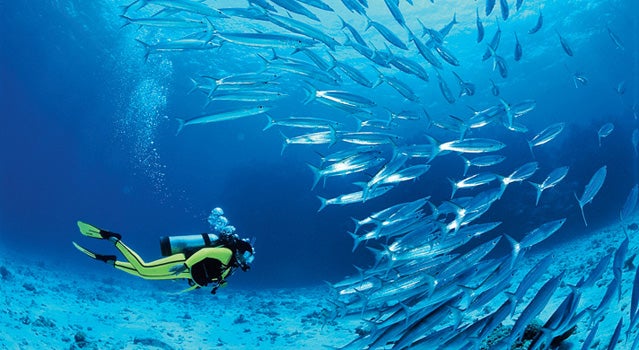 It's 186 miles long, 12 miles wide, and populated with 500 species of tropical fish. The Ningaloo Reef, 700 miles north of Perth on Australia's west coast, sees significantly fewer visitors per year than the Great Barrier Reef. Plus you can pull on your fins at the beach and swim out to it in minutes. If you've got the time, the 11-day road trip from the hub of Perth is worth it. Along the coastal highway from the city, stop at Monkey Mia, a resort where a pod of wild bottlenose dolphins feeds off the beach (doubles, $238). Take a catamaran trip to Shark Bay to check out a huge colony of dugongs—like manatees with fluked tails (yacht charters, $80 per person). Then make for Exmouth or Coral Bay—good bases to paddle out to Ningaloo to swim with giant, gentle whale sharks and spot migrating humpback whales.
Trek
Six Foot Track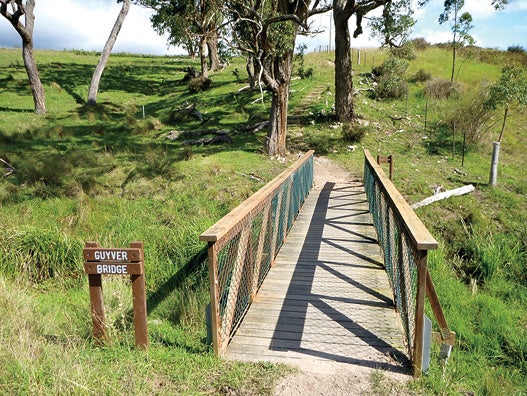 On the Six Foot Track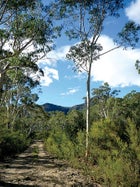 On the Six Foot Track
Stanley Chasm, Larapinta Trail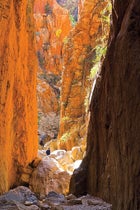 Stanley Chasm, Larapinta Trail
The beauty of this trip, a 28-mile route that cuts through rainforest and over 1,000-foot ridges in the wild, 3,500-foot Blue Mountains, is the access: it starts in Katoomba, just a 90-minute drive or two-hour train ride ($15.60 round-trip; cityrail.info) from Sydney. Spend the night before the trek at the Carrington Hotel, a sprawling three-story colonial affair (doubles, $130), then set off. Sydney-based outfitter Life's an Adventure offers a guided trip with tents big enough to stand up in (from $380). Or pack your own tent and explore the stands of stringybark trees and the sandstone cliffs overlooking eucalyptus valleys yourself. Allow three days and two nights—spend one night ten miles in at the Six Foot Track Eco Lodge ($35 per person)—to reach the Jenolan Caves, a series of ancient limestone caverns. After exploring, catch a bus back to Katoomba ($40; trolleytours.com.au).
Primary Sources: Tim Macartney-Snape
56, longtime ­Victoria resident, first Australian to summit Everest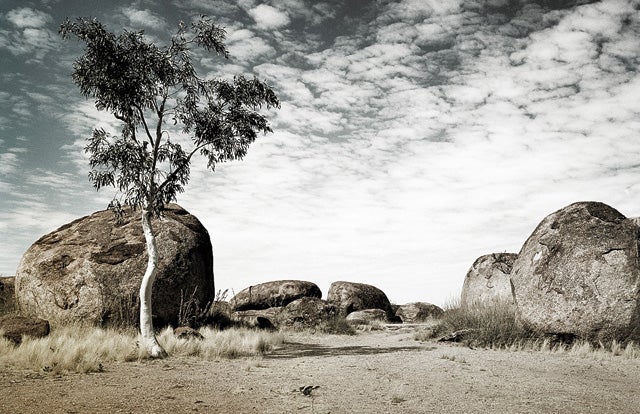 "The magic places in the outback are where the plains meet the hills—that's where you find the freshwater springs. My favorite springs are on the side of Mount Giles, a ways off the famous Larapinta Trail. There the water comes up naturally out of the rocks and is so pure, it's drinkable. These places—where you find permanent water in such an arid landscape—never cease to amaze me."
Splash
Noosa National Park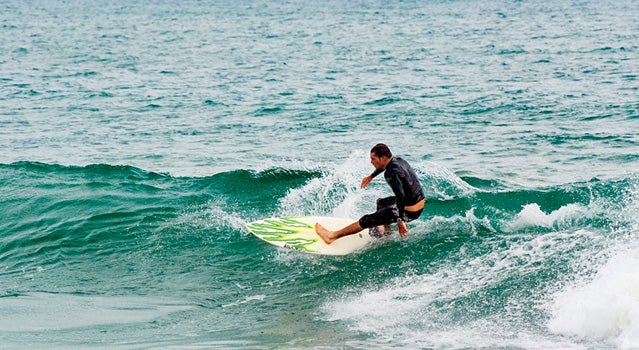 Noosa lineup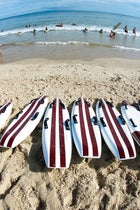 Noosa lineup
Located in the middle of Australia's east coast, between Brisbane and Hervey Bay, Noosa is a 15-square-mile playground of white-sand beaches, rainforests, and wildflower fields. Base yourself at the Noosa Crest resort, just outside the park (doubles, $195), then head to Sunshine Beach for the area's most consistent surf. Rent a board from Noosa Longboards on Hastings Street (half-day rentals, $35) or take a lesson from Merrick's Noosa Learn to Surf (day lessons, $115). Paddlers can explore the surreal lava-rock formations near Laguna Bay on a daylong sea-kayak trip with Kayak Noosa ($145). No waves? Hike the 2.5-mile Tanglewood Track through 200-foot-tall kauri pines in Noosa's rainforest, or head to secluded Tea Tree Bay, where dolphins and humpbacks breach (maps available at the park information center; 011-61-7-5430-5000).
Climb
Grampians National Park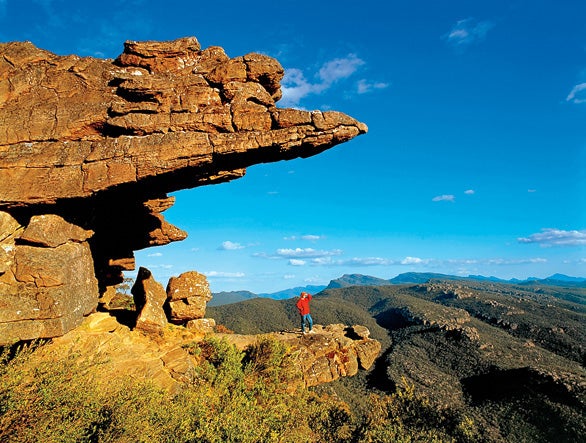 Tree hugger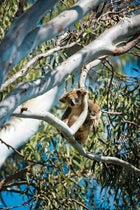 Tree hugger
MacKenzie Falls, Grampians National Park

MacKenzie Falls, Grampians National Park
This 648-square-mile park west of Melbourne is considered the center of creation by some Aboriginal people, and for good reason: it's got five sandstone mountain ranges, three fish-filled lakes, and vast eucalyptus valleys. Make Halls Gap (pop. 300) your base and set up camp in one of DULC's tree houses (doubles, $250). Then hire the guides at Grampians Mountain Adventure Company to belay you on everything from short bolted routes to challenging multi-pitch affairs (from $75 per half-day). When you want a break from the harness, tackle the five-mile, 1,528-vertical-foot hike up Mount Difficult for panoramic views. And don't miss the park's ancient rock-face paintings (information at the Brambuk National Park and Culture Centre).
Primary Sources: Greg Child
54, Sydney native, climber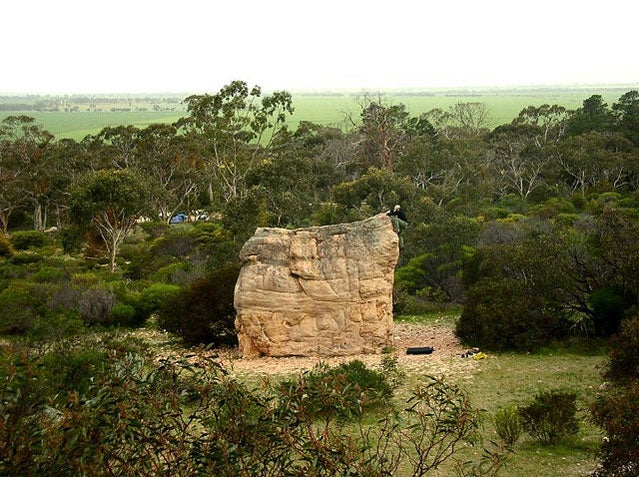 "Mount Arapiles, some 200 miles northwest of Melbourne, is the place that basically ruined my life and made me a climber. It shoots right up out of the flat savanna; the red sandstone is bullet hard, and every inch of it is covered with holds, some so easy even my seven-year-old daughter enjoyed herself. At the same time, Araps is home to plenty of challenging 5.14's—some of which are just 40 feet tall. But they're intricate and require the energy of much bigger climbs. You can walk around this rock for days and have a complete free-climbing experience unlike any you've had before."
Access and Resources
How to get there — and around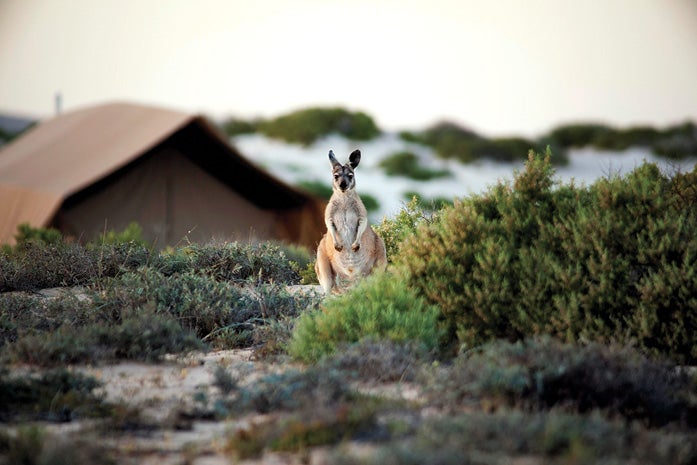 Qantas flies from Sydney to Darwin (from $230 round-trip). If you're going to road-trip in the NT, you want a four-wheel drive. Go with a Toyota Land Cruiser Bushcamper with a snorkel, kitchen, solar shower, and sleeping loft, from Britz in Darwin ($120 per day). In Darwin, crash at the slick Medina Grand (doubles, $150). In Kakadu, catch a wildlife cruise with Dave Darrington ($66). Don't miss dining in the bush with Bob Taylor's Cultural Dinner Tours ($150). At Uluru, stay at the Desert Gardens Inn (doubles, $269). Also, we're serious about the water: where you see beach closed signs in the NT, don't go in the water. The box jellyfish, or cubozoans, grow big as basketballs, can be deadly, and also show up in Queensland and New South Wales between November and March.
Trending on Outside Online