The Ultimate Road Trip
The Best Park in Every U.S. State
Outside visits every state in the U.S. to find the best parks—national or state—in every region. What park made the cut in your state?
Heading out the door? Read this article on the new Outside+ app available now on iOS devices for members! Download the app.
In a land of spectacular and diverse environments, curating Outside's definitive list of the best park in every state is a tall order. To do so, I solicited recommendations from my colleagues and searched high and low for the spot that exemplifies the region's natural features—be they precipitous cliffs, lush river valleys, or vast icy expanses—and does what an outdoor recreation area should do: get you away from the hoi polloi and immerse you in the landscape.
Our selections are not your Yosemites and Grand Canyons, where you have to elbow your way to the front of the pack at Tunnel View and Mather Point. Go to those if you want. But also carve out time to enjoy these less visited destinations, which are both especially scenic and well-rounded in their offerings. Whether you like exploring on foot, water, or two wheels, the picks on this list have something for everyone. We weren't strict about whether it was a national or state park—or even a different type of recreation area altogether—but we were strict about selecting the best destinations.
Alabama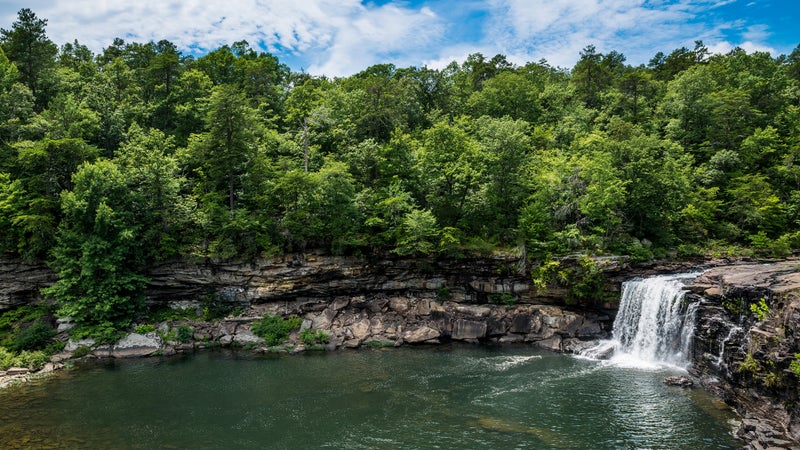 Little River Canyon National Preserve
In the state's northeastern corner, the 15,288-acre Little River Canyon National Preserve contains both the eponymous waterway—one of the cleanest and wildest in the Southeast—and the 600-foot-tall Little River Canyon, one of the deepest east of the Mississippi. Climb and rappel any of the overlooks. Hike and bike backcountry roads. (Keep an eye out for Paleozoic fossils that date back up to 540 million years.) And check out a handful of waterfalls situated amid an unusually diverse range of flora, like the endangered Kral's water plantain and carnivorous green pitcher plant. You'll find top-notch Class III–V whitewater and abundant fishing along the length of the Little River, which runs along the flat top of Lookout Mountain. Although camping is not allowed, you'll find sites at DeSoto State Park, abutting the preserve.
Alaska
Kenai Fjords National Park
Denali is undeniably enticing. You'll experience the same sense of awe at one of Alaska's less visited parks: Kenai Fjords National Park, near the town of Seward in south-central Alaska. The rare fjord estuary ecosystem is found in only five other places on the planet (none of which are in North America). This massive 669,984-acre park on the Kenai Peninsula has ample mountaineering. There's also a bucket list hike: a spectacular 8.2-mile round-trip day hike that gains 1,000 feet of elevation. The Harding Icefield, a patch of frozen water that's nearly 714 square miles long and up to a mile thick, offers hiking and mountaineering. Kayak glacial lagoons with clown-faced puffins for a day trip, and backpack or boat camp the coastal backcountry amid Sitka spruces and blooming fireweed.
Arizona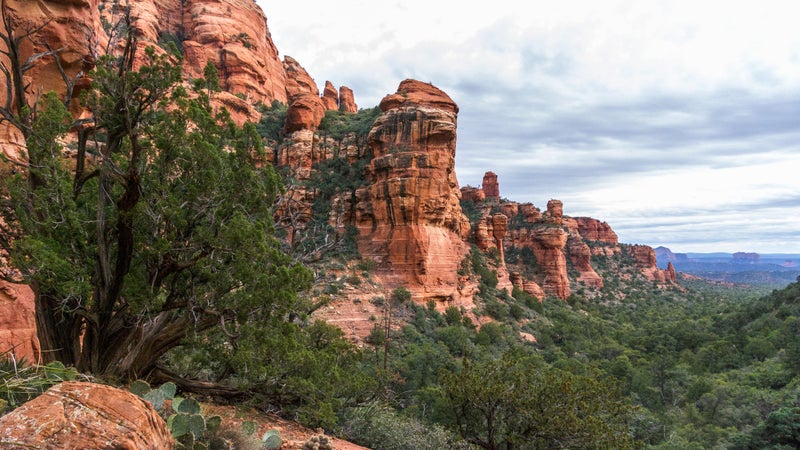 Red Rock Ranger District
Okay, so this one isn't technically a park—but you'll be hard-pressed to find a better playground in Arizona. The 160,000-acre Red Rock Ranger District manages the portion of Coconino National Forest Arizona surrounding Sedona. The visitor center at Red Rock Ranger Station will tell you everything you need to know about the region, like where to find Sedona's famously technical mountain biking, cinnamon-colored spires for trad climbing, and even fishing and swimming in Oak Creek—a rare treat in the otherwise parched desert landscape. There are four developed fee campgrounds in the district (no dispersed roadside camping), but backpacking is permitted as long as you venture at least a mile from trailheads.
Arkansas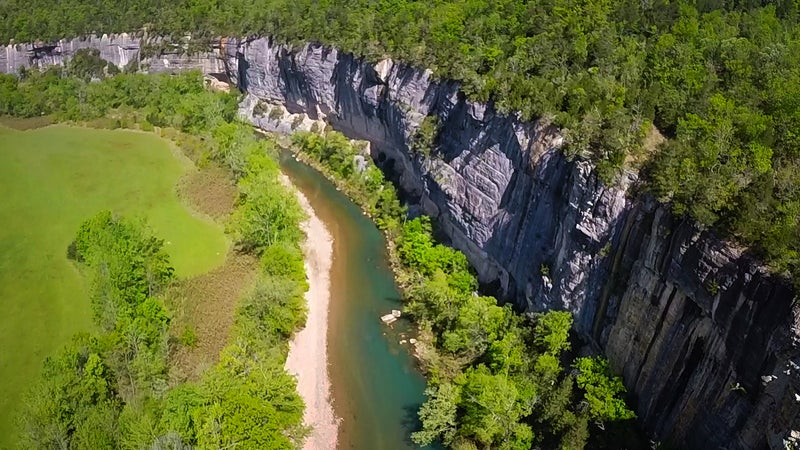 Buffalo National River
In 1972, a 135-mile stretch of the Buffalo River became our country's first nationally protected waterway. A local treasure, the river remains less known outside of northern Arkansas. It meanders, undammed, through the Ozark Mountains' karst rock formations in one of the most cave-dense areas of the national park system. (More than 500 caverns attract a multitude of endangered bats.) In addition to water-based activities like floating past the massive limestone bluffs and angling for 12 species of game fish, such as smallmouth bass, visitors can hike the 95,000 acres surrounding the river, including almost 36,000 acres of designated wilderness.
California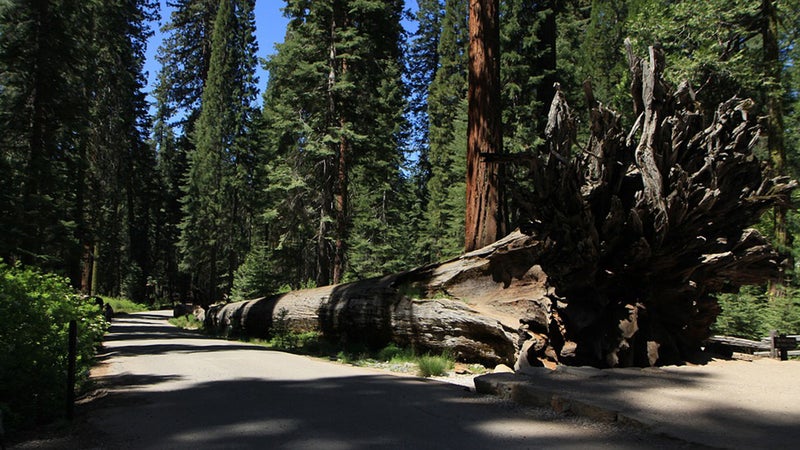 Redwood National and State Parks
Comprising 131,983 acres, Redwood National and State Parks are scattered along the Northern California coast six hours north of San Francisco. This mix of federal and state land is home to some of the world's tallest trees, as well as a sea stack–lined coast (keep your eyes peeled for whales and harbor porpoises) and three rivers, including the Wild and Scenic Smith, the largest free-flowing river system in California. While most national parks don't allow mountain biking, the former logging roads here are an exception. Camping is available at four developed campgrounds, or hit the 200-plus-mile trail system to enjoy eight backcountry camping areas.
Colorado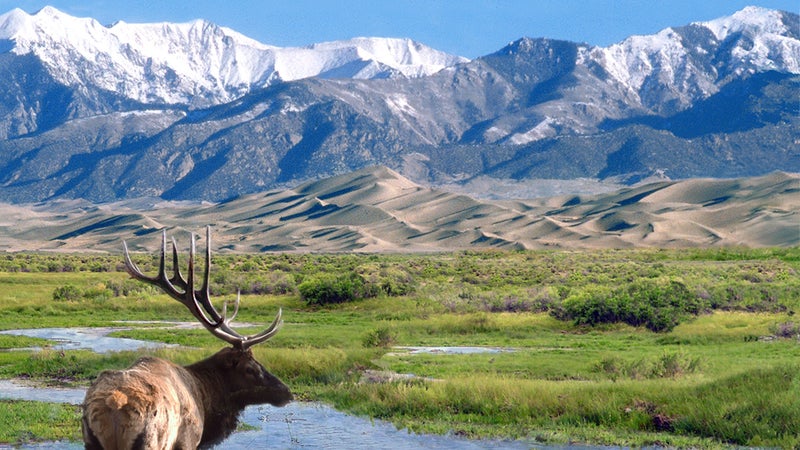 Great Sand Dunes National Park and Preserve
The Rockies are best known for soaring peaks, but the range is also home to the tallest dunes in North America, located in southern Colorado. Explore Great Sand Dunes National Park and Preserve's 30 square miles on foot—backpacking is a great way to see the park's alpine lakes and wetlands, too—or retire at one of the developed campgrounds after a day of fat biking, dune sledding, and splashing in the shallow, surging current of Medano Creek. In February and October, you'll see a sedge of more than 20,000 sandhill cranes in addition to the park's usual suspects, like pronghorns, yellow-bellied marmots, and bighorn sheep.
Connecticut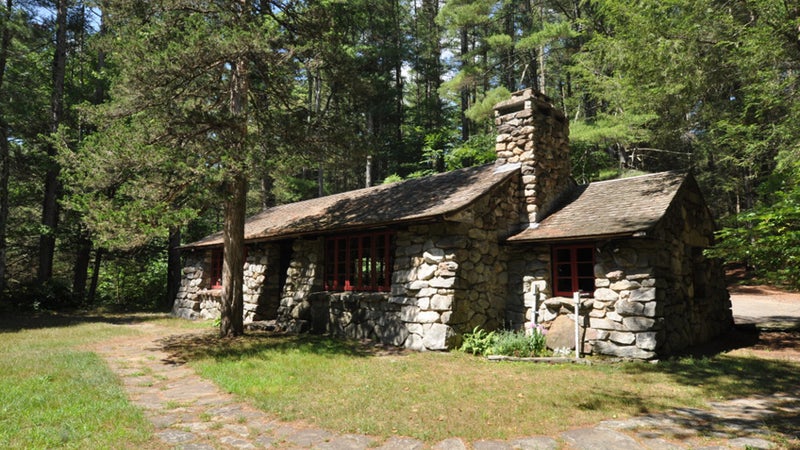 American Legion and Peoples State Forests
Combined, the American Legion and Peoples State Forests total just over six square miles—but they pack in a lot of activities. In Connecticut's wild northwest corner, the West Branch of the Farmington River divides the two areas and provides some of the best freshwater fishing in Connecticut. This Wild and Scenic River—a national designation granted to less than 0.25 percent of U.S. waterways—is a natural hub for float trips. Base out of Austin F. Hawes Memorial Campground and spend your days biking forest roads, bouldering in nearby Colebrook, and hiking a 14-mile network of rugged trails that yields views of waterfalls and the river valley below. During the winter months, there's cross-country skiing and even an ice climbing route at the Falls Cut-Off Trail.
Delaware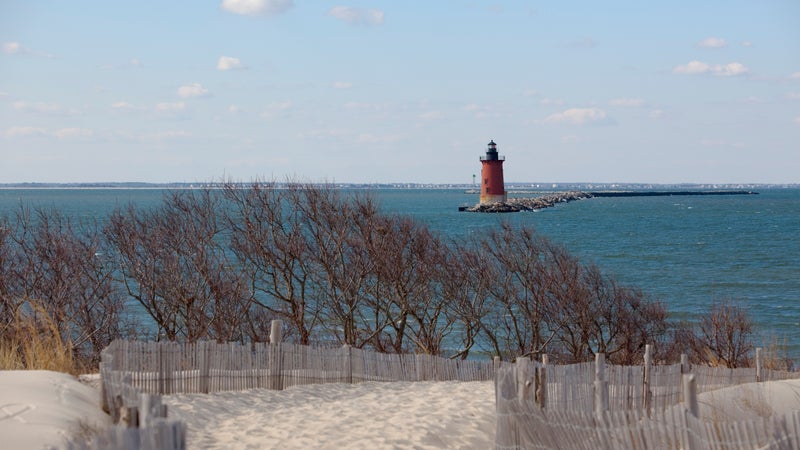 Cape Henlopen State Park
Cape Henlopen State Park's ocean-based activities abound: swimming, boating, surf fishing, kayaking, clamming, paddleboarding, and windsurfing are all on the table. The park is home to two surf breaks, Gordons Pond and Naval Jetties. On land, hike or bike up to five miles within the park, or use it as a launch point for the nation's first nonmotorized transcontinental path, the American Discovery Trail, which begins here and passes through cities, towns, farmland, and wild areas en route to Point Reyes National Seashore in Northern California. Camp among pine-studded sand dunes, or venture to the nearby Beach Plum Island Nature Preserve, Delaware's only publicly owned wild beach, which contains undeveloped dunes and marsh habitat.
Florida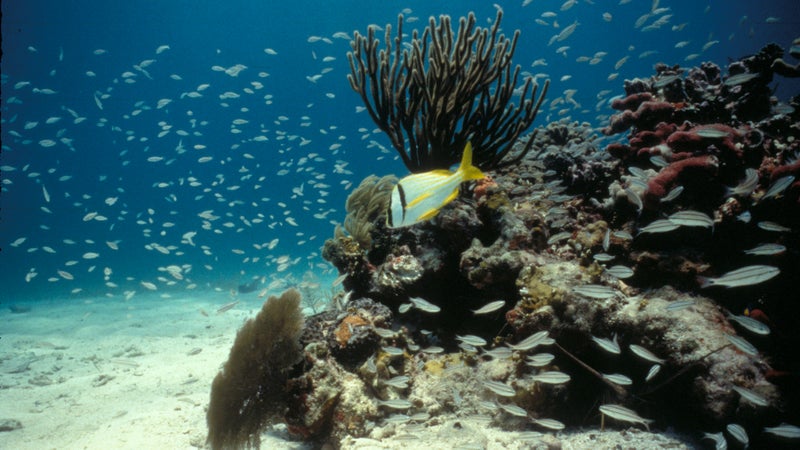 Biscayne National Park
Biscayne National Park combines the best of southern Florida. You'll find the Everglades' famous mangrove swamps—Biscayne's are also packed with alligators and crocodiles—as well as the spectacular coral reefs and abundant sea life you'd expect to find in the keys, such as manatees, sea turtles, dolphins, and rays. Since 95 percent of the park is water, you'll want to rent a kayak, paddleboard, or canoe from the visitor center (or launch your own craft for free). There are multiple marine trails for paddling, and the Maritime Heritage Trail guides snorkelers and divers past six diverse shipwrecks that span nearly a century. Although the park is far from remote—downtown Miami is visible—you can still get adventurous. Experienced paddlers can cross the seven-mile expanse of Biscayne Bay and pay $25 to roll out a sleeping pad on one of two island campgrounds on Elliott and Boca Chita Keys.
Georgia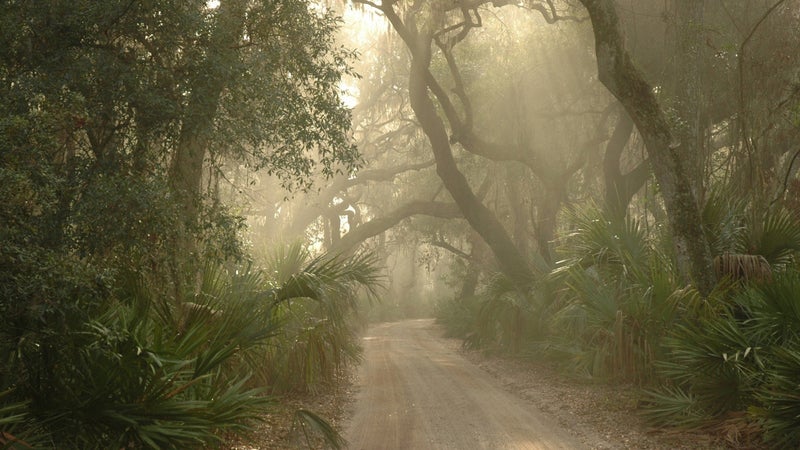 Cumberland Island National Seashore
The largest and southernmost barrier island in Georgia is good for more than just swimming and beachcombing. Cumberland Island National Seashore features 17 miles of undeveloped beaches, as well as pristine maritime forests and marshland. Walk 50-plus miles under live oak and saw palmetto groves, keeping your eyes peeled for wild horses, alligators, and sea turtles. To get there, take the ferry from St. Marys, or kayak to the island. (Leave from town, from nearby Crooked River State Park, or from Amelia Island, which is just over the Florida border.) Three campgrounds are situated in designated wilderness areas; you can bike to two others. (Rent some wheels on the island or bring your own via ferry.) Sea kayaks can be pulled ashore for camping by the Plum Orchard dock, behind the Sea Camp Ranger Station, and in the Brickhill Bluff Wilderness Campground.
Hawaii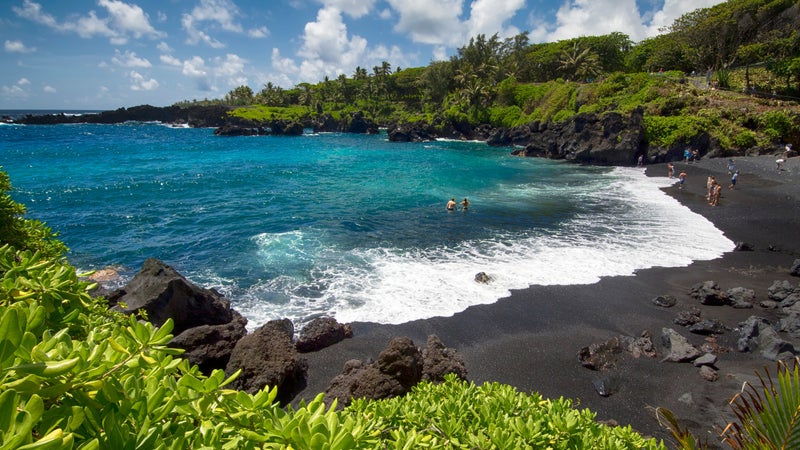 Waiʻānapanapa State Park
Bypass the hordes at Haleakalā and watch the sunrise from black sand Paʻiloa Beach at Waiʻānapanapa State Park. The drive along Maui's southeast coast is epic on its own, and while the park does draw a good number of pit-stopping tourists on the Highway to Hana, most just want to snap a photo of the lava tube and stroll to the freshwater pools before going on their way. Unpack your tent and you'll find there's more to explore. Several hiking trails traverse through dense flora—stands of guava, coconut, and breadfruit trees and the largest pandanus grove in Hawaii—and pass natural and cultural attractions like rocky coves, ruins, a haiau (or temple), blowholes, and jagged rock arches. On a calm day, swim 200 feet into Paʻiloa Bay to climb a freestanding sea stack where you can leap from about 35 feet—or 45 feet if you're feeling bold.
Idaho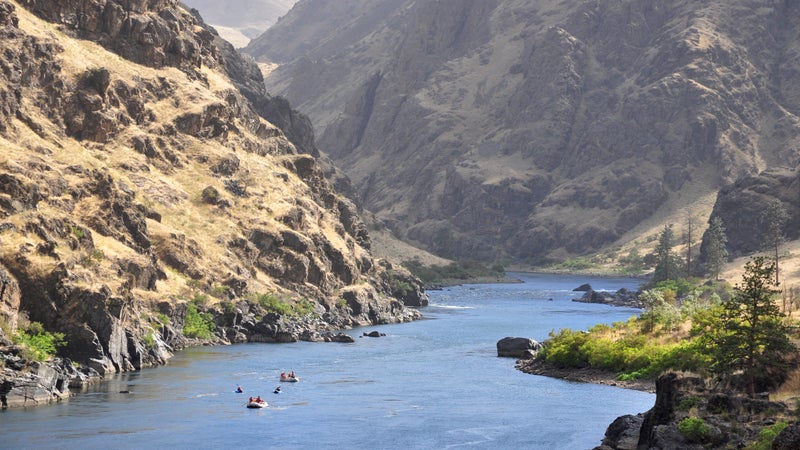 Hells Canyon National Recreation Area
Straddling the Oregon-Idaho border, the Snake River cuts North America's deepest river gorge. At nearly a mile and a half tall, Hells Canyon is taller than even Grand Canyon by almost 50 percent. The 650,000-acre Hells Canyon National Recreation Area includes 217,000 acres of wilderness, where you can backpack along isolated ridges in exchange for epic panoramas. The 8,000-foot Seven Devils Mountains tower above Class II–IV whitewater and plenty of developed campgrounds.
Illinois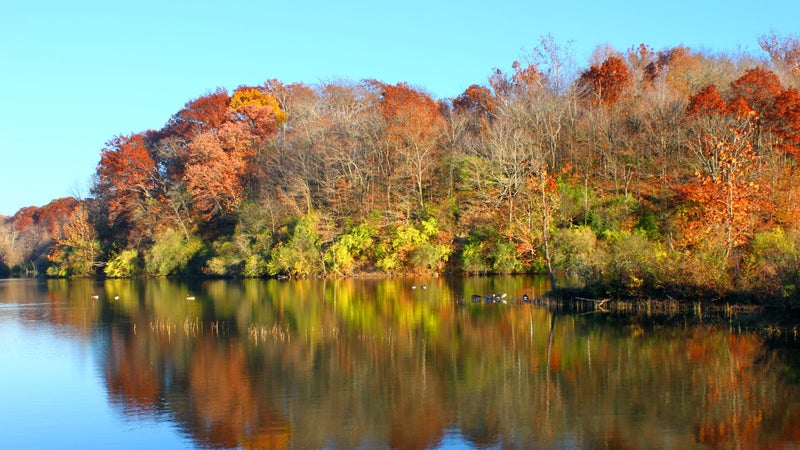 Kickapoo State Recreation Area
At Kickapoo State Recreation Area, you'll find 22 ponds and access to the Middle Fork River amid 2,842 acres of sycamore and maple forest. There are also launch ramps at nine lakes, and you can angle for large- and smallmouth bass, channel catfish, bluegill, crappie, redear sunfish, and sizable rainbow trout. Ice fishing is available in the winter, as is cross-country skiing. In the warmer months, camp at one of 184 sites and spend your days biking 12 miles of the state's best singletrack (ranging from easy to very technical) or running past wild cherry trees and vibrant wildflowers on 35 miles of trails. (Get a good workout on the difficult 7.6-mile Out and Back Trail.)
Indiana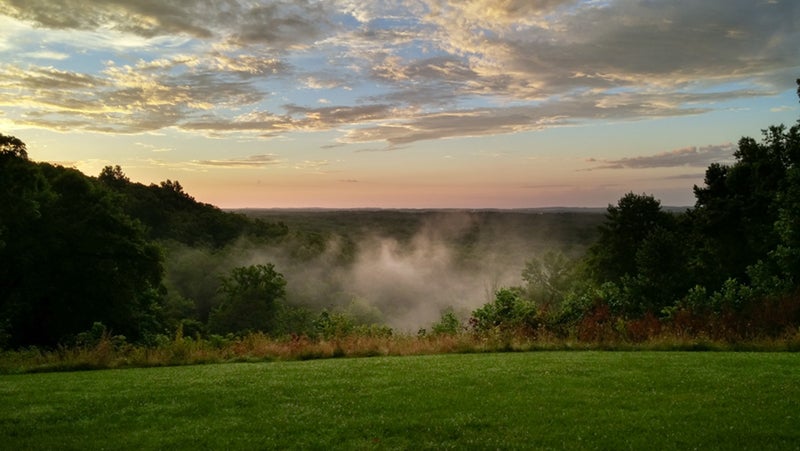 Brown County State Park
Sure, the Hoosier State just got its first national park, but Indiana Dunes is already getting close to 2 million visitors a year—and unlike Brown County State Park, it doesn't have nearly 30 miles of flowy singletrack ranging from cruisey to white-knuckling. This park in central Indiana's Little Smokies is actually slightly larger than its shiny new neighbor to the north. At nearly 16,000 acres, Brown County is the biggest in Indiana's park system. Hike more than 18 miles of trails through flowering dogwood and sweet gum trees (read: gorgeous fall color). Or connect to the greater Hoosier National Forest, which has 260 miles of trails for hiking and backpacking, including the 13,000-acre Charles C. Deam Wilderness.
Iowa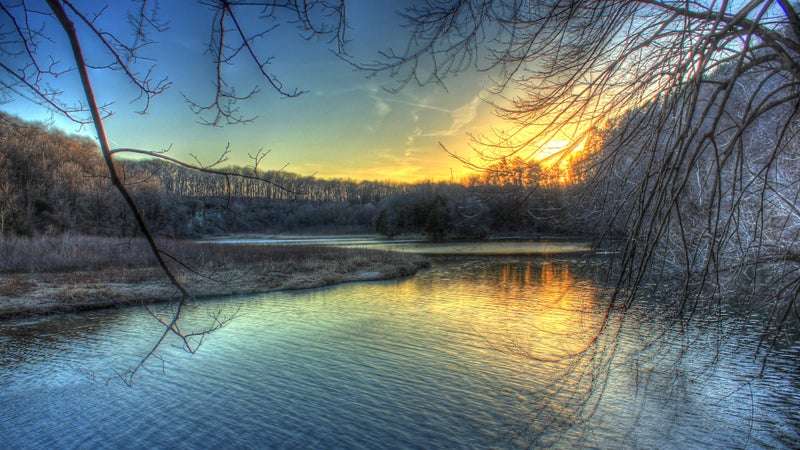 Backbone State Park
Designated in 1920, Iowa's first park is still its best. Named for a steep, narrow, 80-foot-tall ridge of bedrock cut by the Maquoketa River, Backbone State Park, in northeastern Iowa, is 2,000 acres of oak and maple woods packed with dolomitic limestone outcrops. The ample rock makes for great top-roping and trad climbing, as well as varied hiking on a rugged 21-mile multiuse trail system. Cyclists will enjoy the Barred Owl, Bluebird, East Lake, and West Lake Trails—or hit the 130-mile Northeast State Park Bike Route connecting Wapsipinicon and Pikes Peak State Parks on county highways. Explore Backbone Cave and the reservoir, Backbone Lake, which offers boating and some of the Iowa's best trout fishing. You can crash at two campgrounds within park boundaries.
Kansas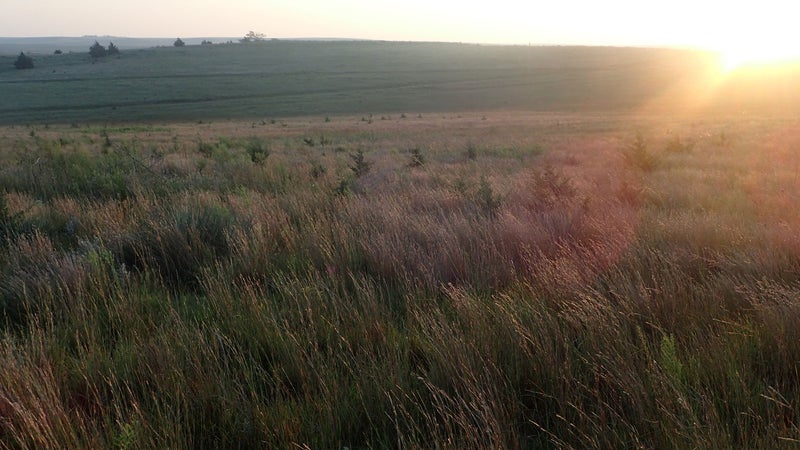 Wilson State Park
The Sunflower State isn't all flat prairie. Situated in the Smoky Hills region of central Kansas, Wilson State Park features rolling hills that give way to prominent sandstone bluffs. Tire yourself out on the challenging 25.5-mile Switchgrass MTB trail or at Wilson Reservoir, which makes for pleasant SUPing, swimming, kayaking, and fishing for bass and walleye, before adjourning to one of the campsites. The adjacent Wilson Wildlife Area has 8,000 acres of hiking and habitat for deer, pheasants, Canada geese, and coyotes.
Kentucky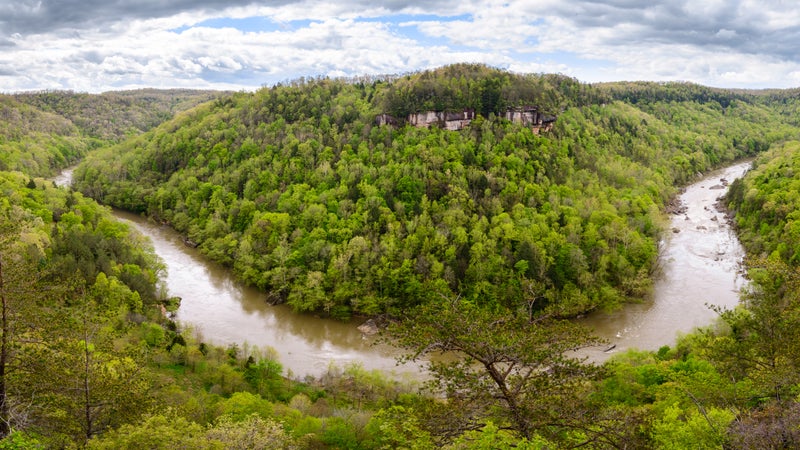 Big South Fork National River and Recreation Area
On the southern border of the Bluegrass State, Big South Fork Gorge makes a 40-mile cleft in the Cumberland Plateau. Although Big South Fork National River and Recreation Area ranges well into Tennessee, it has Kentucky's characteristic sandstone arches—without the crowds of the better-known Red River Gorge. At Big South Fork, you'll find sport climbing, Class IV paddling, bike-only trails, and bluff hikes overlooking scenic gorges and oak woodlands.
Louisiana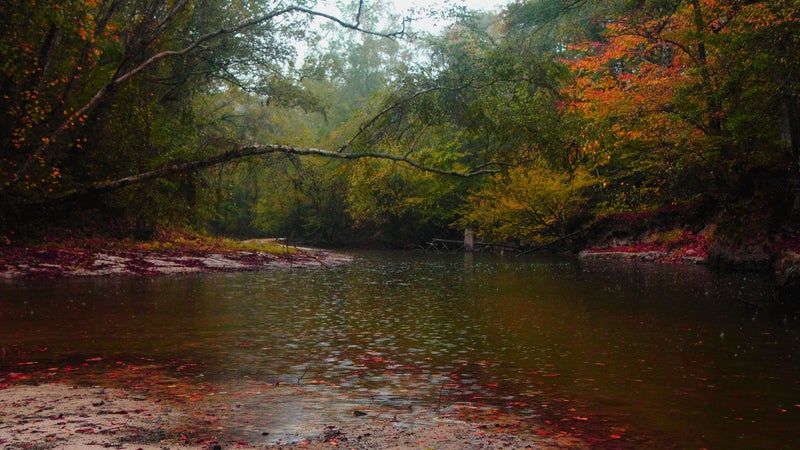 Kisatchie Bayou Recreation Complex
Set amid western Louisiana's old-growth hardwood and pine, Kisatchie Bayou Recreation Complex has 17 primitive walk-in camp sites (and one drive-in site). It also has a boat launch for nonmotorized vessels, which makes for peaceful fishing for bass, perch, sunfish, and catfish. Ensconced in the 600,000-acre Kisatchie National Forest, you'll have access to more than 100 miles of multiuse trails for running, hiking, and backpacking; opportunities for biking on roads and trails; and swimming at Kincaid, Caney, and Stuart lakes.
Maine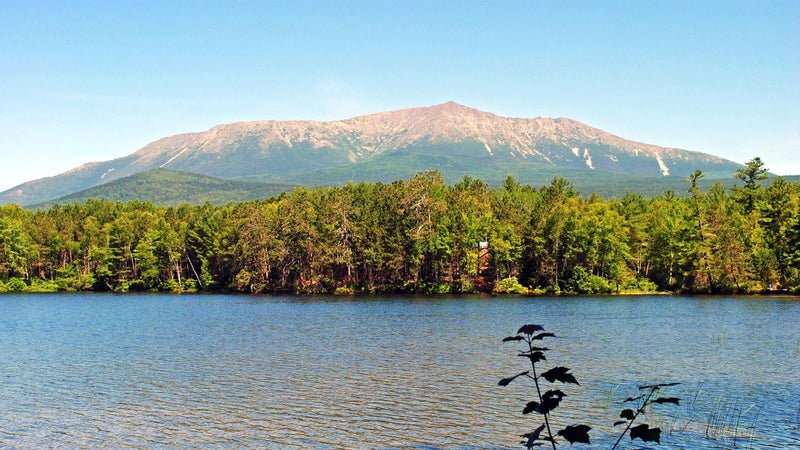 Baxter State Park
At 200,000 acres, Baxter State Park is a no-brainer. The difficult decision is narrowing down its recreation options: 200 miles of trails for hiking and backpacking, including the northern terminus of the Appalachian Trail, on Mount Katahdin; 337 campsites; mountain, road, and fat-biking routes; paddling on backcountry Wassataquoik Lake and Webster Stream, which includes Class I–III rapids and a Class V drop at Grand Pitch; and some of the most remote and challenging mountaineering in New England—not to mention trad and ice climbing.
Maryland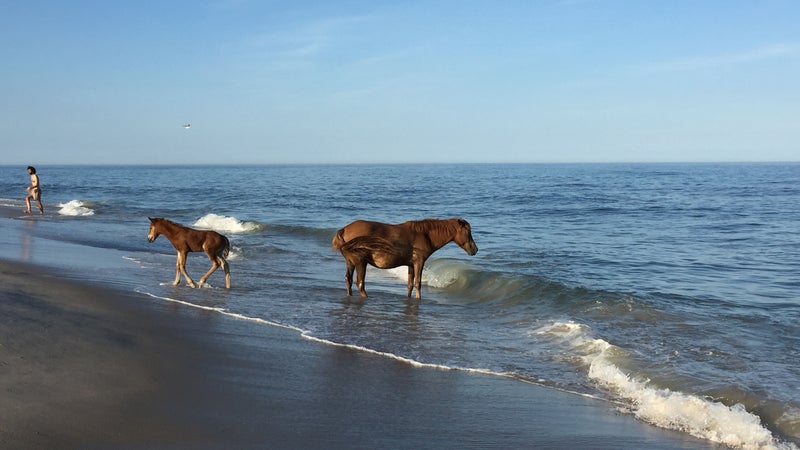 Assateague Island National Seashore
A dynamic barrier island that's constantly reshaped by weather, Assateague Island National Seashore is different every time you visit. Play in the surf and wander 37 miles of white sand beach in search of the isle's famed wild ponies. Registered over-sand vehicles can rove a designated segment. The nearby island of Chincoteague is connected via a paved four-mile bike path. At the end of the day, there are drive-in, walk-in, and backcountry campsites—you can even kayak to some.
Massachusetts
Mount Greylock State Reservation
It can be tough to find room to sprawl in one of the most densely populated parts of the nation. But 12,000-acre Mount Greylock State Reservation, in the northwestern corner of Massachusetts, fits the bill. Named for the 3,491-foot peak—the state's tallest—the park has 70 miles of trails, including 11.5 miles of the AT and the historic Thunderbolt Ski Trail, good for hiking, mountain biking, backcountry skiing, and more. Backpackers will find primitive camping and trailside shelters amid the sylvan charm of the Berkshires.
Michigan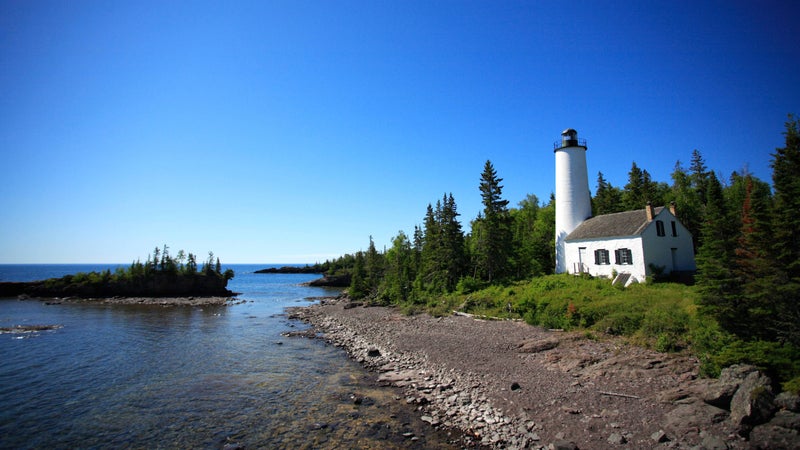 Isle Royale National Park
With only 25,000 annual visitors to its 132,018 acres, Isle Royale National Park has one of the lowest area-to-visitors ratios on this list. To get there, you have to take a ferry from Houghton, Copper Harbor, or Grand Portage. Famous for its scrutinized moose and timber wolf populations, this off-the-grid archipelago features 165 miles of trails and 36 campgrounds (some accessible only by boat) to serve as your base camp for a few days of running, hiking, fishing, and diving on shipwrecks. Canoes and kayaks are excellent means of transportation within the park, though the former is better suited for the islands' inland lakes than for open waters.
Minnesota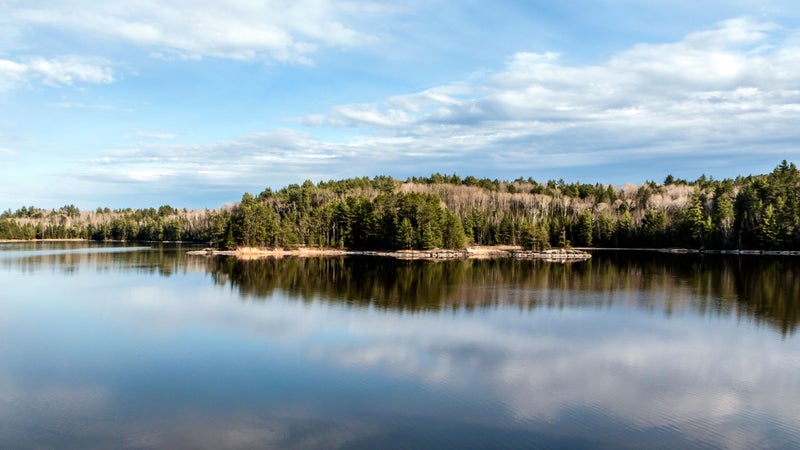 Voyageurs National Park
Named for the French Canadian travelers who explored what's now the Minnesota-Ontario border, Voyageurs National Park is best seen from its plentiful waterways. The 218,000 acres are almost half water, including four major lakes and 26 smaller ones for kayaking and canoeing the interior of the park. That said, there's also plentiful forest hiking with numerous overlooks, as well as snowshoeing or cross-country skiing during winter months. Choose sections of the 30-mile Kab-Ash Trail, an interconnected system of four trailheads, or do the whole trail for a tour of the park. The numerous campsites include backcountry options. Brings binoculars to see the park's moose, gray wolves, beavers, bald eagles, and river otters, and empty your pockets for wild berries and hazelnuts.
Mississippi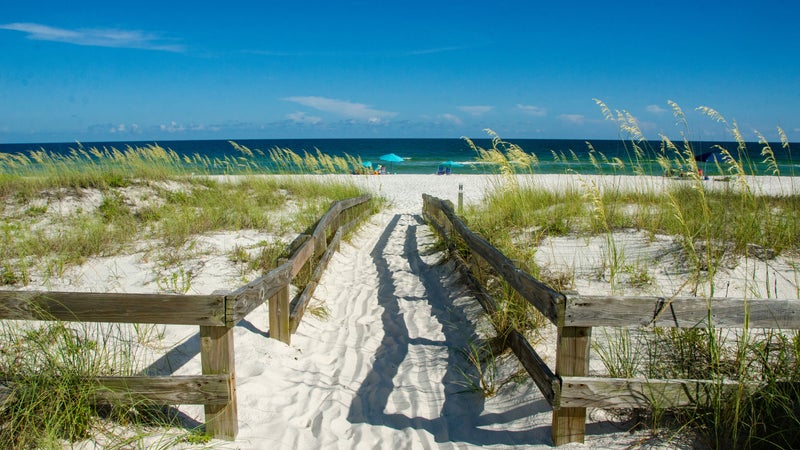 Gulf Island National Seashore
Stretching for 160 miles along the coast, Gulf Island National Seashore extends all the way into the Florida Panhandle. Its ecosystems range from sultry bayous to gorgeous white-sand barrier islands, and you're liable to see everything from dolphins and sea turtles to American black bears and armadillos. Explore the wild islets on foot, by boat, and in the water—the snorkeling and diving are prime. On shore, the 15.5-mile round-trip Live Oaks Bicycle Route connects the Davis Bayou Campground to the town of Ocean Springs, where you can resupply. Boat-in backcountry camping is available on the gorgeous Perdido Key.
Missouri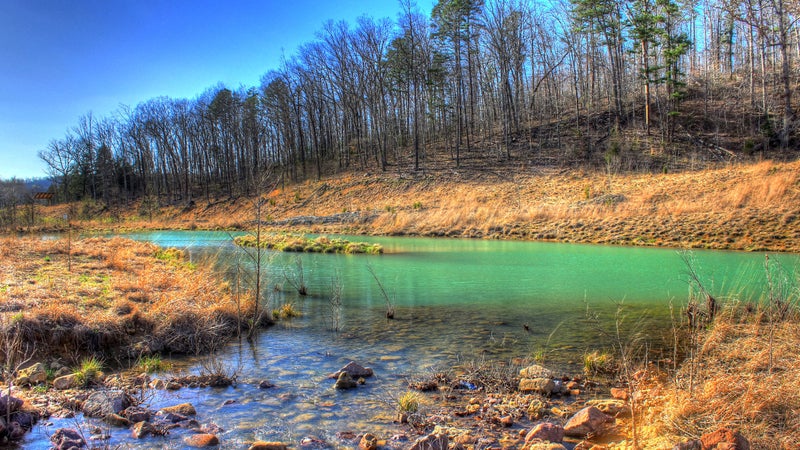 Johnson's Shut-Ins State Park
In the heart of the St. Francois Mountains, Johnson's Shut-Ins State Park is worth a visit just for its eponymous maze of rocky wells that form a veritable playground of shallow pools to dip in and rocks to scramble over in the East Fork Black River. But there are also 150-plus miles of trails within a 20-mile radius of Johnson's Shut-Ins, including some of Missouri's best singletrack. A section of the Ozark Trail connects to neighboring Taum Sauk Mountain State Park and is lined with a string of natural wonders, such as Mina Sauk Falls and the Devil's Tollgate rock. Johnson's Shut-Ins is one of only five state parks in Missouri that allow climbing. Check out the rare forest seeps, where water wells up from holes in the ground, as well as the dolomite glade, which is representative of the Ozarks but rare in this particular region.
Montana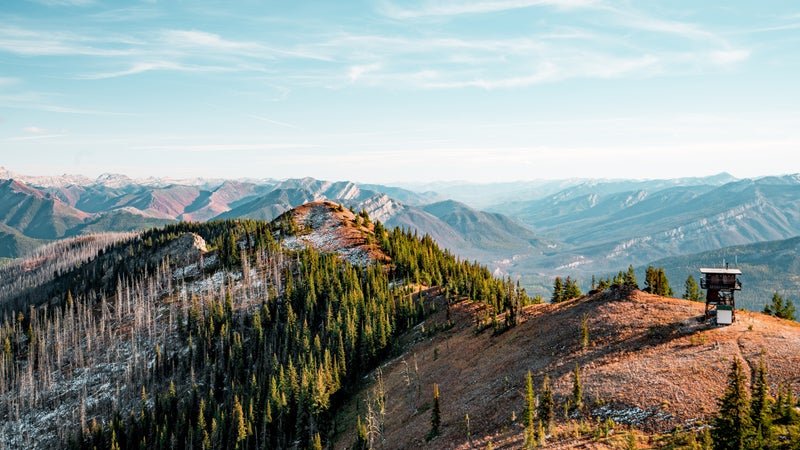 Flathead National Forest
Glacier National Park is spectacular, yes, but its 3 million annual visitors aren't as pretty. The nearby Flathead National Forest has similar high-alpine terrain and fewer people. Diverse recreational opportunities are endless: run some whitewater, mountain bike, or go backpacking. To narrow down the massive tract into something more manageable, check out Jewel Basin, a splendid 15,000-acre hiking area in the Hungry Horse Ranger District. Camp and ski in the backcountry, or bring your rods—more than 20 lakes in the immediate vicinity provide excellent lake fishing for cutthroat trout.
Nebraska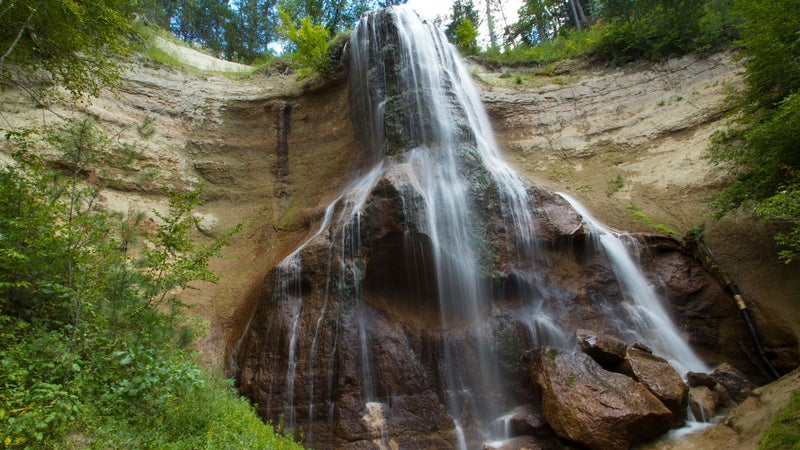 Smith Falls State Park
Home to the Nebraska's tallest waterfall, Smith Falls State Park is a perfect adventure base camp. Sleep there and use it as a launch point for paddle trips on the 76-mile Niobrara River, a National Scenic River that wends through dramatic bluffs. Hikers can walk to the 45-foot Fort Falls within nearby Fort Niobrara Wilderness Area, as well as Fort Niobrara National Wildlife Refuge, a 19,131-acre parcel that's home to bison, elk, prairie dogs, and other critters. Just a few more miles down the road, the 321-mile Cowboy Trail—America's longest rail trail—takes off. Be sure to bring your gravel bike.
Nevada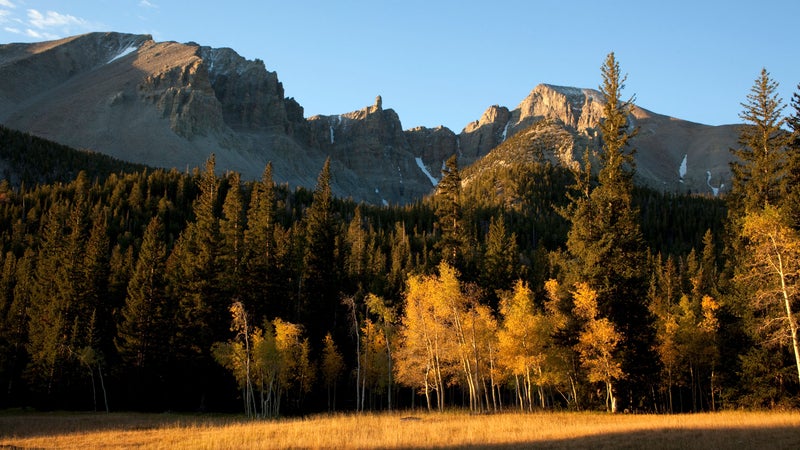 Great Basin National Park
Near the Utah border lies the Silver State's most underrated treasure: Great Basin National Park. There's no entrance fee to this 77,000-acre park, which sits at around 10,000 feet in the high desert. Be sure to summit the state's second-tallest mountain, 13,000-foot Wheeler Peak. You'll have to stick to lower elevations to walk among the park's 4,000-plus-year-old bristlecone pines and cave systems. You'll need a guide to take you through most of the caverns, although one wild cave, Little Muddy, is open to independent cavers with permits. With the exception of the short trail between Baker and the Great Basin Visitor Center, bikes are allowed only on roads in the park. However, you can connect to adjacent BLM and Forest Service land to bike trails that smell of sagebrush. Backpacking is free on the 60-plus miles of trails in this International Dark Sky Park—one of six designations granted by the International Dark Sky Association to help preserve dark sites as a natural resource.
New Hampshire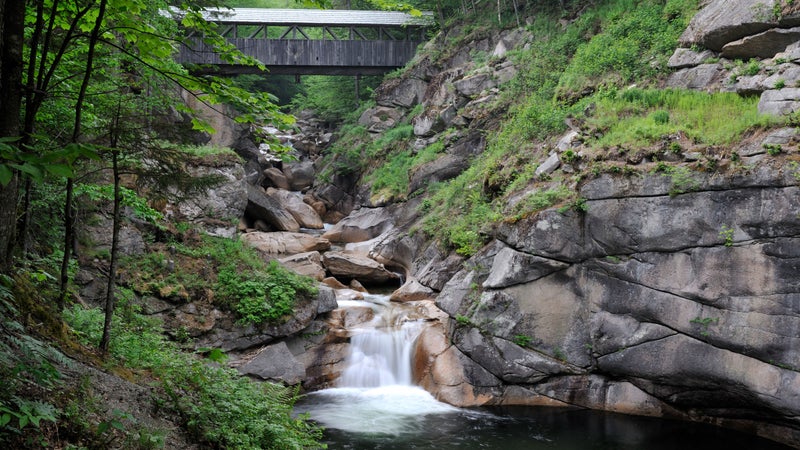 Franconia Notch State Park
Franconia Notch State Park centers on a dramatic pass through the White Mountains, but that's hardly its only attraction. The southeast face of Cannon Mountain has long been a hotspot for alpine and trad climbing in New England, and the park also has plenty of options for hiking and running. Walk through old-growth forest or moss-covered Flume Gorge, a 90-foot-tall granite canyon that has narrow sections with only a 12-foot gap between its walls. Sleep at Lafayette Campground or Lonesome Lake Hut, the latter of which looks across a glacial lake and Franconia Ridge on the other side of the pass. Did we mention there's skiing nearby at Cannon Mountain, too?
New Jersey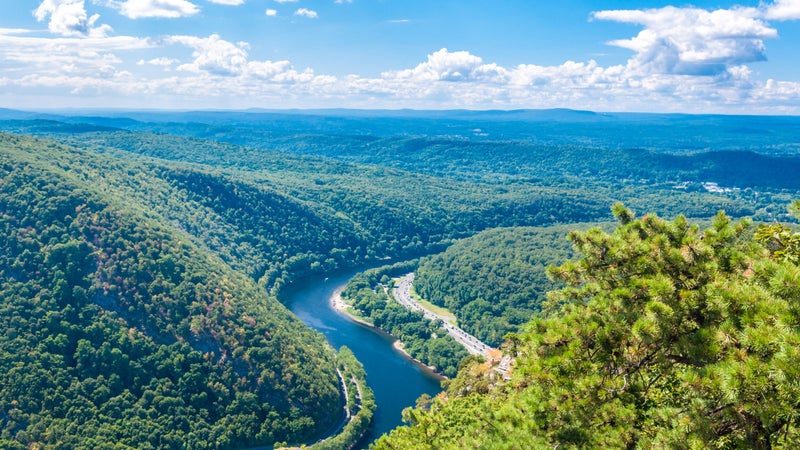 Delaware Water Gap National Recreation Area
The undammed Middle Delaware River separates the Garden State from neighboring Pennsylvania with a 1,000-foot-deep chasm through the Appalachian Mountains. Ranging from a quarter-mile wide at river level to a mile across from the top of one mountain to the opposite side, to say the Delaware Water Gap is impressive would be an understatement. The surrounding 70,000-acre National Recreation Area is also impressive, with its waterfalls, hemlock-filled ravines, and nearly 200 lakes and ponds. You can hike more than 100 miles of trails, 28 of which are on the AT. Bring a gravel bike for the 32-mile McDade Recreational Trail and your climbing gear for trad missions on Mount Tammany and Mount Minsi. Or set off on a multiday paddling trip on the Middle Delaware River. In the winter months, a Nordic ski setup and ice-climbing gear will come in handy.
New Mexico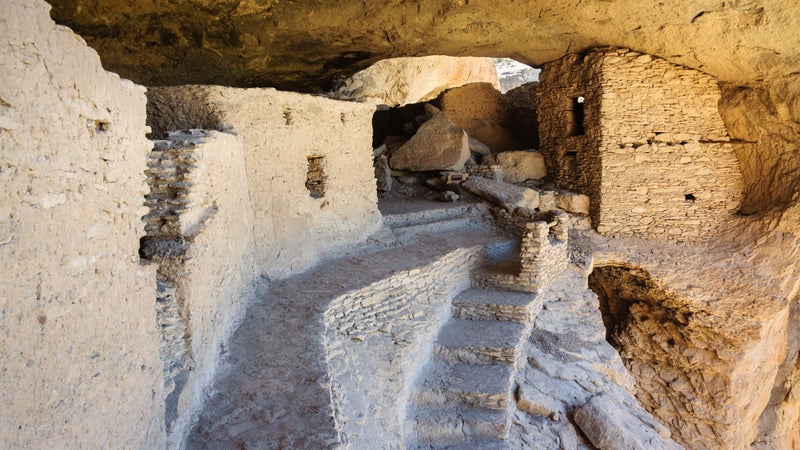 Gila Cliff Dwellings National Monument
In southwestern New Mexico, Gila Cliff Dwellings National Monument is contained within the Gila Wilderness: 558,014 acres of unspoiled mountainous terrain. The nation's first wilderness area, Gila features more than 400 miles of trails for day hiking and backpacking. In addition to learning about the Mogollon Native American history of the area, visitors will enjoy two hot springs within walking distance of the visitor center at the national monument. Mexican gray wolves roam the region, as do javelinas, a medium-sized pig-like mammal. In the surrounding Gila National Forest, you'll find fly-fishing and free camping at Cosmic Campground International Dark Sky Sanctuary, one of only four International Dark Sky Association–certified sanctuaries in the world.
New York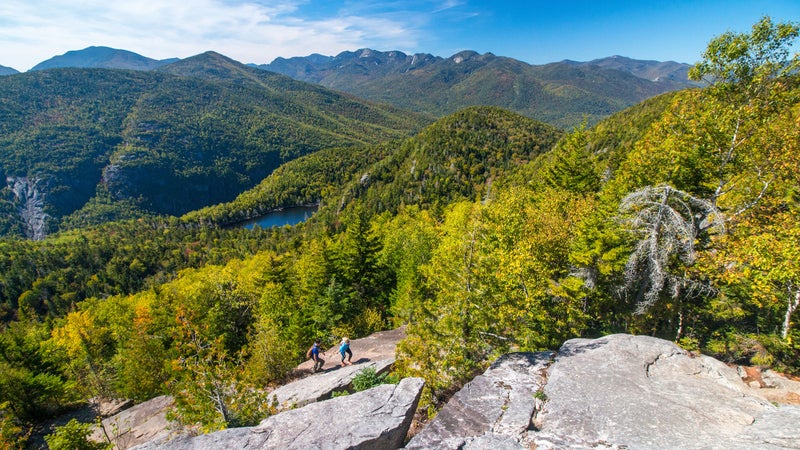 Adirondack Park
A patchwork of public and private lands, upstate New York's Adirondack Park is colossal. Of the 6 million acres originally protected in 1894—which still shape the park's boundary—2.6 million acres known as Adirondack Forest Preserve remain firmly in the state's hands. The remaining 3.4 million acres are privately owned but regulated by the Adirondack Park Agency to minimize the effects that these hamlets and agricultural and industrial areas might otherwise have on the park's natural features. Adirondack Park is deservedly famous for its wealth of hiking, biking, skiing, snowboarding, whitewater rafting, lake paddling, fly-fishing, and climbing. The Adirondack Forest Preserve contains nearly 20 different sweeps of wilderness, including Saint Regis Canoe Area, the largest wilderness canoe zone in the northeastern United States (and the only one in New York). If you're up for portaging, pond-hop a classic route known as the Nine Carries.
North Carolina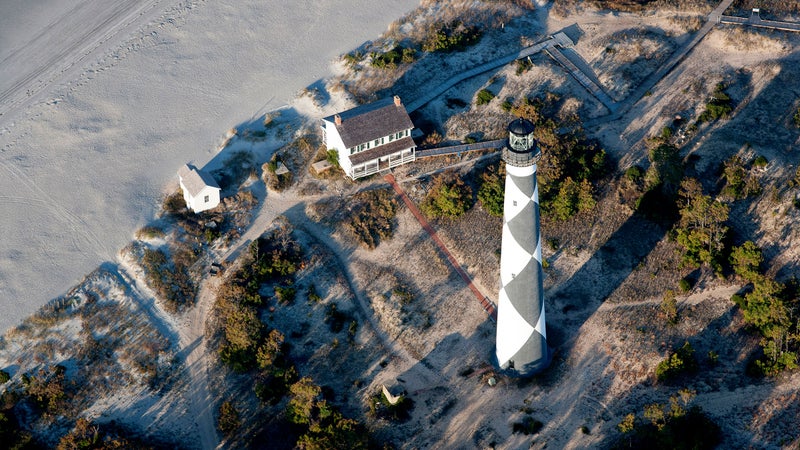 Cape Lookout National Seashore
On the southernmost tip of the Outer Banks, off North Carolina's Crystal Coast, the 56-mile Cape Lookout National Seashore is part of a paper-thin strand of barrier islands. Comparable to the more popular Cape Hatteras National Seashore to the north—albeit a bit more difficult to reach—Cape Lookout gets a fraction of Hatteras' millions of annual visitors, even though it's equally beautiful. Climb 207 steps up Cape Lookout Lighthouse (equivalent to scaling a 12-story building), try your hand at crabbing or clamming, go windsurfing, or just splash around in the warm Atlantic waves. While there are only two trails, many people hike and backpack the islands in search of wild horses. (Remember to follow these practices.) With 112 miles of shore, Cape Lookout has also become a go-to sea kayaking destination on the mid-Atlantic coast.
North Dakota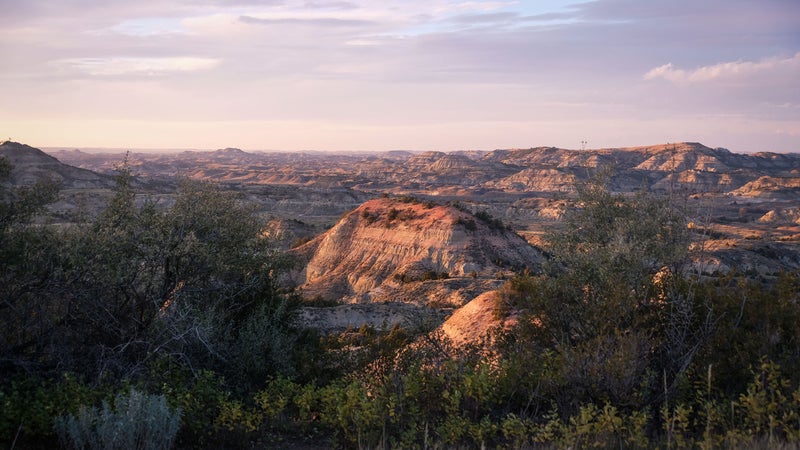 Theodore Roosevelt National Park
South Dakota isn't the only place  in the United States that you'll find badlands geology. Clocking in at well over 70,000 acres, Theodore Roosevelt National Park's plains give way to caprocks and colorful layers of stone and bentonite clay. Roam in search of bison and elk—hikes range from ten minutes to 12 hours—or grab a paddle and take a multiday float trip down the Little Missouri River. There are two official campgrounds, but with nearly half the park designated as wilderness, you can also camp in the backcountry amid wild roses.
Ohio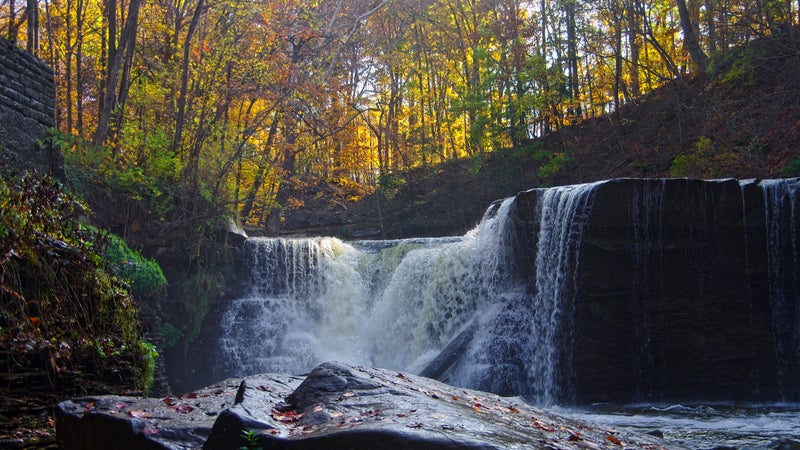 Cuyahoga Valley National Park
The Buckeye State's sole national park, 33,000-acre Cuyahoga Valley, is the largest protected natural area in Ohio. Visitors can enjoy day hiking, backpacking, mountain biking, and paddling the Cuyahoga River amid evergreen forests, sedge-dotted wetlands, and prairies. One of the park's largest grasslands was once the site of Richfield Coliseum, a large-scale event venue that was home to the NBA's Cleveland Cavaliers; it was torn down in 1999, and 327 acres of asphalt were replaced with native plants. The Palace on the Prairie site now attracts ochre-colored monarch butterflies and rare birds like Henslow's sparrows.
Oklahoma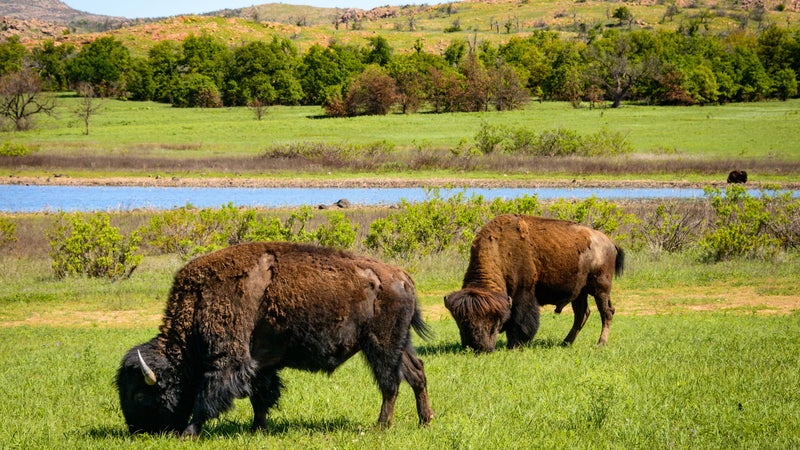 Wichita Mountains Wildlife Refuge
You'd be forgiven if you didn't expect to find top-notch granite in the Great Plains. Welcome to the Wichita Mountains Wildlife Refuge, a 59,020-acre preserve in southwestern Oklahoma. The rugged Wichita Mountains protect mixed-grass prairies and oak forests from howling winds and provide multipitch trad and sport climbing, as well as top-roping and bouldering. Hike past fauna such as bison, elk, burrowing owls, and river otters, and go fishing for largemouth bass, sunfish, crappie, and channel catfish. Keep your eyes peeled for the state reptile: the striking turquoise Oklahoma collared lizard. Doris Campground has 90 sites, but if you're looking for a little more seclusion, backcountry camping is available in the 8,570-acre Charon's Garden Wilderness Area for just two bucks.
Oregon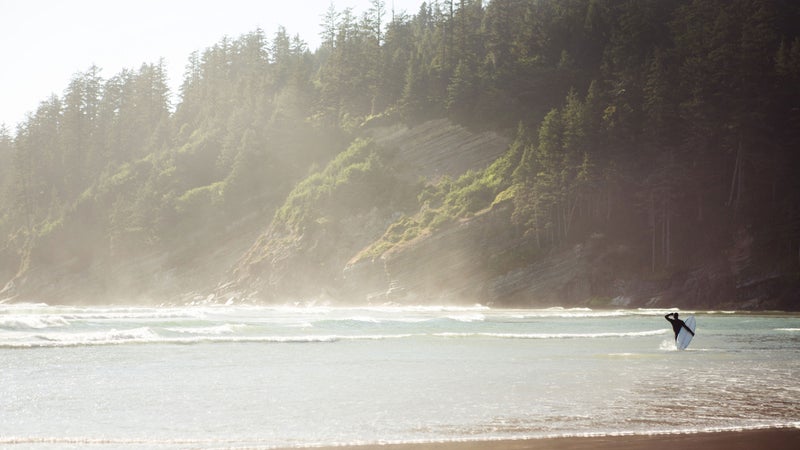 Oswald West State Park
Two hours west of Portland, the 2,484-acre Oswald West State Park is not nearly as expansive as many of the parks on this list, but its wild scenery will make you feel like you're far from society. The rugged cape epitomizes seaside Oregon's allure: temperate rainforests filled with salmonberries and ferns populate the inland areas, while surf batters volcanic basalt and sandstone cliffs. Although this stunning park no longer allows camping, there's plenty to keep you busy on a day trip. A good surf break, Short Sands Beach (aka Shorty's) is also a favorite with beachgoers for its seclusion and protection from the stiff coastal breeze. Offshore, Cape Falcon Marine Reserve protects a variety of aquatic species. Opt for a run or hike on the nearby Oregon Coast Trail, or do an eight-mile round-trip up Neah-kah-nie Mountain, one of the state's most prominent coastal peaks.
Pennsylvania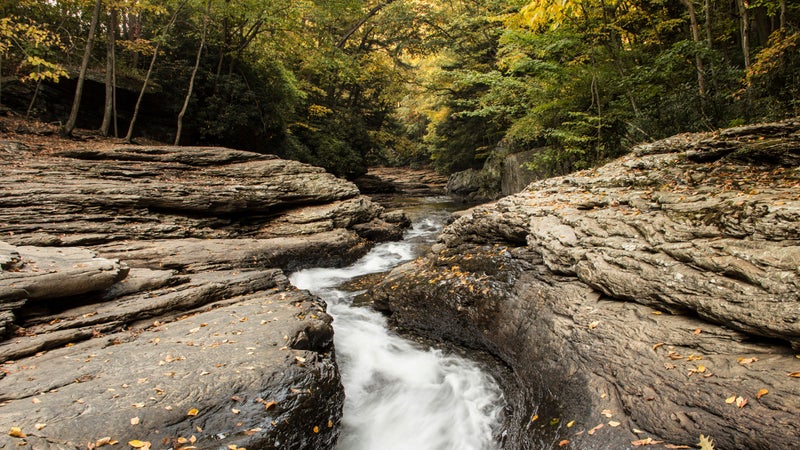 Ohiopyle State Park
Pennsylvania has a lot of parks, but none exhibit the same combination of size and recreational diversity as Ohiopyle State Park. With more than 25 miles of mountain bike trails in its 20,000 acres and high-quality whitewater on the Youghiogheny River (including a set of falls you can drop during a few weeks out of the year), there's no shortage of adrenaline-inducing activities. Slip down natural water slides, view the deepest gorge in Pennsylvania from Baughman Rocks, and explore rare plants and fossils on the Ferncliff Peninsula, which has a distinctly mild and humid microclimate. Spend the night under the stars at Kentuck Campground, or hit the Laurel Highlands Hiking Trail, a 70-mile trail accessible year-round for backpacking.
Rhode Island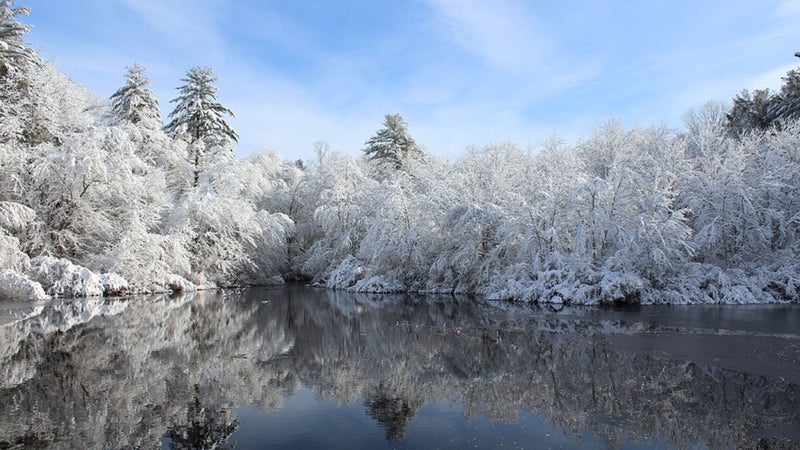 Arcadia Management Area
Rhode Island's largest recreation area, the 14,000-acre Arcadia Management Area proffers more than a dozen hiking trails, tons of bouldering, and 40 miles of technical singletrack for mountain bikers. It also features swimming, some of the state's best freshwater fishing, and the Wood River, which has Class I–II whitewater suitable for both kayakers and canoeists. All tuckered out? There are walk-in campsites where you can pop up a tent away from civilization.
South Carolina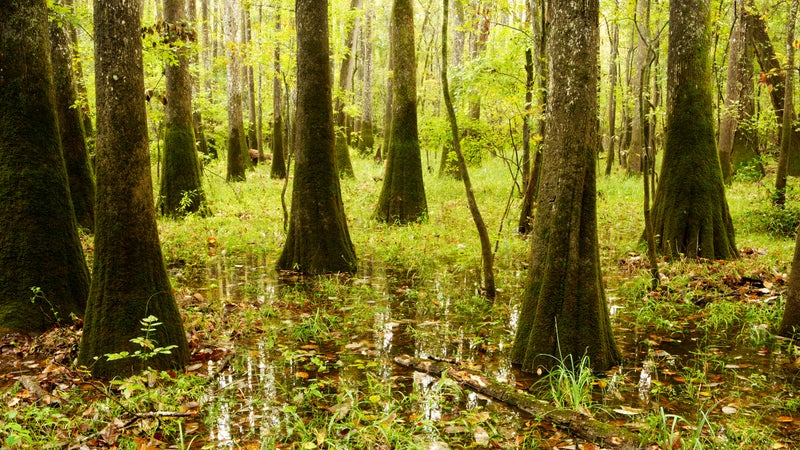 Congaree National Park
Part of the Congaree International Biosphere Reserve (a UNESCO designation granted to areas of exceptional biodiversity, natural resources, and cultural heritage), central South Carolina's Congaree National Park features the largest intact expanse of old-growth bottomland hardwood forest remaining in the southeastern United States. Hikes through the floodplain forestland range from less than a mile, like the boardwalk loop, to more than ten miles. Backcountry camping is accessible on foot or by paddle. Hit the Congaree River Blue Trail, a 50-mile designated recreational paddling trail that reaches downstream all the way from Columbia.
South Dakota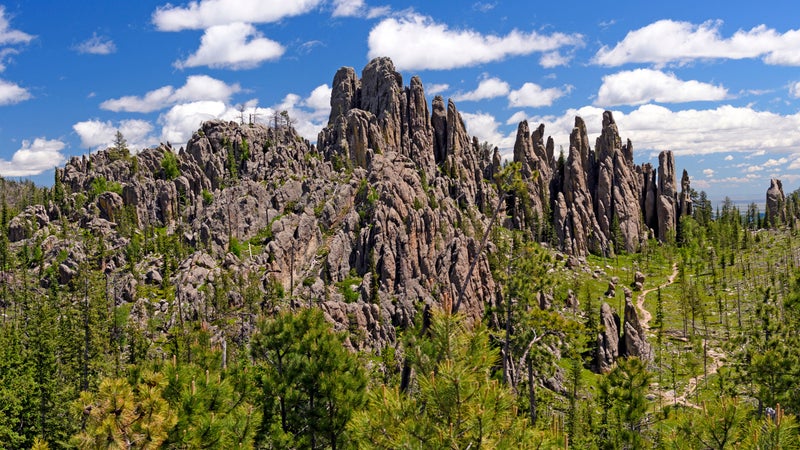 Custer State Park
When in South Dakota, head for the Black Hills. Custer State Park's 71,000 acres boast more than 500 climbing routes, miles of trails for hiking and mountain biking, and Sylvan Lake, a picturesque destination for swimming and paddle boarding beneath granite crags. The area is also known for its abundance of wildlife: birds, bison, and trout all flourish. You'll find nine campgrounds as well as primitive camping in French Creek Natural Area, a sheer gorge surrounded by 2,200 acres of undeveloped pine and hardwood forestland.
Tennessee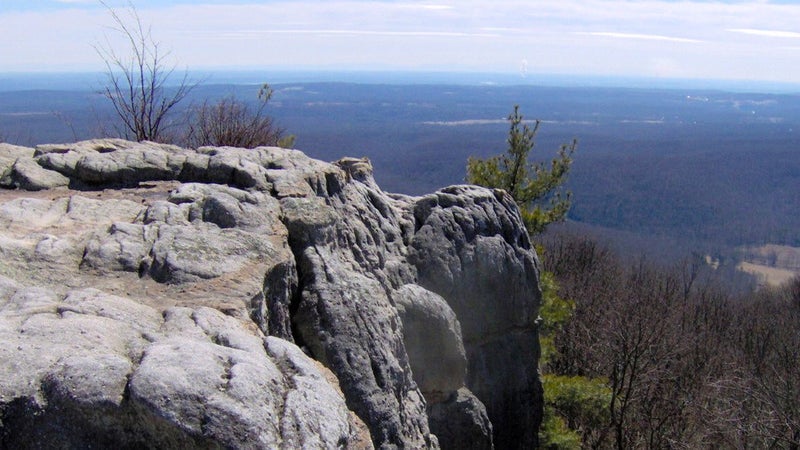 Justin P. Wilson Cumberland Trail State Park
Perched atop the eastern Cumberland Mountains in southern Tennessee, the linear Justin P. Wilson Cumberland Trail State Park follows the trail of the same name from the Cumberland Gap to Signal Point, near Chattanooga. It encompasses more than 210 miles of trail and adjacent lands (and it's growing!), with access to vistas, waterfalls, and deep gorges. Laurel-Snow State Natural Area and Black Mountain are popular sections for day hiking and climbing, while backpackers can reach remote campsites along the length of the trail. The 31,500-acre Cumberland Trail Park intersects three NPS territories, including the Obed Wild and Scenic River, three major wildlife zones, and six locally managed natural regions, for a combined total of more than 330,000 acres of public lands.
Texas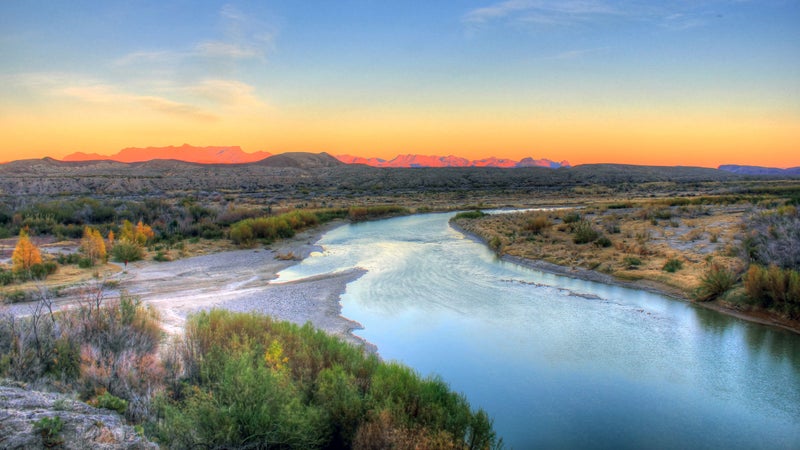 Big Bend National Park
Big Bend National Park doesn't get nearly the same visitation numbers as other parks in the system, perhaps due to its out-of-the-way location on the Mexico border, hours from the nearest major city. However, the park's main attractions are jaw-dropping. Follow the Rio Grande back into the quiet depths of Santa Elena Canyon, and hike through fields of fragrant wildflowers while gazing up at towering red rock formations like Mule Ears. Bring a boat to float the Rio Grande, and toss your passport into your backpack—you can cross the international border to visit the Mexican town of Boquillas by ferry or walk across when the water level is low enough. During peak periods, escape into mountainous backcountry to backpack, or just post up at designated primitive car-camping sites, which are removed from the lion's share of park traffic. End a long day in the Chihuahuan Desert Biosphere Reserve with a stroll down a pictograph-covered trail to take a dip at the hot springs under starry skies.
Utah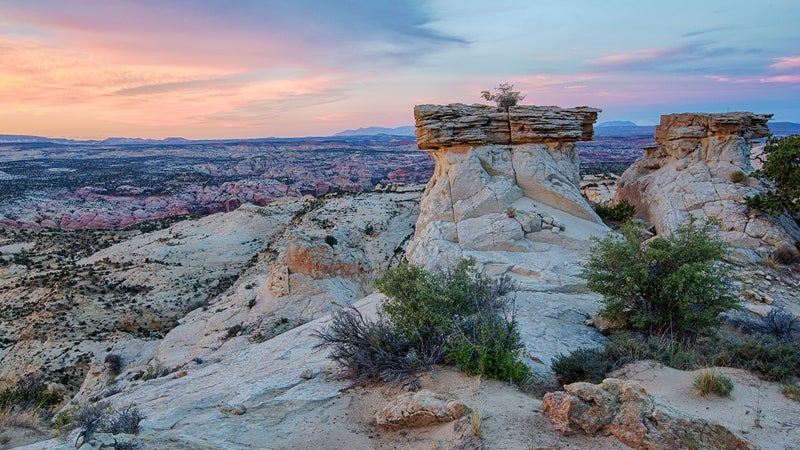 Grand Staircase-Escalante National Monument
Skip the queues at the darlings of Utah's park system—Arches, Bryce Canyon, Canyonlands, Capitol Reef, and Zion—in lieu of Grand Staircase-Escalante National Monument. While the Mighty 5's rocks are more famous (Delicate Arch, for example, or Bryce's otherworldly spires), you'll see many of the same types of formations at GSE. Get your fill of arches, bridges, hoodoos, and badlands as you hike, backpack, and camp the monument's 1 million-plus acres. Its namesake, a 200 million-year-old geological staircase, separates the park into a series of cliff plateaus and has the most extensive network of slot canyons in the country. More popular, though, is the less remote Escalante Canyons area in the east, where visitors will find slickrock and swimming holes, like the 130-foot Lower Calf Creek Falls.
Vermont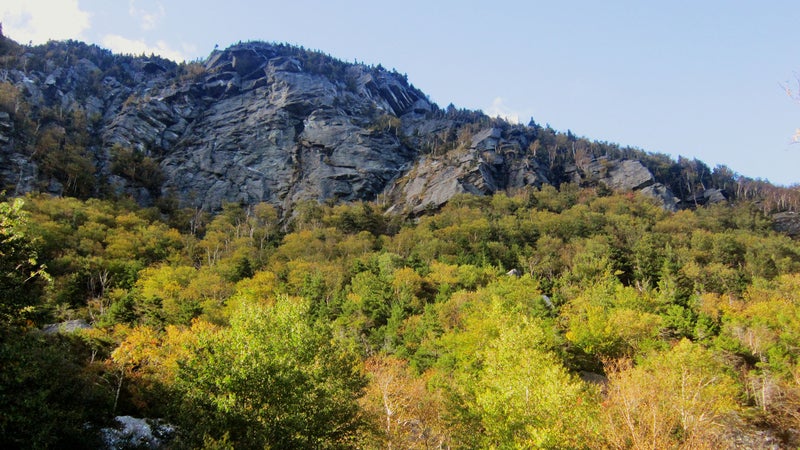 Smugglers' Notch State Park
Christened for a narrow, 1,000-foot-tall rift through the Green Mountains, Smugglers' Notch State Park feeds into the less dramatic but much larger Mount Mansfield State Forest. Its 40,000 acres have hiking—including the difficult climb up 4,400-foot Mount Mansfield, the state's highest point—as well as bouldering, ice climbing, caving, and mountain biking. The area is part of the greater Mount Mansfield Natural Area, a national landmark that features extensive alpine tundra and arctic plant life that's rare in the Northeast.
Virginia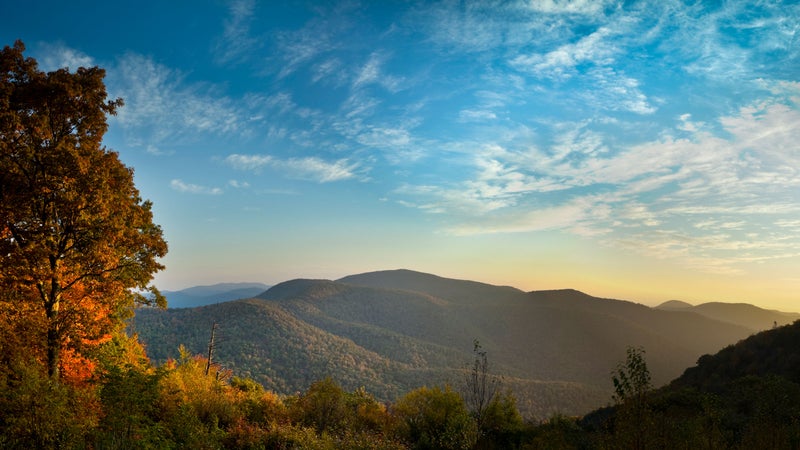 Shenandoah National Park
At 200,000 acres, Shenandoah National Park dwarfs all other parks in Virginia. Bike the 105-mile Skyline Drive, which traces the crest of the Blue Ridge Mountains through the park. Check out the area's renowned trad climbing and bouldering, or go fly-fishing on more than 70 streams. There are 196,000 acres of backcountry and wilderness, as well as 500-plus miles of trails leading through oak-hickory forest. When you get tired, pitch a tent at one of five campgrounds or in the backcountry.
Washington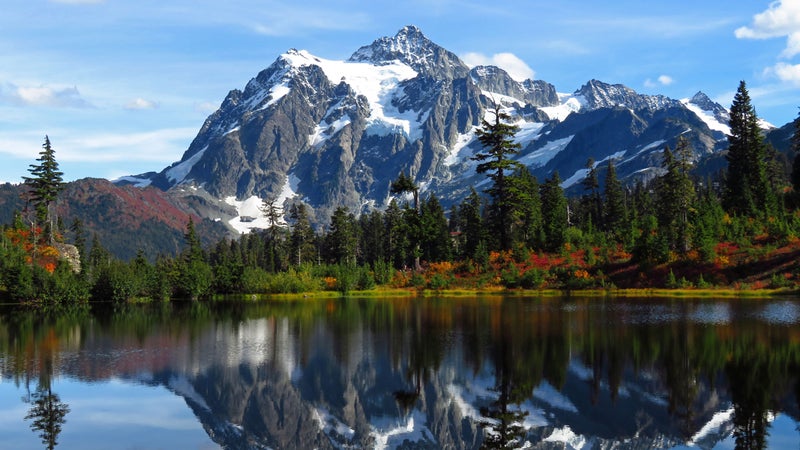 North Cascades National Park
North Cascades National Park is the most heavily glaciated area in the lower 48, with more than 300 glaciers in its arsenal. Its rugged terrain is home to elusive wildlife like lynx and wolverines, but people love it too. Find excellent backpacking, numerous long road-biking routes—there are even two bicycle-specific campsites: site A3 at Newhalem Creek Campground and site 115 at Colonial Creek South—and all types of climbing, from mountaineering to bouldering and sport climbing. Book boat-in or car-camping sites online if you don't want to carry everything on your back.
West Virginia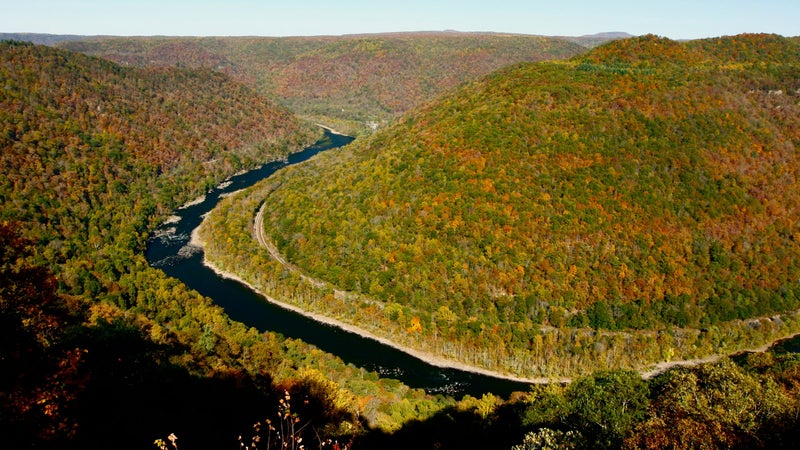 New River Gorge National River
New River Gorge National River is renowned for its whitewater, from the demanding Class III–V sections of the Lower Gorge to the canoe-friendly Class I rapids of the upper area. But the 70,000 acres of protected land adjacent to 53 miles of the New River are also optimal for land-based sports. There are 1,400-plus climbing routes, tons of options for mountain bikers, almost 100 miles of hiking trails, great fishing, and primitive campsites. Keep an eye out for wildlife like raptors, southern flying squirrels, kingfishers, and great blue herons.
Wisconsin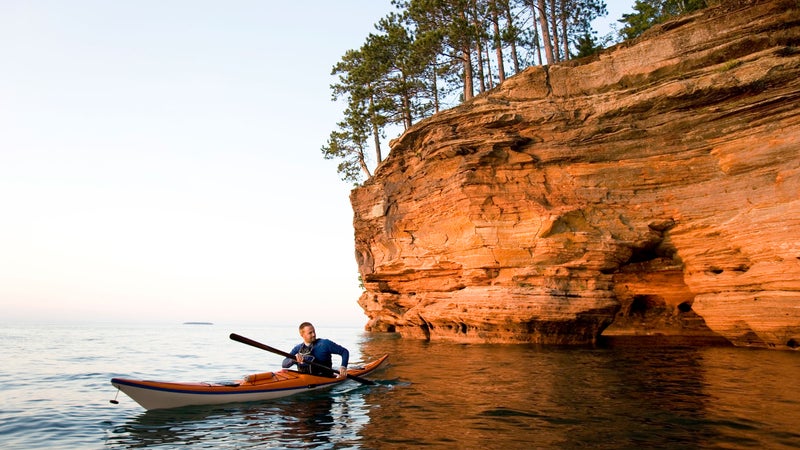 Apostle Islands National Lakeshore
Comprising 12 square miles of mainland and 21 islands, Apostle Islands National Lakeshore is home to 50 miles of maintained trails. In addition to striking sandstone cliffs and sandy beaches, the archipelago has rocky splashpools that support unique ecosystems and caves that ice over in winter, creating a walkable attraction when Lake Superior freezes (though access is sometimes restricted). View lighthouses and scenic vistas on foot or by boat, or go diving in Lake Superior. Camping is available on 19 of the Lakeshore's 21 islands and at one campsite on the mainland. You might see bears, beavers, red foxes, mink, and otters.
Wyoming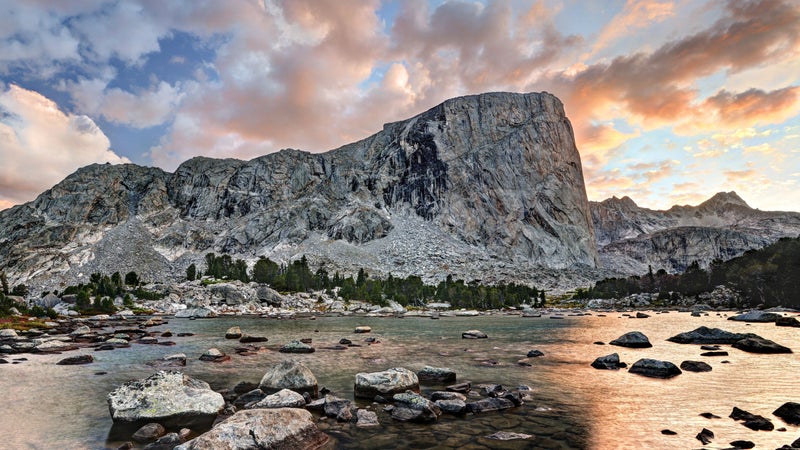 Bridger Wilderness Area
While the Tetons get millions of visitors, the Wind River Range, just southeast, is a wilder gem. Bridger Wilderness Area is truly spectacular, with more than 40 named peaks over 13,000 feet, including Gannett Peak (Wyoming's highest) and Gannett Glacier, the largest in the American Rockies. About 600 miles of trails crisscross the area, and while vehicles (including bikes) are not allowed in the wilderness zone, there's plenty of room to ride in the surrounding Bridger-Teton National Forest.
---
Editor's Note: We frequently update this parks guide, which was originally published on June 6, 2019.
Corrections:
(08/05/2021) A previous version of this story misstated the acreage of Voyageurs National Park. It is 218,000, not 84,000.
Lead Photo: Getty Images/iStockphoto