Best Winter Adventures
Five of our favorite trips.

Heading out the door? Read this article on the new Outside+ app available now on iOS devices for members! Download the app.
Route 1

Baja California, Mexico

Because it's one of the continent's wildest drives. Because the vast majority of the peninsula is still safe, despite a bad rap due to violence around Tijuana. Because there are whale sanctuaries on one side, 80 surf breaks on the other, and old mission towns across the middle. Baja's 1,000-mile Route 1 is the ultimate ten-day buddy trip, and not just for the tacos and cerveza. There are expat-friendly surf towns (Todos Santos), Joshua Tree–like desert villages (Cataviña), and kick-back beach oases like Mulegé, where you'll dive the reefs, sea-kayak, and catch your own ceviche. Fly into San Diego with a light beach-camping setup and get a shuttle or bus to the border. (A $25 tourist card is required; inquire at the airport.) In Tijuana, you can rent a Jeep from Alamo (alamotijuana.com) for about $575 per week; to drop the car in Cabo, you'll pay a $600 surcharge, but renting on the U.S. side costs more, and most companies don't allow you to drive all the way down. Buy Mexican liability insurance ahead of time from your insurer or credit-card company, be mindful of the 100-mile stretches without gas stations, and be thankful when you pitch your tent on one of the endless, crowd-free white beaches.
: South Island
New Zealand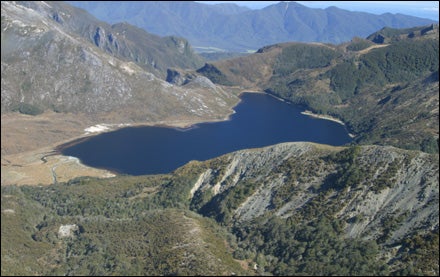 With all due respect to the North Island, it's the other one that makes us want to move here and never come back. No spot in the world rivals it for sheer variety of mountain/fjord/river/beach topography, from the lush Abel Tasman park to 12,349-foot Mount Cook, in the Southern Alps. All that plus an adventure-minded infrastructure—and populace—translates into multisport heaven. Up for a trek? Try Mount Aspiring National Park. Fly-fishing? The valleys around Mount Cook. Paddling? Fiordland National Park. As much as you can do in a week? Start by stationing yourself in the Marlborough Region for two nights at the homey Peppertree B&B (doubles from US$350; thepeppertree.co.nz) and set out on sea-kayaking jaunts in the labyrinthine Marlborough Sounds, followed by quaffs of the area's renowned sauvignon blancs. Then join Exclusively New Zealand on its Journey at the Edge trip, four days of heli- and plane-accessed biking, beach hiking, rafting, sea kayaking, and sailing in the Kahurangi/Abel Tasman region, with two nights in swell resorts and one night aboard the outfitter's 50-foot Beneteau yacht (from $6,400 per person with a group of two; exclusivelynz.com).
: Chamonix
France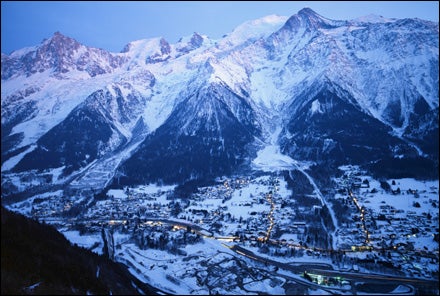 The birthplace of mountain sports, Chamonix hosted the first Winter Olympics, in 1924, is home to the world's longest ski run, the Vallée Blanche, and is not only the nexus of five resorts with massive drops of up to 9,000 feet but the epicenter of a cosmopolitan community of mountain­eers, ice climbers, downhill mountain bikers, paragliders, wingsuit fliers, and all manner of other action-sport maniacs. Although you might feel illiterate in up to a dozen languages, you'll feel welcome at the tiny restaurants and bars, where the action lasts until 4 A.M. if you want it to, at which point the croissants are already rolling out of the ovens next door. When the snow melts, Chamonix is also home to a Yosemite's worth of quality granite crags, most of which can be climbed in one day. To live like a proper Chamoniard, book the two-night High Mountain Discovery package at the Hameau Albert 1er hotel. This Relais & Châteaux lodge will send you with a guide on a full-day traverse of the Mer de Glace glacier and treat you to breakfast, dinner, and a 50-minute massage every day (from $890 per person; hameaualbert.fr/en).
: Aysen Glacier Trail
Patagonia, Chile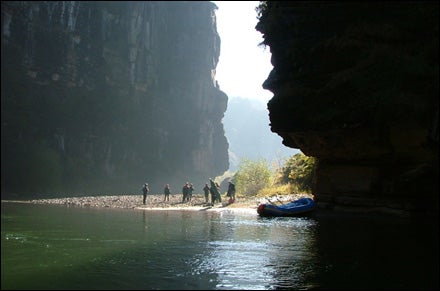 If you ever said you'd go to the end of the earth for someone, you might have meant Patagonia. Chilean Patagonia is like California 150 years ago, its rugged green mountains, silica-blue rivers, and icefields populated with mostly sheep, guanaco, and gauchos. Patagonia Adventure Expeditions operates its own trail on the east side of the Northern Ice Fields, taking you through old-growth lenga forests, past ice-strewn glacial lakes, and over the glaciers themselves. Their 14-day Ice-to-Ocean Adventure begins with the rugged ten-day trek around the Aysen Glacier Trail, camping on pre-stocked tent platforms, followed by a four-day float to the Pacific down the Río Baker, Chile's most voluminous river and the center of a hard-fought battle over a series of proposed dams ($3,800; adventurepatagonia.com).
: Ahwahnee Hotel
Yosemite National Park, California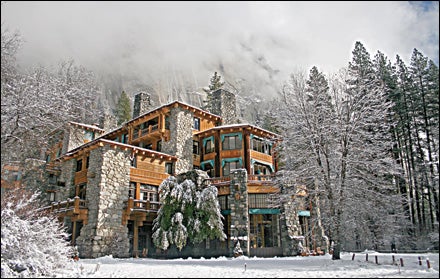 The classic wilderness lodge in the quint­essential national park, the 82-year-old Ahwahnee was originally part of an effort by Park Service czar Stephen Mather to attract moneyed benefactors and persuade them to preserve America's wildlands. During the summer months, when 98 percent of the park's 3.6 million visitors descend, the "wild" aspect tends to get lost, but not so during winter. That's when the rustic, Native American–themed hotel (whose red-columned lobby inspired the set designers for Stanley Kubrick's The Shining) is at its best. You need only these things: a good camera, for capturing majestic rock-and-ice tableaux; cross-country skis or snowshoes (Badger Pass ski area, 30 minutes away in the park, has 350 miles of nordic trails); and a desire to be treated like royalty. The building's Half Dome side offers the best views in winter, when a standard room with breakfast can be had for as low as $265. In November, splurge on the three-night Vintners' Holidays package (from $996), which includes wine-tasting seminars and dinners in the famously cavernous dining room (yosemitepark.com).
Trending on Outside Online