Book 'Em, Daddy-O
Eight great resorts on four islands with activities for all. Be there. Aloha.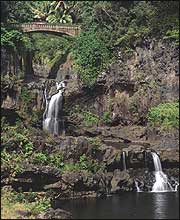 Heading out the door? Read this article on the new Outside+ app available now on iOS devices for members! Download the app.
On my family's first visit to the islands, we impulsively opted for the sampler tour: three days each on Oahu, Maui, Kauai, and Hawaii. Okay, the manic itinerary was my idea—my husband thinks I need a 12-step program for my gonzo, must-see-it-all travel jones. But it was a great way to lap up the islands' strikingly diverse landscapes, particularly great from the plush vantage point of Hawaii's royal-treatment resorts. At these highly evolved hostelries, the in-house spa might serve up morning yoga by the lagoon, and the hang-gliding-instructor-cum-concierge will point you toward a flotilla of kayaks. But the sine qua nons are the kids' adventure camps, which keep topping themselves with boogie-boarding lessons, caving expeditions, hikes to ancient petroglyphs, and rides on outrigger canoes. Getting our three boys (ages seven, five, and two) to let go of the camp counselors at the end of the day was like negotiating the Florida ballot count. We all found it hard not to be lulled into a resort-fog (that state of advanced this-is-the-life bliss), but there are fantastic places on each island to explore with your kids (see our "Must-See" sections). We even managed without any help from the concierge, really.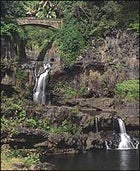 HAWAII



Best Bet: ORCHID AT MAUNA LANI

Retracing Thor Heyerdahl's incredible journey, navigating by the stars all the way to Tahiti: priceless. But for $95, chargable to probably any old credit card if you're staying at The Orchid at Mauna Lani, you can bring the kids and recreate a few hours aboard the Flying Manta Ray, a traditional Hawaiian sailing canoe. Little campers at the Orchid at Mauna Lani get to swim in a secret pond where kings and queens once swam. Also way cool is hiking through ancient shelter caves to find petroglyphs carved into the lava by Polynesian explorers (the guys Heyerdahl was so crazy about) centuries ago. Admirably eco-sensitive, the camp makes a point of teaching kids how they can help preserve Hawaii's coral reefs.


Nuts and bolts: room-and-car package from $350 per night; second room for the kids only, $10 a night; full day at the Orchid's Keiki program for kids ages 5-12, $50, including lunch; half-day, $35. Contact 800-845-9905, www.orchid-maunalani.com.


Runner-Up: ASTON KEAUHOU BEACH RESORT

Though this condo complex doesn't have a formal children's program, it does sponsor activities relating to the Big Island's rich cultural and geological granddaddy-of-the-Hawaiian-chain history. There's the usual snorkeling and scouting for sea turtles. But kids also get to pretend they're real Hawaiian kings, playing make-believe in the actual summer cottage of King Kalakaua on the resort's grounds, and fishing in his ancient fishing ponds. Activities are free for kids and adults (children who are old enough can participate on their own). Nuts and bolts: doubles from $185. Contact 800-922-7866, www.aston-hotels.com.


Must-See HAWAII

Meet Kilauea, in Hawaii Volcanoes National Park, the most active volcano on the planet. Hawaii Forest and Trail's Volcanoes Adventure (adults $145, children 5-12 $99, kids 4 and under are free; 800-464-1993, www.hawaii-forest.com) will make the introductions. Clamp on headlamps and venture into the dank recesses of the Thurston Lava Tube. Peer into the Halema'uma'u fire pit, a lake of molten lava in the volcano's caldera (whose rocky crust belies the churning lava beneath). Then hike down Kilauea's flanks, along the rift zones that periodically spew giant boulders, tons of cinders, and rivers of lava that can flow as fast as 35 mph en route to the sea. There—get your cameras out—the explosive result is an inferno of sulfurous steam, smoke, and fiery lava.
OAHU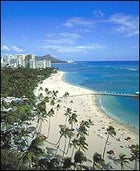 Best Bet: SHERATON MOANA SURFRIDER

A daily dozen wedding parties and throngs of Waikiki pedestrians shuttle through the doors of the Sheraton Moana Surfrider, but grit your teeth and check in anyway. The old part of this hotel, the original Moana, beautifully restored and renamed the Banyan Wing, was the home of the classic radio show Hawaii Calls. From 1935 to 1975, songs of tropical moonlit nights, the swish of ball gowns, and the rhythmic crash of the surf lured mainlanders to the islands. (My own mom remembers it dreamily.) This is the classic Waikiki resort, with an Ivy League children's program to match: field trips to the Honolulu Zoo and that mother lode of Polynesian anthropology, the Bishop Museum; kite building and flying; catamaran sailing; boogie boarding and snorkeling; and a children's high tea. (All activities are based at the Sheraton Waikiki, Moana's sister resort).


Nuts and bolts: doubles from $260; Keiki Aloha program $31 all day, $21 half-day, lunch $6.50, and dinner $12. Contact 800-325-3535, www.sheraton.com.
Runner-Up: OUTRIGGER REEF ON THE BEACH

Is your kid a budding Steven Spielberg? The Outrigger Reef on the Beach, also surfside in frenetic Waikiki, has a children's program that takes kids to Kualoa Ranch, where they can explore the sets where Jurassic Park and George of the Jungle were filmed. There's a giant catfish pond (that I don't recall from either film) where they can practice catch-and-release fishing. Another genuine high point for 5- to 13-year-olds in the Cowabunga Kids Club is the hike up Diamond Head crater to the cinematic view that the early Hawaiians must have enjoyed while they performed a little human sacrifice (yup, true).


Nuts and bolts: doubles from $220; a full day of the Cowabunga Kids Club with lunch, $50. Contact 800-688-7444.


Must-See

Watch Endless Summer before you go, and your family will dream of emerging from the perfect curl with lace-white foam showering the tail of a well-patched longboard. Even beginners can learn to walk on water on the legendary North Shore. Head to Haleiwa, where North Shore Eco-Surf Tours (808-638-9503, www.ecosurf-hawaii.com) offers two-hour surfing lessons for $65 per person (kids must be six or older) and guided walking/surfing tours of famous surf sites. After class, take your sore muscles to Sunset Beach to watch the world's best try to conquer the monster sets.
KAUIA

Best Bet: HYATT REGENCY KAUAI

At the Hyatt Regency Kauai Resort and Spa, built in an open-air plantation style, the varnished-wood buildings are separated from the beach by a massive, three-tiered, watery never-never land. There are grottoes tucked behind waterfalls, saltwater lagoons with wading areas for toddlers, and a 150-foot water slide that looks like it's carved from black lava. When your kids get restless just slippin' and slidin', they can be Indiana Jones for a day, learning the fundamentals of archaeological excavation at two sites on the resort grounds. Camp Hyatt, for ages 3–12, has its own latter-day Marlin Perkins, a staff wildlife expert who introduces campers to native Hawaiian species, plus the Hyatt's own coterie of colorful parrots. Then there's tidepool exploring plus trekking along the dunes where they might spot rare monk seals and green sea turtles. After camp lets out, you can all hit the beach—the waves here on Poipu are perfect for boogie boarding and bodysurfing. Nuts and bolts: doubles from $355; Camp Hyatt costs $45 including lunch and T-shirt. Contact 800-742-2353, www.kauai-hyatt.com.


Runner-Up: KIAHUNA PLANTATION

In the low-key children's program at the Kiahuna Plantation, kids can go native, gathering hibiscus and lilies from the botanical gardens on the grounds to make traditional Hawaiian crafts. Then they'll learn to cast like a pro, using their own handmade bamboo fishing poles. Nuts and bolts: doubles from $199; full day at the kids' camp costs $35, including lunch; half-day, $20. Contact 800-688-7444; www.outrigger.com.


Must-See

Take advantage of Kauai's fluted Na Pali Coast—perhaps the most stunning 22 miles on earth. Walk along the high pali (cliffs), dipping into lush valleys on the Kalalau Trail. You start at Kee Beach with a strenuous climb up loose rock that can be slippery when wet. Hike at least the first half-mile for a spectacular view of fluorescent-green, crenulated bluffs. It's another mile and a half to hidden Hanakapiai Beach—great for picnicking, but unsafe for swimming. Cool off on your return to Kee Beach, where calm seas and a shallow reef make for superb snorkeling for little tykes.
MAUI

MAUI



Best Bet: FOUR SEASONS RESORT MAUI

From the minute you set foot in your room at the Four Seasons Resort Maui at Wailea, you'll realize this is how Princess Di must have traveled with her kids. If you've ordered a crib, it will come occupied by a stuffed donkey (packs of wild donkeys still roam the lava flows on the Big Island). Arrayed around the edge of the tub in the sumptuous marble master bath (the size of my living room at home), you'll find brightly colored sponge letters spelling out the names of each of your children. Then there are welcome baskets for each child, and most important, the week's schedule at Kids for all Seasons. Your pixie pyrotechnics experts will adore erupting sand volcanoes under close staff supervision, swimming in the pool of Tarzan's dreams, and catching lizards and watching whales breach on the daily camp hikes. Did you forget anything— diapers, stroller, car seat, children's videos? Relax. The concierge is falling all over himself to be your personal 7-Eleven.
Nuts and bolts: doubles from $310; Kids for all Seasons camp for ages 5-12 is complimentary; kids' lunches ordered from room service and added to your bill at checkout. Contact 808-874-8000, www.fourseasons.com.


Runner-Up: NAPILI KAI BEACH RESORT

Looking for a little less pampering and a little more laid-back attitude? Napili Kai Beach Resort, a classic beach hideaway, has great Hawaiian character on one of the best swimming and snorkeling bays on Maui. Your kids won't be overstimulated, but they'll have a blast going nose-to-nose with the reef wildlife and practicing to be the ball like Tiger Woods on the children's putting course.


Nuts and bolts: doubles from $185; complimentary Keiki Club for kids ages 6-12. Contact 800-367-5030, www.napilikai.com.


Must-See

After bundling up to catch the sunrise on the rim of Haleakala's lunarlike crater, either hike or ride horseback to the eerily still valley floor studded with towering cinder cones. Check on weather conditions (808-871-5054) before you roll out of bed at 3 a.m.; a drizzly day will rob you of the slow symphony of colors you'd otherwise see beginning half an hour before the actual sunrise. Park rangers (808-572-9306) offer two-hour guided hikes starting at 9 a.m. on Tuesdays and Fridays. Pony Express (808-667-2200) leads half- and full-day horseback rides, novices welcome, for $145-$180 per person, including lunch (children must be ten or older and have some experience).