Beat Streets
Stash the skis and bust out the sequined thongs—it's Carnival time in the tropics. Seaside adventure and rum-fueled hedonism await.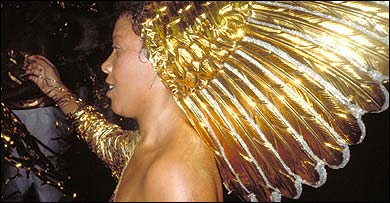 Heading out the door? Read this article on the new Outside+ app available now on iOS devices for members! Download the app.
Trinidad and Tobago
Language: English • Music: Calypso
Get Down: Join tens of thousands of revelers in Port-of-Spain, where after-hours on February 6 brings J'Ouvert, in which men and women in devil outfits smear each other with mud and oil. For the next two days, parade through the streets with costumed bands. Get Dirty: Catch the 15-minute flight to Crown Point and mountain-bike along seaside singletrack. Sleep: Base at the Coblentz Inn Boutique Hotel, a five-minute stroll from the parades.
Access & Resources
Flights from Port-of-Spain to Crown Point on BWIA cost $35; 800-538-2942, www.bwee.com. Mountain Biking Tobago charges $40 per person for guided tours; 868-639-9709, www.mountainbikingtobago.com. Coblentz Inn Boutique Hotel: doubles, $120; 868-621-0541, www.coblentzinn.com.

Guadeloupe
Language: French • Music: Zouk
Get Down: These isles kick off the festivities with a nationwide pajama party in early February. Things peak in the capital of Basse Terre on February 9, when thousands in wolf costumes lead a processional to the beach for a Burning Man–like torching of wooden Carnival kings. Get Dirty: Scuba-dive in Jacques Cousteau Underwater Park. Sleep: Rent a mountain suite with ocean views at Domaine de Malendure, 45 minutes by taxi from Basse Terre.
Access & Resources
Dive with CIP Guadeloupe, $47 per person; 011-590-590-988-172, www.cip-guadeloupe.com. Domaine de Malendure: doubles, $170; 011-590-590-989-212.

Salvador da Bahia, Brazil
Language: Portuguese • Music: AXÉ
Get Down: From February 3 to 8, some two million swingers turn this colonial beach town into a raucous rave. Seek out the rumblings of Afro blocos, enormous drum troupes pounding out soulful rhythms in the Pelourinho District. Get Dirty: Take a 40-minute flight to Ilhéus, portal to Brazil's wild Itacaré region, and raft the Class III Rio de Contas. Sleep: Stay at Hotel Redfish, a groovy guesthouse/art gallery in Salvador's historical center.
Access & Resources
Ilhéus flights on Varig Brazilian Airlines cost $99 one way; 800- 468-2744, www.varigbrasil.com. Run the Contas with Sul da Bahia, $26 per person; 011-55-73-251-3142, www.suldabahia.com.br. Hotel Redfish: doubles, from $80; 011-55-71-243-8473, www.hotelredfish.com.

Dominican Republic
Language: Spanish • Music: Merengue
Get Down: Here the celebration lasts throughout February, climaxing on the 27th—the nation's independence day—in the valley town of La Vega, where locals don grotesque demon masks featuring bull horns and dog teeth, then march between the two main parks as the beats blast. Get Dirty: Slip and slide on a canyoneering adventure. Sleep: Natura Cabañas, on the popular north coast, is a blissfully lazy resort and spa.
Access & Resources
Canyoneering with Iguana Mama, $85–$100 per person; 800-849-4720, www.iguanamama.com. Natura Cabañas: doubles, $140; 809-571-1507, www.naturacabana.com.