Get Some Wows with Your Vows
Dreamy spots in the U.S., Mexico, and the Caribbean to tie the knot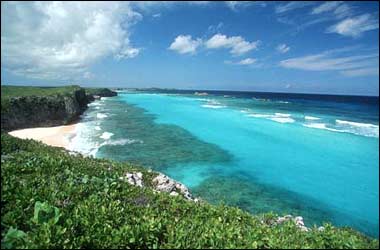 Heading out the door? Read this article on the new Outside+ app available now on iOS devices for members! Download the app.
TURKS AND CAICOS
PEACEFUL AND PRIVATE

Even celebs vie for reservations at Parrot Cay, a 1,000-acre private-island resort in the Turks and Caicos that specializes in weddings for no more than eight guests. Exchange rings at the end of a boardwalk leading to the sea or in a tiki hut overlooking an empty white-sand beach.
POST-VOWS: Start your journey together in one of the resort's canoes-you're a team now-or go deep-sea fishing for wahoo, mahi-mahi, and tuna. Then retire to your airy villa, with a four-poster bed, surrounded by gardens of sea hibiscus and frangipani. Later, take a yoga class for two or splurge on a couple's massage at the Como Shambhala retreat center.
WEDDING PLANNER: To marry in Turks and Caicos, you must submit an application, birth certificates, passports, immigration slips, and affidavits proving that neither groom nor bride has been married (or a copy of the divorce decree).
Doubles from $390; 877-754-0726, www.parrot-cay.com
Baja: Romantic Mexican Paradise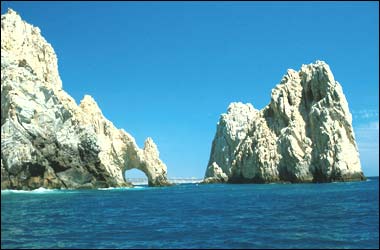 BAJA
ROMANTIC MEXICAN PARADISE

Whether you want to seal the deal on the beach, atop a white stallion, or on a yacht as the sun sets over the Pacific, Las Ventanas al Paraíso has you covered. This 61-suite Los Cabos resort specializes in all things love, from the spa's bride treatment-a bath, honey wrap, massage, facial, and manicure-to candlelit dinners on the beach.
POST-VOWS: Horseback-ride trails with sea views or take a surf lesson. Rejuvenate with a massage in your suite, with its inlaid pebble headboards and paintings by local artists.
WEDDING PLANNER: In addition to passports and birth certificates, you'll need a blood test to ensure you aren't related.
Doubles from $450; 011-52-624-144-2800, www.lasventanas.com
Lake Michigan: Great Lakes Grandeur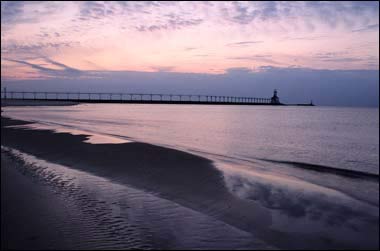 LAKE MICHIGAN
Great Lakes Grandeur

Say your "I do's" on Lighthouse Point's 13 waterfront acres as the setting sun illuminates the St. Helena Lighthouse, on northern Michigan's Straits of Mackinac. There's only one wedding each weekend-with room for up to 30 guests to stay at Lighthouse Point-so you'll have the inn's pines and cedars, perennial gardens, and expansive lawns all to yourselves.
POST-VOWS: Explore the Sturgeon and Pine rivers by canoe, or bike nearby on car-free Mackinac Island. You and your closest kin will have four cozy cabins, with cedar interiors and rustic wood-and-leather furniture, to return to.
WEDDING PLANNER: A three-day rental of the property costs $6,000. Lighthouse Point can help you arrange catering, flowers, and music.
906-643-8621, www.lighthousepte.com
Maine: Down-Home New England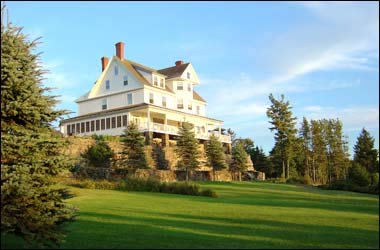 MAINE
DOWN-HOME NEW ENGLAND


Everything about Blair Hill Inn, an eight-room 1891 mansion-turned-country-inn, feels like home, from the innkeepers' snapdragons to the smoked-shrimp-and-Brie omelette. Get hitched in the gardens in summer, then feast on grilled lobster flown in from the coast in the turn-of-the-century carriage barn.
POST-VOWS: Your married adventure begins in a bountiful region: Kayak Moosehead Lake or Prong Pond, raft the Penobscot or Kennebec rivers, or hike to the summit of 5,268-foot Mount Katahdin, the state's highest point. At the end of the day, you'll find respite in the Jacuzzi, a lake-view rocking chair, or your suite, with a mahogany bed and wood-burning fireplace.
WEDDING PLANNER: Blair Hill Inn's wedding fees vary from $500 to $2,000, for ten to 150 people, and receptions start at $40 per person.
Doubles, $250-$425; 207-695-0224, www.blairhill.com
Hawaii: Land of Lanai
HAWAII
LAND OF LANAI

Blissfully undeveloped Lanai will sweep you and your betrothed away with its unrefined beauty. In the central highlands of the rugged 141-square-mile island is the Lodge at Koele, a secluded 102-room hotel. Tie the knot on a lava cliff hundreds of feet above the surf or on a golden beach.
POST-VOWS: Rent a mountain bike on-site and ride seven miles to the Garden of the Gods. Or hoof it on horseback along the Paniolo Trail, which runs through old ranchland that is home to deer, quail, and wild turkeys, not to mention panoramic views. When you return, the luxuries of Koele await you: fresh-squeezed pineapple juice, feather pillows on four-poster beds, and an orchid house to explore.
WEDDING PLANNER: The Lodge at Koele has its own planners, who can arrange everything from the service to the cake.
Doubles from $400; 800-450-3704, www.lodgeatkoele.com
Straight from the Spouse's Mouth
A bride offers five tips to wed by
Destination weddings-nuptials that hit the road instead of being bound to home turf-are an increasingly popular option for travel-hungry brides and grooms. They now account for 10 percent of U.S. weddings, having doubled in the past decade to 230,000 ceremonies annually. Detailed planning is key to pulling off a faraway ceremony, so keep these tips, culled from personal experience, in mind:
FIND YOUR INNER TRAVEL AGENT You have to play the part to ensure that everybody arrives happy. We began by sending a thorough e-mail that included directions, airport recommendations, other travel info, things to do, and a map.
KNOW THE MARRIAGE LAWS Research the details well in advance. Marriage laws vary by state (and country) and are all listed at www.usmarriagelaws.com, with international links. We got our marriage license after answering a few questions at the county clerk's office-including "Are you related?"-and forking over ten bucks. You may need to arrive at your destination early to take care of the paperwork.
MAKE A PRE-WEDDING VISIT Really. A preview is absolutely necessary, even if your best friend raves about the place. Web sites and phone calls tell only part of the story. During our visit to Dunton, we were able to walk through the event to see how everything would go, and then make adjustments.
ASK DETAILED QUESTIONS ABOUT CHARGES Even the best places may have unexpected fees, like wine-corkage charges. Request an estimate and even a sample bill from a recent wedding. You might ask, "Are there going to be any surprises on my bill when this is through?"
ONCE IT STARTS, JUST HAVE FUN When you arrive, nothing else should matter-you are officially done working. Whatever happens, happens; just roll along and have a blast!