Life is Way, Way More than a Beach
Destinations Special: Wild Caribbean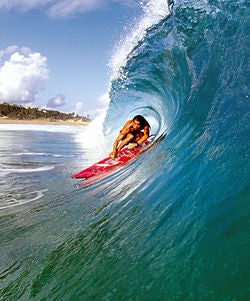 Heading out the door? Read this article on the new Outside+ app available now on iOS devices for members! Download the app.
Okay, so you've mastered the art of doing absolutely nothing but soaking up the rays, ordered up just one more piña colada, and achieved beached-whale nirvana. Then what? How about one of these seven full-tilt and sublime adventures (plus several more bold diversions) to inject a jolt of adrenaline into your next Caribbean idyll? Because even paradise needs an edge.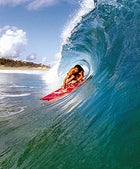 Recharge: pulling into a tube at Salsipuedes beach near Isabela, Puerto Rico
BAHAMAS
PUERTO RICO
HONDURAS
DOMINICAN REPUBLIC
GRENADINES
DOMINICA
VENEZUELA
ISLAND HOPS
Bahamas
Nothing but Blue Seas Below

Paddling to remote Exuma Cays Land and Sea Park
THERE ARE TWO imperatives for a successful trip to the Exumas, a mostly uninhabited, 120-mile-long archipelago that stretches in a narrow crescent from southeast of Nassau in the Bahamas to the Tropic of Cancer. First, while in George Town, the capital, stop in to see the Shark Lady, aka Gloria Patience, a legendary septuagenarian who earned her nickname—not to mention an audience with Queen Elizabeth II—by hunting down some 1,500 sharks around Great Exuma Island over her lifetime. Second, ignore her on the subject of sea kayaking, because she doesn't realize she lives in the best damn place in the Caribbean for paddling.
Here in the Exumas, the sea is like Bombay Sapphire in a bottle—a perfect blue lens for a paddler's up-close perspective, magnifying yellow coral heads, purple sea fans, and tropical fish aplenty. The 88-degree, unpolluted water offers world-class snorkeling, and there are no fewer than 365 cays to explore. "Most classic sea-kayaking trips—Baja, the Honduran Bay Islands—follow a coastline," says sea-kayak outfitter Bardy Jones of New York–based Ibis Tours. "In Exuma, you're tiptoeing across a string of islands. You can look to the left and look to the right and see wide-open ocean. It's kind of intimidating, and it's seriously remote."
If you have at least a week and you arrive during the spring, hop a 25-minute charter flight from George Town to Exuma Cays Land and Sea Park near the northern Exuma port town of Staniel Cay, where two outfitters have been guiding weeklong, 50-mile trips in the park by sea kayak for more than a decade. Established in 1958, the 176-square-mile park is a no-take (i.e. no-fishing) zone that serves as a nursery for grouper, conch, and lobster. Miniscule cays spring up everywhere, home to the white-tailed tropicbird—a smallish bird endowed with a spectacular, three-foot-long white streamer—and the faded ruins of British loyalist plantations.
If you have less than a week, sign up as I did with Starfish, the only Exuma-based outfitter, in George Town. For two days I explored the red mangrove colonies and bonefish flats of the nearly deserted south side of Great Exuma with a taciturn Dutch guide, Valentijn Hoff, and his younger Bahamian sidekick, Philip Smith, who entertained us with his granny's bush-medicine wisdom: The "juice" from a ghost crab kills an earache, tea from the "strongback" plant increases male virility, and sniffing crushed orange peel dispels seasickness. After a short hike around 18th-century limestone ruins on rocky Crab Cay, we camped on the sand of an unnamed barrier island, uninhabited but for a ravenous air force of mosquitoes and no-see-ums.
But the trip's standout hour came the next morning. As we coasted back toward George Town, the hot sun splintered through the turquoise sea, casting a brilliant net that scrolled across the white-sand floor—picture an enormous David Hockney pool. Then, from just beyond my right paddle, came a sudden, loud outbreath. Three dolphins leaped among our bright plastic hulls for a moment and then vanished.
Access + Resources
Whether you arrive in Exuma during the dry season, from December to May, or the wet from June to October, which averages six to nine inches rainfall per month, it's easy to locate an ocean-worthy kayak and all the gear you need to set out to sea.
GETTING OUTFITTED: Starfish (877-398-6222; www.kayakbahamas.com) runs trips around the coast and barrier islands of Great Exuma and Little Exuma for $45 (half-day) to $75 (full day) per person year-round; overnight trips, like the 12-mile route I did, cost $150 per person per day for the first two days, and $100 per night for every night after that. If you want to go it on your own, Starfish rents touring kayaks ($30 per day for singles, $40 for doubles) as well as Hobie Wave sailboats ($50 for a half-day), tents, and other camping gear. March through May, Ibis Tours (800-525-9411; www.ibistours.com) runs eight-day trips in Exuma Cays Land and Sea Park (www.exumapark.com) in the northern half of the archipelago for $1,595 per person, including charter airfare from Nassau.
GETTING THERE: American Airlines (800-433-7300) flies from New York to Nassau for about $420 round-trip, $360 from Atlanta. Charter airfare from Nassau is included in outfitters' package prices; or, if you're traveling on your own, ask at your hotel or the local marina for information on the many private planes that can fly you to Staniel Cay for about $250 one-way.
LODGING: George Town's Peace & Plenty (800-525-2210; www.peaceandplenty.com) is the small town's clubby social hub. Doubles start at $175.
Puerto Rico
Riders on the Perfect Storm

Tough commute: heading out to a break on Puerto Rico's west coast
IF YOU HAPPEN to reach for your sheet one night in your cabina in Rincón, Puerto Rico, you'll know the cold front has arrived. No worries: By the time the big lows that rumble out of the Arctic and fling nor'easters at the whole eastern seaboard hit Puerto Rico, they're feeble, welcome whiffs of free AC. But before you snuggle under your sheet and drift back to sleep, listen close—feel—for the detonations, because cold fronts bring good tidings. Far out in the dark, thundering like a thousand derailing boxcars, is just what you came for, and at dawn, you'll have your proof: Pools Beach submerged, seawater raging up into the dry streambed, and the surf…humongous.
If it's early in your trip, congratulations—you've won the raffle! The swell will last three or four days at least. And now you've got a ton of good options. (As for your surf-swell lotto odds, they're excellent in February, good for March, but dicey after April Fools' Day.) There's surf on the whole north coast of Puerto Rico, from San Juan to the Punta Borinquén corner, and more along the west coast south to Rincón. In fact, the northwest corner of the island is Oahu's North Shore writ small—OK, miniature—but also minus the ego wars and the raging King Kamehameha Highway.
Start by heading to Tres Palmas, less than five minutes by car from Rincón, and the island's biggest wave. A deep-water reef and a thousand-mile stare across the Puerto Rico Trench mean you see the real fist-prints of the storm from here. To the south it's all channel, and an easy, if tense and longish, paddle out to the breakers. But unless you're a badass—and even if you are—beware of Tres Palmas: The sneaker sets are sneakier than you are, and even on a ten-foot day (the minimum for Tres), there'll likely be a 15-foot set with your name on it.
For a base of operations, it's hard to top that cabina in Rincón, the Capital de Surf on the island's west end, which has all the amenities of a small resort town tweaked for its surfista clientele. It's Gringolandia, fer sure, but you can rent anything from a Ted Kaczynski cabin under a palm tree to a villa in the lush hills and be within walking distance of dozens of breaks. Rincón is the most bike- and pedestrian-friendly surf destination I know, and the unofficial capital of the Capital, Calypso Bar and Grill, sits within binocular range of Tres Palmas and boasts a commanding view of The Point, arguably PR's best point break. Restless? Take a quick 300-yard hike from Rincón along the tawny, tide-pool-bejeweled beach up to El Faro, a lighthouse atop a grassy bluff where the whale-watchers gather. From there, it's a quarter-mile or so up a rutted dirt road to Domes, site of a defunct nuclear apparatus and a sliver of beach whose first-rate right point has an inside-bowl section perfect for launching aerials. And don't neglect Spanish Wall, a few steps farther north, or Sandy Beach, just around another small point and anchored by its own pub, the Tamboo Tavern.
Meanwhile, a case for day trips can easily be made. Get up early to beat the gridlock in Aguadilla and drive 30 miles north of Rincón to Wilderness, a series of spacious reef breaks at the foot of the old Ramey military base golf course. With its rugged coast of tall causarina pines, Wildo is lovely. Or venture farther north to the less populous dunes around Jobos, or even remoter spots such as Shacks or Middles. Middles is said to be the best all-around wave on the island, an A-frame barrel on its signature days.
Still can't quite picture it? Allow me: It's the third day of a weeklong swell, and you're at the end of an afternoon session. You've been working your way north as the crowd thinned, moving from the overhead right and left peaks of Dogman's, over the shallow reef at Maria's for some tuck-in tubes, and now at twilight you're shading toward The Point itself with just a handful of surfers still out. The sun is slipping down behind Desecheo, the silhouette of the island looking like Captain Nemo's Nautilus. On shore, the lights of the Calypso are twinkling, music wafting out over the water. You take off on a wave that's tall, razor-thin, backlit, and burnished by the setting sun, thinking it might be your last wave of the day. But then it lines up so sweetly, section after section, that when you kick, spray slightly chilling you with that faintest hint of winter, you think, well, maybe one more. And here comes a guy paddling out, wall-to-wall grin, who says he just arrived from Maine. "Took off in a snowstorm," he says. "Man, am I glad to be here."
Access + Resources
GETTING OUTFITTED: TWA (800-221-2000) flies from New York's JFK to Aguadilla (30 minutes by car from Rincón) for $288; or try TWA from Fort Lauderdale to San Juan (two hours' drive from the west end) for $285. American Airlines offers Miami–San Juan flights for $350. The major U.S. rental-car agencies have outlets at both Puerto Rico airports.
OUTFITTERS: Best to bring your own board, but there are several surf shops in Rincón where you can rent or buy used boards in an emergency. Also, if you stay at the Rincón Surf and Board, they'll rent you one.
WHERE TO STAY: I recommend either Rincón Surf and Board (787-823-0610; home.coqui.net/surfsup/), with suites for $85 per night and dorm-style accommodations for $20 per person, or the Lazy Parrot Inn and Restaurant (787-823-5654). Rates at the Lazy Parrot run $85 for a single, $95 for a double, including a pool. For extended stays or more posh spreads, try Island West Properties (787-823-2323), which lists peak-season rentals (lots are oceanfront) from $553 to $3,675 weekly.
Honduras
Tropical Thrilla in Utila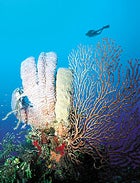 Give me five: reef life in the Bay Islands
TIME WAS THAT on Tuesday nights, everyone went a bit mad on the island of Utila. It was the day when the supply ship made the 20-mile trip from mainland Honduras, bringing oil for the island generators. As a result, the lights stayed on late and the island became one big electric fiesta. The bars—including my favorite, the Bucket of Blood—set up their good sound systems and the dancing and partying (aka "liming") ripped full tilt. The supply ship comes to the island's only town, East Harbor, every day now, which doesn't mean Utilans don't still know how to throw a good lime. But even during the high season, which sees less than a couple hundred tourists at any given time, the action tends to wind down before midnight. Negril it ain't. The reason? Everyone gets up early to dive.
The water averages a mellow 80 degrees Fahrenheit and is as clear as any in the Caribbean when the seas are calm—practically all year, from November to September. On the north shore of Utila are walls where the shallows suddenly drop from five feet to 1,500. On the southeast side, near the airport, are magnificent reefs of soft coral and sea fans. The Bay Islands host a wide variety of aquatic life—from sea horses to sea turtles, and corals such as pillar, elkhorn, lettuce, star, and brain—but they're also a veritable graveyard of ships. The mainland port of Trujillo was once the main shipping point for the Spanish, and Utila and Roatán were the hideouts for 17th-century buccaneers like Captain Henry Morgan. There are regularly scheduled dives to such famous 20th-century wrecks as the Prince Albert off Roatán or the Jado Trader off Guanaja, and I heard it said a dozen times that for the right price to the right pocket, dives can be arranged to some of the old colonial wreck sites.
During the three weeks I spent on Utila, evenings at the Bucket of Blood, followed by early-morning dives, defined my routine. Later each morning, I'd hang out, read, and swim until I washed up like waterlogged detritus on the beach. After a cheap fresh-fish lunch it was time for a hammock nap, and then in late afternoon I'd climb the hill up to the Bucket of Blood for dominoes with Mr. Cliford Woods, the owner, who has since passed away. He'd mutter angrily whenever he saw me in the doorway, so I think he looked forward to it. Still, every afternoon after he'd given me a good whuppin' at the table, he'd say, "So tomorrow you'll be going home, eh?"
Islanders' attitudes—along with a low beach-to-marshland ratio—have so far saved the island from massive tourism development. Twenty-five-square-mile Utila, the islands of Roatán and Guanaja, and some smaller uninhabited and sparsely inhabited cays comprise Honduras's Bay Islands. (In 1998, Hurricane Mitch devastated Guanaja, doing thousands of dollars' worth of damage, but left Utila virtually unscathed.) Most of Utila's 5,000 inhabitants live along Main Street, a narrow road that runs along the crescent-shaped bay of the east side. It's a bike-and-hike island when it's not too hot to move around.
But most of all, it's a dive island. Some of the world's least expensive scuba certification programs operate out of the dozen or so different dive shops along Main Street.
On one of my leisurely dives just a hundred feet from the tiny airport's runway, I fell into a trance among the delicate sea fans, letting the schools of parrot fish, indigo hamlets, rock hinds, and the occasional sea turtle circle but otherwise ignore me as they went about their business. Suddenly, a huge dark shadow came toward me and then, in a flash, passed overhead. My first panicked thought, of course, was that it was the Mother of All Great White Sharks. I swam hard and broke the surface a few yards from land. That's when I saw that the large, looming shadow was in fact a small plane landing at the airstrip.
Afterwards, when I dropped in on Mr. Cliford, I downed a Port Royal and told him of my high adventure. He looked at me as he might a failed vaudeville act. "You know, there's not a day go by I don't wish you tourists would stay home," he said with a long sigh, pausing to move a domino. "Or at least go to Roatán."
Access + Resources
GETTING THERE: The best way to reach Utila's waterfront airstrip is by flying on one of the major carriers into San Pedro Sula, Honduras (American Airlines, 800-433-7300, $840 from New York, $420 from Miami), and then connecting to either SOSA (011-504-425-3161) or Atlantic (011-504-425-3241) for the short $110 round-trip to Utila.
DIVING: According to Troy Bodden, owner of Utila Water Sports (011-504-425-3239), the owners of most of the dive shops on the island, such as Cross Creek (011-504-425-3134), Bay Islands College of Diving (011-504-425-3143), and EcoMarine Gunter's (011-504-425-3350), have cooperatively priced the basic PADI beginner open-water certification—including four to five days of instruction, equipment, and two tanks—at $159 per person.
WHERE TO STAY: There are several clean, basic hotels in East Harbor for under $20 a night, with ceiling fans and occasional hot water. I stayed at the Bayview Hotel (011-504-425-3114) for $14 (ask for the first-floor room facing the bay); I also recommend Hotel Trudy Laguna del Mar ($15, 011-504-425-3103) and Utila Lodge ($75, 011-504-425-3143), which has amenities like air-conditioning and a recompression chamber.
Dominican Republic
The Bigger Island, the Better Ride

Hot Wheels: the Rocky MF trail in the El Choco National Park, Dominican Republic
CONVENTIONAL WISDOM has it that the tiniest Caribbean islands are the most precious and desirable. Think eight-square-mile St. Bart's, or the newly chic crop of "single-resort islands." This logic is fine if your idea of dry-land adventure starts and ends with daily barefoot beach strolls. But if you're a mountain biker seeking enough varied terrain to explore for more than an hour or two, you probably subscribe to that all-American axiom "Bigger is better." Hence the allure of the 19,000-square-mile Dominican Republic, which occupies the eastern two-thirds of the Caribbean's second-largest island, Hispaniola. (Haiti lies to the west.) And it's not just size that appeals: The range and diversity of riding here beat any you'll find elsewhere in the Caribbean.
Flying into Puerto Plata on the north coast, you immediately see that the country has more to offer than beaches. With tropical bush–covered peaks rising steeply from the cultivated coastline, the Dominican Republic looks like a rugged, misplaced chunk of Central America. Forget the value-priced, all-inclusive resort compounds for which the DR is dubiously famous. Instead, take a 20-minute taxi ride east from the airport to Cabarete, and make it your home base for two-wheel adventure.
A tiny fishing village when wave-craving Canadian and Swiss windsurfers started showing up more than a dozen years ago, Cabarete has quickly matriculated from backpacker's crash pad to a thriving, polyglot adrenaline-sports colony. A few Cabarete outfitters have turned their backs on the ocean to focus on the region's river-threaded valleys, limestone caves, misting waterfalls, and twin cordilleras (10,414-foot Pico Duarte, 100 miles southwest of Cabarete, is the highest peak in the Caribbean). Upstate New York native Tricia Suriel is foremost among these inland guides. With her seven-year-old company, Iguana Mama, she's scouted hundreds of miles of bike routes, on everything from paved roads to goat paths to highly technical singletrack across waist-deep rivers. If you bring your own bike—or rent one of Iguana Mama's new XT-equipped Specialized RockHoppers and ride guideless—it's still smart to sign on for a ride or two to get oriented.
One standout trail, the cryptic-sounding Rocky MF, is a remote, seven-mile experts-only ride that climbs up and then careens down jagged, rock-mined singletrack, all beneath the dense shade of mango and avocado trees in El Choco National Park, one of the country's newest, just outside Cabarete. But most day rides from Cabarete are less technical, rambling forays into the Cordillera Septentrional. As you pedal, the ubiquitous concrete-block shops selling Coke and lottery tickets thin out. Soon you're passing pink-and-green-painted wooden shacks and hibiscus bushes draped with wet laundry. Uniformed schoolkids rush out to try for rolling high fives; farther outside town, they just stare shyly. Trading dirt road for rutted cow path, you navigate between leafy "living fences"—piñon stakes revivified in the fertile soil. Above shoulder-deep pasture grass, egrets flash white, tending humpbacked Brahman bulls.
Slowly absorbing the way life is lived here is what can make riding in the DR so eye-opening. Curious locals seem willing to entertain the rustiest of Spanish-language overtures. Up for some real immersion? Join one of Iguana Mama's multiday trips (they'll design custom itineraries, or you can book ahead for one of their five-day expeditions). During an overnight to Armando Bermudez National Park, near the base of Pico Duarte, my small group enjoyed a vegetarian coconut-milk stew with the park ranger's family, and then sneaked our sleeping bags inside park headquarters to escape a nocturnal downpour.
All this is not to say you should sacrifice the island's more traditional Caribbean seductions for mountain biking: They are best enjoyed hand-in-hand, as exemplified by a triumphant return to the beach at Cabarete after a good hard ride. Late afternoons, you can try out everything from Hobie Cats to sea kayaks to kiteboards. Or my personal favorite, a nice long bodysurfing session and a face-in-the-sand nap.
Access + Resources
GETTING THERE: American Airlines (800-433-7300) flies round-trip to Puerto Plata for about $460 from New York, $360 from Miami. An $18 taxi ride gets you from the airport to Cabarete.
OUTFITTERS: Mountain-bike day trips with Iguana Mama (800-849-4720; www.iguana-mama.com) run $40 to $85 per person. The five-day Dominican Alps inn-to-inn trip costs $950 per person, including guides, equipment, hotel lodging, and meals; customized biking and camping trips are also available. Bikes rent for $30 per day.
WHERE TO STAY: The newly renovated Cabarete Palm Beach Condos (809-571-0758) are spacious and homey, with great beachfront balconies. Two-bedroom condos cost $60 to $160 a night, depending on season and occupancy; studios go for $40 to $70. The 60-unit Windsurf Resort (809-571-0718) charges $74 for a one-bedroom poolside apartment.
Grenadines
The Pleasure of a Steady Nine Knots

Rum Runners: sailing near Palm Island
FOR SEASICKNESS, try beer and peanut butter. I hit on this desperation diet my second morning aboard the Boom Shak-A-Lak, a 45-foot Beneteau sloop that three friends and I had chartered for a two-week, early-winter cruise through the Grenadines. As a novice mariner, I'd had visions of a leisurely sail through bathtub-still waters, the moist tranquility of the tropics permeating my vacation-deprived soul. That nonsense was immediately debunked once we left our mooring in Bequia's Port Elizabeth. After passing the lee of the island, we were borne by a stiff wind to port as we sliced through the steely water—nearly perpendicular to it—at a steady nine knots. Then for two nights we were pounded by unseasonal rain and high winds that left us cranky and queasy; surprisingly, a breakfast of Corona and Skippy calmed my churning stomach, and what had started out looking like a two-week ordeal instead became a promising adventure.
Known for their unblemished white-sand beaches, spectacular reefs, and northeasterly trade winds, the Grenadines, a minimally developed archipelago in the eastern Caribbean, are an ideal place to drop off the map for a while, guided by the whims of the wind and the waves. Our loose plan was to sail from north to south, stopping at Mustique, the Tobago Cays, Canouan, and Union before ending the trip in Grenada.
After the initial excitement aboard the Boom Shak-A-Lak, I expected our focus to be the islands, with the sailing merely the means of getting from one to the next. In fact, for all their splendor, the islands—celebrity-clogged Mustique, low-key Canouan, the uninhabited Tobago Cays—began to blur together in my mind, while the time spent under full sail, surfing the swells as the wind howled around us, made me feel most alive. In contrast to the relative sameness of the closely spaced landmasses, the sea was infinitely variable, hypnotizing me with its shifts of color and light.
Quickly, we settled into an unhurried routine of rising late, breakfasting on board, and then sailing from one island to the next, stopping along the way to dive the region's many reefs. Evenings, we went ashore to dine and drink and compare notes with other sailors, most of them French or German. After ten days or so, the land had all but ceased to exist—I didn't care if we ever docked the boat. By the time we anchored in Tyrrell Bay on Carriacou (politically part of Grenada, but geographically a continuation of Saint Vincent and the Grenadines), we were so attuned to the rhythms of the sea that we now felt queasy only when we ventured onto dry land.
A party at Carriacou's yacht club, the best that we'd found, soon took care of that. In addition to surprisingly good food, something of a rarity in these parts, we were served the most potent rum punch of the trip, heavily laced with Iron Jack, a spirit so strong (190 proof) that its manufacture is banned in most of the Caribbean. Smuggled in from Trinidad, where it's legal, or brewed in clandestine backyard stills, Iron Jack has a reputation for bringing even the most experienced rum-swiller to her knees. Sure enough, halfway through our dinner of roti and french fries we were barely able to remain upright, the conversation degenerating into uproarious laughter over nothing in particular. And that was after only one drink.
Back on board the next morning, we discovered that our dinghy had disappeared, and no one could quite remember who had been designated to tie it up. In fact, we couldn't remember returning to the boat at all. As we prepared, somewhat fuzzily, to sail for Grenada, our final stop, we were a somber bunch. Fortunately, beer and peanut butter works for hangovers, too.
Access + Resources

GETTING THERE: There's no easy way to get to the Grenadines. The most direct route is to fly to San Juan, Puerto Rico, where you can connect to a nonstop flight to St. Vincent on American Eagle ($330). Most of the yacht-charter operations are on St. Vincent or Grenada; Bequia is a nine-mile ferry ride from St. Vincent.
YACHT CHARTERS: We got our boat through Trade Wind Yachts (800-825-7245; www.tradewindyachts.com), which also handled our airline tickets and hotel reservations in San Juan. A Beneteau 445 like ours, with three cabins and three heads with showers, rents for $2,065 to $3,458 per week, depending on the season.
Dominica
Moonscapes and Mountain Chickens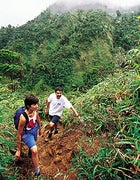 Hell of a time: Dominica's Boiling Lake Trail
DOMINICA ISN'T YOUR typical Caribbean paradise: There are few beaches to speak of, and the snorkeling's only so-so. But if you're the kind to go stir crazy after a couple of languorous hours surfside, you'll agree—this place is heaven. The largest but least populated isle in the eastern Caribbean's Windward chain, Dominica has 289 square miles of rugged, 4,000-foot mountains, active volcanoes, old-growth tropical rainforest, and more than 300 miles of hikable trails. On my last visit, hoping to spot an exotic bird (Dominica boasts 172 avian species) or a ten-inch crapaud (locals call these big, tasty frogs "mountain chickens"), I followed Glen, my dreadlocked local guide, up the Syndicate Nature Trail, a rocky ten-mile path through stands of gnarled, hundred-foot chataignier trees, to the summit of 4,747-foot Morne Diablotin, the highest point on the island. Not two hours in, a blue-green Sisserou, the largest, rarest Amazon parrot, glided across the clearing on three-foot wings to land just a few feet ahead of us.
The surreal landscape on the eight-mile, eight-hour out-and-back hike to Boiling Lake, a 200-foot cauldron of bubbling, gray-blue water that simmers at upwards of 200 degrees Fahrenheit and recalls Milton's Paradise Lost, was equally spectacular. The trail winds through Morne Trois Piton National Park, a 17,000-acre preserve just west of Roseau, climbing the 45-degree slopes of 2,700-foot Morne Nichols before dropping into the Valley of Desolation, a half-mile-wide moonscape of sharp volcanic rocks, hissing steam vents, and hot springs, some of the cooler ones ideal for soaking.
World-class hiking in the Caribbean? Jah, mon.
Access + Resources
GETTING THERE: Dominica is a two-hour flight from San Juan, Puerto Rico ($290, American Eagle, 800-433-7300), or 30 minutes from Guadeloupe ($150, LIAT, 268-480-5601).
OUTFITTERS: You will need a guide—the island's 300-plus inches of annual rainfall means trails are often washed out and difficult to follow. Hire one ($40 a day) through your hotel. Ken's Hinterland Adventure Tours (767-448-4850; www.kenshinterlandtours.com) can arrange group hikes or kayaking trips.
WHERE TO STAY: Papillote Wilderness Retreat (767-448-2287;www.papillote.dm), a cozy inn five miles from Roseau, offers double rooms for $90 a night. Simple, fan-cooled doubles at the colonial-style Springfield Plantation Guest House (767-449-1401), 15 miles northwest of Roseau, also go for $90.
Venezuela
Love on Los Roques

Lean machine: caught speeding near Los Roques National Park
MY PALMS WERE beginning to burn—a sign of the blisters to come—but I couldn't resist; I pulled hard on the boom and trimmed the sail against another gust. The entire length of the board lifted off the water and shuddered, then settled back on a few inches of fin. I barreled across the channel toward the tiny island of Esparqui, its thick tangle of mangrove trees growing larger by the second, and waited as long as I could before throwing the rig forward and turning sharply through the wind, away from the sandy shore. A huge sea turtle slid beneath me as I headed back to my launch, an empty, salt-white stretch of beach now a good mile away. Except for the masts of a few sailboats shimmering in a distant anchorage downwind, I was the only thing on the water.
Perfect wind, every conceivable sailing option, warm, clear seas, and utter isolation. In 15 years of windsurfing all over the world, I'd never seen anything like this. Just 11 degrees above the equator and 85 miles north of Caracas, Venezuela's Los Roques National Park is a pristine archipelago of some 350 small islands, cays, and reefs scattered across 15 miles of iridescent turquoise water. First charted by Spanish explorers 470 years ago, it has remained a refuge from time and civilization, with 1,200 or so residents and few visitors save a handful of hard-core yachtsmen and bonefishing addicts, and the 200 or so windsurfers who ride its steady stream of east-northeasterly trades each year. A primitive airstrip near Gran Roques, the collection of empty sand streets and sun-bleached pastel facades that is Los Roques' only town, is the one link to reality.
Arriving on Francisqui, an hourglass-shaped island less than a mile long, via a fisherman's small, open peñero several hours earlier, I had trouble taking it all in. To my left was the flat water of the channel, perfect for easy cruising or speed runs to other islands; on my right lay two reef breaks—a left and a right—for shredding chest-high waves and jumping. Beyond them, rolling swells of open ocean. And every possibilityblessed with 13 to 22 knots of the kind of breeze windsurfers dream about. There was only one thing missing.
"What," I jokingly asked my guide, Elias Pernales, "no point break?"
He gestured over my shoulder toward the tip of the island. "Ten, maybe twelve tacks upwind and around the anchorage. But it's tricky getting through the reef, so I don't bring too many people there."
Pernales, a relaxed, 36-year-old Venezuelan with a body straight off the cover of a fitness rag, manages Vela Los Roques, the only windsurfing operation on the islands. Working alone out of an open, metal-roofed hut stocked with 30 new sailboards and a huge quiver of pre-rigged sails, he spends his days guiding intermediate and expert sailors—rarely more than three or four in a day even during the high season, thanks to Los Roques' remoteness—as they weave between islands or along the serpentine barrier reefs. We spent the morning gliding between jagged cays and exploring hidden lagoons, and then retreated to the welcome shade of his "office" for a lunch of fresh tuna steaks, cold pineapple slices, and frosty Polars—the light pilsner that's considered the national beer of Venezuela. Just as I was eyeballing the hammock, Pernales dragged out a two-man kayak. "Time for some snorkeling, eh?"
We did, among waving sea fans and yellowtailed angelfish near yet another deserted cay. By the time we paddled back to Francisqui, the tide had shifted and the swell was up, so it was out to the reef for some five-foot waves. I tacked upwind a few hundred yards and began slicing down the smooth, right-breaking faces, trying to stay focused on the sharp coral just below the surface. As the tropical sky began to grow pink, I spotted the peñero buzzing slowly across the bay to retrieve us, but I couldn't bring myself to head in. Instead, I turned the board toward the horizon and raked the sail back for speed.
Access + Resources
GETTING THERE: American (800-433-7300) or Continental (800-231-0856) Airlines can fly you nonstop from New York or Miami to Caracas, Venezuela, and book your 50-minute connecting flight to Margarita Island ($800 total from New York, $687 from Miami). Vela Windsurf Resorts will provide air transportation from Margarita to Los Roques (see Outfitters, below).
OUTFITTERS: U.S.–based Vela Windsurf Resorts (800-223-5443; www.velawindsurf.com) runs the only windsurfing operation in Los Roques and takes clients on single- or multiday excursions to the archipelago from its Margarita Island resort, 180 miles west of Los Roques. Trips leave Margarita Island daily and include round-trip airfare (it's a 60-minute flight) on Venezuela's Aerotuy Airlines, boat transfers, accommodations at one of several small guest houses in Gran Roques, meals, equipment, and guide service (one day/one night, $185 per person; three days/two nights, $525). The $16 national-park entry fee is not included.
Island Hops
Even more splendid ways to escape from the chaise longue

Guadeloupe: Pedal Like the Pros
Professional cyclists from around the world meet on this butterfly-shaped isle for the annual Tour de Guadeloupe, a 797-mile, ten-stage road race. The race comes to the island in August, but you can ride the circuit any time (call Dom Location, 011-590-88-84-81, for a map and bike rental, $10/day). Or ditch the bike and explore the island's offroad attractions: black-sand beaches, jungle waterfalls, and the short hike through clouds of sulfur to the top of La Soufrière volcano.
St. Barthélemy: Buff Enough to Surf
The curl at the out-of-the-way (and, unofficially, clothing-optional) Anse de Grande Saline beach is the island's best for bodysurfing. The half-mile-long stretch of white sand on the south shore is a 15-minute walk and worlds away from the Hollywood types at St. Danjean Beach. Call the St. Bart's Tourist Office, 011-590-27-87-27.
Cuba: Total Immersion
Wheel through Havana with the local biking club. Hone your underused salsa moves. Debate hot political issues using your newly mastered verbs (like derrocar—to overthrow). All this and more on a two- to four-week crash course in Spanish language, Cuban culture, and island adventure. Call Cuban Outreach Tours, 415-648-2239; www.seca.org/ioc.
St. Lucia: Climb the Big Piton
St. Lucia's lush, volcanic twin peaks tower over sunbathers on the beach below—but why sit around in the shadows? Though local foresters have tagged precipitous and overgrown 2,461-foot Petit Piton off-limits due to falling rock, the summit of 2,619-foot Gros Piton begs to be topped, and the 2.5-mile trek can be done in four hours. Call the St. Lucia Forestry Department, 758-450-2078, for maps and information.
Trinidad: Walk with the Animals
Hike past the Lagon Bouffe Mud Volcano and two miles up a forest path, where howler monkeys, peccaries, and orange-winged parrots await you in the Trinity Hills Wildlife Sanctuary—a private preserve owned, interestingly enough, by a local oil company. To visit, call the Incoming Tour Operators' Association of Trinidad and Tobago, 868-633-4733.
Jamaica: Raft the (Other) Rio Grande
Play Huck Finn for a day on a guided, seven-mile run down the Class I water of the lower Rio Grande in the jungly Blue Mountains. Your craft: a 30-by-6-foot, hand-hewn bamboo raft. The highlight: chatting with rural Jamaicans—and Red Stripe vendors—along the riverbank. Call Valley Hikes, 876-993-3881.
Martinique: Absalon, Absalon!
Bushwhack through the rainforest, rappel down a 40-foot cliff, navigate a boulder field, and then slip into the 90-degree, orange (from the iron in the rocks below) waters of the Absalon Thermal Spring. Call Aventures Tropicales, 011-596-75-24-24; www.aventures-tropicales.com.
Jost Van Dyke: La Vida Coco
Watch the sun set over White Bay and grab a painkiller (Pusser's rum, Coco Lopez, multiple juices, and the obligatory nutmeg) at the self-serve Stress-Free Bar (284-495-9358) on Jost Van Dyke, a three-square-mile dot in the British Virgin Islands. Then pick up a guitar, bongos, or an empty coffee can and jam into the night with the eclectic house band. (Bonus: There's a campground out back.)