The Sun-Kissed, Hibiscus-Scented, Palm-Studded, Rum-Soaked, Blissed-Out, In-Your Dreams Caribbean
Twelve authentic islands, luscious resorts, genuine fun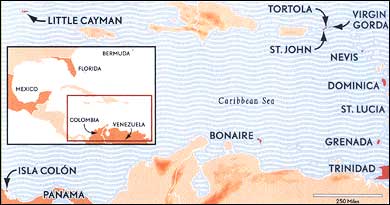 Map by McKibillo
Heading out the door? Read this article on the new Outside+ app available now on iOS devices for members! Download the app.
Near Wild Heaven in Trinidad

By Robert Earle Howells


My Bonaire Affair

By Meg Lukens Noonan


Dominica's Jungle Delights

By Nick Heil


Lazy Does it on Little Cayman

By Granville Green


PLUS: Resorts for all reasons-great hideaways on Virgin Gorda, St. John, St. Lucia, Nevis, Bermuda, Tortola, Grenada, and Isla Colón.

Tierra Secreta
Where do Mexicans vacation? Among the snowcapped volcanoes, frothy rivers, and mysterious ruins of Veracruz—gringo-free…for now
veracruz mexico rio bobos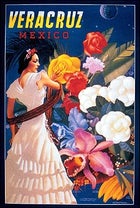 I DIDN'T COME TO VERACRUZ as a tourist—but, hey, what American does? The economy of Mexico's third-most-populous state, which curves between the rugged eastern Sierra Madre and a 425-mile coastline on the Gulf of Mexico, is driven not by gringo hordes but by a gaggle of tropical crops—from sugarcane in the sweltering lowlands to coffee in the mist-shrouded mountains—and a significant chunk of the nation's oil reserves.


Which is why, after nearly a year living in the state capital, Xalapa, I'm wearing an impish Dr. Evil smile. I know the big secret: For the adventurous traveler, Veracruz is a find, its wonders known to Mexicans but mysterious to most outside the country. Hike a trail, climb a mountain, or paddle a river here and your comrades, if any, will be vacationers hailing from Mexico City or Puebla.


Wherever I go—from a raft on the burly Río Bobos, threading the state's western mountains, to a lost stretch of the Costa Esmeralda beach north of the city of Veracruz—I'm always one of the very few norteamericanos around, if not the only one. So dust off your traveler's Spanish and come south to Mexico's travel frontier to enjoy these essential attractions of Veracruz; when you get back, your friends will want to know what the hell you're grinning about.


:: RÍO BOBOS

A 40-square-mile preserve, Filo-Bobos marks the confluence of whitewater and history. Here, the thrill-inducing Bobos and six intriguingly mysterious archaeological sites, including Vega de la Peña and El Cuajilote (both abandoned after 1200), share a verdant valley.


The Río Bobos rapids are Class II–III during the dry season but work themselves up to memorable Class IV–V in September and October. The river's upper section has sheer limestone walls, while the lower stretch winds past orange and banana groves and the omnipresent bougainvillea in rich purples, magentas, and oranges.
Trinidad's Tropical Blend
Fierce jungle and tame beach mingle
Bonaire

Bonaire-Style Bliss
IT'S MORE THAN JUST STANDARD island-time slo-mo that turns a one-hour mountain-bike ride through the scrubby outback of Bonaire's north end into an all-morning affair. It's the exuberance and knowledge of your guide, naturalist Jerry Ligon, and the profusion of the weird and wonderful on this 24-mile-long, boomerang-shaped island in the southern Caribbean that keeps the pace many notches below breakneck. There's just so much worth stopping for: the whiptail lizards darting across the rocky trail, the dusty-gray feral donkeys picking their way around giant kadushi cactuses. There are castor bean pods to pop, yellow-shouldered parrots to listen for, plump aloe leaves to palpate. Ligon has a story for nearly everything you see, and it becomes clear that he doesn't merely hope you learn a thing or two on this outing; he wants you to fall deeply, madly in love. No need to work so hard, Jerry, you feel like saying. You were gone on the place an hour ago.

About 50 miles off the coast of Venezuela, Bonaire is the "B" in the "ABC islands" of the Netherlands Antilles—along with Aruba, known for its long white beaches and accompanying strip of hotels and casinos, and Curaçao, with its busy international port. Bonaire is the least developed and, with just 13,000 residents, the least populated of the three.

The mostly flat, semi-arid island has few natural beaches, so it may not fit conventional fantasies of the perfect tropical isle, but after a few days you'll very likely be rewriting your definition of paradise. The day-in, day-out sunshine, the cooling trade winds, the limpid 80-degree water, and the painted-dollhouse Dutch-Caribbean architecture of tiny downtown Kralendijk—not to mention the way local brew Amstel Bright tastes, very cold, with a slice of lime, after a long bike ride—are more than enough to win you over. Add to that the island's ahead-of-its-time commitment to environmental preservation and its warm, welcoming, ethnically diverse population—including native islanders (descended from Arawak Indians or African slaves), Dutch transplants, and American and Venezuelan expats—and you, too, may find yourself thinking that swaying palms and thundering waterfalls are way, way overrated.

Bonaire's unique charms have long been known to scuba divers, who consistently rank it among the best destinations in the world. More than half of the island's 87 marked dive sites are accessible from shore. So plentiful and diverse is the marine life that it's possible for a fish freak to log a dream "century"—identifying 100 species during a one-tank dive. The vitality of the reefs owes much to the creation, in 1979, of the Bonaire National Marine Park, which prohibits commercial fishing, anchoring, or collecting anything—dead or alive—in the waters around the island.

On the leeward coast is a string of low-key scuba-focused resorts, including the well-regarded Buddy Dive Resort, which has sunny, balconied rooms and spacious apartments on the edge of a coral bluff. The place to stay, though, if you want a less diving-intensive environment and can splurge a bit, is the Harbour Village Beach Club, set on a peninsula at the entrance to a small but lively harbor. The cluster of artfully landscaped ocher-colored Spanish-Dutch colonial villas, which recently underwent a $4.5 million renovation, are decorated plantation style, with teak furniture and tile floors; some have patios with hammocks overlooking a powdery, big-for-Bonaire beach and the nearby uninhabited isle of Klein Bonaire. The beach club has a new full-service spa, a pretty swimming pool, an open-to-the-breezes bar positioned perfectly for sunset cocktails, and, just off the beach, the wreck of a 60-foot merchant ship to explore.

As good as the diving is, though, you'd be missing the soul of Bonaire if you didn't spend some time topside. Hike and bike the island's dramatic north, including the black- and red-rock wilds of Washington Slagbaai National Park, and stop to see one of the few flamingo breeding grounds in the world at a nearby lake called Goto Meer. Head south to the flatlands and past the salt pans to the ridiculously blue, 1.5-square-mile Lac Bay and some of the best windsurfing conditions in the Caribbean. You can rent a board or take lessons at one of two windsurf centers on Sorobon Beach—or hang out and watch the amazing "Bonaire Kids," a group of young local hotshots who clean up on the international freestyle circuit.

Lac Bay is also famous for its Sunday-afternoon parties. Every week, locals and visitors gather at Lac Cai, amid mounds of sun-bleached conch shells, to picnic, swim, drink, and dance to bands playing the kind of island music irresistible to even the most rhythm-challenged. When the shadows get longer and the bay begins to turn silver, look up; you may see a line of carnation-pink flamingos, made pinker by the setting sun, heading toward South America in search of dinner. Now, really, who needs lush?
Dominica At Its Wildest
Untamed, unspoiled, and yours alone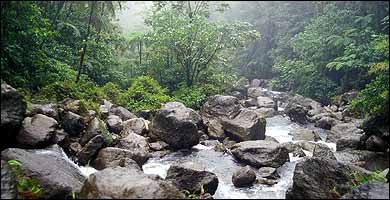 Access & Resources
GETTING THERE: Round-trip tickets to Dominica from New York or Los Angeles on American (800-433-7300, www.aa.com) start at about $500.
WHERE TO STAY: Doubles at Papillote Wilderness Retreat (767-448-2287, www.papillote.dm) cost $95; suites, $115–$125. Add breakfast and dinner for $35 per person per day. The Fort Young Hotel, perched on a bayfront bluff in Roseau, has 53 air-conditioned rooms and suites (doubles, $95; oceanfront suites, $230; 767-448-5000, www.fortyounghotel.com).
WHAT TO DO: Guided hikes to Boiling Lake can be arranged through Ken's Hinterland Adventure Tours and Transfer Service ($160 for …
KOOL & THE GANG'S "Jungle Boogie" was stuck in my head. I was scrambling up a near-vertical trail drenched by a tropical deluge, making my way back from Dominica's Boiling Lake, a fizzing 31,000-square-foot sulfuric cauldron. The monsoon had arrived early in the southern Caribbean, and I was worried it would put the kibosh on my island adventure—particularly the rugged six-hour round-trip to the lake, in Morne Trois Pitons National Park, a route vulnerable to floods and mudslides.
"What do you do if it rains?" I had asked my guide, Ali Auguiste, a young, cheery Carib, when he came to pick me up for the hike. Outside, the clouds were heavy and as gray as a gull's wing.
"Well, mistah," Ali had said, a brilliant white smile cracking across his face, "we get wet!"
Wet we got. First the rain fell in a sweet, saturating drizzle. Then it came at us in curtains. Finally, as we crested a high ridge, it stormed with such primordial intensity that it rained up, our ponchos snapping above our heads so that we looked like some strange overgrown flora moving eerily through the ferns.
By the time we were crabbing our way to the top of the flooded buttress, I had achieved trekking's equivalent of a runner's high—energized by the tough hike, thrilled by the meteorological action, and humming along to Kool & the Gang. When I reached the lip, runoff hosing my chest and pouring over my head, Ali stuck out his hand to help me over the edge. We were both grinning like schoolboys. This was hardly some manicured nature walk: It was as close to mountaineering as you can get in the Caribbean.
Sandwiched between Martinique, to the south, and Guadeloupe, to the north, Dominica (pronounced Doh-mi-NEEK-a) is the youngest island in the Lesser Antilles—a volcanic chile pepper of green thrusting out of the tourmaline sea. I had come chasing reports of unspoiled rainforest hiking, hidden hot springs, secluded beaches, world-class diving, and a holistic, enviro-friendly culture that was just beginning to get real adventure tourism off the ground. While 29-mile-long Dominica is home to 72,000 people (5,700 of whom are native Caribs), it's blissfully undeveloped. Thanks to the efforts of farsighted preservationists, Dominica has established more protected parks, forests, and marine reserves per capita than almost anywhere on the planet. As a result, hikers, bikers, and paddlers can explore 4,000-foot peaks, 128,500 acres of untrammeled rainforest, more than 100 miles of trails, and 365 rivers—"One for every day of the year," locals like to enthuse.
After my Boiling Lake epic, I needed a day to convalesce in the Roseau Valley at the Papillote Wilderness Retreat, a botanical fantasyland about four miles from the capital, Roseau, on the southwestern coast. Though free of televisions, phones, and air conditioning, the rooms are comfortable, with arrestingly beautiful surroundings. Credit goes to Anne Baptiste, the expat owner and gardener from Florida, who visited Dominica in 1961 and was so enchanted with its horticultural splendor she spent the next 40 years creating this internationally recognized Eden.
"If you just stand still, you begin to realize how much is going on around you," she said, pausing on a footpath to deadhead a begonia. Surrounding us was a rainbow gallery of indigenous and exotic species, though it was only a tiny sample of the island's 1,200 species of flowering plants: glistening jade vines, cascading heliconia, ginger blossoms as big as your face, and, as Anne pointed out, an orchid smaller than your thumb, growing like spider silk on a tree branch.
That night, on the dining patio overlooking the lush valley, I was served prawns in garlic sauce, saffron rice, and rum punch made from guava juice. If Boiling Lake had shown me Dominica's rambunctious side, Papillote was the pastoral antithesis. This was the binary character I would encounter all over the island: tough and serene; wild and peaceful. I fell asleep thinking my deep thoughts while fireflies flashed through the open-air room.
From Papillote, I headed about ten miles downcoast to the quaint, pastel-colored fishing village of Soufrière, where I connected with Nature Island Dive for a few hours of kayaking and snorkeling above a dive site, Champagne—so named because geothermal vents in the sandy seafloor emit streams of warm bubbles. The all-but-beachless "Nature Island" tends to get overlooked as a fun-in-the-sun Caribbean destination, but here, drifting above parrotfish, sergeant majors, brain coral, barrel sponges, and countless other forms of showy reef life, I tasted one of its premier attractions.
Afterwards, I embarked on a whirlwind clockwise tour of the entire coast. The most luxurious lodging—the historic Fort Young Hotel—is on the waterfront in Roseau, as is the best shopping for locally made jewelry, woven baskets, and wood crafts. It was a different scene as I crossed the northern tip and headed down the eastern shore: rocky coastline gouged by secluded coves, rustic banana plantations, languid villages, and the occasional black-sand beach or rum shop.
It was far down this coast, in the island's southeast corner, that I saw Dominica's future: a nearly completed luxury spa called Jungle Bay Spa Resort, the brainchild of Samuel Raphael, an island native with a degree in international studies from American University, in Washington, D.C. This self-contained eco-resort tucked into a hillside overlooking the Atlantic will offer studios for yoga and Pilates, two restaurants, conference facilities, and 35 private cottages built from tropical hardwoods.
I knew the arrival of such a place would mean little to those up the coast—the domino klatches, the rastas, the matriarchs balancing laundry baskets on their heads—but for overworked, overstressed Americans seeking a double dip of wellness, here was the promised land. As we chatted, Sam told me that the human with the longest known life span, Elizabeth Israel—a.k.a. Ma Pampo—was Dominican. She lived on this life-giving island for 128 years and died in 2003. Stand still and you begin to realize how much is going on around you. I stood as still as possible but couldn't begin to fathom it all.
Little Cayman, Big Fun
The action here is out of sight
Access & Resources
GETTING THERE: Cayman Airways (800-422-9626,
www.caymanairways.com
) flies Twin Otters from Grand Cayman for $110 round-trip.
WHERE TO STAY: Doubles at the venerable Southern Cross Club (800-899-2582,
www.southerncrossclub.com
) start at $1,075 per person for five nights, all-inclusive. Five-day, two-tank diving packages start at $1,330.
WHAT TO DO: In addition to diving and fishing, visit the Booby Pond Nature Reserve, home to about 20,000 red-footed boobies and hundreds of nesting pairs of magnificent frigate birds.
RESOURCES: Cayman Islands Department of Tourism (
www.caymanislands.ky
), Dive Cay…
I BECAME A PRO DODGING snoozing iguanas while pedaling a beach cruiser along the narrow road that rings Little Cayman. That's about as exciting as life gets on this ten-mile-long, scrub-covered British outpost south of Cuba, the smallest of the three Caymans. When visitors touch down on the grass-and-crushed-coral airstrip, they're not coming for swinging nightlife and duty-free shopping.

On Little Cayman, the action happens underwater. The island's claim to fame—aside from its unspoiled interior and gorgeous white beaches—is the Bloody Bay Wall, a spectacular span of coral off the northern coast that begins at 18 feet and plummets 6,000 feet into the big blue. Here, divers swim through narrow chimneys, fin past a vibrant gallery of sponges, and encounter eagle rays, sea turtles, and spotted drums. A popular T-shirt slogan sums up the lifestyle: LITTLE CAYMAN, A SMALL DRINKING ISLAND WITH A BIG DIVING PROBLEM.

There are only a handful of places to stay and one real store. I check in at the oldest resort, the Southern Cross Club, opened in 1959, when Little Cayman was no more than a fishing camp. Ten bungalows are sprawled out on a handsome stretch of gleaming sand studded with palms. Mahogany furniture fills the large, airy guest rooms, which have no TVs or telephones; shady front porches facilitate hammock lazing. Fishing and dive boats ferry guests around, and there are kayaks for the short paddle across the sound to tiny Owen Island.

After settling in, I set three goals: dive the Bloody Bay Wall ad nauseam, catch a bonefish on a fly for the first time, and spot the mysterious Toe-Sucking Bog Man, a nocturnal monster that, according to local legend, lives in murky Tarpon Lake (which, a more reliable legend claims, was fished by Ernest Hemingway).

By far the easiest of these efforts is diving. Every morning I board the dive boat for the resort's daily two-tank trip to the Bloody Bay Marine Park, and it doesn't take me long to rack up some memorable dives. A large resident grouper named Jerry allows me to pet him at Marilyn's Cut, and as I swim into a grotto 50 feet down at Randy's Gazebo, I arrive in time to see a massive barrel sponge spawning. But nothing beats the sheer drama of the wall itself: Seussian sponges sticking out in all directions, spotted eagle rays gliding past, and brightly colored parrotfish, queen angelfish, and filefish darting around.

Bonefishing is more frustrating. After hours of poling around the flats with my patient guide, a mellow young Floridian named Jeremy Loercher, I finally land a feisty three-pound bonefish on an eight-weight fly rod.

I somehow never make it to the lake to look for the Toe-Sucking Bog Man. Instead I content myself each evening with feeding squid bits to an octopus in Preston Bay and dancing on the bar at the Hungry Iguana, the local hangout, after a couple tequila shots. That's pure excitement, here on Little Cayman.
Tierra Secreta
El Pico de Orizaba, Costa Esmeralda, & El Tajín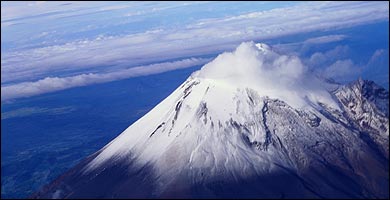 :: EL PICO DE ORIZABA

Known as Citlaltépetl ("Star Mountain") in Náhuatl, the language of the Aztecs, 18,700-foot Orizaba hardly presents a technical challenge for the "Everest is easy" crowd. But the volcanic peak is no snap for the rest of us. Straddling Veracruz's boundary with Puebla, to the west, it's the highest mountain in Mexico and the third-tallest in North America, and most of the summit ascent is over a glacier and snow.


On a clear day, once you're atop Orizaba, you can see her sister volcanoes, 17,887-foot Popocatépetl and 17,343-foot Ixtaccíhuatl, to the west, and, if you're lucky, the Gulf of Mexico, to the east.


:: COSTA ESMERALDA

With its small, funky hotels and large private homes perched on a strip of grassy land between Highway 180 and the Gulf of Mexico, 12-mile Costa Esmeralda is reminiscent of the Florida Keys of a bygone era—with more cattle ranches and fewer Hemingway look-alikes.


The Hotel Torre Molino, with air-conditioned rooms and a swimming pool, is the best spot to roost. If you're in the mood for a low-key paddle, the front desk can hook you up with a kayak to tour the nearby Ciénega del Fuerte, a protected freshwater wetland.


:: EL TAJÍN

Every pre-Cortesian ruin in Mexico gooses a different part of the anatomy. Some make your jaw drop. Some make your head spin. El Tajín always makes the hairs on my neck stand at quivering attention. The hulking stone pyramids and grassy ball courts of the four-square-mile site feel labyrinthine, almost claustrophobic. But wait—it gets creepier: Even after studying the place for more than 200 years, archaeologists still can't say for sure who lived here. (They know the city peaked in the Classic Period, between 300 and 900, and probably waned in the 13th century.)


El Tajín—its modern name is Totonac for "Thunder"—was a contemporary of Teotihuacán, to the west, and the Maya cities to the southeast. Today, El Tajín exudes enigmatic charm. Don't miss the 65-foot Pyramid of the Niches, which, with regularly spaced square niches on every vertical surface, looks like a cross between a Sumerian ziggurat and a Japanese pagoda. (Should be easy to spot: It's featured on 2004 Veracruz license plates.)
Tierra Secreta
Access and Resources
veracruz map

RÍO BOBOS:: The best base of operations for exploring the Río Bobos is Aventurec (011-52-225-315-4300, www.aventurec.com). A three-day, two-night package includes two river runs, guided hikes, a ride on a cross-canyon zip line, and meals ($140 per person for lodging in one of the outfitter's new cabins; $127 if you camp).

EL PICO DE ORIZABA:: Reputable Orizaba operators, like Servimont (011-52-245-451-5009, www.servimont.com.mx), expect clients to have experience climbing on ice and snow before tackling this volcano. Servimont's six-day mountaineering trip, which includes meals and three nights in a historic lodge—a converted soap factory—costs $685 per person.

COSTA ESMERALDA:: The Hotel Torre Molino (doubles, $74; 011-52-232-321-0055, www.hoteltorremolino.com) offers a breezy restaurant, which sits under a gigantic palapa and serves locally caught seafood in dishes like robalo à la veracruzana—sea bass sautéed with tomatoes, onions, green olives, and capers.

EL TAJÍN:: These mysterious ruins, crammed into a steamy, thickly wooded valley, are located an hour's drive northwest from the Costa Esmeralda. Take Highway 180 north to Papantla and follow the signs five miles to the ruins. El Tajín is open seven days a week, 8 a.m. to 5 p.m., and admission is about $2.50 per person.
Trending on Outside Online