Warming Trends
Fight back! Don't succumb to the cold-weather blues this winter—head south to the Caribbean and Central America, where the sun comes up early and the ice comes shaved. Presenting the six freshest surf-and-chill outdoor adventures this season.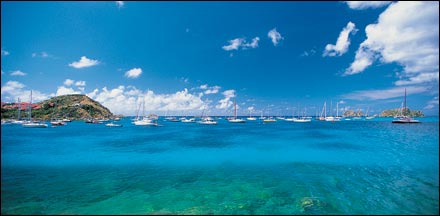 Heading out the door? Read this article on the new Outside+ app available now on iOS devices for members! Download the app.
Om Away from Home: Jungle Bay Resort & Spa, Dominica
Waterworld: Mesoamerican Reef, Belize
O Captain! My Captain!: The Arabella, St. Barthélemy
Greco-Caribbean Fusion: The Beach House, Barbuda
A Resort Reborn: Club Med Buccaneer's Creek, Martinique
Fly Me to the Surf: Macaw Air, Costa Rica
Om Away from Home
Jungle Bay Resort & Spa, Dominica
Jungle Bay Resort

The Path to Laziness and Enlightenment: Jungle Bay Resort
Wellness is the operative word at Jungle Bay, a yoga-centric tropical getaway that opened last February on Dominica. The locale is all restorative calm: Fifty elevated hardwood cottages—with white cedar platform beds, private outdoor showers and decks, and swaying hammocks—are tucked away in the rainforested foothills near Morne Trois Pitons National Park, an eastern-Caribbean UNESCO World Heritage site. Visitors salute the sun at dawn yoga classes on an easterly veranda overlooking the Atlantic—or throughout the day in the airy 2,400-square-foot studio, housed in the volcanic-stone-and-hardwood main lodge. Just up the trail is Jungle Bay's spa, where guests can opt for a deep-tissue aromatherapy massage in an open-air pavilion suspended over the crashing surf.
Afternoons are for island explorations: Spot pods of sperm whales from the cockpit of a sea kayak or grab a mountain bike and blaze the island's long, steep grades. Better yet, take a hike: The ten-hour round-trip trek to 4,747-foot Morne Diablotin, the island's tallest peak, is a lush visual feast, with massive tree ferns, orchid blooms, banana trees, and endangered and endemic red-necked and imperial Amazon parrots. Fuel for all the jungle tramping and warrior ones: Dominican specialties like breadfruit salads, roasted plantain, and fresh-squeezed tamarind juice. Seven days from $1,400 per person, including airport transfer, meals, and all activities; 767-446-1789, www.junglebaydominica.com
Waterworld
Mesoamerican Reef, Belize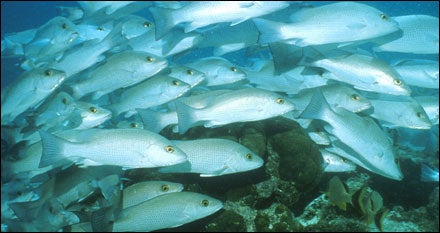 Many water-faring visitors to Belize bomb through coastal Belize City and beeline straight for the Blue Hole, the country's best-known diving-and-snorkeling attraction. Starting this winter, World Wildlife Fund is offering a brand-new snorkeling expedition that dives into many other wonders of the Mesoamerican Reef, the world's second-largest barrier reef and a WWF priority conservation zone that's home to more than 60 species of coral and more than 500 species of fish.
Traveling from Belize City aboard Le Levant—a 45-cabin expedition ship featuring a fleet of Zodiacs for land excursions, on-demand scuba gear, and lip-smacking French cuisine—the trip carves a counterclockwise loop through some of the most pristine and least visited expanses of the reef. Led by renowned marine biologist Joel Simon, guests will snorkel through far-flung spots like South Water Caye Marine Reserve, the habitat of choice for endangered manatees and rare longsnout seahorses, and the Turneffe Islands' soaring coral pinnacles. There's also landlubber adventure, with guided visits to red-footed booby reserves, secluded mangrove forests, an important grouper spawning ground at Glover's Reef atoll, and Carrie Bow Caye, a Smithsonian marine-research field station. A team of lecturers and naturalists complements the site visits with expert analysis and explanation. And don't worry: The ship even calls at the rightly renowned Blue Hole. Eight days from $4,390, all-inclusive; 888-993-8687, www.worldwildlife.org/travel
O Captain! My Captain!
The Arabella, St. Barthélemy
Arabella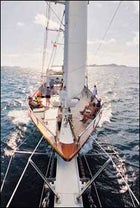 All Tans on Deck: Island hopping on the
Arabella
If you've always wanted to yacht like a blue-blooded New Englander but couldn't stand the chill, take note: This January, the 160-foot Arabella will add a seven-day itinerary through the islands of St. Bart's, French St. Martin, and Anguilla to its list of regular northerly routes. Starting in Marigot, the café-filled village capital of St. Martin, you'll sail around the Caribbean in style: The intimate 20-stateroom yacht has in-cabin satellite television and phones, a hot-water spa, and daily deckside hors d'oeuvres and spiced rum punch. You can also arrange for one-on-one sailing tutorials on the Arabella's operations with the ship's captain and crew.
Leave the mother ship for day trips swimming and snorkeling at Colombier Bay Beach, a private, sandy cove accessible only by boat or a half-hour hike along a steep, rocky goat path. Or drop anchor at Île Fourche, a jewel of a deserted island that teems with undersea life, for world-class diving and sea kayaking. The trip finishes off with a dinner at the exclusive Eden Rock hotel, in St. Jean—once a hideaway for Garbo, it's perched high on a rocky promontory. Here, you'll be right at home uttering her famous line from Anna Christie: "Gimme a whiskey, ginger ale on the side. And don't be stingy, baby!" From $1,295, based on double occupancy, including most meals and activities; 800-395-1343, www.cruisearabella.com
Greco-Caribbean Fusion
The Beach House, Barbuda
Greko-pillared Beach House

The Greeks Have It: The Greko-pillared Beach House
Miles of pink-sand beaches front the aptly named Beach House, a tranquil 21-room lodge that opened last year on the tiny scuba paradise of Barbuda, one of Antigua's sister islands. The look is Greek-island-meets-minimalist, with distinctive whitewashed buildings, teak deck chairs, and spare walls hung with black-and-white photographs. But the atmosphere is Caribbean luxe: Guests are met with frosty cocktails brought by "service ambassadors," designated personal butlers who set up complimentary welcome massages and diving, fishing, and horseback excursions around the island. A gleaming saltwater pool is the centerpiece of the open-air Club House, which also features a library, bar, and fusion restaurant with seafood specialties like lobster tagliatelle. A short walk through the lounge leads to breezy beaches where snorkelers can mingle with rays, dolphins, and schools of barracuda. Post-swim, settle into an overstuffed white recliner and ponder the gushy collision of the Atlantic and the Caribbean. There are no televisions in the guest rooms, which feature king-size four-poster beds, but rest assured: Upon departure you'll wish you were always so unplugged. Doubles from $750; 888-776-0333, www.thebeachhousebarbuda.com
A Resort Reborn
Club Med Buccaneer's Creek, Martinique

Club Med is branching out into more "upmarket" territory, and the company's $60 million overhaul of its Buccaneer's Creek resort, which reveals its white-sand beaches in mid-December on the Caribbean shores of Martinique, in the Lesser Antilles, sets the new standard.
The 55-acre, coconut-palm-grove property blooms with bougainvillea, hibiscus, and frangipani, as befits Martinique's hothouse status as the "Island of Flowers." The resort's 293 brand-new French Caribbean–style rooms and suites come with goodies that wouldn't have been dreamed of back in 1969, when the resort originally opened: pillowtop beds, CD players, flat-screen televisions, and deluxe "rainshowers." Other resort trappings include a jetted, 5,000-square-foot infinity pool surrounded by a flotilla of plush daybeds with glittering sea views. Club Med specializes in nonstop activity, so the resort's three beaches cater to every sand-and-surf whim. Seaside Zen? A new fitness palapa hosts yoga, meditation, and Pilates. Jet skiing? Head to the water-ski-and-wakeboard dock, on the same stretch of sand as the beach volleyball and live music. Quiet beach time more your thing? A third shore is strictly nonmotorized. Seven nights from $1,775, based on double occupancy, including airfare, meals, and activities; 800-258-2633, www.clubmed.com
Fly Me to the Surf
Macaw Air, Costa Rica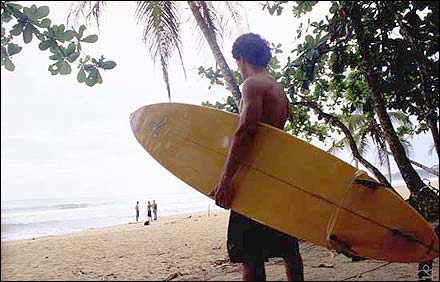 Every surfer worth his wax dreams of Costa Rica's tropical beaches, sun-glinted waves, and minimal crowds. But if the surf drops off at your favorite break—Tamarindo, for instance—you might be stuck thumbing through the latest le Carré novel while the waves crank away down south at the country's longest left, Pavones. After all, it's two days of jangling, potholed driving between the breaks.
Surfers now have an alternative. Launched in the fall of 2004, Macaw Air is the first coastal airline catering to the wave-chasing set. The brainchild of former Canadian mountain guide and charter pilot Chris Uniacke, Macaw neatly fills a hole: "No one was flying up and down the coast, and that's what surfers want to do," explains Uniacke, who partnered with tour operator Greg Rothermel to offer reasonably priced, swell-dictated surf adventures. Packages like the Pavones and Matapalo Surf Getaway include the spectacular flight from Tamarindo to Puerto Jiménez, an air-conditioned shuttle ride to Matapalo Point's wicked breaks, and accommodation at a jungle eco-lodge—all for less than $600. But if the surf's better elsewhere, Macaw will whisk you there.
You don't have to be a surfer to fly Macaw, either: Spend the morning deep-sea-fishing off the coast of Playa Flamingo, then sleep the night deep in the southern jungle amid the whoops of howler monkeys. Itineraries and prices vary; 011-506-653-1362, www.macawair.com
Additional reporting by Shanti Sosienski