Soccer in the World's Most Violent City: Why Are You Here?
Ryan O'Hanlon is down in Honduras to cover the U.S. Men's National Soccer Team's opening World Cup qualifying match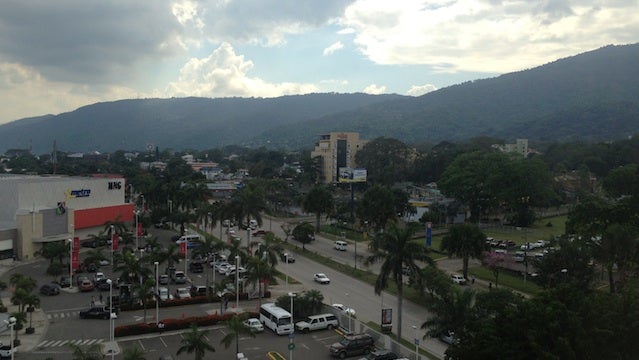 Heading out the door? Read this article on the new Outside+ app available now on iOS devices for members! Download the app.
"Javier, when was the coup?"
Game On
Ryan O'Hanlon will file dispatches from Honduras, where he is covering the U.S. Men's National Soccer Team's opening World Cup qualifying match, all week.

 

Those words came out of the mouth of some man—southern, reasonably-tall, and apparently the mayor of San Pedro Sula, based on some of the I'm-sort-of-a-regular way he tried to talk about the place—on our shuttle from the airport to the hotel.

It doesn't really matter that the driver's name was Melvin—he got three letters right, at least—or that, after a back and forth, they decided that the coup happened no later than 2008. The coup happened in 2009, as Noah Davis, esteemed person-who-has-been-to-Honduras-once, told me from the back of the shuttle. And what matters here is just that the coup happened. It happened less than four years ago, and now I'm here, rolling through the streets in a van, navigated by a man not named Javier, who has no problem cutting through gas stations instead of waiting for a red light to turn.

So, why the hell would anyone go to San Pedro Sula, Honduras?

That's something I asked myself this morning, while I sat in the Houston airport waiting for my flight. I mean, it's an easy-enough answer for the majority of people who were on the plane: they're Honduran. But there were other not-Honduran people on this flight, too, all traveling to this city either to stay or to transfer on to somewhere else, but traveling to the same point for the two-and-a-half hours we were in the air.

Type San Pedro Sula into a Google search. See that second result? It's a Washington Post article titled "San Pedro Sula, Honduras is the world's most violent place." As of January 2012, on the homicides-per-100,000-people scale, this city was first with 159. (For reference, New Orleans was the most violent American city on the list with 57 per 100,000.) The U.S. State Department also calls San Pedro Sula—the transportation hub and industrial center of the country; also, a hub along the dotted path that is the Western cocaine trade—"the world's most violent city."

(It should also be noted that the State Department says, "Tens of thousands of U.S. citizens safely visit Honduras each year for study, tourism, business, and volunteer work." Which is then followed by, "However, crime and violence are serious problems throughout the country.")

So, again, what were all these other people doing, boarding this flight? Well, the elderly Canadian couple I met were on their way to some hidden outpost to meet friends. When I asked if they were staying in San Pedro, the woman—as nicely and as old-lady-like as possible—just laughed in my face. Then there was a Canadian woman going backpacking with friends through the country (that makes it sound less menacing than it actually is) for five weeks, and the guy with the guitar from Tulsa who apparently grew up down here and easily switched from that Oklahoma twang to perfect, Honduran-accented Spanish. Oh, and the church group from Louisiana—all overweight, post-middle-age, John-Deere-hat-and-camo-bag types … wearing John Deere hats and carrying camo bags—doing God knows (seriously) what.

But everyone had their reasons because this just isn't a place you come to just to come to. You do it for, well, any other reason than that. My, Noah's, and a couple other people on the plane's reason: to watch a soccer game.

THIS IS HOW THE path to the World Cup generally goes for the United States Men's National Soccer Team: they win most of their games at home, they lose in Mexico, and they scrape and scrap together enough wins and ties from games they play in Central America and the Caribbean.

Three (possibly four, depending on the result of a consolation game) North American teams will qualify for the 2014 World Cup in Brazil. There are six teams—the U.S., Mexico, Costa Rica, Jamaica, Panama, and Honduras—in the final stage of qualifying, which is referred to as The Hexagonal. Over the next year, each team will play 10 games (one home, one away: against each of the other five). It all kicks off on Wednesday, and, for the Americans, it's kicking off in San Pedro Sula.

Quick primer: all of the Americans, and this is true for most national teams, play professionally for club teams, whether they're in Europe, Mexico, the United States, or somewhere else, as their full-time jobs. They then play for the U.S. intermittently throughout the year (pro leagues take breaks for international games) in qualifying and the occasional major tournament (regional tournaments and the World Cup) over the summer. Here is the roster (clubs in parentheses):

GOALKEEPERS: Brad Guzan (Aston Villa, England), Tim Howard (Everton, England), Sean Johnson (Chicago).

DEFENDERS: Matt Besler (Kansas City), Carlos Bocanegra (Racing Santander, Spain), Geoff Cameron (Stoke, England), Edgar Castillo (Tijuana, Mexico), Timmy Chandler (Nuremberg, Germany), Brad Evans (Seattle), Omar Gonzalez (Los Angeles), Fabian Johnson (Hoffenheim, Germany), Michael Parkhurst (Augsburg, Germany).

MIDFIELDERS: Michael Bradley (Roma, Italy), Brad Davis (Houston), Maurice Edu (Bursaspor, Turkey), Jermaine Jones (Schalke, Germany), Sacha Kljestan (Anderlecht, Belgium), Jose Torres (Tigres, Mexico), Danny Williams (Hoffenheim), Graham Zusi (Kansas City).

FORWARDS: Jozy Altidore (AZ Alkmaar, Netherlands), Clint Dempsey (Tottenham, England), Herculez Gomez (Santos Laguna, Mexico), Eddie Johnson (Seattle).

Some combination of those 24 guys will either beat/tie/lose to Honduras on Wednesday, and they'll all be staying in a hotel down here starting tonight. (At the urging of the U.S. Soccer Federation, and I'm told this is a first, all American journalists are staying in the same beefed-up-security hotel.) Look at where they're all coming from: basically, anywhere that isn't San Pedro Sula.

Not the place where the guy was selling glass-bottled coke out of a wagon pulled by a horse. Or the place with the gigantic, all-white, abandoned Jewish temple right outside the airport. Or the place where a one-armed man was passed out in the middle of the highway, surrounded by 20 or so people, somehow with towels on the ground underneath, just generally looking pretty dire. Or the place with a pharmacy fronted with security guards. Or the place with the Chinese restaurant fronted by security guards. And most definitely not the place where Pizza Hut is the nicest building you see between the airport and your hotel.

In short: this isn't necessarily the most-conducive environment for optimal athletic performance, but this doesn't mean that it can't be or that it won't be or that it even needs to be in order for the U.S. to win. But it makes a soccer game—and I think this is one of the few times I'll be able to say this without feeling queasy—almost something more than only that. 

The Honduran government just declared Wednesday a national holiday so everyone in the country can watch the game, which is great. We should at least be coup-d'etat-free until then.
Trending on Outside Online