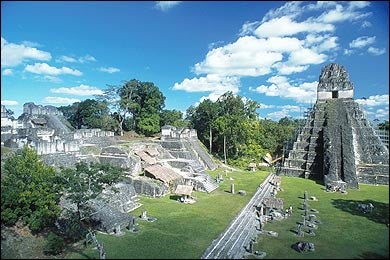 Heading out the door? Read this article on the new Outside+ app available now on iOS devices for members! Download the app.
9. Ancient Crumbles in the Jungle
Tikal, Guatemala
Why I'm bounding up the steps of Tikal's Temple of the Masks predawn on a chilly March morning is still not clear to me—let's chalk it up to barroom advice that sounded completely rational after a few beers. But I adjust my eyes to the haze, suppress my quaking desire for coffee, and settle in to enjoy the eerie, hollow sounds emanating from the bowels of the temple. As I climb, it occurs to me that I'm as close as I'll ever come to living an Indiana Jones moment—and that's plenty reason to sacrifice a few hours of shut-eye.
Intrigue and excitement shroud 222-square-mile Tikal National Park, home to a sprawling ancient Maya city overrun by creeping lineas sprouting from massive mahogany trees deep in northern Guatemala's Petén rainforest. The country's most popular tourist attraction contains thousands of stone structures that date back as far as the fifth century b.c. It's a well-known fact that Tikal was an epicenter of the Maya world, but despite archaeologists' devotion to the place, no one has cracked the mystery of why the city's 90,000 inhabitants abandoned it.
And that's fine with me. I prefer sitting atop a 2,000-year-old temple without all the answers laid out in front of me. So here I am, staring down on the Great Plaza, where four temples face off, forming a green square where anteaters, armadillos, and oscillated turkeys roam. And just when I've had enough, I hear the jet-engine purr of a howler monkey sputtering to a full-throttled roar in the forest behind me. I listen to the surreal racket and silently thank the Maya deities that the other tourists are still sleeping.
DETAILS: There are three hotels in the park, including the Posada de la Selva, which has a pool and bungalows with private showers (doubles, $72; 011-502-476-8775, www.junglelodge.guate.com).
—STEPHANIE PEARSON
10. Pyroblast! Riding the Volcano
Antigua, Guatemala
With at least one of its 33 volcanoes constantly coughing out ash or lava, Guatemala has more eruptions than an Avril Lavigne concert. And there are so many miles of old Indian trails and farmers' footpaths crisscrossing the cones surrounding Antigua, you could ride for a month without greasing the same singletrack twice. The best of the bunch is a 19-mile traverse of 12,336-foot Volcán de Agua that starts with a climb up a forest road from the village of Santa Maria de Jesús (six miles south of Antigua) to the trailhead. From there it's all singletrack slicing through avocado and coffee plantations seemingly glued to the sides of steep slopes.
DETAILS: Bike Guatemala (011-502-399-0440, www.bikeguatemala.com), in Antigua, runs the Agua trip for $30 per person, including bike rental.
—DAVE HOWARD
11. Life's Swell at Long Caye
Long Caye, Belize
There's a certain queasy feeling that comes from bobbing up and down in three-foot waves while spray-skirted inside a sea kayak. It's not quite seasickness, but it's close enough to make you long—momentarily—for flatwater or, better yet, terra firma in the form of a wide beach and thatch-roofed cabanas. Luckily, all are in ample supply at Slickrock Adventures' base camp on Long Caye, a skinny finger of dry land 35 miles off the coast of Belize. The Caribbean water is so clear you can anchor and find yourself snorkel-to-fish-eyes with moray eels in seconds.
At Slickrock, sea-kayaking instruction is comprehensive but painless: No one's barking orders, and by the second morning you can brave swells on the south side of the island or paddle straight out from the north side and into an 82-square-mile lagoon, inside Glover's Reef. And instead of cramming the kayaks with tents and sleeping bags for an island-to-island expedition, your home is the castaway-style base camp, with a sand-floored dining hall, composting toilets, and conch-lined pathways weaving among the coconut palms. The two-person bungalows come outfitted with a hammock on the porch, a solar-powered lantern for reading, and the endless crash of waves to lull you to sleep. Finding a balance between nap-induced delirium and watersports burnout, however, will be your greatest challenge.
DETAILS: Slickrock Adventures (800-390-5715, www.slickrock.com) charges $1,895 per person for a ten-day, all-inclusive sea-kayaking trip to Glover's Reef.
—K. A.
12. The River Wild
Cangrejal River, Honduras
In a generous 1987 decree, all land in Honduras above 6,000 feet was declared park territory, and around La Ceiba that meant the town's precipitous backyard—now the 429-square-mile Parque Nacional Pico Bonito. The country's second-largest park looks like something straight out of Sir Arthur Conan Doyle's 1912 novel The Lost World, with tangly jungles. For rafters and kayakers, the Cangrejal River and its thousand-foot-deep gorges are the draw; I paddled Class III-IV rapids around gigantic granite boulders, and even in the dry early summer the river was frisky enough to unseat me from my inflatable kayak.
Afterward, I decamped to the Lodge at Pico Bonito, a 200-acre hideaway adjacent to the national park. The structure—built from timber downed by 1998's Hurricane Mitch—resembles a Wyoming millionaire's summer home, with 8,036-foot Pico Bonito dominating the view like a tropical Grand Teton. The really good stuff—like canoe trails weaving through coastal mangrove forests—lies in the untapped wilderness beyond the lodge.
DETAILS: The Lodge at Pico Bonito (888-428-0221, www.picobonito.com) has cabins for two people from $155 and will arrange full-day Cangrejal rafting trips for $75 per person, lunch included.
—BUCKY MCMAHON