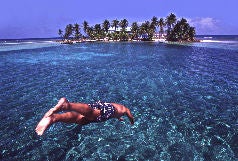 Heading out the door? Read this article on the new Outside+ app available now on iOS devices for members! Download the app.
In Outside's 2004 Traveler issue, we bring you "The Sporty Forty," a compendium of great destinations in Mexico and Central America. But this isn't the first time we've explored that gloriously sun-soaked neck of the woods. Here, we present a complete anthology of our favorite south-of-the-border getaways.

Taking the plunge near Belize's Carrie Bow Caye.
Pure Mexico
Discover our secret Mexico, the one that's tourist-free and packed with adventure hideaways.
La Ruta Maya
Cigar-smoking santos, icy Belikin, crumbling pyramids, freshly pressed tortillas, slithering vipers, and everlasting love Just Park Me in a Pelapa in Yelapa
A visit to the Mexican fishing town where trolling for sierras, slurping shrimp cocktails, and lollygagging on the beach are the main pursuits
The Lazy, Crazy Guide to Sand Land
Where to Surf, Hike, Dive, Fish, Shop, Eat, Drink, Dance, Sleep, and Kick Back
Guatemala High
The forgotten Pacific coast of Guatemala offers isolated surf breaks, miles of mangrove swamps, hikeable volcanoes, and fishing that would turn Hemingway green.
Come Sail Away
Want to explore Belize's barrier reef while avoiding the masses of a live-aboard scuba boat? Just charter a bareboat catamaran and you can anchor among deserted atolls, descend plunging coral walls, laze around on empty beaches, and—best of all—do it on your own sweet time.
Life Is Way, Way More than a Beach
If successive days doing nada on some incredibly remote and unbearably beautiful Caribbean beach leave you rested but restless, you've come to the right place. Here are our lovingly researched, adrenaline- and rum-spiked reasons to love the horse latitudes.