A Classical Gas
Discover the wild side of Greece and western Turkey with 12 getaways—from Spartan to Olympian.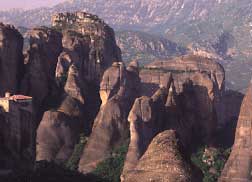 Heading out the door? Read this article on the new Outside+ app available now on iOS devices for members! Download the app.
Trekking White Mountains, Greece
The White Mountains of western Crete are so rugged that much of their terrain is accessible only to mountain goats—and the hikers willing to follow them. In the region's labyrinthine valleys, official trails wind from one vine-entangled village to the next. These are the easy walks, for laid-back Mediterraneans who are as interested in sampling the local ambrosia as they are in exercise. But intrepid explorers can follow the ancient shepherds' paths high along the precipitous flanks of the region's 58 limestone peaks and across high alpine meadows, many of which are carpeted in red poppies and orchids in late spring. Like the shepherds who still roam the roughly 290-square-mile range, you can wander in almost complete isolation for over a week. Early June is ideal, when the trails are snow-free but not dusty, the wildflowers are coming into bloom, and the dormitory-style stone shelters along the paths, run by the Greek Alpine Club, are not yet filled with summer trekkers.

Reserve a bunk for $7.50 per night through the Alpine Club at 011-30-691-65285. Alpine Travel (011-30-821-44647; www.alpine.gr) offers eight-day naturalist-guided rambles for $400 per person.
Whitewater Rafting Dalaman River, Turkey
The Class V rapids on the Dalaman River will inspire anyone to learn Turkish for "Paddle hard!": Kurek çek! The Dalaman is the most rambunctious run in the Aegean (it also offers several sections of Class III and Class IV whitewater). Below the put-in at Mesebuku, in southwest Turkey, it flows through pine forests and squeezes into a deep, narrow gorge—like many rivers in California's Sierra Nevada. Run eight miles through the upper and lower sections of the gorge, and camp alongside the river to get an early start—but not so early that you can't catch and grill trout for breakfast. For the biggest water, 3,360 cubic feet per second, paddle in March or April. And don't put off your trip: The gorge will flood in two or three years when the Turkish government completes a dam downriver.

Marmaris-based Alternatif Outdoors (011-90-252-417-2720; www.alternatifraft.com) offers one- and two-day rafting trips for $70 and $140 per person and rents whitewater kayaks for $20 a day.

Rock Climbing Meteora, Greece
Meteora is sacred ground for serious rock climbers. In 1348, an intrepid Greek Orthodox monk climbed one of the crumbly pillars to secure a metal cross on top, ascending more than 200 feet without any guarantee that his devotion wouldn't be memorialized in a scarlet splatter on the boulders below. To this day, the massive towers remain both frightening and alluring. Stick to popular routes like Pillar of Dreams and Direct Valley Edge, where most of the loose stones have already been pulled out. Climb at least one grade lower than your usual level; traditional protection often won't wedge into the unconsolidated rock securely, and sparsely placed bolts mean that if you peel off you'll take a 40-foot whipper. Meteora offers at least two weeks' worth of 5.9-5.11 routes; almost all of them can be done in a day and reached within a half-hour walk from the affordable town of Kalabáka. Go off-season—spring or fall—unless you want to be a secondary attraction for tourists visiting the clifftop monasteries.

Hire a guide for $80 per day through the Kalabáka Alpine Club (011-30-432-24117).

Bike Touring Peloponnese Peninsula, Greece
Cyclists, unlike geographers, shouldn't care that the Peloponnese is too big to be an island and too small to be a continent. Indeed, they should be pleased because it offers the best of both. Like an island, it's circumnavigable in just two weeks (a 500-mile ride). Like a continent, it's got more than one mountain range (three, in fact), colorful local folk (think of Catalonians with Spartan perseverance), and wonderfully diverse scenery ranging from grassy plains to jagged mountains. We suggest loading your panniers at the ancient Palace of Nestor in Mycenae and riding clockwise. First, cycle over rolling hills beside the untouristed Gulf of Argolis. Climb 3,000 feet through the Parnon Mountains, and coast down onto the dry, grassy Laconian plain. Head to the southernmost finger of the peninsula, the Mani region, for a look at medieval Byzantine castles; then ride north toward Kalamata, pinched between the 7,900-foot Taíyetos Mountains and the transparent waters of the Gulf of Messenia. From there, leave the citrus and olive orchards behind and head inland, to the infrequently traveled one-lane highways and packed-dirt roads of the Arcadia province. Ride a road bike. It's worth going gingerly on the dirt to save weight in the mountains.

For details, call the Spartatikos Gymnastic Cycling Club (011-30-731-24402). An eight-day tour of the southern Peloponnese with Athens-based Prescot Travel (011-30-1-927-0591; www.prescot.gr) costs $271 per person, and includes lodging and mountain-bike rental.

Sea Kayaking Gulf of Göva, Turkey
Turkey's crenellated Turquoise Coast between Marmaris and Antalya is like France's Cote d'Azur, and not only in name: Obtrusive seaside roads cut across once isolated bays and sandy, would-have-been-nice-to-camp-there beaches. But just west of Marmaris, where the topography remains craggy, ferries to and from Rhodes are the only regular traffic and most of the towns and stone castles are abandoned and crumbling. Put in at Datca, round a thin peninsula, and head into the Gulf of Gokova for a week of seclusion. Tiny coves and rocky islands thinly covered with pine trees block the afternoon winds, but it's still a good idea to start early in the day, siesta, and then paddle again in the afternoon. Tides and currents in the horseshoe-shaped gulf are negligible, making it possible to complete the 96-mile trip without paddling more than five hours a day. Skip the arc of the horseshoe and avoid the ugly port of Gokova, but only if the weather is mellow; choppy waves and uncharacteristic winds can turn the seven-mile crossing near the gulf's apex into a ten-hour epic. A ferry at the takeout in Bodrum will bring you and your boat back to Datca.

Rent sea kayaks and camping gear from Alternatif Outdoors (011-90-252-417-2720; www.alternatifraft.com; singles are $20 per day, doubles are $30). San Francisco­ed Travel In Style (888-466-8242; www.travelinstyle.com) offers several guided trips on the Turquoise Coast.

Windsurfing Paros, Greece
The Professional Windsurfers Association has held the annual World Cup competition in Greece for almost a decade—not because the local Greek breezes are strong, but because the winds that blow down off northern Europe are fierce and they happen to blow across Greece. Catch these meltemi at their fiercest in July and August; when they squeeze through the islands of Paros and Naxos they can ratchet up to 50 knots. Throughout the year, count on at least 18 knots every afternoon and rig small, four-square-meter sails for this natural wind tunnel. Protected areas near the most popular expert launches on Páros—Golden Beach (Chryssi Akti) and New Golden Beach (Nea Chryssi Akti)—are suitable for sailors not yet comfortable with water starts, harnesses, or offshore breezes.

For lessons ($20 per hour) or board rental ($150 per week), contact the Páros Surf Club on New Golden Beach (011- 30-284-52882; www.parosurf.gr).


Mountain Bike Turkey
Two-wheel your way through ancient villages in the Bey Daglari mountains and down rocky paths that lead to stunning Aegean beaches on this challenging, 15-day fat-tire tour. Be prepared to pedal three to four hours a day on steep mountain singletrack, forest trails, and paved roads. Marmara Mountain Bike Adventures, $1,675; 011-90-242-511-47-84; www.marmara bikes.com; May-September.
Turkey Multisport
This 16-day excursion takes you to western Turkey's Byzantine churches and the Cappadocia region before leading you off the tourist track with a whitewater canoe trip on the Class II­ Irmagi River and a four-day trek in the mountains of Lycia. Himalayan Travel, $840; 800-225-2380; April-September.

Rambling in Central Greece
You'll hike along pine-forested paths on 8,316-foot Mount Pindos and through the 3,000-foot-deep Vikos Gorge (the country's Grand Canyon) on this 11-day tour of north-central Greece. Hellenic Adventures Inc., $2,761; 800-851-6349; www.hellenic adventures.com; May, June, September.

Cruise Turkey's Turquoise Coast
Spend four days exploring Istanbul and ruins in Ephesus then board a 75-foot traditional Turkish gulet—a 12-person, double-masted wooden yacht—for a ten-day cruise along Turkey's Turquoise Coast, between Marmaris and Antalya. Wilderness Travel, $2,995-$3,195; 800-368-2794; May­ober.

Sail Greece's Dodecanese Isles
It's the classic Aegean adventure: a week or two of island-hopping aboard a 50-foot, eight-person sailboat. Help sail—or sit back and be a worthless deck lizard—as you ride the winds to Leros, Samos, and other islands in the Dodecanese chain. Avenir Travel, $895-$1,750; 800-367-3230; www.avenirtravel.com; April-September.

Scuba Dive the Cyclades, Greece
Explore undersea ruins off the coasts of M'ykonos, Prasonísi, and Santoríni with a government-certified guide (in Greece, submerged antiquities are off-limits to independent divers). You'll spend seven days diving and six nights relaxing in small beachfront hotels. Trekking Hellas, $1,170; 011-30-1-331-0323; www.trekking.gr; June-August. —Dianna Delling

Trending on Outside Online