Eureka!
When it comes to adventure kingdoms, all roads eventually lead to California. Here's where to find the Golden State's secret stash.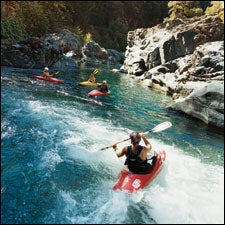 Heading out the door? Read this article on the new Outside+ app available now on iOS devices for members! Download the app.
THE NAME WAS COINED IN 1510 by the Spanish romance novelist Garcia Ordóñez de Montalvo, with paradise in mind, and bestowed three decades later by his countryman Cortés upon a new land on the west coast of North America. But in recent years, any mention of "California" and "paradise" in the same breath has been met with an emphatic smirk, if not a good thrashing. The state's glory days, according to the shopworn story, long ago faded in the wake of wildfires, mudslides, smog, and Uzi-toting pot farmers. Well, conventional wisdom be damned. I propose a rediscovery of all that makes the state golden. No other place comes close to matching California's epic variety of sport and spectacle. Let's put it this way: As soon as I hear of another location with 1,100 miles of coastline, hundred-mile mountain ranges, monster whitewater, storied granite walls, huge deserts, redwood groves, gray whales, herds of elk, live oaks, palm trees, Mediterranean weather, and an orange tree in the backyard . . . I'm there.—Mike Grudowski
Adrenaline Nation
CLICK HERE
for a roundup of adventure meccas around the country, where inspiration comes with the territory.
Otter Bar Lodge

LEARN TO KAYAK THE RIGHT WAY:
On the west side of the Trinity Alps, the Salmon River cuts through the much-heralded Otter Bar Lodge Kayak School, which boasts world-class paddling instructors and front-porch access to Class III–IV whitewater. Otter Bar has perfected a seven-day program that will take you from the pond to Class III rapids. And even though the lodge is completely off the grid, it's still home to some of the best meals within 50 miles. 530-462-4772,
www.otterbar.com
Shasta-Trinity's Backcountry Bonanza
Epicenter: Lakehead, California
(PLAY)
Get Misty: A well-guarded secret until last year, Whiskeytown Falls, in Whiskeytown National Recreation Area, is a 220-foot-high cascade with three granite tiers that rivals the largest falls in the nation. A two-mile trail to the falls should be completed by this summer. 530-246-1225, www.nps.gov/whis
Ski a Volcano, In June: Near the top of your Shasta-T list should be climbing 14,162-foot Mount Shasta and taking the easy way down. Through late June or early July, you can ski or board 7,000 feet of tasty corn, from summit to parking lot. Join up with North American Ski Training Center for the annual guided Shasta Climb-and-Ski trip, June 2–4. 530-582-4772, www.skinastc.com
Climb Without Crowds: Grab a handhold on the granite spires, domes, and walls found in Castle Crags State Park, near Dunsmuir, which includes such epic multipitch routes as the 4,966-foot Castle Dome. Compared with Yosemite, Castle Crags is deserted. 530-235-2684, www.parks.ca.gov
Circumnavigate Shasta: The Circle of Mount Shasta is a 50-mile mountain-bike route that starts near the town of Mount Shasta and rounds the peak counterclockwise, taking you past glaciers and lava flows and through dense pine forests and sprawling meadows. Start at dawn and you'll be able to pull it off by sundown. 530-226-2500, www.fs.fed.us/r5/shastatrinity
Rush a Salmon: Late in the summer, professional kayaker/filmmaker Rush Sturges, of Forks of Salmon, suggests freediving the Salmon River. "Don a mask, snorkel, and diving fins and dive some of the deeper pools," says Sturges, whose family owns Otter Bar Lodge. "They'll be packed with 30 or 40 salmon—big ones, like up to three feet long."
(STAY)
The perfect campsite for exploring the area is at the waterfront Minersville or Bushytail campgrounds on Trinity Lake, near Weaverville. The Forest Service recently renovated both campgrounds. 530-226-2500, www.fs.fed.us/r5/shastatrinity
From June to October, stay at the 110-year-old Drakesbad Guest Ranch, deep inside Lassen Volcanic National Park. It offers rustic accommodations (most without electricity), horseback rides, fly-fishing tours, massages, a hot-spring-fed swimming pool, and access to thermal geysers at Boiling Springs Lake. From $134, including meals; 530-529-1512, www.drakesbad.com
In the middle of all the action is Lakehead's 60-year-old roadhouse, Klub Klondike, the ideal spot for kicking back with a Leon's Freon Ale, chicken and ribs smoked on the premises, live bluegrass, and a spring-loaded floating dance floor. 530-238-2009—Mark Anders
SoCal's Secret Empire
Idyllwild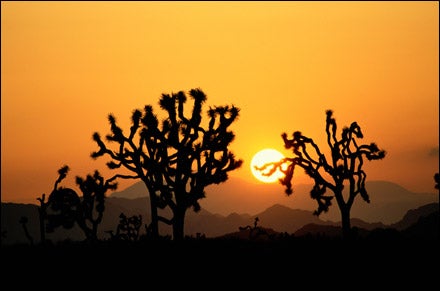 (PLAY)
Idyllwild Before Dark: You don't have to pull an all-nighter to enjoy the conifer-lined singletrack on the 24 Hours of Adrenaline: Idyllwild mountain-bike course, which winds ten miles from Hurkey Creek Campground through the rolling hills next to town. Maps? Ask Bud at Bike Route, the only shop in town since 1972. 951-659-2038
Shuttle in the Sky: Hitch a ride into the San Jacinto Mountains on the Palm Springs Aerial Tramway, which shuttles you to 70 square miles of peak-studded wilderness. From there, hike to the 10,804-foot summit of Mount San Jacinto or trek the Pacific Crest Trail past the crags of Tahquitz, birthplace of climbing's decimal rating system. 888-515-8726, www.pstramway.com
Climb J-Tree: With 5,000-plus routes, from beginner to 5.13+, the otherworldly boulders of Joshua Tree National Park are rightly renowned as rock-jock heaven. Cram cams on your own or learn with the Joshua Tree Rock Climbing School. 760-366-4745, www.joshuatreerockclimbing.com
The Rage in Perris: Yes, at 13,000 feet, Riverside's sky is blue. Take a fresh-air plunge at Perris Valley Skydiving, North America's largest free-fall operation, offering personalized training for first-time tandem jumpers and advanced sky surfers. Terrestrial types and hair-dryer addicts can get a 145-mph gust from below in its vertical wind tunnel. 800-832-8818, www.skydiveperris.com
Kayak Big Bear: Come spring, when the mountain-cradled winter playground of Big Bear Lake awakes from hibernation, rent a craft at Pine Knot Landing and paddle into scenic Boulder and Metcalf bays. Stop to salute the national bird at Grout Bay's bald eagle wintering ground, also home to hundreds of ospreys and ducks. 909-866-2628, www.pineknotlanding.com
Desert Dancing: Each April, 50,000 sweaty fans swarm the Empire Polo Field for the two-day Coachella Valley Music and Arts Festival, California's anti-jam-band Bonnaroo. This year, Bloc Party, My Morning Jacket, Franz Ferdinand, and more than 80 other groups and DJs rock the desert. For the authentic experience, stake your tent early. April 29–30; www.coachella.com
Flora-and-Fauna Walk: Hike the Borrego Palm Canyon Trail, a rocky five-mile canyon in sprawling Anza-Borrego Desert State Park. Bighorn sheep—the namesake borregos—and oases fringed with fan palms are the highlights. Go in April, when temps are mild and the canyon is awash with desert bloom. 760-767-5311, www.parks.ca.gov
(STAY)
Outside Idyllwild, the forested seclusion of Boulder Basin Campground provides the perfect place to tuck a tent, and the world-class bouldering on the granite blocks next door is an added incentive. 877-444-6777, www.reserveamerica.com
Escape to Palm Springs' retro-chic Orbit In and unwind with a poolside martini and a rubdown at the spa. Doubles, $259; 877-966-7248, www.orbitin.com
Coastal Cloud 9
San Luis Obispo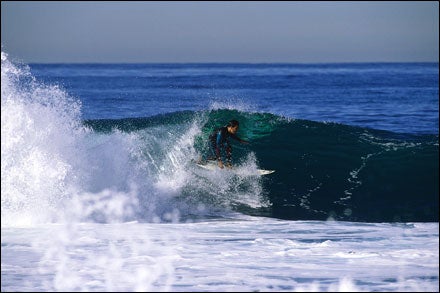 (PLAY)
The Sea by Kayak: Launch from Shell Beach and follow the kelp beds south on a three-hour paddle through Dinosaur Caves, a network of arches, caves, and rock gardens, and onward, possibly with a dolphin escort. 805-773-3500, www.centralcoastkayaks.com
The New Tour: You don't need to be on Team Discovery to ride the Tour of California bike race. Central Coast Outdoors runs a two-day tour along 80 miles of the scenic Monterey–Santa Barbara stretch. 805-528-1080, www.centralcoastoutdoors.com
Develop a Blue Crush: The 1959 film Gidget is about a girl who falls for a boardriding guru named Moondoggie. The eponymous Moondoggies Beach Club might not get you the wahine, but it can get you into the waves with a private lesson at Pismo's beginner-friendly beach break. 805-773-1995
Go Deep: See the coast from a different angle, casting for king salmon on the 55-foot Patriot. On this eight-hour trip out of Avila Beach, you'll troll for the elusive 50-pounders and escape the crowds. April–July; 800-714-3474, www.patriotsportfishing.com
Bomb the Coastline: The 9.5-mile Islay Creek–Barranca loop, in Montaña de Oro State Park, west of SLO, is a mountain biker's dream of jagged peaks and technical downhill, all overlooking sandy beaches. 805-528-1080, www.centralcoastoutdoors.com
Get a Lift: If the winds make it too blustery to surf, try kiteboarding. Pismo's Soulutions Surf Shop gives hourlong private lessons for times better spent airborne than waterlogged. 805-773-5991
(STAY)
The newly refurbished campsites at Morro Bay State Park sport coastal views, repaved paths, and Wi-Fi access, so you can justify a long weekend "working remotely." 805-772-2560, www.parks.ca.gov
Thirty miles north in the state's fastest-growing wine region, Paso Robles' Villa Toscana has eight luxe suites overlooking award-winning vineyards. Doubles from $375; 805-238-5600, www.myvillatoscana.com
Stop off at the Inn at Morro Bay for crab cakes, seafood salad, and abalone in the shell. 805-772-5651, www.innatmorrobay.com
Switzerland in the Sierra
Tahoe City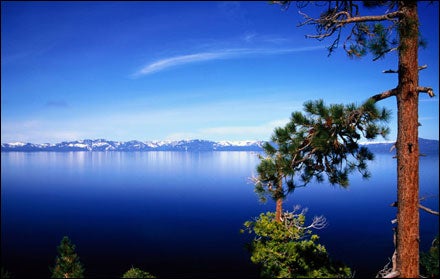 Three More Golden Opportunities
1.
Climb 14,494-foot Mount Whitney, the tallest peak in the lower 48. 760-876-6200,
www.nps.gov/seki/whitney.htm
2.
Paddlers and rafters flock to the Kern River, in the southern Sierra, for Class IV whitewater. Float it with Kern River Outfitters. 800-323-4234,
www.kernrafting.com
3.
Stiff breezes make San Francisco Bay a kitesurfer's dream. Take lessons from Alameda's Kite Wind Surf. 877-521-9463,
www.kitewindsurf.com
—Megan Michelson
(PLAY)
Follow the Tahoe Water Trail: Grab an Adventure Maps guide to the TW Trail—a waterproof list of the best hotels, bars, restaurants, and paddling shops within walking distance of Lake Tahoe's 72 miles of shoreline—and kayak-tour in style. 530-542-5651, www.laketahoewatertrail.org
Catch a Thermal: Enjoy the lake from the air on a tandem hang-gliding flight with Tahoe Tandems, in Reno. The coastal air of the Sierra converges with the hot wind of the Nevada desert to create powerful thermals that circle up to 16,000 feet. 775-378-1707, www.tahoetandems.com
Run the Legend: The most rewarding 25 miles of the Western States 100 trail run starts from the base of Squaw Valley, climbs straight up the ski runs, past alpine meadows and high-country granite, and tops out at Emigrant Pass. Tackle it anytime during the summer. Drop a car at Robinson Flat to shuttle you back to Squaw Valley. 916-387-8796, www.ws100.com
Jump In: "One of my favorite places is Emerald Bay, on the southwest shore of Lake Tahoe," says professional cyclist Bobby Julich, of Reno. "The water's crystal-clear, and the scent of evergreens permeates the air. On a hot day, I'll ride out there and dive in." 530-541-3030, www.parks.ca.gov
Bike Northstar: Northstar-at-Tahoe, outside Truckee, boasts one of the best lift-served downhill mountain-bike parks in the country, with 100 miles of trail full of teeter-totters and log rides. The True North shop can tune your suspension to the trails or rent you a ten-inch-travel Santa Cruz V10. 530-562-1010, www.northstarattahoe.com
Float the Truckeee: Tubing the Truckee River is a Tahoe tradition, and on July 4, thousands descend on the five-mile stretch between Tahoe City and the Alpine Meadows turnoff for an unparalleled float party. Bring a tube or rent rafts from Truckee River Raft Company. 530-583-0123, www.truckeeriverraft.com
(STAY)
Six miles into the Desolation Wilderness from the Echo Lake Trailhead, you'll find the Campsite at Lake Aloha, under Pyramid Peak. 530-543-2600, www.fs.fed.us/r5/ltbmu
The Lost Trail Lodge brings hot tubs and overstuffed down comforters to the backcountry. Accessible via a four-mile ski, hike, or bike on the Coldstream Trail north from Truckee. Doubles, $55; 530-320-9268, www.losttraillodge.com