Head over Heel
On the southern end of Italy's boot—Puglia, Basilicata, Calabria, and the island of Sicily—you'll fall in love with the creamy gelato, unspoiled beaches, and the rhythms of a simpler life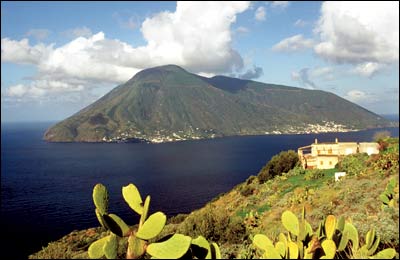 Heading out the door? Read this article on the new Outside+ app available now on iOS devices for members! Download the app.
Mangia crudo, signorina?" asks the smiling waiter with olive-green eyes. Before I can ponder his question—do I eat raw?—I'm nodding, "Si, certo, tutto," ignorant to what "Yes, certainly, everything" means when you're dealing with Pugliese-style sushi. First to arrive are plates of glistening, uncooked seafood: opaque baby octopus and pink shrimp with bulging eyes. I'm instructed to spritz each with lemon, sprinkle with salt, then "ingoia il mare" ("swallow the sea"). Next comes a whole red mullet, its belly sliced thinly at my table and forked onto grilled bread doused with olive oil. And though I wave off tiny raw mussels, it's only because I'm already submerged in delicious new flavors.
I'm giddy to find a culinary surprise in a country where I've spent so much time it feels like home. I fell for Italy as a student in Florence, and an inexplicable passion (growing addiction?) brings me back. I've hiked, biked, swum, and eaten my way through the north, but it took me a decade of visits to explore the south beyond Naples.
Though Italians vacation in the sunstruck Mezzogiorno—the south—foreigners overlook this region of simplicity infused with a laid-back vibe. But change is afoot in the boot. Puglia, Basilicata, Calabria, and Sicily are enticing visitors with crowdless countrysides and value in these soaring-euro days. In the west, terraced hills meet rocky Tyrrhenian shores; the Adriatic east coast has a Greek air. Inland are mountains, medieval villages, parks. Then there's the cuisine, born of peasant tradition and emphasizing what's in season. If it's spring, that means favas at the market, figs off the branch, sea urchin from the shell. And southerners are picky about iced treats. As one hotelier put it, "If the gelato isn't great, the shop closes down pronto."
While the south may not instantly seduce the way Tuscany does—don't expect the panache—the still-raw natural beauty snared my soul. Seek out these highlights of the four regions, and bring a little Italian—language skills are desirable here, especially if you're shy about eating raw fish.
Puglia
Puglia (pronounced POOL-ya), Italy's solid heel, hardly resembles the rest of the country. Facing the Adriatic Sea—which changes from teal to steel to peacock by the minute—the flat eastern coastline, nearly 300 miles long, borders centuries-old olive groves that produce 40 percent of Italy's oil. The architecture doesn't scream Renaissance: Trulli, ancient white-stone conical houses, and old farms called masserias dot the valleys. Wide-open Puglia attracted Greeks, Spaniards, and Arabs, who each planted new crops and left behind a layer of culture. Here I found Italy's best seafood, 15 medieval towns, historic inns with luxurious touches—like an olive-oil body wrap that left me happily marinated—and loads of sports to make basking in the Turkish bath that much more appealing.
Adventures: Torre Guaceto, a reserve north of Brindisi, has five coastal miles of sea-grass-spiked dunes, plus wetlands that draw migrating birds from Northern Europe and Africa, like the long-tailed jaeger. The visitor center (011-39-083-198-9885, www.riservaditorreguaceto.it) arranges hiking and snorkeling to see red mullet and sheepshead bream. For medieval-town hopping, start with Martina Franca (take a cappuccino break at Caffè Tripoli), baroquely beautiful Lecce, and Ostuni, which looks particularly Moorish when illuminated at night. Puglia's quiet roads are perfect for cycling; many of the hotels have bikes, or you can rent in Monopoli (Nardelli Sport; 011-39-080-937-2911) or arrange a customized guided trip (ABCycle; 011-39-085-969-410, www.urla.com).
Meals: Head to the revered Da Tuccino for raw seafood, or the cozier L'Osteria di Chichibio for antipasto featuring braised octopus and wine served in brightly colored ceramic pitchers. Both are in Polignano a Mare, which is also chilled-dessert central: Hit Il Super Mago del Gelato for exceptional coffee and hazelnut gelato, then try a refreshing lemon granita—a coarse, fruity ice.
Lodging: The bright-white compound of Masseria San Domenico (doubles from $398; 011-39-080-482-7769, www.imasseria.com), a 15th-century seaside watchtower once used by Maltese knights on guard for Turks, is south of Monopoli. The airy rooms, with wrought-iron beds, are ultra-peaceful. Just outside are paths through 250 acres of olive groves, two tennis courts, mountain bikes, a spa, and a sprawling saltwater pool—plus a private beach nearby. Pop into the bar for live piano, gracious Old World waiters, and homemade chocolate-dunked orange zest. Down the road, the working farm Masseria Torre Coccaro (doubles from $312; 011-39-080-482-9310, www.masseriatorrecoccaro.com) is more rustic, but it's still refined. The rooms have views of gnarled olive trees (some are 700 years old), and the old stable has been transformed into the dining room. The cooks gather cardoncello mushrooms, persimmons, almonds, and capers on the farm. There's an Aveda spa built into a cave, and a cooking school beside the pomegranate-pink chapel, while the beach and an olive-oil museum are a short bike ride away.
Basilicata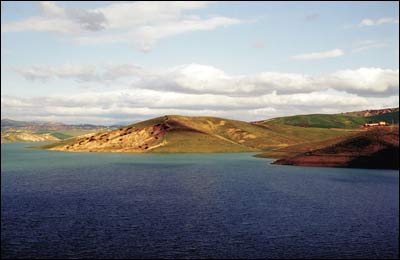 The Greeks, who established colonies here, thought gods lived in the Apennine mountains. Today Basilicata, which borders Puglia to the west and forms Italy's instep, is the country's poorest region and one of its least visited areas. Yet Basilicata's gorgeous 20-mile west-coast sashay along the Tyrrhenian Sea, with its azure water and six hidden villages, rivals the Sorrento Peninsula, to the north.
One such find is Maratea, between two of Italy's largest national parks (Pollino and Cilento), with a grotto-pocked shoreline lit with bougainvillea blooms. Fifty years ago, the Italian count Rivetti transformed the village into a resort town favored by his countrymen. Maratea has a 300-boat harbor and, built into a slope of 2,000-foot Mount San Biagio, a pristine medieval center with a maze of cobblestone streets, piazzas, and 44 churches. Inland in Matera, sassi neighborhoods—cave shelters carved into two ravines that slice through town—have been inhabited since ancient times. The sassi, a UNESCO World Heritage Site, were depicted in the 1979 movie Christ Stopped at Eboli, based on Carlo Levi's book about his experiences as a political prisoner in the area; more recently, The Passion of the Christ was filmed here.
Adventures: Maratea's rocky seabed makes for good snorkeling and diving, or take a fishing boat to swim in the grottoes; the hills are full of ancient paths, some of which connect towns. (Aquafredda is a 3.5-hour hillside traipse from Maratea.) Andiamo Adventours (800-549-2363, www.andiamoadventours.com) offers guided hiking, and Mondo Maratea Servizi Turistici (www.mondomaratea.it) arranges diving, horseback riding, and hang gliding. Tour the sassi with Nuovi Amici dei Sassi (011-39-0835- 331-11, www.isassinelmondo.too.it) or check out ninth-century churches, Byzantine frescoes, and a Romanesque cathedral.
Meals: Forza Sette is the prime spot in seaside Maratea for a sunset pint of Peroni. Up in town, the Taverna Rovita serves fine local fare, like octopus tentacles sizzling in olive oil. Drink the dry Aglianico del Vulture wine, introduced by the Greeks.
Lodging: On its own piney promontory in Maratea, the sprawling Santavenere (doubles, $146–$638; 011-39-0973-876910, www.mondomaratea.it) retains the feel of a family villa, with comfortable sitting rooms, terraces, picture windows, and bedrooms splashed with aquamarine tiles. There's a spa, grass tennis court, and beach, and a saltwater pool built next to a cliff. Here the natural world is revered—one night, conversation focused on a giant mushroom, plucked that morning from the forest and displayed on a gold plate in the living room. La Locanda della Donne Monache (doubles, $73–$319; 011-39-0973-877487, www.mondomaratea.it), a convent-turned-hotel-and-cooking-school, dates from 1735, when it housed Visitandine nuns. The salmon-colored inn is built on several levels; the 29 rooms have views of the surrounding peaks and the town's tiled rooftops.
Calabria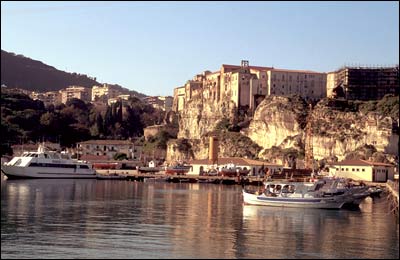 On my first visit to Calabria, five years ago, I'd arranged to stay at a farmhouse ringed by bergamot orchards and hills. When I saw how isolated the place was, I wondered if I might get lonely. Needless worry. The first night at dinner, served family style at long wooden tables, I met the other guests: ten members of an Italian hiking group who unabashedly adopted me. For the next four days, we packed sack lunches and headed out on footpaths or forged trails through brambles and over stone walls.
When it was time to leave, the owners implored me to stay, and the hikers invited me to continue on with them. Such was my introduction to the region long regarded as Italy's scruffiest, in part because of its mafia ties.
What Calabria lacks in polish—Italy's slender toe, south of Basilicata and Puglia, is one of the country's least populated regions—it more than makes up for with a wild countryside. The southern Apennine ridge and the Sila massif, a 650-square-mile plateau with some of Europe's thickest forests, cover half the province. Albanians who crossed the sea to escape the Turks five centuries ago inhabit hillside towns that also house the occasional stronghold of the 'Ndrangheta, the local mafia. Jasmine and citrus scent Calabria's narrow coastal area, stretching between the Gulf of Policastro, on the Tyrrhenian, and the Gulf of Taranto, on the Ionian.
Adventures: Go grotto-diving around Dino Island (Subaqua Diving Club, www.subaquadivingclub.it) in the Tyrrhenian. Just south, Diamante's historical center has fantastical murals by local artists and the Museo del Peperoncino, showcasing the ubiquitous fiery pepper. Camigliatello and Morano Calabro, a mountain village with Norman castle ruins, are gateway towns for hiking in Pollino National Park and the Sila, including the three-mile climb up 5,784-foot Mount Botte Donato for ocean views, and there's Class II–IV rafting in the Lao Valley (Lao Rafting; 011-39-0981-82707, www.laosrl.it).
Meals: Calabria's waters teem with swordfish—order the daily catch at Taverna del Pescatore, in Diamante, and follow it with chestnut granita from Bar Italia, in Bonifati's tiny hilltop piazza. In the mountains, Ristorante Aquila Edelweiss (in Camigliatello) and La Locanda di Alia (in Castrovillari) serve typical Calabrese cuisine—the Sila massif is known for Caciocavallo Silano, a cheese made from the milk of cows grazing in mountain pastures, and cured meats, like sausage flavored with hot peppers.
Lodging: The family-run Grand Hotel San Michele (doubles, $146–$239; 011-39-0982-91012, www.sanmichele.it), in Cetraro, is on a 140-acre organic farm; about two-thirds of what is produced—including mandarin oranges, house-cured salamis, and grapes that yield three kinds of villa-bottled wine—turns up in the restaurant. (At the cooking school, learn to make red-pepper preserves and olive pâé in the fall.) There's a gray-pebble beach with kayaks and guide-led snorkeling, and Andrea, the owner's marine-zoologist son, will help organize hiking excursions, rafting, and diving. Once the home of the Dukes of De Aloe, the melon-hued 12th-century Palazzo del Capo (doubles from $305; 011-39-0982-95676, www.palazzodelcapo.it) has a prominent spot in tiny Cittadella del Capo with 16 breezy, sea- or pool-facing rooms and a prime snorkeling beach.
Sicily
My Italian is good enough for me to know that the desk clerk was promising the six trails around Eremo della Giubiliana were well marked. And I know she said that all but two of them were fine for a short pre-dinner bike ride. So I followed trail five, whizzing toward the sea, pedaling on medieval paths past crumbling stone walls, carob trees, and fields bursting with poppies. At first it was easy to keep the turreted hotel on the horizon. But after more descending than climbing, I lost my reference and didn't see a marker. Attempts to retrace my route proved futile—the paths looked remarkably alike. Near dusk, I crossed a road and flagged down a car. Although the driver didn't know the hotel, he delayed getting home to his family dinner to drive me and the bike—once we'd taken off both wheels and the seat—to find it. Which we did, after 30 minutes of zigzagging through countryside where even the nicest hotel remains incognito.
Sicily, a punt off Italy's toe across the Strait of Messina, collects superlatives. Europe's highest volcano, 10,902-foot Mount Etna, towers over the Mediterranean's largest island, 9,000-plus square miles. The rich volcanic soil produces blood oranges and grapes that yield mighty tasty red wine, like Nero d'Avola. Though parts of Sicily—particularly around Taormina—have lured admirers since Roman times, other areas are largely ignored. Like the striking south coast, where Italy meets Africa. Here, stone walls in the highlands delineate ancient farms, and the Mediterranean Sea is the dazzling blue of a husky's eye.
Adventures: Surrounding Ragusa, built onto a limestone hill between two deep valleys, are some of Sicily's best ancient sites. For the greatest views, take an aerial expedition. The Eremo della Giubiliana hotel (011-39-0932-669119, www.eremodellagiubiliana.it), in Ragusa, takes visitors up in its own plane. Or explore Syracuse, about a 40-minute drive east, founded in 734 b.c. and onetime rival of Athens in power and prestige—Archimedes, Cicero, and Plato all called the place home. At a UNESCO World Heritage Site in Agrigento, five fifth- and sixth-century Doric temples stand along a ridge.
Meals: Sicilian cuisine is hearty: Think spaghetti tossed with fennel, fresh sardines, and citrus zest. You can eat exceptionally well in Syracuse: Ristorante Don Camillo is cherished by locals, and Pasticceria Tipica Catanese makes it clear why this part of Italy is known for its cannoli and cassata, a sponge cake made with ricotta, dried fruit, and nuts. In Noto, hit Caffè Sicilia for gelato—the ricotta-pistachio and cinnamon-almond flavors are especially tasty. Modica is home to Sicily's oldest chocolate factory, Antica Dolceria Bonajuto, featuring confections loaded with cocoa from the Ivory Coast.
Lodging: Eremo della Giubiliana (doubles from $319) began life as a 15th-century fortified convent before passing into the Nifosi family in the 18th century. The 13 starkly elegant rooms are transformed friars' cells. There's a gardenside swimming pool and a fleet of mountain bikes to explore nearby medieval sites, villages, and the private beach (with an inn-provided picnic in tow). House-bottled wines, like the Inzolia, a crisp white, are served with dinner in a vaulted cellar; the breakfast table overflows with homemade blood-orange marmalade, lemon jelly, and artichoke pâé. Five new white-stone cottages are situated along the airstrip, so you can park your plane right outside.
Access and Resources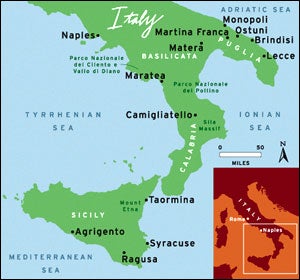 Alitalia (800-223-5730, www.alitalia.com) flies nonstop to Rome from JFK and Newark for about $790. From Rome, Alitalia has several daily flights to Puglia, Basilicata, Calabria, and Sicily; Europcar (877-940-6900, www.europcar.com) offers rentals in all four regions. Late spring and early fall, when the weather is still warm but the vacationing Italians have thinned, are ideal times to visit. The online Italy Traveller Hotel and Restaurant Guide (www.italytraveller.com) offers good regional information on lodging and dining. If you're overnighting in Rome before a flight, try the elegant Hotel Barocco (doubles from $264; 011-39-0648-72-001, www.hotelbarocco.it), tucked off Piazza Barberini. Maccheroni is a bustling ristorante serving a mean gnocchi with pear and gorgonzola; next-door is Vinoteca Novecento, a snug new wine bar.
When in Rome… or Florence… or
Andiamo! You haven't visited italy if you haven't seen these five hot spots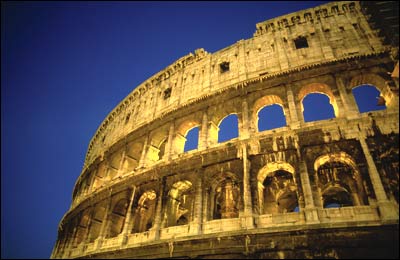 Cinque Terre
This seven-and-a-half-mile hike in the country's northwestern corner cuts through lemon orchards and vineyards, linking five pastel villages atop green cliffs dropping into the Ligurian Sea. To start, hop the Genoa–La Spezia train to Riomaggiore, then follow the trail west through Manarola, Corniglia, Vernazza, and Monterosso al Mare, ending with beachside repose. www.cinqueterre.it
Galleria Ferrari
Italians' lust for the classic red Ferrari ranks just below their admiration of the bella donna. Maranello, in northern Italy, is home to the factory and Galleria Ferrari, a museum chronicling the world's sleekest car. A new wing helps accommodate the 180,000 fanatics who visit annually. www.galleria.ferrari.com
Florence
You can't not see the Uffizi and Michelangelo's David in the Galleria dell'Accademia. Unfortunately, every tourist feels the same way. After the long lines, enjoy an architectural walk to the landmark Il Duomo, grand Medici villas, and the merchant-heavy Ponte Vecchio. www.uffizi.firenze.it
Vesuvius
Adventurous travelers ascend 4,190-foot Vesuvius, which erupted with notorious effect in a.d. 79, then go south to Pompeii, where excavated homes reveal frescoes of the gods, or to Herculaneum, to see remains of the victims. Ponder it all over pizza with mozzarella di bufala, the regional specialty. www2.pompeiisites.org
Rome
If you haven't satiated your thirst for art in Florence, a weekend in Rome will cure all. At the Vatican Museums, it's a labyrinthine walk through hallways lined with art by masters Raphael, Caravaggio, and Giotto to reach the Sistine Chapel. Bernini brings myth to life at the quieter, manse-like Museo and Galleria Borghese; his sculpture of Pluto grabbing Proserpina's thigh is more supple than stonelike. mv.vatican.va, www.galleriaborghese.it