To Hell and Back—Hot Springs Included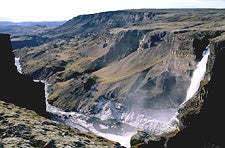 Heading out the door? Read this article on the new Outside+ app available now on iOS devices for members! Download the app.

Summer thaw: melting ice carves a canyon in Iceland
Q: We are trying to plan a ten-day hiking trip to Iceland for the last two weeks in August. Would like to either camp or stay in huts (my partner would love the tent, whereas I would welcome a hut at the end of the day!). We are not looking for anything too treacherous, but a little challenge never hurts. And hot springs for bathing are a must. Could you recommend the best place for us to start looking?


— Deanna Coleman, Sydney, Australia




Adventure Advisor:

A: Few adventurers can boast that they've escaped the Gateway to Hell by walking on icecaps. Want to join them? Just get yourself to Hvolsvollur, strap on your pack, and start down an eastbound trail. This small town, about 65 miles outside of Reykjavik, sits at the edge of Mount Hekla, an active volcano that local legend deems the entrance to the underworld. The surrounding wilderness is frozen much of the year, with some trails staying snow-covered until mid-summer. Late August is the perfect time to take advantage of the thaw, since almost round-the-clock daylight maximizes your travel time. You can hike hut-to-hut or campsite-to-campsite across a landscape that's so rarely traveled you won't see other humans on most of your backcountry days.


From Hvolsvollu, you'll walk about ten miles to the nearest hut, crossing the Gilsa River en route. If you're awake for the sunset/sunrise, you'll see the snow-capped peaks of the surrounding hills turn an eerie, fiery orange while the brown grasses around the hut lap the ground like flames. Continuing east, you'll find huts every ten to 15 miles. You could keep walking for well over a week, with plenty of hot springs to soak in along the way—more here than in any other part of Iceland. For more info on trails, huts and campgrounds, e-mail the tourist information center in Hvolsvollu: njala@islandia.is.