Here's Mud in Your Eye ( and Your Ears, and Your Hair, and Your Nose…)
Greetings from the quaint Welsh village of Llanwrtyd Wells, renowned for its fine ales, warm hospitality, and one of the oddest athletic endeavors on Planet Earth: floundering through noxious rural ooze! TIM BROOKES reports on the illustrious—if slightly smelly—history and modern-day mayhem of a certifiably insane sport called bog snorkeling.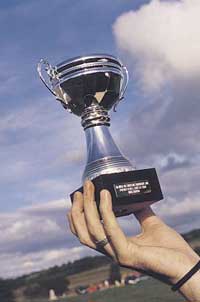 Heading out the door? Read this article on the new Outside+ app available now on iOS devices for members! Download the app.
GORDON GREEN, INVENTOR OF BOG SNORKELING, strips down to his shorts, pulls on blue overalls and rubber boots, and climbs down into the muddy water of an overgrown drainage ditch. Almost at once, the peaty liquid reaches critical scrotum depth.

Bog love god: English snorkeler Martin Fisher, 25, stands rall after finishing third in the trench

Sixty Yards of pure slime: the Waen Rhydd bog on race day

Julia Galvin emerges from the murky depths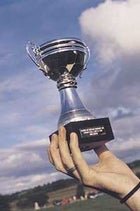 Big win, li'l trophy: For world-record holder John Cantillion, it's the thought that counts
"Bloody hell, that's cold," Green says. Mid-Wales is never tropical, and even on a partly sunny day in late August, the stagnant water is at shriveling temperature.
"The little spheres trying to retreat into the body, are they?" inquires Mark Bradburn helpfully.
Green, 66, is innkeeper in the village of Llanwrtyd Wells in the county of Powys. Silver-haired, medium height, he has the perpetually bemused look of a man who has just misplaced his glasses. Bradburn, a local builder, is some 25 years younger, short, dark, cheerful, and built like a pink brick. They and I are in a soggy field at the end of a dirt track barely wide enough for two sheep to pass, on the slopes of beautiful bare green hills called the Eppynt Mountains. A fox bounds away toward a cluster of wind-bent trees; above us a Welsh hawk, a long-tailed red kite, swoops cleanly across the sky.
Bradburn hands Green a tree saw, and Green begins to hack away at the roots of the thick clumps of sedge, five feet long and slimy with algae, that have encroached into the bog over the past year. Bradburn and I, each with one foot on the bank, the other thigh-deep in slime, haul them out and throw them over the barbed-wire fence that runs down one side of the trench, where they land with soggy thumps. Bubbles rise all around Green as he works, giving off a smell like a cross between stale beer and farts. "That's methane," he says mildly. "Pity it's all getting released now, really. Maybe it'll have built up again by Monday."
Monday, August 28, is the day when 57 people from all over the world will converge on the bog, which is locally known as Waen Rhydd (pronounced, roughly, "Wine Wreath"), in Llanwrtyd Wells ("Thlan-oor-tid"), to compete in the 15th World Bog Snorkelling Championships. And Green, as the sport's visionary, custodian, impresario, and general Master of the Bog, would like the trench to be as smelly, slimy, and unappealing as possible for the big race.
All sports require a degree of lunacy, but bog snorkeling demands a doctorate in it. At least, this is the general explanation for why people have paid a £5 entry fee to take turns putting on mask, snorkel, wetsuit, and fins, descending into the frigid bog water, propelling themselves 60 yards through the muck to the far end of the ditch, turning, and thrashing back—ideally in two minutes or less. The fastest will receive a very small trophy and £40; the slowest will get £5 and a handshake; and everyone will take home a pile of laundry that will have to go three times through the washer.
When I inquire about health concerns, Green points out that upland bogs are acidic enough to kill most bacteria. The water, despite the floating green muck, is safe for swimming—as long as there aren't any dead sheep lying around—and no snorkeler to date has gotten sick. Bradburn claims that the bog has trout and chub, although contestants are more likely to encounter harmless but evil-looking water scorpions. One of these already clings to the start post: a flat, black customer with pincers and a whiplike tail.
"They live off bog snorkelers," Bradburn says, straight-faced, as he drives the white wooden stake into the bottom of the bog with a sledgehammer. "This is their one meal of the year."
Bryn Davis, headmaster of the Llanwrtyd Wells elementary school, arrives just when most of the hard work is finished, and is good-naturedly jeered by his friends. He is tall, thin, energetic, with a salt-and-pepper beard—a lovely man, as the Welsh say, with the slightly fanatical Welsh way of looking as if he could talk all night about Welsh history, Welsh rugby, and Welsh male choirs.
Davis and I go to the starting line with soil rakes and begin skimming off the floating grass, weeds, and clumps of nasty-looking green scum. Warming to his task, Bryn sets about telling me the history of bog snorkeling, which turns out to be closely connected to the history of Llanwrtyd Wells, for neither would exist without the water of these hills.
LIKE ALL VENERABLE British inventions, bog snorkeling sprang from a range of diverse influences, chief among them good ale and bad weather. The year was 1976, and Gordon Green, then a production manager at a London ice-cream factory, decided to give up city life and move with his wife and three children to a more pastoral existence in Wales. He bought the Neuadd (that's "Nigh-ath") Arms, a square, stone Victorian hotel with 20 rooms in Llanwrtyd Wells, and set about fashioning himself an innkeeper. It didn't take him long to realize that the town, with a faltering farming economy, was pretty dead. (The damp Welsh uplands offer poor grazing, forestry and sheep-farming are in decline, and the soil is too acidic for much to grow.) Tourism seemed to be the answer. But what would attract people to a remote area that has its own rugged beauty, typically Welsh weather, and not much else?
Green happened upon the answer one evening four years later, in the Neuadd Arms, when he was arguing over a drink with some farmers about the relative strengths and speeds of man and horse. They decided to put the question to the test, and six months later the first modern Man vs. Horse cross-country footrace was born. (Today, the annual May marathon is so popular that a London bookie offers £22,000 to the man who beats a horse over the length of the 22-mile course; so far none has, though last year the winning runner came within a minute and a half of the slowest steed.) After that, there was no stopping Green. He continued to invent sports, the weirder the better: the Real Ale Ramble (a two-day trek with ale at every checkpoint), Mountain Bike Bog Leaping (a 20-mile cross-country race), and half a dozen more.
Easily the oddest of the lot was bog snorkeling. One night in 1985 a couple of English transplants named Iris and Royston Shrigley were enjoying a pint in the Neuadd Arms, and the conversation got around to their new home. It needed work, Iris said, "but not as much as the garden. That's only fit for bog snorkeling."
The phrase stuck in Green's mind until a few months later, when Canadian Club whiskey sponsored a contest of eccentric ways to raise money for local charities. On a whim, Green proposed bog snorkeling, which didn't take home first prize (according to Davis, someone sitting in a bath of baked beans in Birmingham won) but did garner a case of whiskey and a pile of T-shirts. This was enough to persuade Green, a good student of history, to turn his strange idea into stranger reality: A once-booming town renowned for its wells would be reborn from those very waters.
Legend has it that in 1732 a pastor in the area, one Theophilus Evans, fell ill with scurvy. He went to the nearby hamlet of Llanwrtyd, where he'd heard there was a sulfur spring called Ffynnon Ddrewllwyd (Welsh for "stinking well") that was supposed to have curative powers but smelled awful enough to make even a sick man think twice. Seeing a frog jump in, though, the good reverend decided the water couldn't be too toxic, drank it, and was cured. During the Victorian spa boom of the 1890s, a rail line was built up from South Wales, and it wasn't unusual to see hundreds of people swarm off the train and line the path to the well. This continued, more or less, until the 1940s, when the National Health Service was established to provide free medicine for all. The Welsh no longer needed healing waters, and within a few years Llanwrtyd Wells became a virtual ghost town.
Then, in August 1985, the World Bog Snorkelling Championships were born. In its first year, the event drew 20 competitors at £5 per entry; proceeds were donated to the Llanwrtyd Wells Community Center. Since then it has been held every August Bank Holiday—the British equivalent of Labor Day—and has grown steadily in numbers and renown. It has been broadcast on the BBC and countless evening news programs around the world, and has attracted the sponsorship of Ben & Jerry's UK, which kicks in free ice cream—Phish Food is the flavor of the day—as well as the trophy and helpful wooden distance markers. When Manchester submitted a proposal to host the 2000 Summer Olympics, Green wrote to the organizing committee to suggest bog snorkeling as an event. "P'raps that's why they didn't get the bid," he says wistfully.
And though the sport has retained its primitive glory, its effect on Llanwrtyd Wells has been nothing short of radical. The town of 600-plus now boasts nearly two dozen inns and B&Bs, thanks to this odd vein of tourism. Snorkelers and spectators, only too delighted to have an excuse to spend a weekend hoisting pints in the Welsh countryside, arrive in droves from all over the British Isles and Europe. "There wasn't much else here," explains former mayor Lesley Keates. "It's no good saying, 'Come here and sunbathe.' I think without the games Green organizes, this town wouldn't be here."
TORRENTIAL SHOWERS FALL on Sunday, sending water racing down the narrow streets of Llanwrtyd Wells. Just as well: Three years ago the event was canceled because the bog was dry. The competitors have begun to arrive, most of them dismayingly normal-looking. Luckily, the same can't be said for the Irish team. The first to show up—Julia Galvin, 30, a biology teacher from Kerry, and Brian Crossan, 31, a metalwork instructor from Longford—promptly take the town by storm. Within the hour, they are in the pub, leading a multinational team in a pop-music trivia contest.
Not a shy person, Julia bog snorkeled for the first time in the 1999 competition and thereupon declared herself Irish champion, as nobody else from Ireland was present. She became an instant celebrity on national TV and radio and decided to introduce bog snorkeling at home. "We don't have an Olympic-size bog hole in Ireland, so we're lobbying politicians for one," she avers. "And a stadium. We're going to call it the Stadium of Shite."
The Irish are the only participants who have actually held trials for today's finals—in a bog hole in the village of Granard in County Longford. Nine people took part, and by late Sunday evening the fastest four have arrived in Llanwrtyd Wells: Julia, Brian, Dave McCormack, and their champion, John Cantillon. At 41, Cantillon is a quiet, cheerful man who is employed in Dublin as a social worker looking after the welfare of gypsies, nowadays called travelers. In his spare time he is a scuba instructor and plays underwater hockey and underwater rugby—both of which enjoy a degree of popularity in Britain that defies reason.
Cantillon is so serious about his underwater sports that he has brought a monofin, a single blue fin that fits over both feet and resembles a manatee's tail. The legality of the monofin is a tricky issue that hasn't come up before, and Green decides he may have to convene the bog-snorkeling committee—that is, anyone who happens to be in the Neuadd Arms bar—to discuss it.
The next morning at breakfast, Julia spots Cantillon in the Neuadd Arms's tidy dining room. "Deep dark bog! Deep dark bog!" they chant together, in between bites of honeyed toast. "It's our mantra," she explains. Later, Cantillon runs into Gordon Green in the lobby and shows him the monofin.
"I would ban it if I were you," the Irish champion says sportingly. On behalf of the committee, Green gratefully concurs.
AT LAST, IT IS TIME FOR THE games to begin. By 2 p.m. a couple hundred people have parked by the dirt track, trudged past the Ben & Jerry's van, crossed a single-plank bridge where a stream trickles out of the trench, and arranged themselves amid tussocks of hardrush on the banks of the bog. Standing at the starting line, shuffling his papers and peering over his glasses, Green explains the rules, which are few and suitably primitive.
Contestants will enter the bog one at a time. (This is trickier than it seems, since their numbers bear no relation to the starting order.) They must wear mask and snorkel; fins and wetsuit are optional. They must set off from the starting post, swim the length of the trench propelling themselves only with their legs (because, frankly, there's not enough room in the bog to do much with your arms), round the far post, and swim back. Bryn Davis is in charge of the stopwatch. Ladies may take a break at the far end without time penalty, though it will turn out that taking breaks has less to do with gender and more to do with sheer exhaustion.
Contestant number one, possibly Jeff Stone, thrashes off in an explosion of weedy water, but the bog is a lot longer and heavier than he has thought, and he stops every 20 feet on the return leg, floundering and gasping, kneeling in the bog to get his wind, spitting out his mouthpiece and a volume of stagnant water.
Next up is John Cantillon. His wetsuit reveals that he has thighs like mature anacondas. He dolphins away with such power that he washes both banks with a substantial bow wave, turns at 50 seconds, and shoots past the finish post with the grace of an underwater rugby player scoring a goal. A new world record: 1:39.13, nearly five seconds faster than the existing mark, set in 1997. He grins modestly and then leaves to catch the ferry back to Ireland. He needs to be at work early the next morning, looking after the interests of his travelers.
In honor of the town's history, Julia Galvin has mounted a small green velvet frog in her hair. She repeats her mantra and sets off with the calm dignity of a sea turtle. She has trouble with her mouthpiece and has to keep stopping to cough up peaty water ("Nice girls don't swallow," she informs the crowd) but records a creditable 3:50.41.
Dave McCormack, a bearded giant and the Irish team driver, goes next and manages a worthy 2:37.31, but then things drop off a little. The next guy crawls out of the far end of the bog and is never seen again. He is followed by snorkeler number 33, who has the promising name of Simon Whale. Whale looks every inch a pro in his new blue wetsuit but ends up with the slowest time of the day, almost four and a half minutes, and has to be hauled out at the finish line to lie giggling and wheezing on the bank.
Fortunately, the volunteer ambulance team—which consists of two middle-aged ladies, one of their sons, and a middle-aged man—is at the ready. The ladies offer Whale water. "Have a swig and wash all that lovely bog out of you," one counsels. They are assisted by a white terrier named Scrappy, who is wearing his own yellow reflective vest with MEDIC inked on the side.
Andrew Stead, from Australia, is next. He approaches the bog wearing only swimming trunks, mask, snorkel, and fins, having apparently decided to forgo the traditional wetsuit.
"What do I do if his shorts come down?" asks one of the ambulance ladies, sotto voce.
"Send in the dog," whispers the other.
Aside from Ireland, Australia is the only country to be represented by a national squad, even though this consists only of Stead, a fellow snorkeler, and a four-foot-tall inflatable penguin. "He's our coach," Stead explains after finishing, trunks intact, in 2:54.15.
Roz Lunn, a professional diving instructor from England, has the power and the breath control but loses time because she keeps plowing into the banks. "I couldn't see a thing," she says, panting at the finish (2:43.22). "It was like swimming through gravy." Strange wriggling trails like snake tracks appear in the bog: small fish, driven to the surface by the underwater mayhem.
Despite such challenges, the back of the pack shows a final flourish of class. Brian Crossan, who has as hairy a pair of feet as I've ever seen on a man, manages a good enough time to be Team Ireland's number-two finisher. Craig Napper of South Wales, champion two years back, swims 1:42.28 to finish second, and Gemma Davies, also from South Wales, wins the women's prize with an impressive 1:55.32.
By 5 p.m., it's all over. The last snorkeler has crawled out of the bog, and the crowd has thinned appreciably, as anyone with any sense has headed off across the field in search of a towel, a shower, or a drink. Green, warning everyone that "I could easily have made a mistake," reads the results, surrounded by dozens of wet, smelly, mud-streaked, weed-festooned lunatics. Simon Whale unaccountably fails to show up to claim his Slowest Time award. Julia, as president of the Irish Bog Snorkeling Association, accepts John's £40 and the winner's silver cup. A small boy has caught a ten-inch trout in the bog and put it in a bucket, and he is showing it to anyone who will look.
The water of Waen Rhydd, originally resembling a badly corked Chablis, is now the color and consistency of brown paint. There is little distinction between the bog and the bank, where the wet grass has been trampled flat and even the spectators are floundering in the mud. A kind of retro-evolution is taking place, and civilized humans are turning back into amphibians. At least for now, the bog has won.